The extra-tropical storm Dennis was a remarkable system. This extremely deep low-pressure system over the North Atlantic bottomed at near 920hPa on Saturday evening, located just south of Iceland. Dennis has become one of the most intense extratropical cyclones on record. Its behavior and stunning imagery rival the famous 'Braer storm' – the most intense / deepest North Atlantic storm on record. During its mature stage, Dennis has grown bigger than the whole European continent, dominating the whole North Atlantic and indeed our European weather as well. It pushed a severe wind storm into western Europe and very warm air mass further east.

*********************************************

NEW UPDATE: Another intense North Atlantic cyclone – explosive development underway!
*UPDATE* on the most intense North Atlantic storm of the season – an extremely rapid intensification of the 'bomb cyclone' #DENNIS is underway!

*********************************************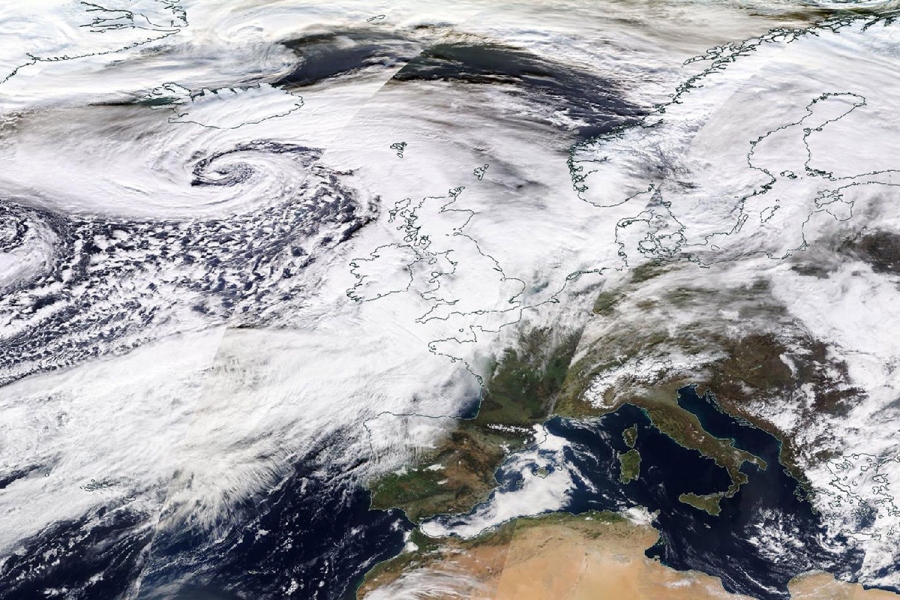 The event started on Thursday when a new upper wave appeared along the northeast US and southeast Canada while there was already an intense and very deep extra-tropical cyclone ongoing in the North Atlantic. This first system was soon followed by another extremely rapidly intensifying cyclone – a featured cyclone #Dennis. That is really a remarkable strengthening, more than a double threshold for the system to be classified as a bomb cyclone. Dennis's behavior was likely led by the remnants of the previous system leaving a very favorable baroclinic environment in its wake. Resulting in an explosive development – bombogenesis.
Airmass satellite animation of two intense and extremely deep extra-tropical cyclones over the North Atlantic in the past days. Animation: OPC NOAA pic.twitter.com/WJ7LXhDmvC

— severe-weather.EU (@severeweatherEU) February 17, 2020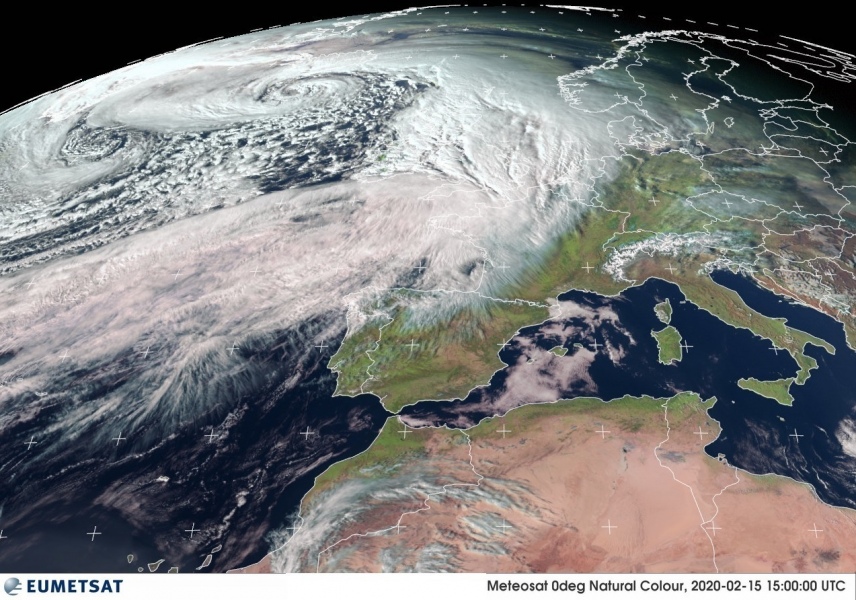 Here are the final, official minimum central pressure values by NOAA analysis since the cyclone's Dennis birth along the northeast US on Thursday, Feb 13th afternoon and over the weekend until its dissipating stage on Monday, Feb 17th morning near Scandinavia (Norwegian Sea). Cyclone went into a rapid intensification soon after its birth, then also into an explosive deepening, taking the bombogenesis phase. As it has happened several times this winter season, a bomb cyclone was on its way towards Europe. The rate of its intensification and deepening central pressure was beyond exceptional from Friday to late Saturday, for quite some time there was a rate of 45-55 mbar per 24-hour period!
Monday, Feb 17th

959 mbar at 12 UTC, Feb 17th
953 mbar at 06 UTC, Feb 17th
946 mbar at 00 UTC, Feb 17th

Sunday, Feb 16th

938 mbar at 18 UTC, Feb 16th
930 mbar at 12 UTC, Feb 16th
925 mbar at 06 UTC, Feb 16th
922 mbar at 00 UTC, Feb 16th

Saturday, Feb 15th

920 mbar at 18 UTC, Feb 15th
925 mbar at 12 UTC, Feb 15th
936 mbar at 06 UTC, Feb 15th
944 mbar at 00 UTC, Feb 15th

Friday, Feb 14th

956 mbar at 18 UTC, Feb 14th
972 mbar at 12 UTC, Feb 14th
987 mbar at 06 UTC, Feb 14th
994 mbar at 00 UTC, Feb 14th

Thursday, Feb 13th

996 mbar at 18 UTC, Feb 13th
1004 mbar at 12 UTC, Feb 13th

#Dennis || Vitesses des vents, cumuls de pluies et températures, le bilan de cette #tempête qui a balayé le nord-ouest de l'Europe ce week-end.

📷 Image du satellite MSG2 montrant le passage de Dennis entre samedi 15 et dimanche 17 février 2020 pic.twitter.com/ocLFtz15Tv

— Météo-France (@meteofrance) February 17, 2020




Here is the exceptional satellite imagery of the extremely deep extra-tropical storm #Dennis over the North Atlantic on Saturday, Feb 15th. Some of the images are shown in a polar stereographic projection.






High-resolution views of the Dennis' core, very detailed imagery. Note the occluded front with thick layered clouds wrapping like a spiral into the center, with bands of polar air mass in between the bands.







Another very interesting feature was ongoing in the wake of the North Atlantic system, an intense Arctic advection from eastern Canada into the Labrador Sea. With lots of ice extent (ice shield) accumulated along the land. The very cold airmass created convective cloud streets from the much colder ice shield towards the warmer sea temperatures, those were very large and expanding far away towards the open Northwest Atlantic.


Recap: Dennis brought the most spectacular satellite presentation of this winter season and also became one of the most intense extra-tropical cyclones on record.

See the mesoscale discussions on Dennis during the event:

*UPDATE* on the most intense North Atlantic storm of the season – an extremely rapid intensification of the 'bomb cyclone' #DENNIS is underway!




*UPDATE* on the most intense North Atlantic storm of the season – an extremely rapid intensification of the 'bomb cyclone' #DENNIS is underway!




Day after tomorrow? No, but we are facing two impressive extra-tropical cyclones right now – one over the North Pacific and another over the North Atlantic