Meteorological autumn is here, as after September 1st, we enter the fall season on the Northern Hemisphere. While the weather has been quite refreshing for many parts of Europe lately, it will be warmer, at least for the western half. But northern and eastern Europe is about to experience the very first Arctic blast this coming weekend. The huge temperature drop will begin spreading into Scandinavia and the Baltic region today and peak through Sunday.
After a number of intense and deadly heatwaves this meteorological summer, many were probably pretty happy with the refreshment coming in the last 10 days of August. Actually, temperatures were pushed a lot lower in a matter of two to three days. It was quite a significant change from extremely hot days to mid-autumn temperatures.
Right now, in the first days of September 2021, temperatures are gradually going up again, at least across the southern and western parts of the European continent. And the general weather pattern until early to mid next week is likely to bring more warm and even hot weather there.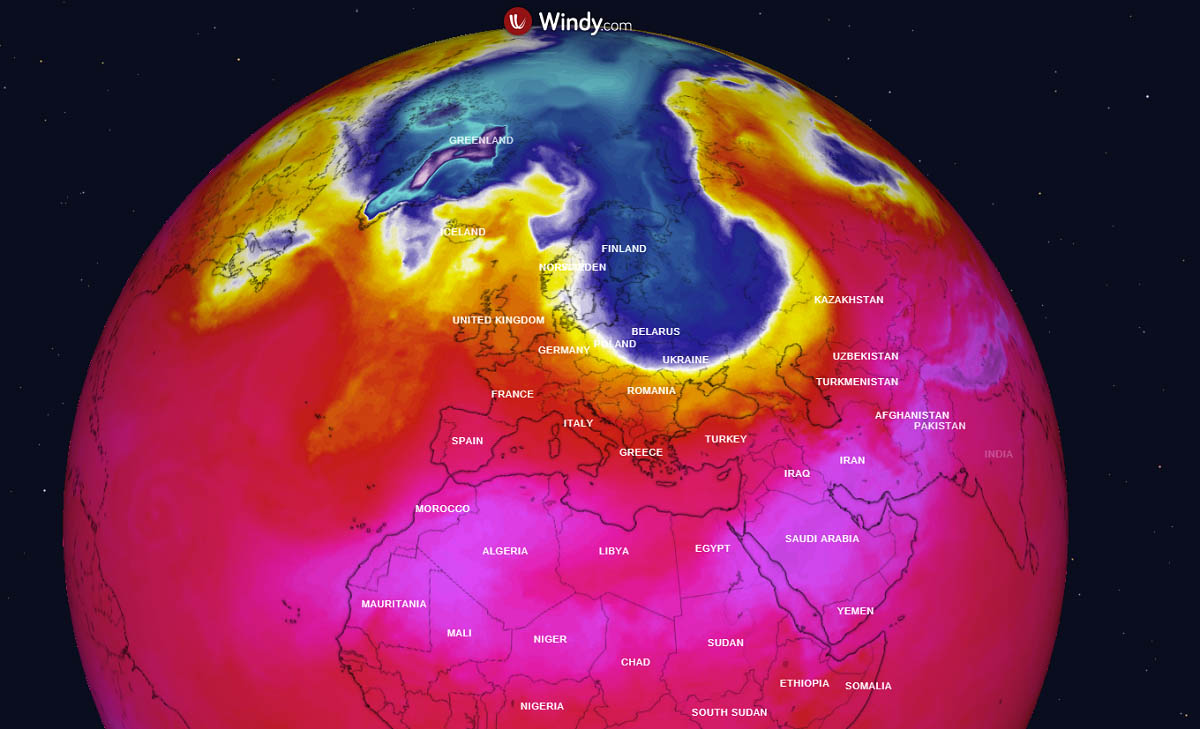 Now there is something pretty spectacular brewing on the weather maps. Scandinavia, the Baltic region, parts of Eastern Europe, and northwestern Russia will get a significant impact by a massive Arctic cold blast this weekend.
A strong cold advection begins spreading into Scandinavia today and intensifies significantly over the weekend while moving across the Baltic region towards the south.
Temperatures will be *much* lower than normal for early September in these areas, especially across Finland, Estonia, and northwestern Russia. Very likely close to 15 °C below the average, bringing the first frosty morning across Lapland and chilly temperatures as strong northerlies will also arrive behind the Arctic front.
WEATHER PATTERN FLIPS OVER NORTH ATLANTIC AND EUROPE
The general weather pattern over the European continent and North Atlantic in these days had a strong upper-level ridge and surface High over the Atlantic and western Europe, also extended into central Europe and Mediterranean. To its east, a deepening core has been establishing over the past two days and the combination of both large-scale features is now leading to a significant pattern change.
This Friday, a strong upper High remains over western Europe and far North Atlantic, while a very deep upper trough begins moving south into northwestern Russia. A strong northwesterly jet stream develops over Scandinavia and the Baltics.
The temperatures remain a bit lower than normal across the eastern half of Europe, being the most anomalous over Ukraine today. Thanks to a frontal system farther east, introducing a cold advection into Ukraine in its wake.
A much, much cooler air mass is accumulating farther north towards the Arctics and this will be our focal point this weekend. Friday's temperature forecast over Europe hints at slightly above normal temperatures under the ridge in western Europe, as well as over the Mediterranean.
But the pattern change is coming up later through Friday into Saturday, developing into a major Arctic Blast – the very first significant autumnal cold advection into the European continent this fall.
MASSIVE ARCTIC BLAST SPREADS INTO SCANDINAVIA AND BALTIC REGION OVER THE WEEKEND
Tomorrow, on Saturday, a significant weather pattern change will continue as the strong ridging to the west weakens and the large upper trough/low from the Arctic region moves towards the south across northwestern Russia. Its core remains very deep, bringing much colder temperatures in the mid and upper levels of the atmosphere.
At the same time, a surface depression forms under the deep core, helping the transport of the air mass directly from the Arctic region.
The real picture of what will develop into Scandinavia and the Baltic region is best seen on the temperature anomaly charts. Attached below is the 850 mbar and 2 m temperature anomaly on Saturday. We could easily notice the strongly anomalous Arctic cold blast spreading across Scandinavia, the Baltic region, northwestern Russia towards Belarus and Ukraine.
Temperatures will be *much* below the long-term normal for September, very likely close to 12-15 °C colder than normal. And those will be improving and becoming colder through Saturday into Sunday, while also continue farther south-southeast across western Russia and eastern Europe.
A surface high-pressure system strengthens over Scandinavia, developing a corridor for a sustained meridional north-northwesterly flow from the Arctic region into the continent. This will also help even colder temperatures to develop on Sunday, with the strong anomaly of around 15 °C below normal over Russia.
The attached chart is quite remarkable, as we can see a pretty deep Arctic blast spread across eastern Scandinavia on Sunday, as well as over the Baltic countries and Russia.
And the general weather pattern over this part of the European continent hints at pretty windy conditions, so wind chills will dip much below 0 °C in many areas. How low the morning temperatures will push depends if the weather will have at least some calm period overnight to both Saturday and Sunday.
But those should come slightly below freezing across higher Scandinavia on Saturday morning, as well as over Lapland. And even lower of Sunday morning when a large part of Finland could see below-freezing temperatures.
Indeed this would be nothing too special later in the fall season this far north, but a temperature anomaly of nearly 15 °C below normal is pretty significant for the north-northeast Europe through early September.
ARCTIC BLAST RESULTS IN SOME SNOW FOR SCANDINAVIA, POSSIBLE WATERSPOUTS OVER THE BALTIC SEA
The frontal system associated with this Arctic cold blast is now already moving into Belarus and Russia, with some convective activity along the leading cold front. Further back, the strong cold advection from the north will likely develop some snowfall over the mountain range across northern Scandinavia. With 10-30 cm of fresh snow locally possible.
An advection of more moist and cold air mass develops typical orographic precipitation there that will turn into snow over the higher terrain.
What is also a potential threat is the effect of significantly colder mid-level temperatures coming up with this Arctic blast, overspreading much warmer water temperatures over the Gulf of Bothnia and the Baltic Sea. Both have been anomalously warmer than normal this past summer, and are still quite a lot above the long-term average for early September.
This could pose some risk for the convective storms as some marginal instability is likely to build up. So some waterspout potential indeed does exist as the temperature gradient seems to be pretty extreme in the lowest 3 km above the seas.
The above water surface temperature anomaly chart hints at about 2-3 °C warmer water than normal across both seas. Even warmer in the Barents Sea closer to the Russian land. Water surface temperatures are even more than 5 °C above normal.
So the cold advection coming up aloft will create a strong temperature gradient over the seas, typically resulting in an enhanced waterspout potential.
ANOTHER CHANGE IN THE PATTERN BRINGS HEATWAVE INTO WESTERN EUROPE NEXT WEEK
It also has to be noted that this cold Arctic Blast will only be a few-day event as another change in the general weather pattern is foreseen over the European continent early next week. The upper-level ridge strengthens over the western half of Europe, with a significant warm advection across Spain into France, Benelux, and the UK.
Temperatures will likely push into the low 30s across France, and upper 20s across England on Tuesday and Wednesday. That is pretty high for early September.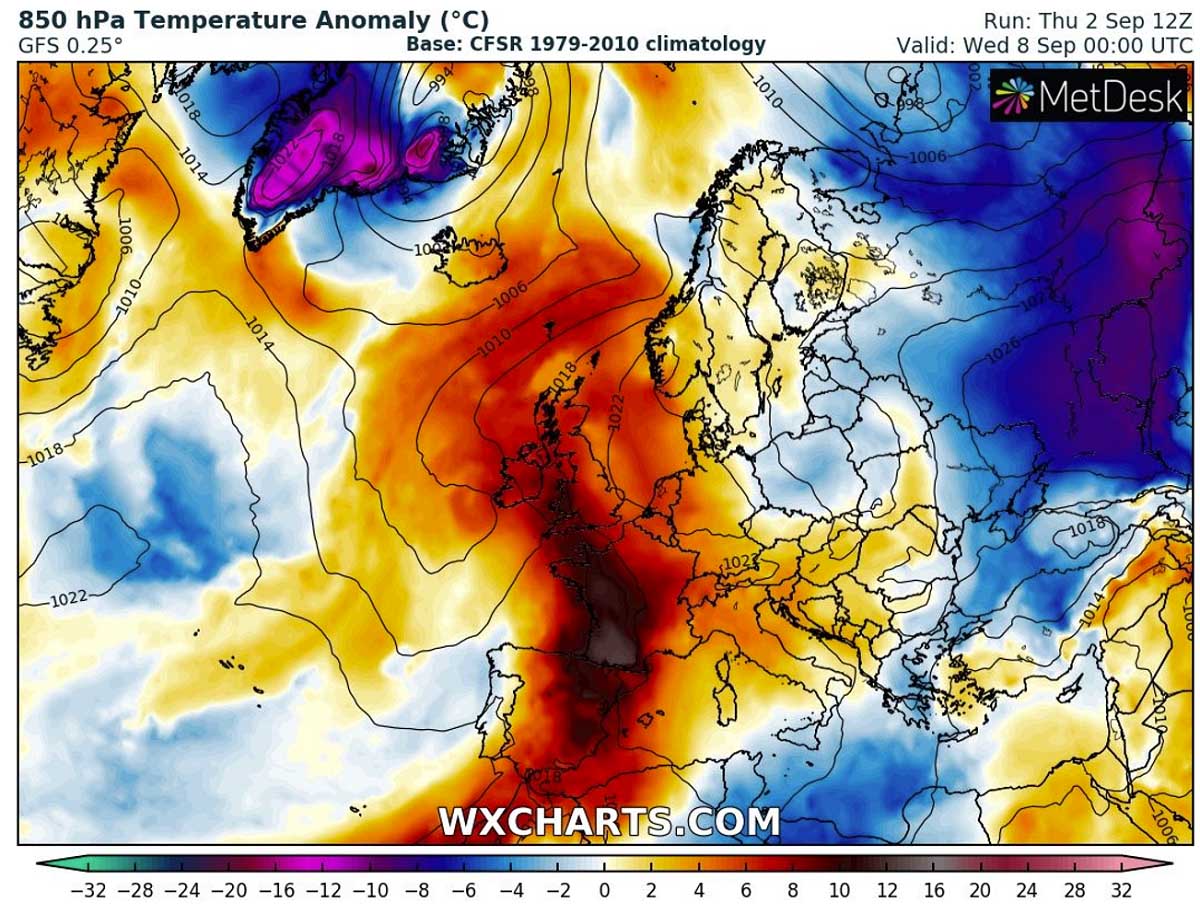 How high the temperatures will go is still yet to be defined, we are monitoring the evolution and will have a special update on this new heatwave development soon – stay tuned!
SEE ALSO – our official fall 2021 forecast:
*Fall Forecast 2021* First look shows a new developing La Nina will start to impact the Autumn weather pattern, continuing further into Winter 2021/2022
***Images used in this article were provided by Windy and Wetterzentrale.