After Monday's high of +46.3 °C, Greece is again challenging the European heat record as an even hotter day is expected this Tuesday. The most intense European heatwave of summer 2021 peaks in the early days of August. Extremely hot air mass is now also over western Turkey. At the same time, an extreme wildfire danger has developed and the general model consensus hints are worsening conditions through this week.
The worst heat during this intense heatwave has developed across Greece, North Macedonia, and western Turkey, but southern Italy, Albania, Kosovo, southern Serbia, and Bulgaria are not far behind. Temperatures are extremely high, ending in the low to mid-40s in many regions.
The heatwave has significantly intensified last week, escalating over the weekend, and is peaking in these first days of August. Intense heat remains trapped under the strengthening upper High over far southeastern Europe and the Balkan peninsula.
So far, the observed official maximum temperature was +46.3 °C (115.3 °F) in Makrakomi Ftiotida on Monday, August 2nd. This is now the highest temperature in Greece for this heatwave, a 1.7 °C shy of an all-time European heatrecord.
LONG LASTING HEATWAVE UNDER A PERSISTENT HEAT DOME
Through the end of July, a textbook weather pattern has established an extended period of stable weather with a strong blocking upper ridge across the southeast parts of Europe. Normally, this results in extremely high temperatures as we are now seeing across parts of the Mediterranean and the Balkan peninsula.
The upper-level ridge often forms a so-called heat dome which brings very high, sometimes record-challenging temperatures. A heat dome is a term that is used when an area of high-pressure parks over a large portion of the continent and stays there for days or even weeks.
The heat dome works like a lid on a pot, trapping a very warm air mass at all levels underneath. Creating stable weather and often very dry airmass. Extreme heat is a result as well as a significantly enhanced wildfire threat. Heat dome is often also blamed to be responsible for deadly heatwaves around the world.
The observed temperatures under the heat dome during a heatwave are typically well above normal and often break the existing records. The ongoing weather pattern across the southeastern part of Europe is forecast to continue through at least this week, and extend the most intense heatwave of 2021 even further.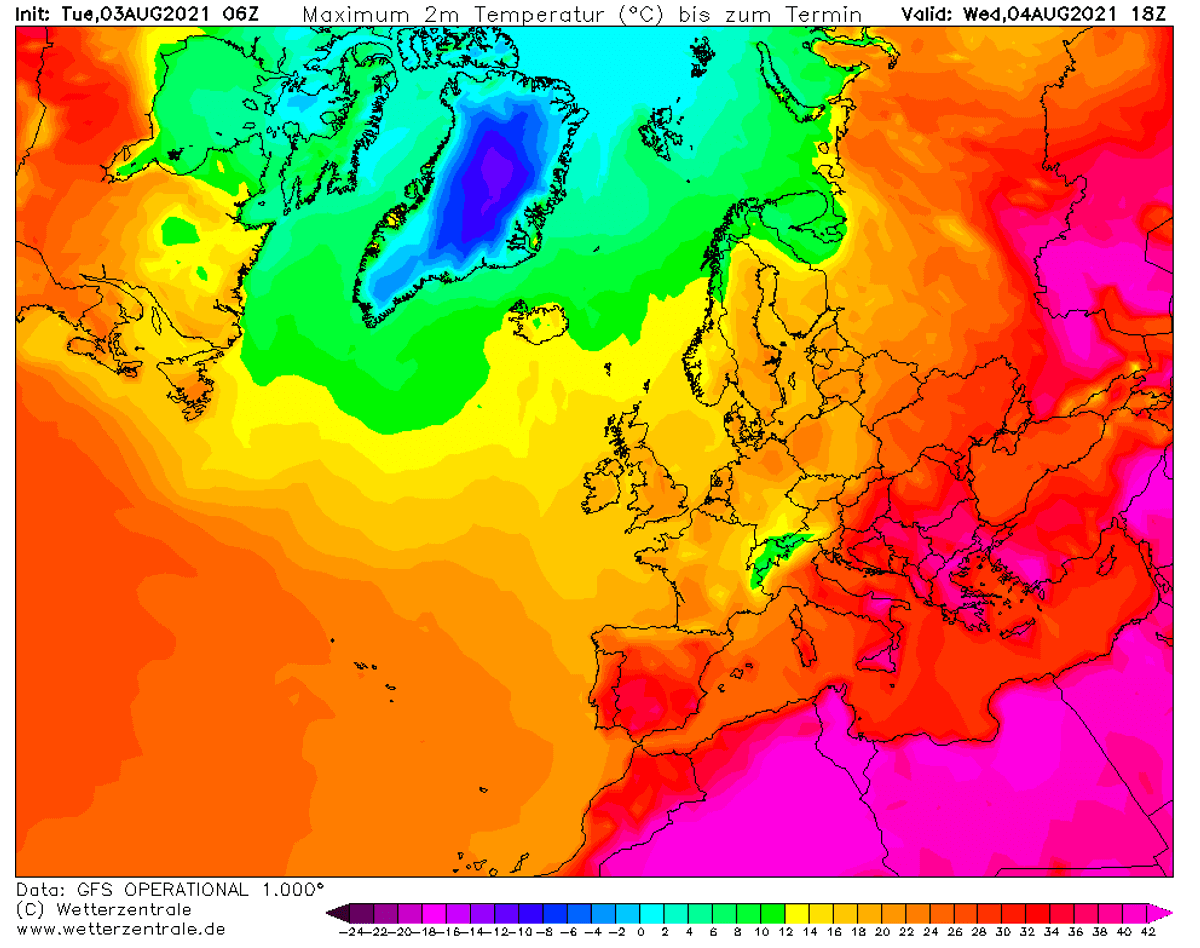 When it comes to the extremely high daytime temperatures, it often depends on the local topography affects how high temperatures could climb. It is not always the case that one needs calm winds in a closed valley to get the temperature into extreme values. The Foehn effects (katabatic) of downslope winds usually result in drier air mass.
Drier air mass then warms up even quicker than it would without those katabatic winds, which even the weather models can't handle properly. Such examples are the Alpine valleys in winter when warm and extremely dry Foehn can push temperatures very high.
Similar could happen in Greece and western Turkey where these effects could be maximized during this heatwave.
Greece, parts of Bulgaria and North Macedonia will again see much higher temperatures on Tuesday, with the worst heat remaining over Greece. Although western Turkey isn't far enough, especially with the help of downslope winds from the north-northwesterly directions these days.
The attached animation below is the latest weather model forecast indicating very high temperatures across the southern Balkan peninsula, western Turkey, and surroundings these days. An obvious significant temperature anomaly can easily be seen over Greece. So the heatwave is expected to continue through most of the first week of August.
At the same time, the extreme wildfire threats continue across Greece, Turkey, and Sicily (Italy). The weather forecasts also hint those would generally worsen through this week as more winds are forecast with an increase of very dry air mass into the middle of this final month of summer 2021.
GREECE AND TURKEY UNDER THE WORST OF THE HEATWAVE
The extreme, scorching heat has significantly intensified in Greece and western Turkey over the weekend, with the temperature reaching almost 45 °C on Saturday. Even higher were temperatures on Monday this week, hitting a remarkable +46.3 °C (115.3 °F) in Makrakomi Ftiotida.
Basically, most of the lowest parts of the atmosphere are extremely warm, experiencing almost to near 30 °C at the 850 mbar level (approximately 1500 m above sea level).
Several other stations were also extremely hot, much above their peaks from the weekend. And it is not over yet, as the higher temperatures could be reached today (Tuesday), possibly also on Wednesday. Nearly 10 stations reported more than 44 °C in Greece on Monday.
Also, western Turkey has been significantly warmer on Monday, August 2nd. The highest temperature was recorded in Damalan where +44.3 °C, 44.0 °C in Aydin, and +43.7 °C were reported in Marmaris. +43.4 °C was in Antalya, while Bodrum ended up at +42.9 °C.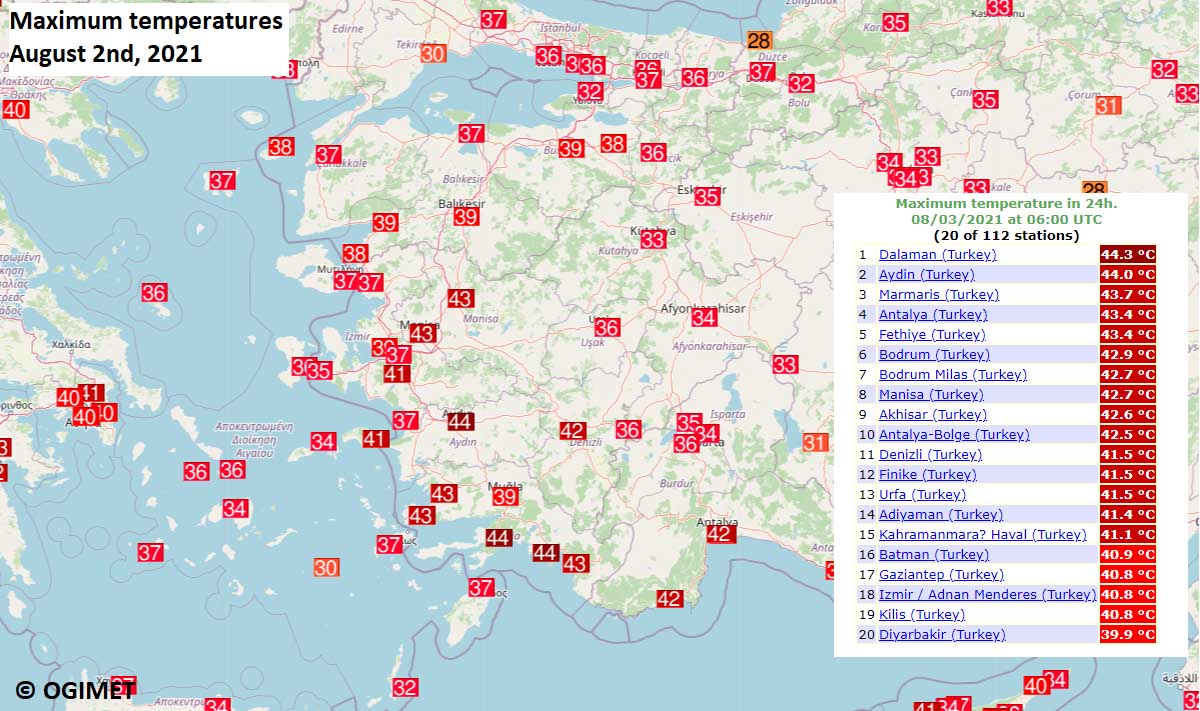 In North Macedonia, the station in Gevgelija reported the maximum temperature at +44.1 °C on Monday, Bulgaria ended up at +42.5 °C in Sandanski.
There was also another temperature record broken on Monday. The weather station of Lindos in Rhodes Island, Greece has recorded the 24-hour minimum temperature of +34.0 °C. This value has tied the European record of the highest minimum temperature ever recorded in August, which was set in Sicily (1999).
And this highest minimum temperature record might again be beaten this Tuesday, August 3rd as the heatwave is even stronger now.
THE PEAK OF THE HEATWAVE IS HERE, EUROPEAN RECORD CHALLENGED
Both Tuesday and Wednesday could end up with temperatures being even closer to the all-time highest temperature record in Europe.
The all-time highest temperature in Greece is +48.0 °C (118.4 °F), recorded in two cities, Athens and Elefsina, more than 40 years ago, on July 10th, 1977. And Greece is also holding the torch for the highest recorded temperature in Europe.
The last time it was this extremely hot in Greece was during the July 2017 heatwave when Heraklion, Crete Island, temperatures hit a scorching +45.9 °C (114 °F). And this was also the highest temperature recorded in Greece since 2004.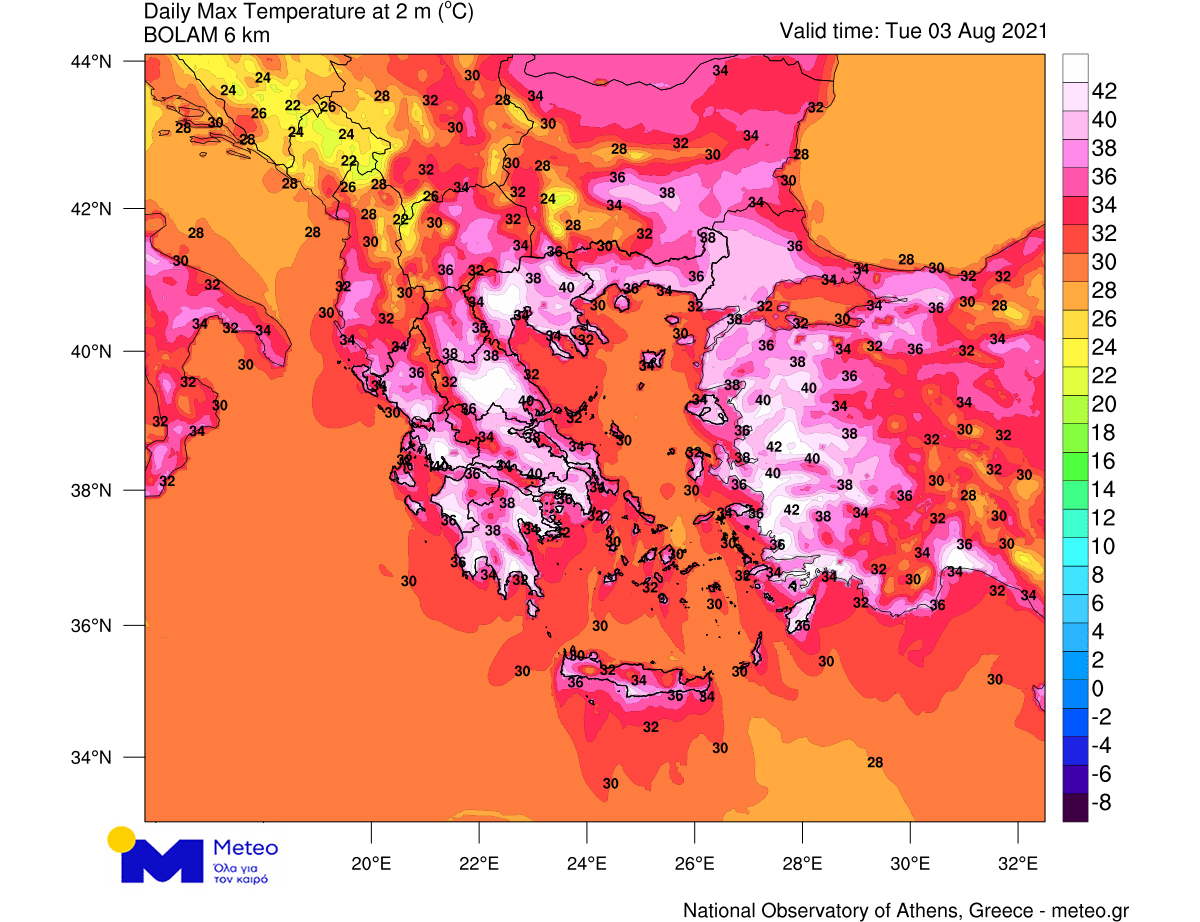 Wednesday and Thursday are likely to be the final days of the most extreme temperatures, for both the southern Balkan peninsula and western Turkey. Then temperatures are expected to finally drop a few degrees, although remaining in the upper 30s to lowest 40s throughout the rest of the week.
The attached two charts below reveal the GFS model simulated peak temperature on Wednesday (left chart) and Thursday (right chart). Both days are forecast to deliver the highest temperature of around 43-45 °C in Greece, as well as western Turkey.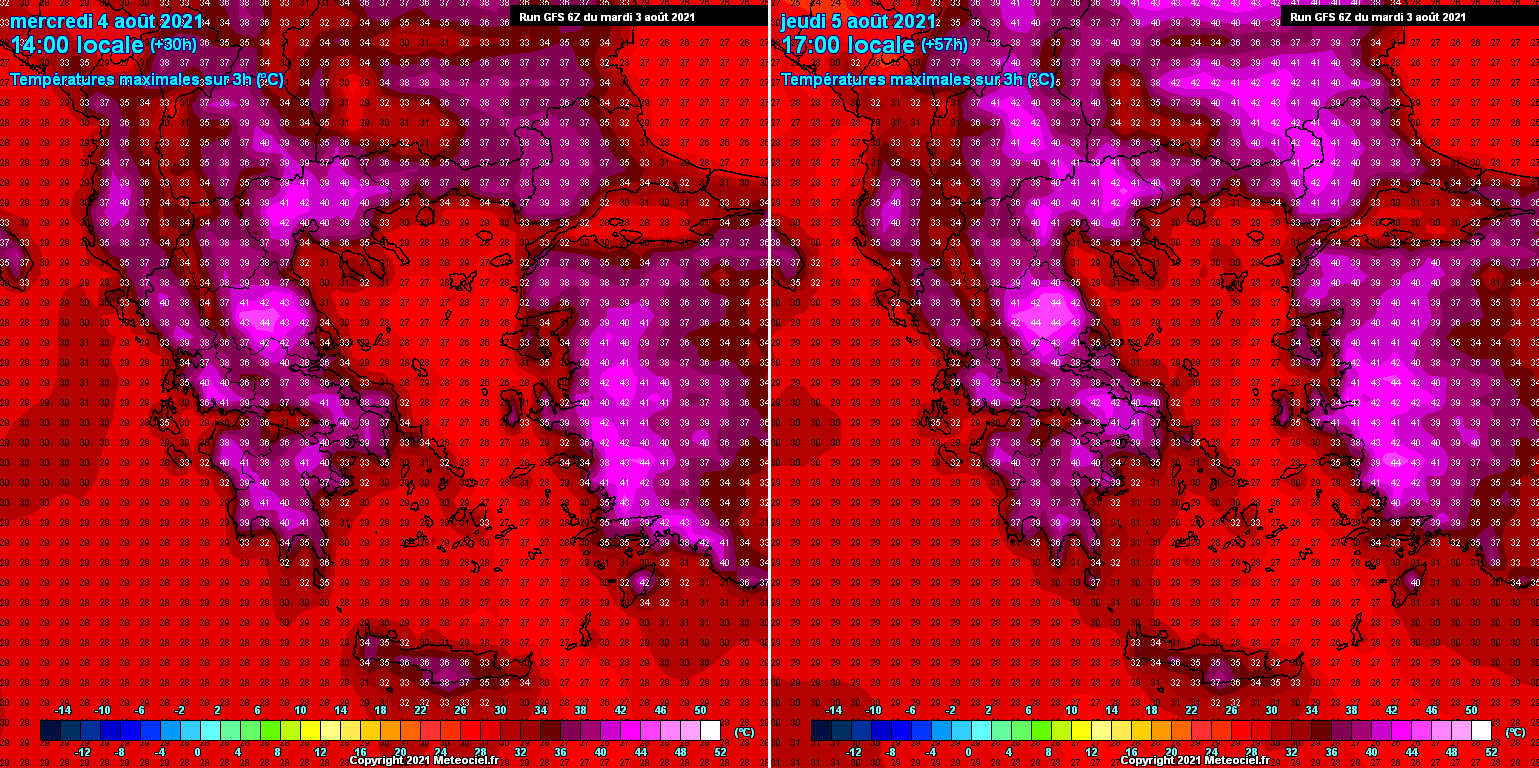 It will be very hot also in Albania, North Macedonia, and Bulgaria on Thursday when the temperature could again climb to around 43 °C, possibly even a degree more in some areas. Nevertheless, Thursday will be the final extremely hot day for the southern Balkans regions as at least some lower temperatures should follow on Friday and over the weekend.
EXTREME WILDFIRE DANGER DEVELOPS OVER GREECE AND WESTERN TURKEY
Wildfire danger has quickly escalated in Greece and also western Turkey in recent days as the heatwave has intensified, delivering extremely dry air mass and also windy conditions. Those are forecast to increase and further worsen the ongoing wildfire situation.
According to the Canadian Forest Fire Weather Index System computed operationally by the National Observatory of Athens (NOA) – meteo.gr, several regions of Greece are predicted to exhibit very high fire danger today, on Tuesday, August 3rd.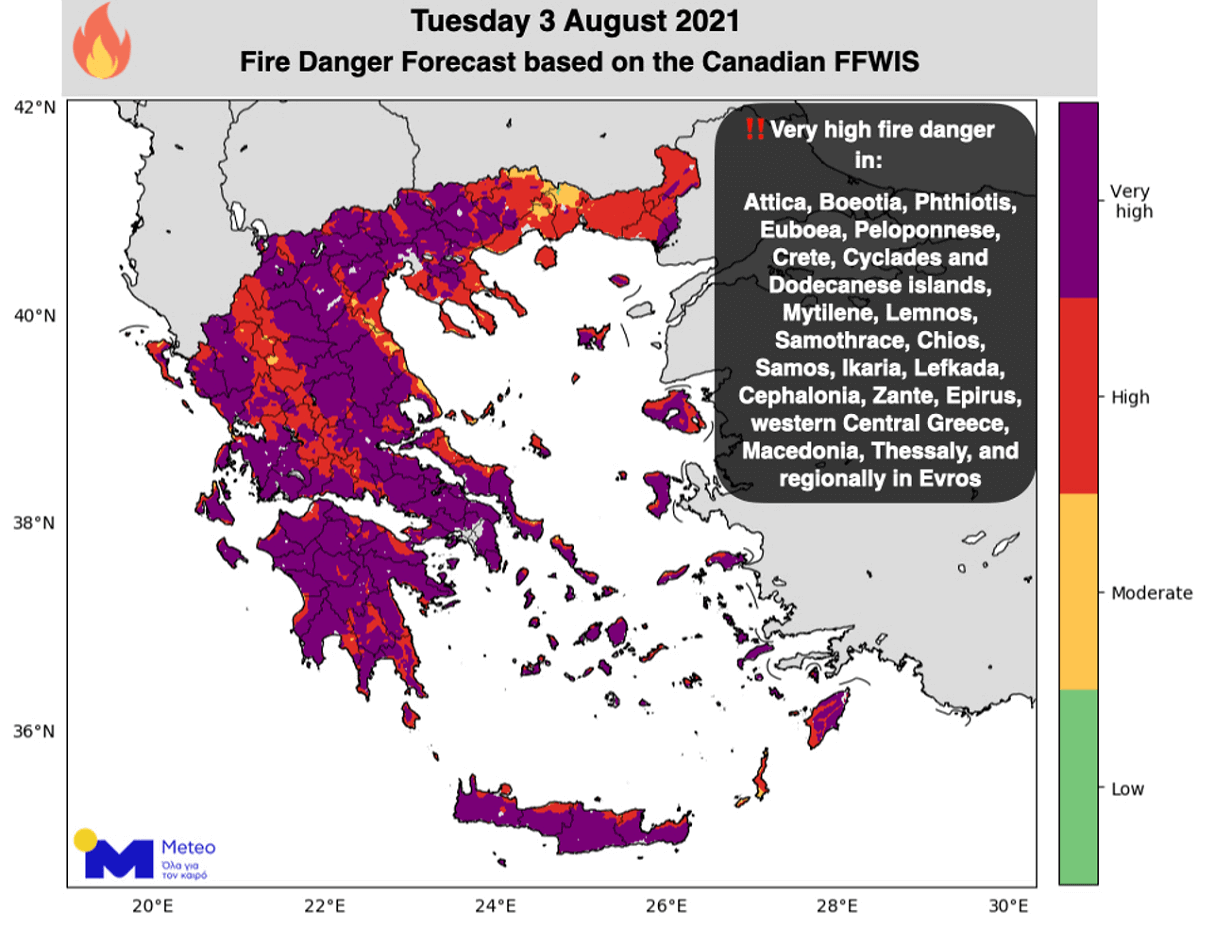 Those include Attica, Boeotia, Phthiotis, Euboea, Peloponnese, Crete, Cyclades and Dodecanese islands, Mytilene, Lemnos, Samothrace, Chios, Samos, Ikaria, Lefkada, Cephalonia, Zante, Epirus, western Central Greece, Macedonia, Thessaly, and regionally in Evros (the attached map above).
Furthermore, also tomorrow, Wednesday, August 4th, a very dangerous day is expected since very high to extreme wildfire danger will develop.
Especially across the following regions: Attica, Boeotia, Phthiotis, Euboea, Peloponnese, Crete, Cyclades, and Dodecanese islands, Mytilene, Samothrace, Chios, Samos, Ikaria, Lefkada, Cephalonia, Zante, Epirus, western Central Greece, Thessaly, and regionally in Macedonia and Evros (the attached map below).
It is necessary to highlight that the persistent heatwave conditions have increased landscape flammability to extreme levels over almost the entire country, making any use of fire extremely dangerous for the ignition of wildfires.
NOA, the National Observatory of Athens, urges people to avoid any use of fire throughout the current week in order to avoid wildfire ignitions that could potentially lead to catastrophic events.
*The above warning text information was kindly provided by Dr. Theodore Μ. Giannaros, the Associate Researcher at National Observatory of Athens.
According to the mid-range weather model trends, the heatwave could also extend into mid-August across much of the southeastern parts of Europe. With basically not a single chance of precipitation for Greece or western Turkey in the coming weeks. This is very concerning as extreme drought and wildfire threats will worsen.
The attached chart is showing the temperature trends for the upcoming 14 days in Athens (Greece) and Bodrum (W Turkey).
Temperatures of around 10-11 °C above average will remain over much of Greece until about late this week, then probably a bit lower temperature is forecast afterward. And similar, 9-10 °C warmer than normal temperature should remain over western Turkey until the next weekend.
Both charts also hint that no precipitation is forecast (bottom part of the charts) at least to around August 15th, possibly even for longer.
The extreme heatwave has already ignited numerous wildfires in parts of the Balkans and Turkey recently, as the environment is prone to explosive fire evolution with quite some winds and very dry air mass in place.
ONGOING DESTRUCTIVE WILDFIRES IN GREECE AND WESTERN TURKEY
Massive and destructive wildfires still remain uncontrolled ongoing across parts of southern and southwestern Turkey. The worst are the ones to the east of Antalya, where blazes are destroying the landscape in the mountainous terrain inland to the north of the coast between Alanya and Antalya.
The other large wildfire that firefighters are battling is creating a huge smoke cloud seen from the NOAA satellite imagery. The worst wildfire situation is ongoing east of Bodrum and southwest of Marmaris, Turkey. The smoke cloud is pushed towards the south across the Eastern Mediterranean.
Numerous firefighters with the help of helicopters and airplanes are battling these wildfires still raging in the resort towns around Manavgat and Marmaris.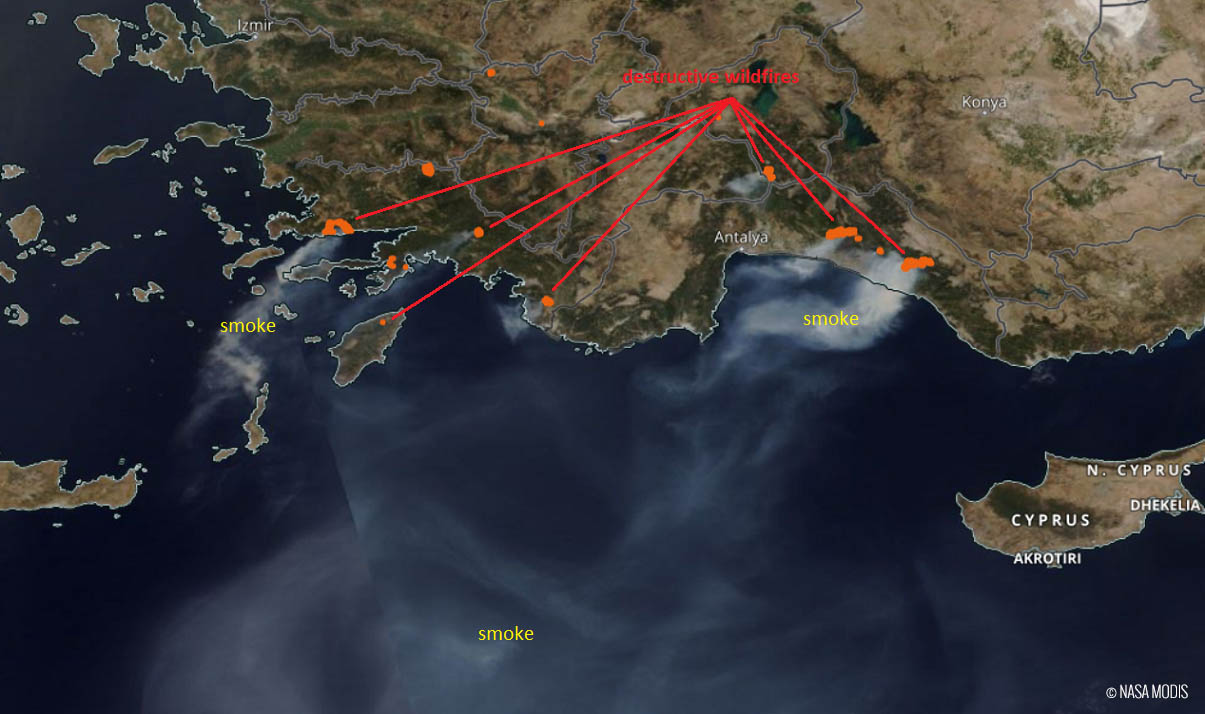 Tourists have also been evacuated from Bodrum on the Aegean coast. Most of the wildfires that ignited in Turkey are a result of the extremely dry heatwave and windy conditions that have intensified this week.
On Sunday this past weekend, a massive wildfire has also started in Rhodes. The fire has ignited in the well-known place the Valley of Butterflies, near the town of Tholos. As a result of worsening heatwave across Rhodes Island which is suffering an extreme drought this summer.
Recently, another dangerous and destructive wildfire is also ongoing around the city of Catania in Sicily, Italy. Numerous homes were damaged or burned this weekend, with several hundred people evacuated.
Also, Croatia is reporting a huge wildfire near Trogir, Split in the Dalmatia region. Tourists have also been evacuated from nearby locations. Strong Bora (Bura) downslope winds and dry conditions have helped the wildfire to escalate across large areas very quickly on Monday.