A stable weather pattern across Europe is forecast to continue for at least another week, and leads to an intensifying warmth. It will develop a strong heatwave with very warm/hot weather after the weekend. Temperatures across western Europe will locally return well above 30 °C on some of the days next week. A so-called Indian summer will develop under an extensive omega blocking ridge pattern over western Europe, thanks to a strong Heat dome that takes place.
The weather pattern over Europe has been pretty calm across western and central Europe recently, in response to a quite strong blocking High in place. Some temporal change is coming up this weekend, as the ridge over the Atlantic weakens and a massive Arctic cold blast is spreading into Scandinavia and the Baltic region. Farther west, yet another heatwave of 2021 is forecast to take place.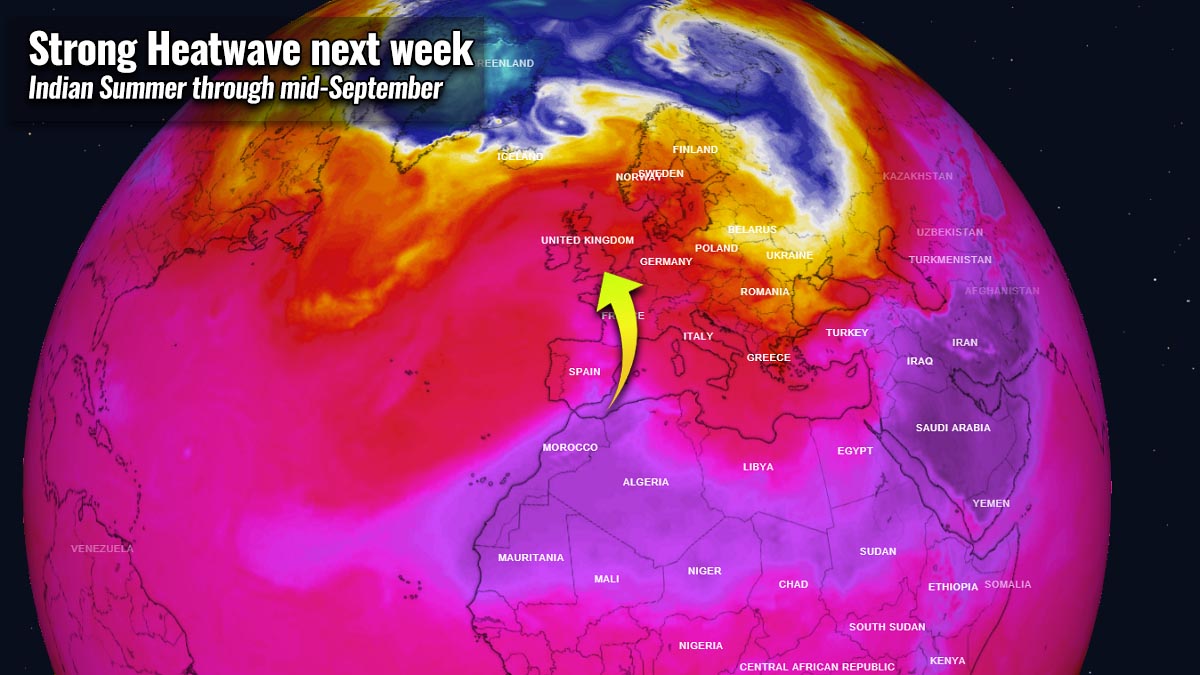 Thanks to a new pattern flip soon happening again, stable weather will continue and extend for another week or even more, especially across the western half of Europe, also into central and southern parts of the continent. A strong heatwave will develop in the coming days, pushing temperatures into the mid-30s again over France. Also into the upper 20s across England.
The animation is indicating the development of the quite significant heatwave into southern and western Europe, starting this weekend and intensifying through the next week.
This pattern is called an Indian Summer in the autumn months, usually occurring in the month of September.
INDIAN SUMMER – WHAT IS IT?
The Indian summer is a term that we use with a period of unseasonably warm, dry weather, often a heatwave, that sometimes occurs in the autumn months, especially in September and October. Indian Summer is the general term for similar weather conditions, but also some local variations exist.
For example in Germany, Austria, Switzerland, Lithuania, Finland, a warm period in autumn is called 'Altweibersommer' ('old women's summer'), or 'vénasszonyok nyara' in Hungary. People in Estonia use the term 'vananaistesuvi'.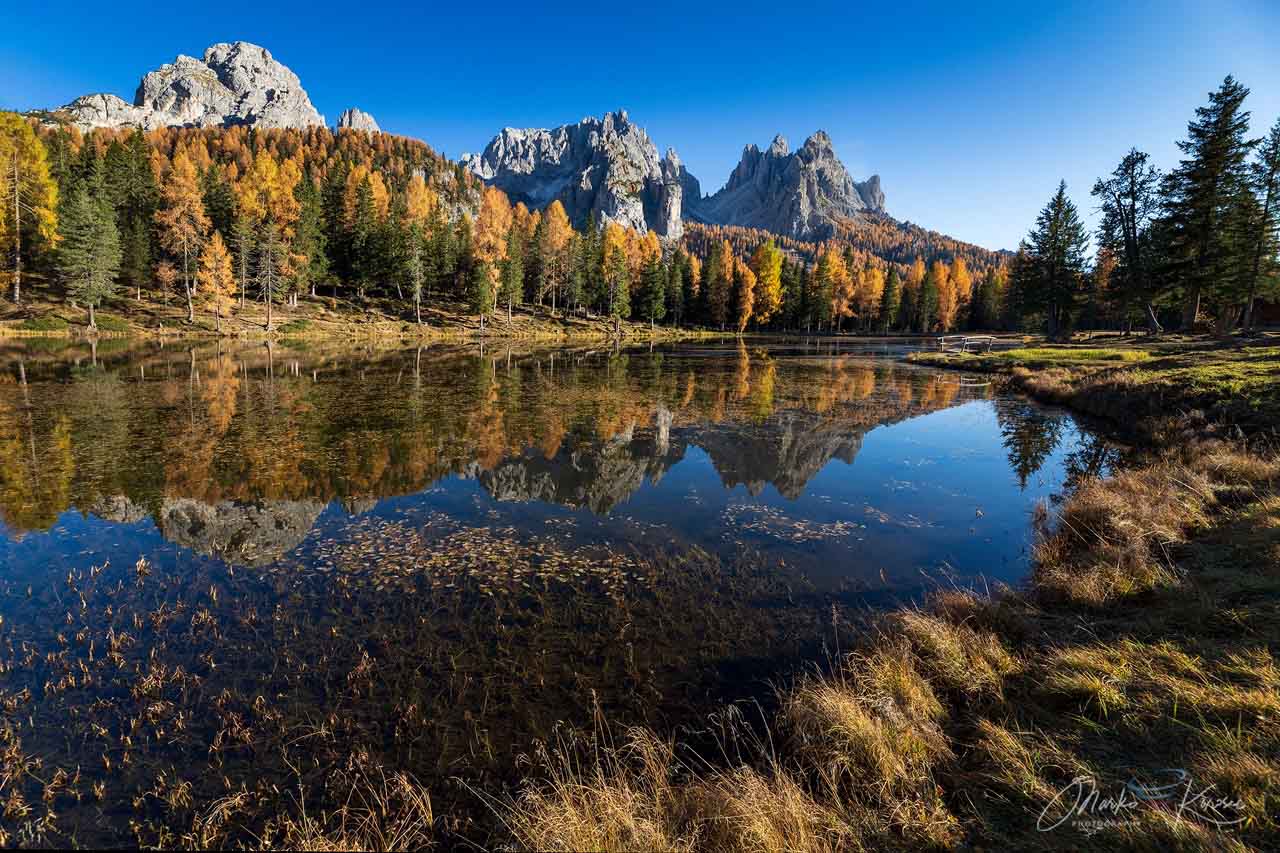 Within a number of Slavic-language countries e.g. the Czech Republic, Ukraine, Poland, Slovakia, Russia, Slovenia, Serbia, and Croatia, it is well-known as the 'old woman's summer'. People in these countries call it 'babí léto' (in Czechia), 'babie lato' (Poland), 'babie leto' (Slovakia), or 'bablje ljeto' in Serbia and Croatia. Among the Bulgarian people, it is known as 'gypsy summer' or 'poor man's summer'.
In Sweden, they use the term a 'Brittsommar' (out of 'Birgitta' and 'Britta', having their name days around the time, October 7th). In Gaelic Ireland, the autumnal warm period phenomenon is called 'fómhar beag na ngéanna' (little autumn of the geese).
In other countries, it is associated with autumnal name days or saint days such as Teresa of Ávila (Portugal, Spain, and France), St. Martin's Summer (Spain, France, Italy, Portugal, and Malta).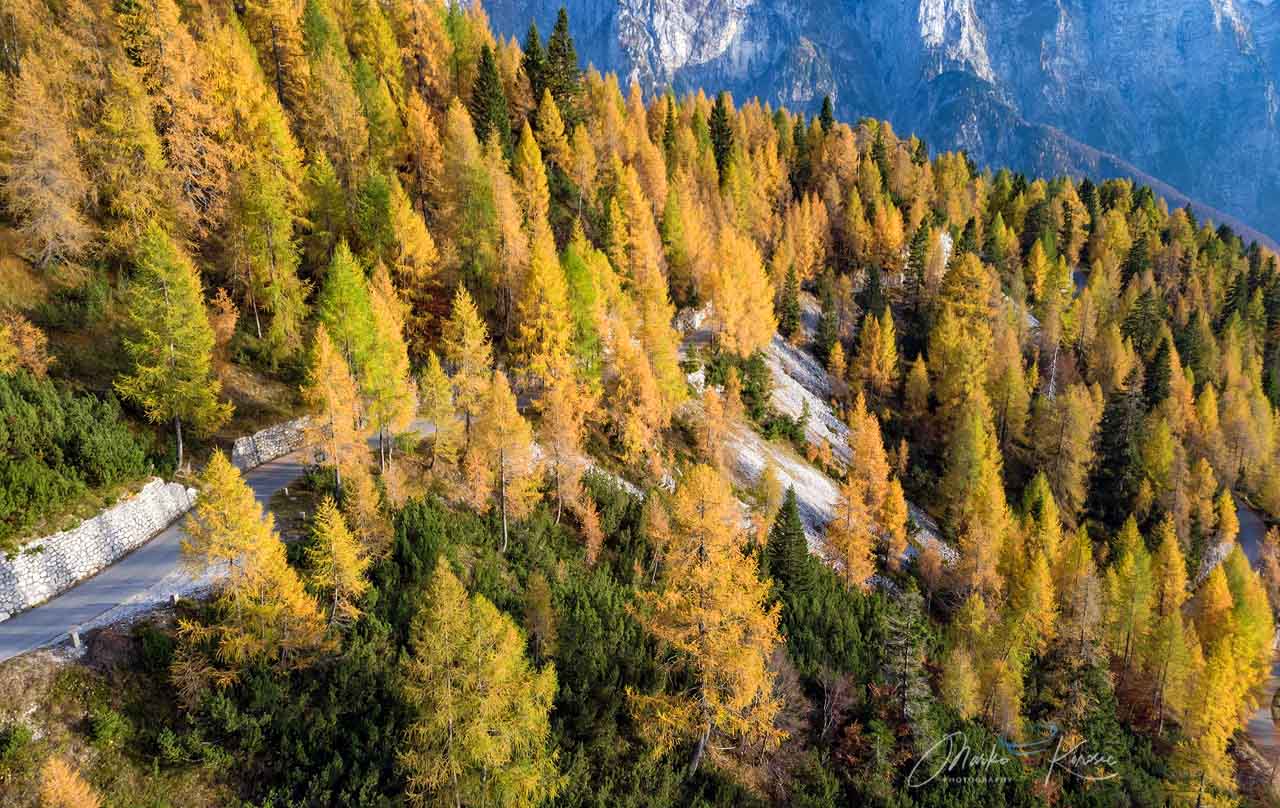 St. Michael's summer or 'Miholjsko leto' is a term they use in Serbia and Montenegro. While St. Martin's Day (Netherlands), St. Demetrius (Greece and Cyprus), 'Bridget of Sweden' in Sweden, and 'Saint Michael the Archangel' in Wales.
In Turkey, they name it 'pastirma yazı', meaning pastrami summer, since the month of November was considered to be the best time to make pastrami – a Romanian variant of the Turkish pastırma usually made from beef brisket, and sometimes from lamb, or turkey.
Similar events have happened in the past. In September 2020 it was extremely hot in parts of Europe.
And the main reason behind such events with yet another heatwave for this already crazy warm weather in parts of Europe is the development of the so-called Heat Dome.
WHAT IS HEAT DOME AND HOW IT AFFECTS THE WEATHER?
We have been talking about the term heat dome quite often this summer, as it was the reason why extremely intense heatwave events developed in Europe and across the Atlantic in the United States. It was the dominant feature of summer 2021 in both continents. So we can be sure that the usage of Heat dome term will be in use more often, and here is why.
The upper-level ridge pattern, known as the blocking High, often forms a so-called heat dome in general. This blocking pattern brings very high, sometimes record-challenging temperatures for the region underneath. No matter the season, it can happen even during winter and work both ways, into very cold or very warm values.
A heat dome is used when a large area of high-pressure parks over a large portion of the continent. Typically it stays there for many days or even weeks, especially during summer or winter months.
The easiest explanation of the heat dome is to imagine that it works like a lid on a pot, literally. The large dome is trapping a very warm air mass at all levels across a large area underneath, which is especially better defined at the lowest elevations. Heat dome creates stable weather and often also very dry air mass due to subsidence (subsiding air mass) with minimal chances for precipitation, or even clouds. This happens with the sinking air parcels in the center of the heat dome.
Extreme heatwave is often the result as well as a significantly enhanced wildfire threat, especially during summer or even autumn/fall season. Heat dome is often blamed to deliver deadly heatwaves around the world. And the daily maximum and average temperatures under the heat dome are typically well above normal, challenging the existing records.
What we see this weekend and the next week, is a typical blocking High weather pattern across the western half of Europe, and is forecast to be a part of the newly developed heat dome. It will likely persist for at least a week, if not even longer, extending towards mid-September.
STRONG HEAT DOME WITH HEATWAVE DEVELOPS UNDER THE BLOCKING PATTERN
Over the weekend, the general weather pattern over Europe will again begin developing a blocking ridge over western parts and North Atlantic. With time, an extensive blocking pattern is expected to develop by early next week, dominating the weather across much of the continent. This will be a classic Omega blocking High, which normally has one upper low on each side.
One upper-level low will be located to the west of the Iberian peninsula, while another one over the Eastern Mediterranean region. In between, strong warm advection will take place and spread far north across Spain, Mediterranean into France, Benelux as well Ireland and the UK. This change is forecast to bring stable weather with around a week-long period of very warm days.
The warm advection starts after Sunday, first into southwestern Europe, then the heatwave will be gradually spreading farther north and northeast. This warm plume of pretty dry air mass happens in response to a relatively deep upper low ongoing around the Azores that is also extending towards Iberia.
The warm advection generally spreads from south to north with temperatures roughly above 6-8 °C warmer than the long-term average for early September. We can also see the remnants of the powerful Arctic outbreak far east over Russia that is being replaced with much warmer air mass advecting from the west.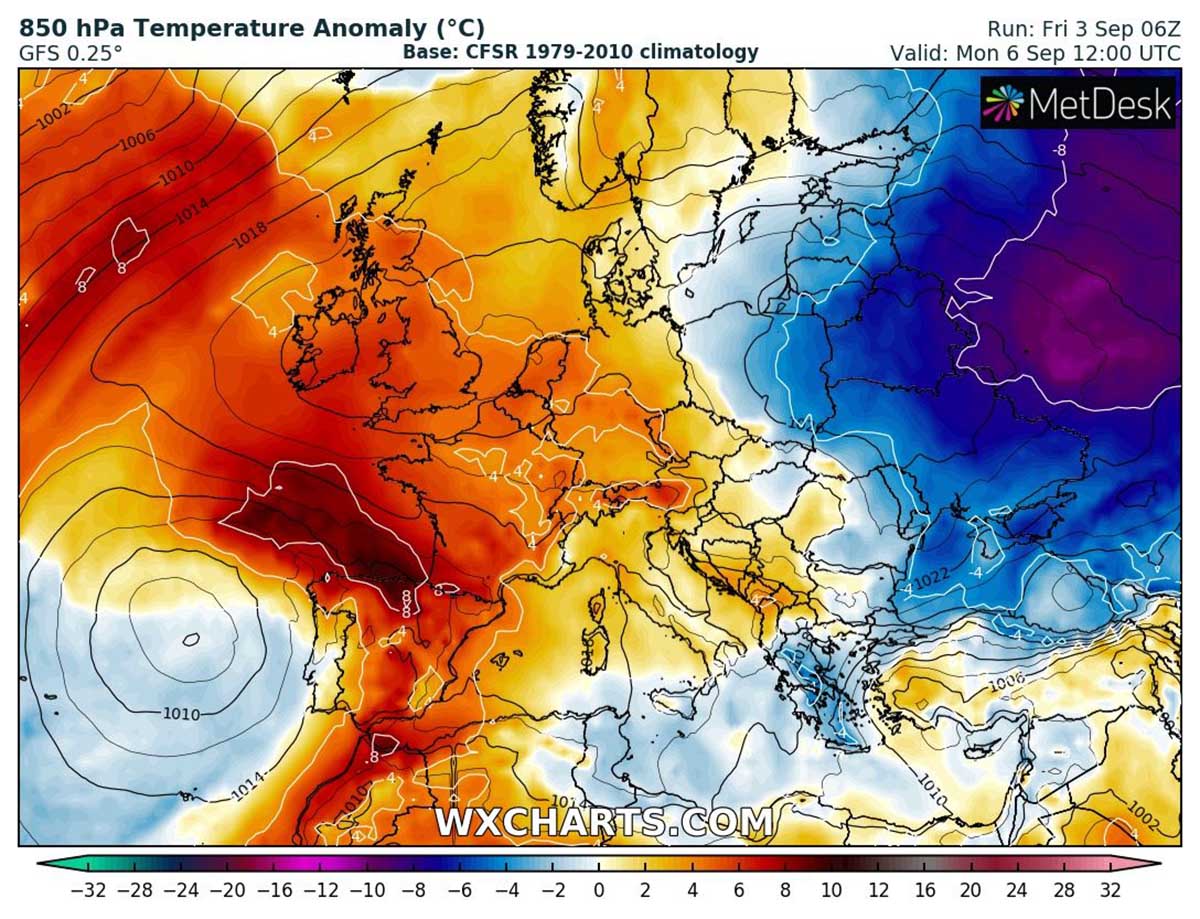 Judging from the ensemble GFS model Meteogram for London, England we can see temperatures will be around 9 °C above the early September normal around Tuesday.
From Tuesday into Wednesday, and in response to an additional warm advection beneath the strong upper High aloft, heatwave with much higher temperatures at the surface is forecast to spread quite far north. Being the most anomalous across northern Spain, France, and also across Ireland and the UK.
Temperatures in the lowest parts of the atmosphere over France will be around 12 °C above normal, so temperatures are forecast to be very high for September.
Such anomalously warm air mass will bring a strong heatwave into France, even extremely high temperatures for early September are possible. Attached below is the 2 m maximum temperature on Monday and Tuesday, reaching up to nearly 40 °C in the southwestern parts. This region is prone to some very high temperatures when southwesterly dry katabatic winds from the Pyrenees warm up the valleys.
Temperature is forecast to reach up to mid-30s in central parts of France on Tuesday, up to around 37 °C in western-northwestern France. And low 30s across northern France.
It will be very warm to nearly hitting hot day threshold across England where southern parts could see the peak temperatures between 27 and 29 °C on Tuesday. Just shy below the 30s, although locally reaching 30 °C is not out of the question either. Up to around 27 °C will already be possible on Monday, while Wednesday is forecast to bring above 25 °C across eastern England only.
Scotland could see 22-25 °C on all days from Monday through Wednesday as well.
Ireland could see up to around 24 °C on Monday, 26 °C on Tuesday and up to 22 °C on Wednesday.
HEATWAVE SPREADS FURTHER EAST LATE NEXT WEEK
The heatwave will be the strongest across western Europe through the early days next week until the ridge over western Europe and North Atlantic weakens after Wednesday and moves further east. The Omega blocking pattern will remain over the continent, but will be tilted and centered between the Mediterranean, central Europe with the Balkan peninsula into eastern Europe.
This means that refreshment comes to the west but much warmer weather will also develop into the central and eastern parts of the European continent, thanks to an established southwesterly flow on the western fridge of the blocking ridge.
Temperatures about 6-8 °C will extend under the upper High, providing high daily temperatures across the northern Mediterranean, the Balkans, central Europe towards Poland and the Baltic region. Baltics will therefore see quite a significant flip back from late autumn temperatures back into late summer ones in less than a week.
Near the surface, temperatures in the upper 20s to low 30s will develop across Italy into the Balkans peninsula and lowlands around the Alps, and north to Czechia, Germany to Poland as well. Especially the central Balkan peninsula, and Po valley and Pannonian plains could locally see peak temperatures close to mid-30s by the next weekend.
Although there are still some uncertainties regarding the exact timing of the strongest heat in these parts of Europe next week, the swath of some pretty warm to locally hot days is quite likely to develop.
***Images used in this article were provided by Windy, and Wetterzentrale.