A historic tropical storm for California is on the way this weekend. Hilary is the strongest storm of the Eastern Pacific hurricane season in 2023. It is forecast to make landfall on Sunday as a Category 2 storm on the Baja California peninsula with severe winds, flooding, and storm surge. Then, a major flooding threat is forecast across Southern California early Monday morning as tropical storm Hilary will continue tracking north across the state.
On Friday, Hilary was a major hurricane, peaking with 145 mph winds in the Eastern Pacific. Extremely warm seas made the storm rapidly intensify into a Category 4 hurricane on Thursday, becoming a very large storm.
Hurricane Hilary is tracking north-northwest towards Baja California this weekend, forecast to blast the peninsula with significant wind threat, flooding, and storm surge on Sunday, then moving into Southern California with a historic flooding threat.
The system has taken advantage of well-above-normal seawater temperatures across the Eastern Pacific and is also related to the ongoing strong El Nino global pattern. Strongly anomalous waters allowed Hilary to rapidly intensify into the 4th major hurricane of the Pacific Hurricane season this year.
Hilary should remain within a favorable oceanic and upper-level wind environment thanks to warm Eastern Pacific Ocean waters. And should maintain a strong hurricane status until the landfall in the northern Baja peninsula on Sunday.
The overall conditions in the region remain favorable for the upcoming peak season weeks through September into October.
EASTERN PACIFIC HURRICANE SEASON
The 2023 Pacific hurricane season officially started on June 1st and ended on November 30th. It covers the eastern and central Pacific towards the west until the International date line. So far, nine tropical systems have formed, with 8 reaching tropical storm intensity.
Six were hurricanes, and four reached major hurricane status (Category 3 or greater). Those were Calvin, Dora, Fernanda, and Hilary. Major hurricane Hilary is the strongest storm in the Pacific season in 2023.
A hurricane development is a very specific formation in the tropical region. It is strongly sensitive to atmospheric conditions at a given time. When the upper-level conditions with tropical waves, such as the MJO wave, are present, their strong influence changes the state of the atmosphere.
In other words, the extremely warm oceanic waters and great flow in the upper atmosphere allow tropical storm or hurricane development.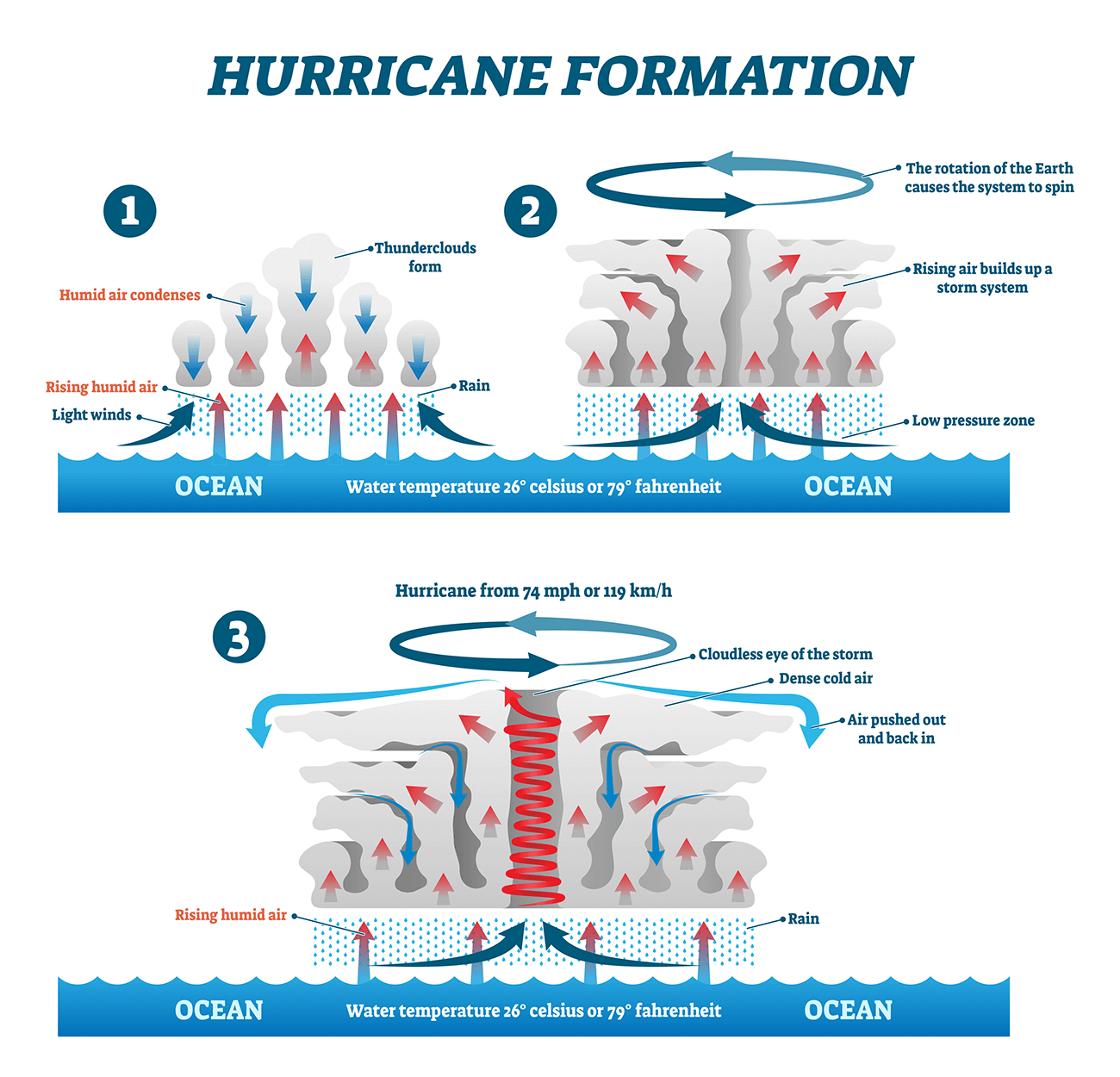 Tropical systems normally require a significantly warm sea water temperature (26 °C or above). Then, very high moisture has to be present as well. Unlike the mid-latitude cyclonic systems, the tropical region has no warm or cold fronts. The weather activity generally combines showers and thunderstorms, including a larger scale pressure and wind variability.
An important factor is also a low vertical wind shear through the atmosphere. As long as the base of a tropical storm/hurricane remains over warm water and high-altitude winds do not shear apart its top, the tropical cyclone will be strengthening and growing. More and more heat and water will be pumped into the air.
As we learned, the two main ingredients tropical systems need for their formation and strengthening are:
(1) a weather disturbance and
(2) warm ocean waters.
The latter has been in the record values for most of the world, including Pacific waters.
EASTERN PACIFIC WATERS ARE EXTREMELY WARM, INCLUDING THE SEAS ALONG MEXICO AND BAJA PENINSULA
Warmer oceans provide more potential energy for the tropical systems, leading to stronger storms or even more rapid intensification when they grow. Recent studies have shown a direct link between ocean surface temperatures and tropical storm intensity – The warmer waters lead to more intense storms.
The Eastern Pacific Ocean sea surface temperatures are statistically very warm through the summer and early fall months, as weather is more stable and warms up the waters into the low 30s °C. The recent sea surface temperature anomaly reveals that the whole Atlantic Basin and Eastern Pacific have anomalously warmed up this hurricane season.
As we can see from the chart below, hurricane Hilary has taken advantage of this significantly warmer oceanic water from the Eastern Pacific and along western Mexico. These conditions often quickly allow a rapid intensification of tropical cyclones, hinting why Hilary has become the strongest major hurricane of the Pacific season 2023.
Sea temperatures of around 2-3 °C warmer than normal give the system further fuel to maintain its strength while tracking toward the Baja peninsula.
The Eastern Pacific sea waters are typically the warmest along western Mexico and towards the Baja peninsula. The sea surface temperatures are from around 28 to 31 °C, but they are warmer and closer to the land. Water surface temperatures of 32-33 °C or warmer are observed over the Gulf of California.
This is a significant signal for the upcoming hours/days hurricane Hilary will track across. Extremely warm sea waters often lead to the most intense systems, tracking closer to Mexico's coast. Many tropical cyclones have encountered explosive development, producing a major threat to the coastal areas after moving across such warm, moist fuel at the sea surface.
However, the present strongly anomalous sea surface temperatures are quite typical when the active Pacific hurricane season follows around the peak weeks from August through October. This year's extremely warm seas are just extra fuel for those storms.
THE MJO WAVE – HURRICANE SEASON ACTIVITY BOOSTER
Recently, we have been tracking a pronounced MJO wave over the western and central Pacific Ocean. It produced multiple intense typhoons, including Hurricane Greg, whose winds helped to burst the fires in Maui, Hawaii, last week.
The MJO is known as the Madden-Julian Oscillation, or short: an MJO wave. It is important for tropical activity and cyclone formation worldwide, including the Pacific and Atlantic oceans during hurricane season. The MJO wave is Earth's largest and most dominant source of short-term tropical variability. This eastward-moving wave contains convective showers and thunderstorms and typically circles the planet in about 30 to 60 days.
On the MJO wave chart provided by Michael J. Ventrice, we see the wave with filtered VP200 anomalies for the current week's state and the forecast for the week +1. Blue represents a cold phase and means more favorable conditions for tropical cyclone development. The red colors represent a warm phase and indicate a less favorable state for tropical cyclogenesis present.
As we can easily notice from the attached chart, there are favorable conditions over the Eastern Pacific. While less favorable conditions are across the Atlantic. The shallow wave over the Eastern Pacific region shows that conditions have supported tropical development lately. This helped Hilary to form and intensify into a major hurricane.
The VP200 anomalies marked on the chart above indicate a Velocity Potential (VP), an indicator representing the large-scale divergent flow in the upper levels of the atmosphere over the tropical region. Where the blueish colors are present, the negative VP anomalies are found, which means that a divergent outflow from enhanced convective regions leads to tropical cyclogenesis.
The reddish colors represent the opposite in this case, a converging upper-level flow leads to a suppressed convective activity in the region underneath. When a deep MJO wave moves over the region, it also brings a very low wind shear environment – the other important factor that helps to trigger tropical storm development.
Besides the MJO wave, other waves are directly related to the large-scale wave as the MJO wave. In a smaller size, we better know the atmospheric Kelvin wave – is related to the tropical rainfall systems accompanied by characterized westerly and easterly wind patterns.
HURRICANE HILARY IS HEADING FOR BAJA CALIFORNIA PENINSULA LANDFALL ON SUNDAY
Ahead of Hilary, Hurricane conditions are expected in the western Baja California peninsula from Saturday night into Sunday morning. The National Hurricane Center (NHC) has issued a hurricane warning for portions of the peninsula.
Hurricane is moving north-northwest with an impact on Baja California starting on Saturday and landfall at night.
Hilary is forecast to remain a Category 4 storm for another 24 hours, gradually losing its strength but remaining a violent hurricane until landfall.
At landfall on Saturday night, Hilary is forecast to remain a powerful Category 2 storm, gradually weakening as it tracks into Southern California on Sunday. But it will be remaining of at least a Tropical Storm force.
HURRICANE HILARY FORECAST TO BRING HISTORIC FLOODING THREAT TO SOUTHERN CALIFORNIA
The infrared satellite presentation of Hilary on Friday revealed a healthy and powerful storm with a large and well-defined eye, surrounded by high convective cloud tops. Meaning the storm is violent. Based on the satellite and hurricane hunters' observations, the initial wind speed remains at 125 kt (145 mph), still a solid Category 4 hurricane.
After a major impact with landfall south of Guerrero Negro, Mexico, Hilary will move north into Southern California. While the most intense winds will gradually weaken after the landfall and interaction with the peninsula, winds will remain of a Tropical Storm force as the storm tracks into US land.
Powerful hurricane-force winds are forecast to spread across the western part of the peninsula late Saturday as the hurricane nears the land. Bringing significant impacts from high winds, storm surges, and heavy rainfall to the region.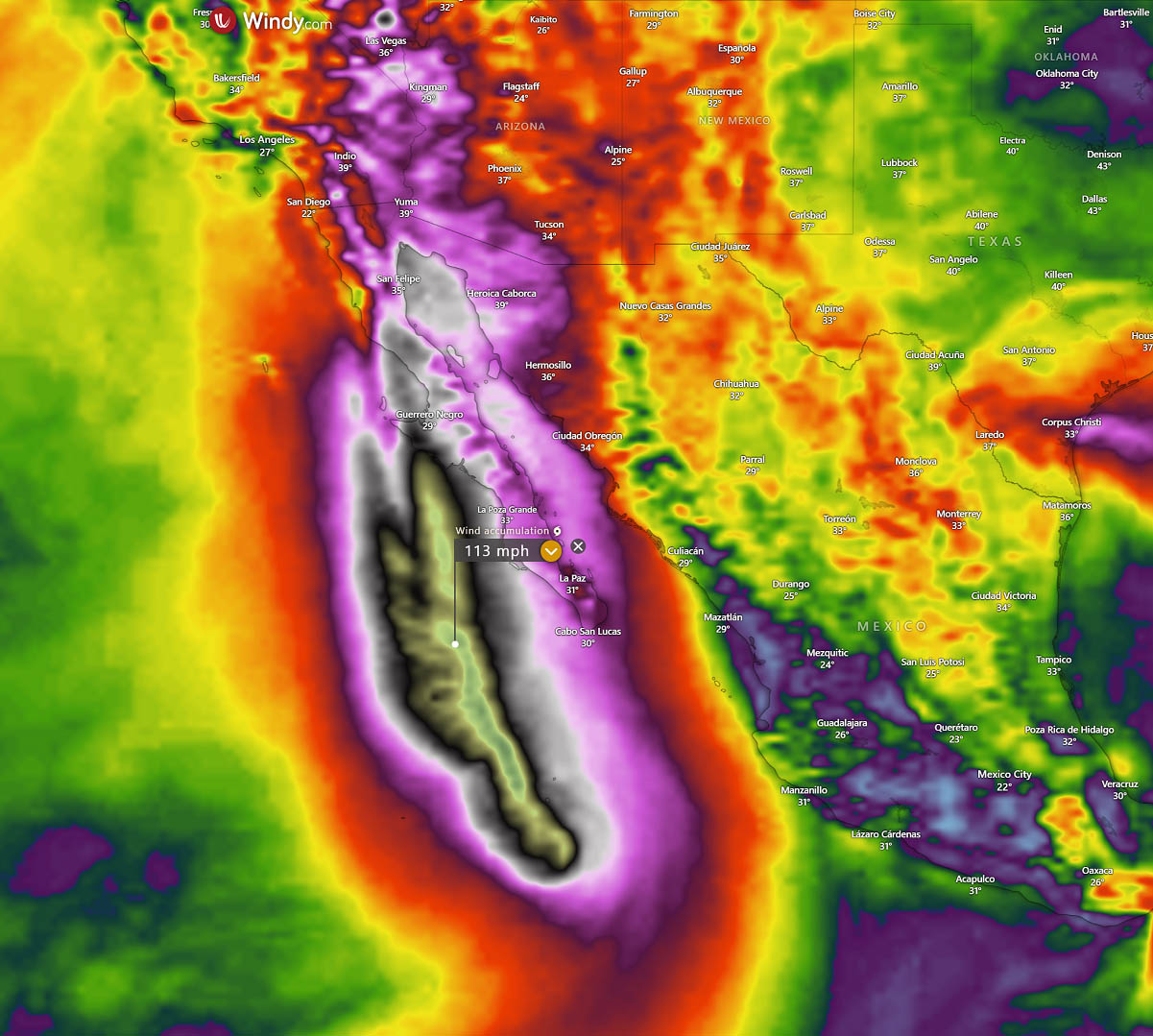 First, heavy rainfall associated with Hurricane Hilary could produce areas of flash flooding and result in landslides over portions of the Baja California Peninsula from Saturday through late Sunday.
Rainfall impacts from Hilary within the Southwestern United States are expected to peak this weekend into Monday. Flash, urban, and arroyo flooding is expected, with the potential for rare and significant impacts.
Around 4-8 inches of rain within a period of less than 24 hours is likely to develop from the northern Baja California peninsula across Southern California. Locally even higher amounts are possible. A lot of rain will also spread north into Nevada as remnants of Hilary continue further inland.
Tropical storm conditions are possible on Sunday in portions of southern California, where a Tropical Storm Watch has been issued. Large swells from Hilary will spread northward along the coast of southwestern Mexico and the Baja California Peninsula. These swells will reach the Gulf of California and northern portions of the Baja California Peninsula later this weekend.
SAFETY PREPAREDNESS DURING A HURRICANE SEASON
Have a plan
The official hurricane season in the North Atlantic and the Eastern Pacific starts on June 1st and ends on November 30th. This is when you and your family must be prepared by planning.
Make sure to write down emergency phone numbers and keep them on the refrigerator or near every phone in your house. Program them into your cell phone as well.
Prepare an emergency supply kit.
Locate the nearest shelter in your area, and find different routes from your home in an emergency. If shelter locations in your area have yet to be identified, learn how to find them before the event of a storm.
Pet owners: Take care of your pets at pre-identify shelters. Find a pet-friendly hotel or an out-of-town friend or relative where you can take your pets in case of an evacuation. Local animal shelters can offer advice on what to do with your pets if you are asked to evacuate your home during a hurricane or a tropical storm.
DIFFERENCE BETWEEN A HURRICANE 'WATCH' AND 'WARNING'
When you listen to the National Weather Service alerts on TV or radio or check for them online, you will see two kinds of alerts:
A hurricane watch means hurricane conditions (sustained winds of 74 miles per hour [mph] or higher) are possible in a stated area. The National Hurricane Center (NHC) will announce hurricane watches 48 hours before they expect tropical-storm-force winds (sustained winds of 39 to 73 mph) to start.
A hurricane warning is a more serious threat. It means hurricane-force winds are expected in a stated area. NHC issued these warnings 36 hours before tropical-storm-force winds were expected in the area to give people enough time to prepare for the storm.
Check out the National Weather Service's Hurricane Center for more information about hurricane watches and warnings. If you hear a hurricane watch or warning in your area, you can take steps to get ready.
GET YOUR CAR READY TO LEAVE HOME IF NEEDED
Make sure your car is ready before the tropical storm or hurricane hits.
Fill the gas in your car's tank.
Move cars and trucks into your garage or under cover.
Always keep an emergency kit in your car.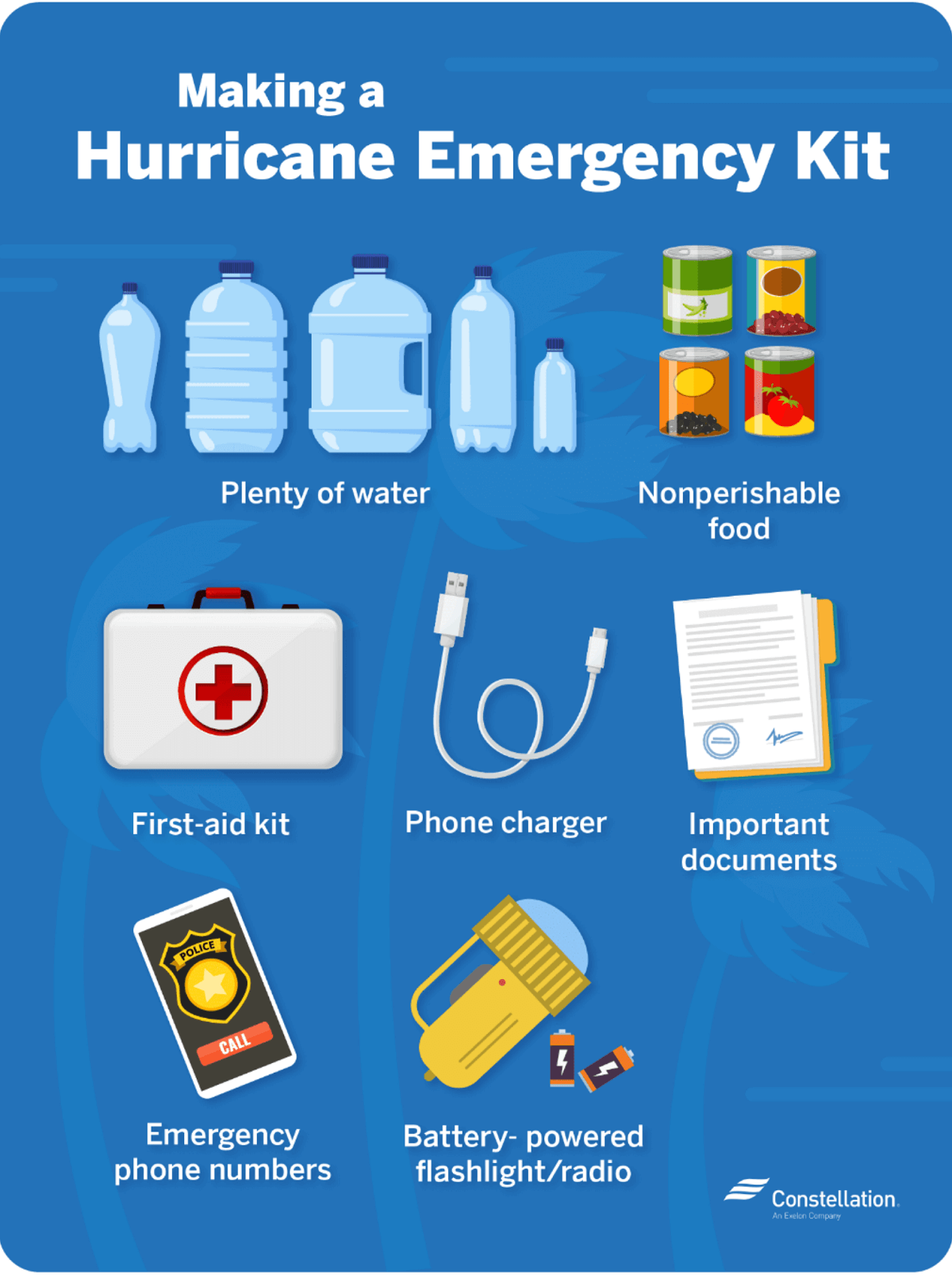 If you don't own a car, consider making plans with friends and family or call authorities to get a ride if you need to evacuate.
GET YOUR FAMILY AND PETS READY
Go over your emergency plan with your family multiple times; understand everything.
Keep checking for weather updates about the storm. Watch TV, listen to the radio, or check the NHC website online.
Call the hospital, public health department, or the police about special needs. If you or a loved one is older or disabled and won't be able to leave quickly, get their advice on what to do.
Put pets and farm animals in a safe place.
GET YOUR HOME READY
Clear your yard to ensure nothing could blow around during the storm and damage your home. Move bikes, lawn furniture, grills, propane tanks, and building material inside or under the shelter.
Cover up house windows and doors. Use storm shutters or nail pieces of plywood to the outside window frames to protect your windows. This can help keep you safe from flying debris, pieces of shattered glass.
Be ready to turn off your power if you see flooding, downed power lines, or you have to leave your home. Switch your power off completely.
Fill clean water containers with drinking water if you lose your water supply during the storm. You can also fill up your sinks and bathtubs with water for washing.
Double-check your carbon monoxide (CO) detector's battery to prevent CO poisoning.
BE READY TO EVACUATE OR STAY AT HOME
During a hurricane warning, always listen to authorities regarding whether you should evacuate or stay home.
If a hurricane is coming, you may hear an order from authorities to evacuate (leave your home). Never ignore an order to evacuate. Sturdy, well-built houses may not hold up against a hurricane's power. Staying home to protect your property is not worth risking your family's health and safety.
There are occasions when you may hear an order to stay at home. If driving conditions are too dangerous, staying home might be safer than leaving. Respect the authorities' decisions.
If you need to evacuate:
Grab your emergency supply kit and only take what you need (cell phone, chargers, medicines, identification like a passport or license, and cash).
Unplug your appliances. If you have enough time, turn off the gas, electricity, and water.
Follow the roads that emergency workers recommend even if there's dense traffic expected. Other routes might be blocked or already flooded. Never drive through flooded areas, as cars and other vehicles can be swept away or may stall in just 6 inches of moving water.
Contact your local emergency management office and ask if they offer accommodations for owners and pets.
If you need to stay home:
Keep your emergency supply kit anywhere where you can easily access it anytime.
Follow weather updates online from NHC, and listen to the radio or TV for updates on the hurricane.
Stay inside. Even if it looks calm, don't go outside. Wait until you hear an official message that the hurricane is over. Sometimes, the weather gets calm in the middle of a storm but then quickly worsens again.
Stay away from windows — you could get hurt by flying debris, such as pieces of broken glass or other objects winds pick up around the neighborhood during the storm. Stay in a room with no windows, or go inside a closet.
Be ready to leave home. If emergency authorities order you to leave or your home is severely damaged, you may need to go to a shelter or a neighbor's house.
*****
Our expert forecaster team will actively follow the tropical region activity worldwide, including Atlantic Basin systems and tropical cyclones likely to affect the United States, the Caribbean, and Europe again in the following months.
We will closely monitor any further development of Hilary and post more updates if needed.
NOAA, NHC, Tropical Tidbits, Windy, and WHO provided images used in this article.
SEE ALSO:
El Niño anomaly is growing rapidly, with a strong seasonal impact already seen in the forecast as we head into Fall and Winter 2023/2024