A powerful magnitude 6.4 earthquake occurred tonight, November 26th, at around 2:54 UTC time near the coastal city of Durres, Albania.
The epicenter of the earthquake was around 35km NW of the capital city Tirana. The reports so far indicate many collapsed and severely damaged buildings. One person has died, by current reports, and around 50 have so far been rushed to the hospital. The image below from Google maps shows the range of the strongest felt intensity. Firefighters and army personnel are helping residents under the rubble.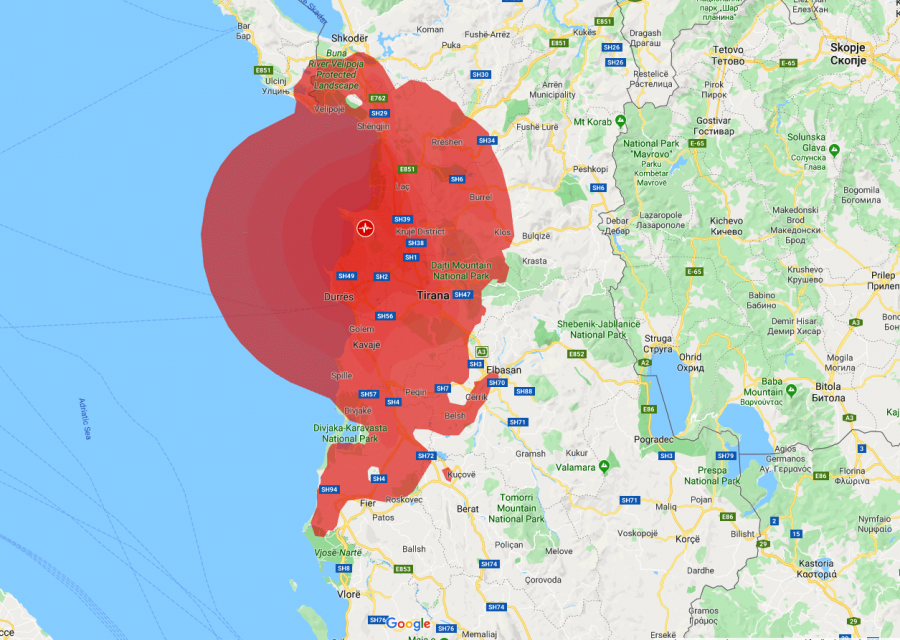 The magnitude 6.4 earthquake was relatively shallow, at around 15km, which makes the earthquake more severe, since the energy released by the earthquake is closer to the surface. Albania lies in a region of frequent seismicity. In September, a magnitude 5.6 earthquake occurred in the country, damaging over 500 homes. Tonight's earthquake was the strongest in the past 30 years in the country and one of the strongest in the known history. The shakemap by USGS indicates severe shaking, with moderate to heavy damage near the epicenter. By USGS estimates, around 8000 people felt severe shaking, while more than 12 million people could feel the earthquake in the surrounding countries of Greece, Montenegro, Kosovo, and North Macedonia. It was even felt in the Italian regions of Puglia and Basilicata, across the Adriatic sea.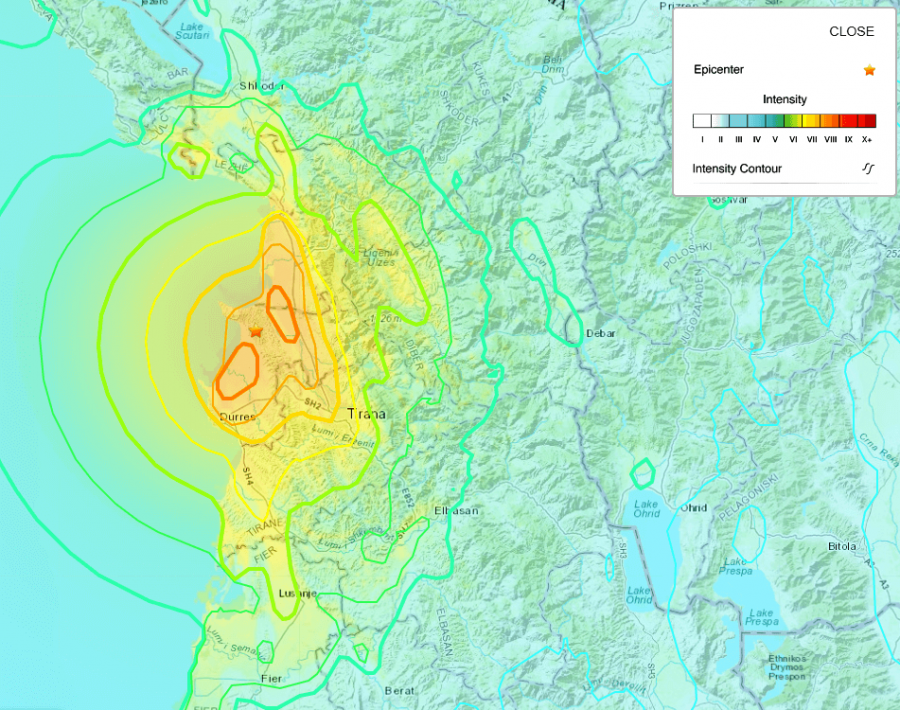 Many aftershocks were detected so far, including a magnitude 5.4 earthquake, around 6:08 UTC this morning. The epicenter was out in the Adriatic sea, but the shaking was still felt in the coastal areas. The image below shows the intensity and epicenter of the 5.4 magnitude aftershock.

https://twitter.com/elizanaxhameta/status/1199222193957330944

Four killed and more than 150 injured from the #earthquake with 6.4 magnitude that hit #Albania pic.twitter.com/GWxv4FK7rL

— D. Tahiri (@IamDenis_Tahiri) November 26, 2019
#earthquake in #Durres
First reported damages! #Albania pic.twitter.com/6jS3Nb0Xiv

— Klaudja Karabolli (@KKarabolli) November 26, 2019
Powerful #earthquake with a magnitude of 6.4 hit #Albania at 3:54am causing several buildings to collapse. pic.twitter.com/jG7Im62RbK

— IntoAlbania (@intoalbania) November 26, 2019

https://twitter.com/IgliLime/status/1199191667129098241

We will keep you updated on any important further development. While you wait for more updates, make sure to check out our latest winter forecast:
Interested in our calendar? We are proud to present and promote the best weather photographers in Europe – see details: