It has been unusually cold across much of Europe through the spring months of April and May this year. Soon as we entered the meteorological summer of 2021, the forecast trends have been improving into more average temperatures. While the calendar continues into mid-June next week, temperatures are expected to become higher. It appears likely that the first, potentially significant heatwave is forecast to deliver hot temperatures towards the mid-30s soon.
According to the weather models, a blocking High is forecast to develop with the gradual general pattern change over Europe. An Omega blocking High will first strengthen over western Europe this weekend, then expand east towards central Europe into the mid-next week.
While the weather should be relatively stable and dry under the upper High, daytime temperatures should push into the low 30s in many regions, possibly also into the 35 °C range or even higher in some places.
The heat is forecast to persist for days, therefore it will be soon classified as the heatwave – the first significant one of summer 2021.
Note: Per definition, a heatwave occurs when the daily maximum temperature of more than five consecutive days exceeds the average maximum temperature by 5 °C, based on the normal period being 1961–1990.
Model guidance also suggests that some further pattern change dynamics are likely to follow late next week, with a deep wave emerging towards western Europe from the Atlantic. Often this leads to increased chances for severe weather across western and also central Europe.
These severe weather potential trends will continue to be monitored in the following days, as a strong Atlantic depression could bring a cold front with robust convective storms along the boundary surging east. Especially after mid-next week, while the heatwave will strengthen into central Europe with an additional warm advection associated with the pattern change.
APRIL AND MAY WERE PRETTY COLD OVER EUROPE
Many Europeans will surely remember how it was unusually colder weather through the recent weeks. Some regions in Europe even had the wettest May on record. This perfectly fits with much more dynamic weather and frontal systems, leading to colder weather and a lack of stable patterns.
Actually, the recent NCEP reanalysis over Europe through the months of April and May clearly shows that temperatures over a large part of Europe were quite a lot colder than normal for spring.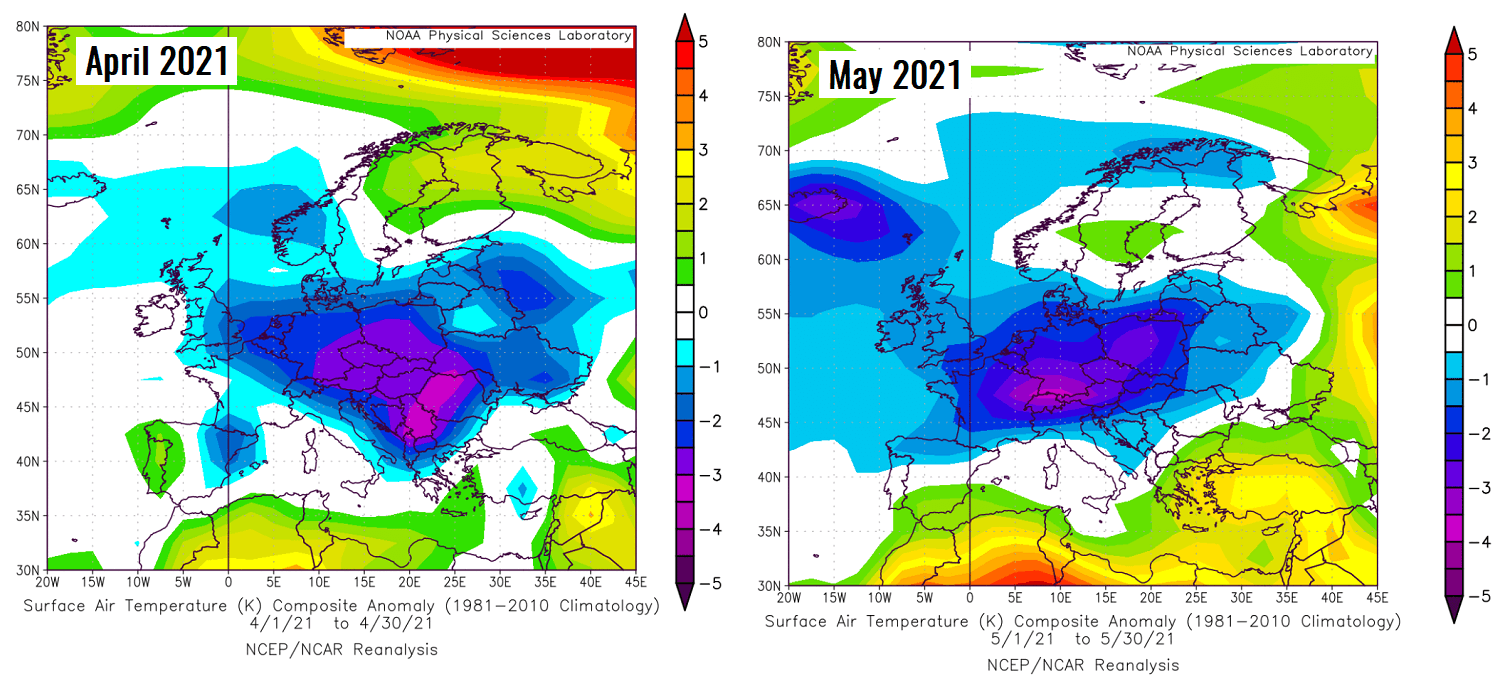 The attached chart above includes April's temperature anomaly on the left – it was 1 to 2 °C below average across central and parts of western Europe, even more than 3 °C colder than normal over the Balkan peninsula.
May (the right chart) was then again very cold, precisely across central Europe. Some regions have had a monthly average of about 2-3 °C below normal. That is actually pretty impressive, especially if we see both months were much cooler than usual.
Now, let us take a look at how the weather dynamics will establish a blocking ridge over western Europe first, expand into central Europe with a strengthening heatwave over the next 5-7 days. See further down for daily pattern evolution.
BLOCKING PATTERN ESTABLISHES OVER THE WEEKEND
Temperatures over Europe were becoming warmer this week, thanks to the more stable weather as surface pressure was gradually rising over the continent. Daily convective weather was, however, occurring under several cold upper lows but nothing significant in regards to robust severe weather happened.
Going into the weekend now, the general weather pattern over the continent is strengthening the upper-level ridge, with an Omega blocking developing over western Europe. The ridge becomes quite strong on Sunday, while an upper wave is surging south to its east, over far eastern Europe.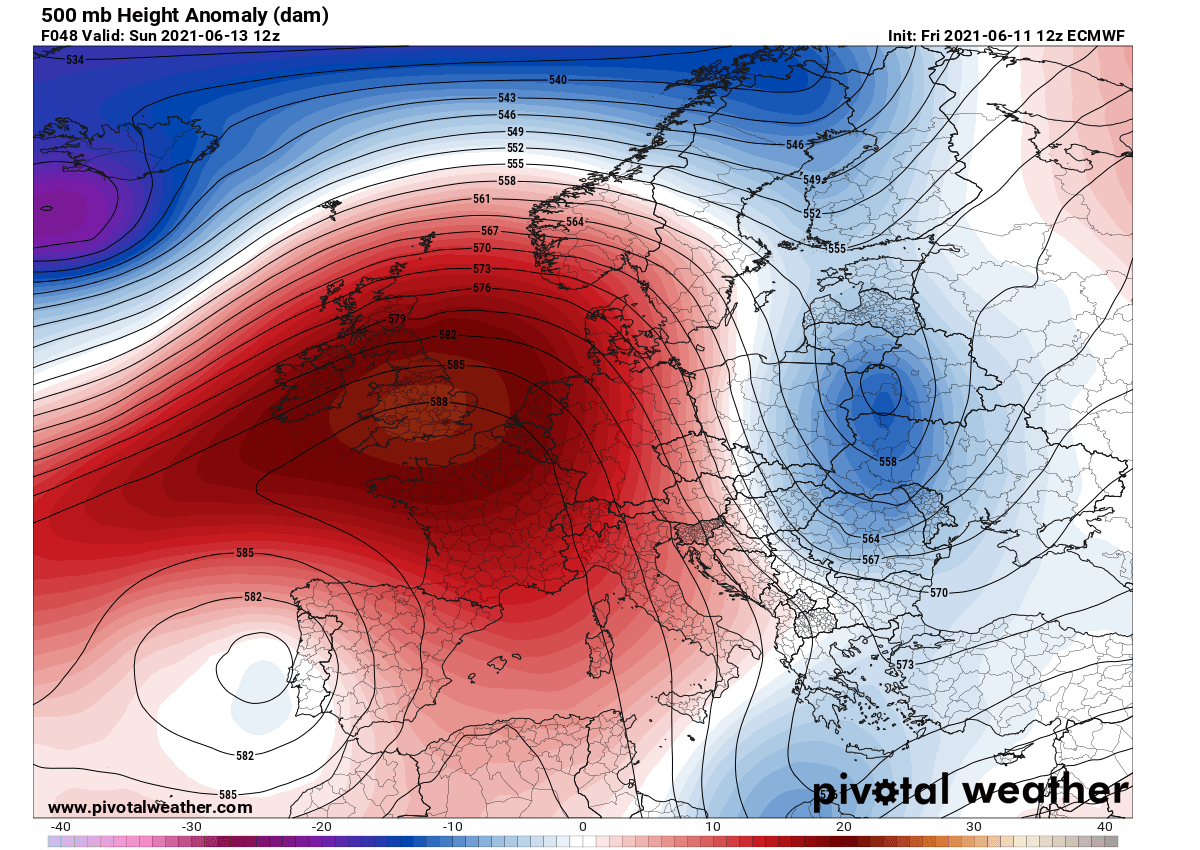 With the further pressure rising, stable weather will continue warming up. Advection of warm air mass will first take place into western Europe through Saturday and Sunday, related to the anticyclonic circulation of the surface high-pressure system. Heatwave will develop across southern France.
The surface High will be centered over Benelux on Sunday, with around 1030 mbar in its core.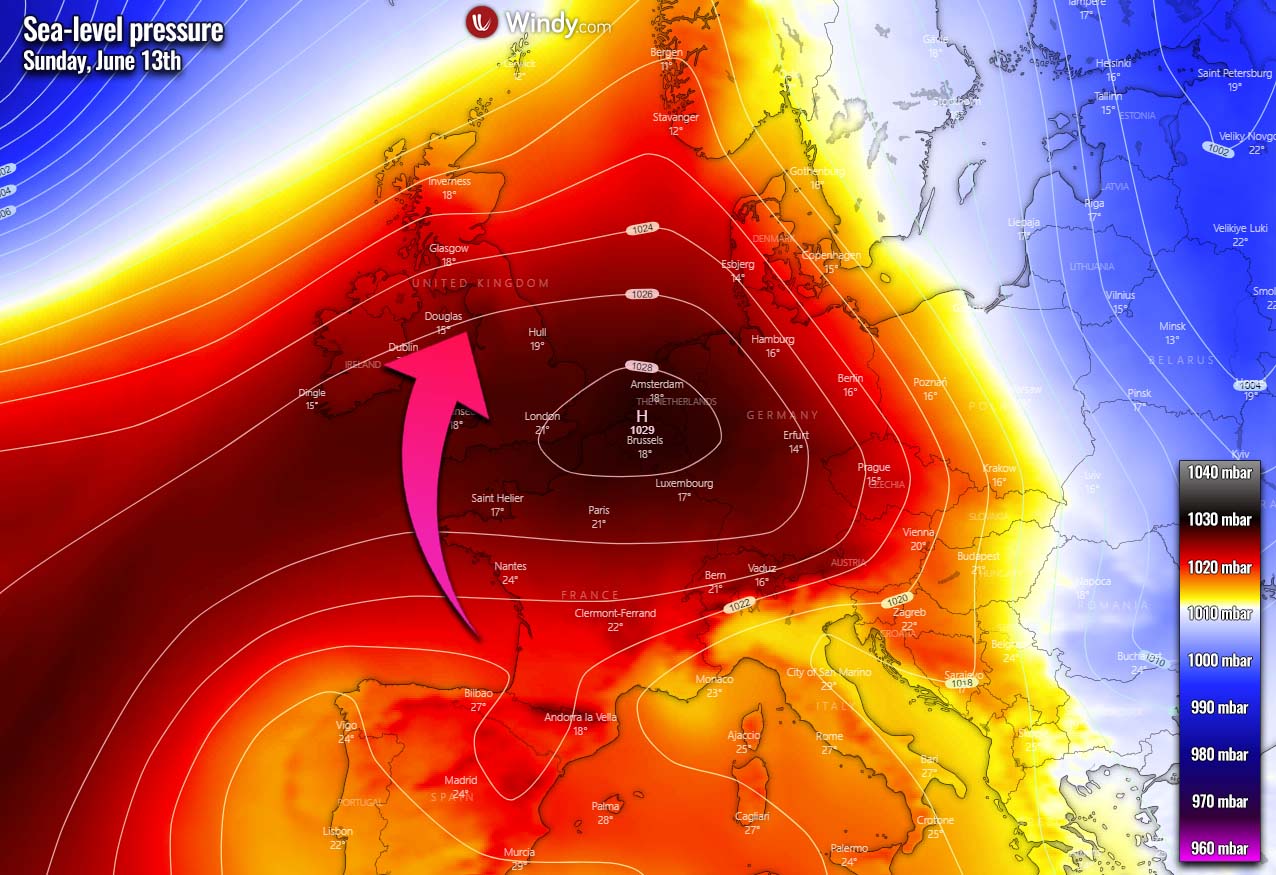 The upper ridge and an associated surface high-pressure system will both gradually expand through Sunday towards Monday, spread towards central Europe, southwestern Scandinavia, the Mediterranean, and Iberia.
THE FIRST SIGNIFICANT HEATWAVE OF SUMMER 2021 IS FORECAST
This weekend, temperatures in the lowest levels of the atmosphere will be rising and becoming about 6-8 °C above normal across western Europe on Sunday. Further east, across eastern Europe, temperatures will still remain below normal, thanks to the ejecting cold upper wave.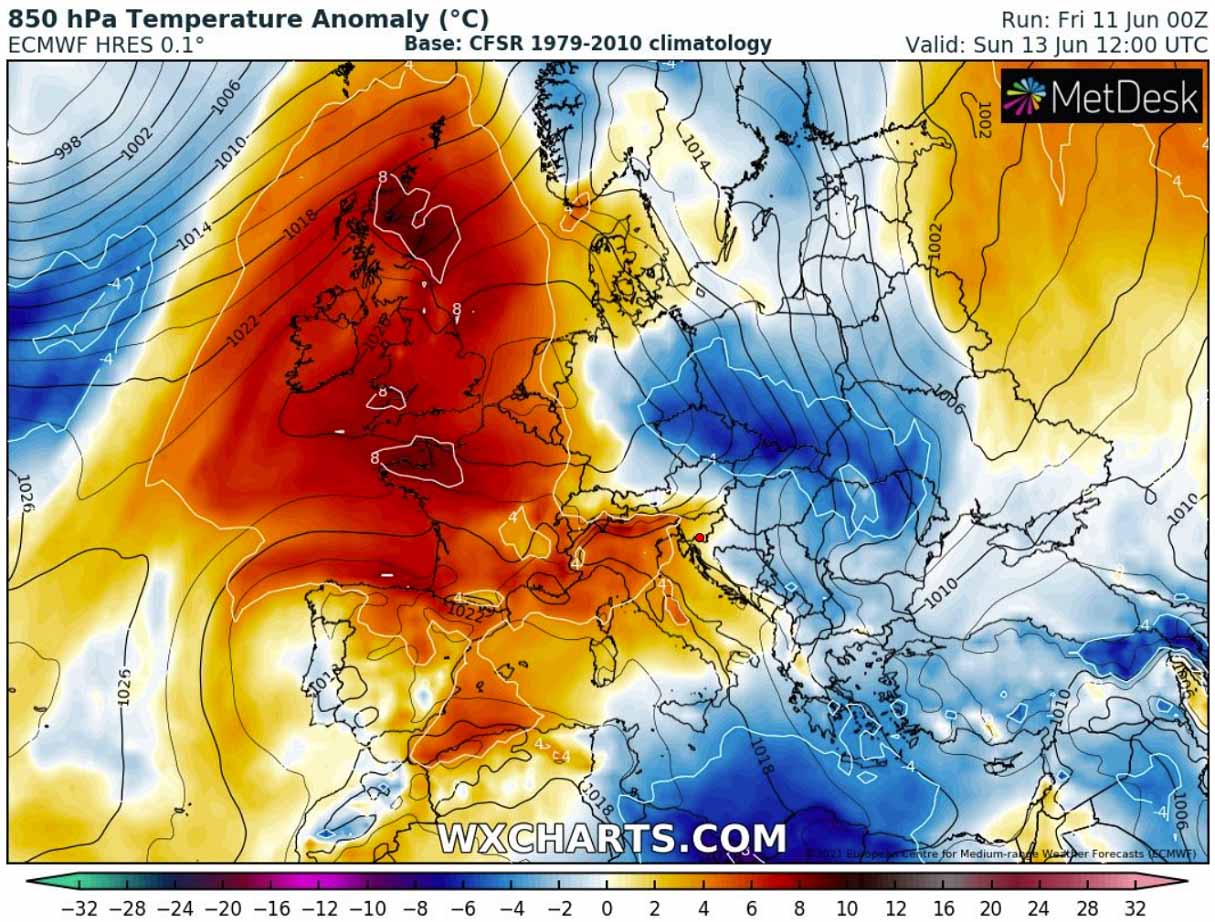 This should contribute to quite hot temperatures across France, especially in the southern parts where peak temperatures could push near or even above 35 °C on Sunday and Monday. Warmer temperatures will also spread farther north as the heatwave will be gradually strengthening from south to north.
Northern France and Benelux should peak into the upper 20s, close to a hot day threshold in northwest parts. Up to around 26-28 °C also over southern England.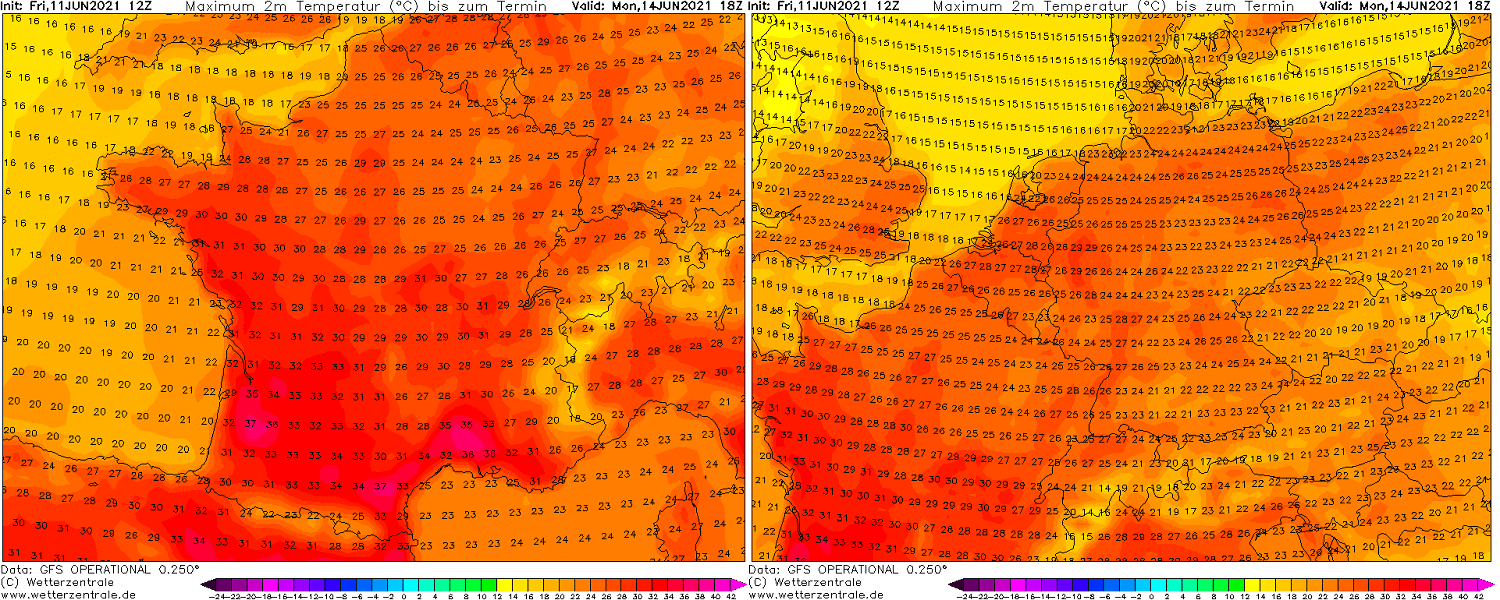 Heatwave with hot temperatures will also spread over Italy, with low 30s possible on Monday. While temperatures will be gradually warming up also over the rest of central Europe, Germany, and Poland.
DEEP NORTH ATLANTIC DEPRESSION EMERGES THROUGH MID-WEEK
After Tuesday, a new deep North Atlantic depression will gradually emerge into western Europe, therefore causing the upper High to its east to gradually losing its strength, but also moving farther east into central Europe. The low will be quite deep, with central pressure in the 980s.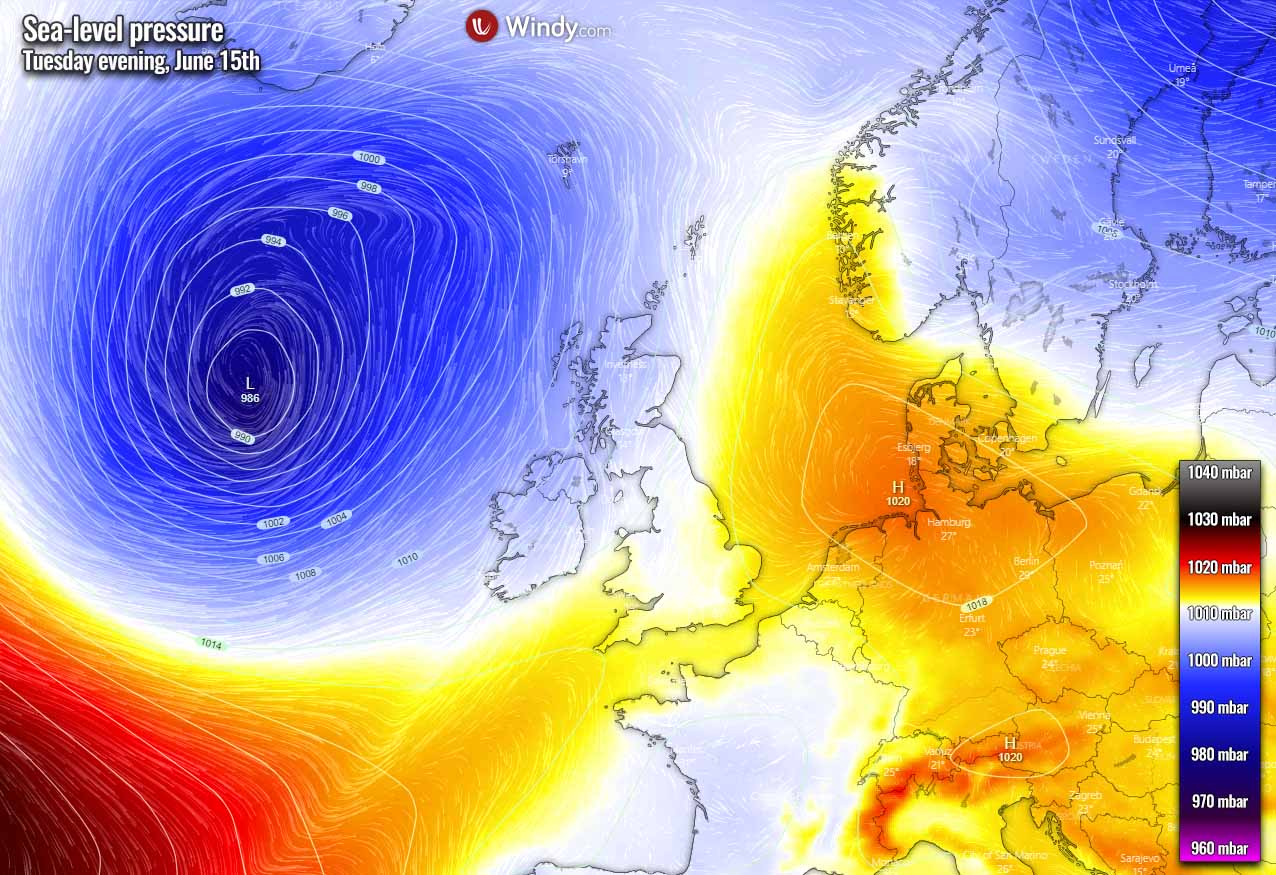 A cold front associated with this surface cyclone will surge east across Ireland and Scotland through Tuesday night. Ahead of the front, an unstable air mass will provide convective storms across Iberia, France, and the southern UK on Wednesday.
Those will be developing in an enhanced wind shear associated with upper-level winds rounding the emerging upper wave. While moderate to locally strong instability will likely take place. Although the attached GFS model is often overdoing surface dewpoints and CAPE (convective available potential energy), moderate instability 1000-2000 J/kg is quite likely.
Therefore, organized severe storms are well possible on Wednesday as well. Including supercell storms with large hail, severe winds, and torrential rainfall.
HEATWAVE MOVES EAST, SEVERE STORMS LIKELY OVER WESTERN EUROPE
Such a situation as through mid-next week is quite typical after an emerging upper wave into the ridge sitting over the European continent. While it persists over central Europe, colder weather under the upper wave provides a strong temperature and winds between the two.
Towards late next week, the upper-level Omega blocking ridge moves further east-northeast into eastern Europe and Scandinavia. While a large long-wave trough establishes over the North Atlantic and western Europe.
While the heatwave will persist over western and southwestern Europe from Sunday through Wednesday (left chart below), it will gradually expand and strengthen into central parts (right chart) of Europe after Wednesday as the upper High moves east. Temperatures over the Alpine region will be close to 10 °C above normal through late next week.

The Upper 20s to low 30s are expected across France, Benelux, and Germany on Wednesday, also upper 20s in England. While Thursday brings cooler temperatures ending the heatwave over France and the UK, it will be another hot day over Benelux and Germany, also very warm further east and south.

But in between the ridge to the east and upper wave to the west, the ongoing pattern should further support the potential for severe weather across western Europe on both Thursday and Friday. Some storms will be organized and become severe, including supercells again.
Strong to severe storms will be more likely over Benelux and Germany on Thursday, but they could also develop further east on Friday.
Conditions will become more stable behind the eastward surging cold front, which should limit convective potential over western Europe after Thursday. While some trends do hint at another wave emerging from the southwest towards the weekend.
HEAT COULD INTENSIFY ACROSS CENTRAL EUROPE OVER THE WEEKEND
Mid-range weather charts have some hints on the further weather pattern evolution that a heatwave could significantly intensify across central Europe over the next weekend. While the exact evolution is yet to be defined, as it is still a week in advance, the potential is there for significant heat to establish.
Attached below is the GFS model chart with the peak temperatures across southern and central Europe on Sunday next week, June 20th. The weather model hints at very hot days possible, with temperatures pushing into the upper 30s across parts of Italy and mid to upper 30s over the Balkans and areas northeast.
It has to be noted again that this forecast chart is still more than a week ahead, so changes are possible. But the pattern evolution should be closely monitored if an intense heatwave does develop over these areas late next week.
***The images used in this article were provided by Wxcharts, Tropical Tidbits, and Windy.
SEE ALSO:
A large Saharan dust cloud is moving over the Atlantic Ocean, already reaching into the Caribbean, and is forecast to reach Florida early next week