The still strengthening hurricane Ida is just a few hours from landfall in Louisiana and has literally exploded into a monster storm overnight. It has now intensified into a major Category 4+ hurricane with 150 mph (140 kt) winds, even faster than weather models were predicting. Central pressure is down to 935 mbar and deepening. Catastrophic storm surge, destructive winds, and flash floods are expected with the landfall along the central Gulf Coast in Louisiana today and tonight, including over the city of New Orleans.
Major hurricane Ida only has several hours left before it makes landfall in southern Louisiana, and further rapid intensification is quite possible before the eyewall comes ashore. Ida is taking an advantage of the extremely warm seawater in the Gulf of Mexico. The landfall is expected south of the town of Houma, LA. To the south-southwest of the city of New Orleans.
Reports from an NOAA Hurricane Hunter aircraft indicate that maximum sustained winds have increased to near 150 mph (240 km/h) with higher gusts. The latest minimum central pressure estimated from reconnaissance aircraft data is 935 mbar (27.61 in).
Note, that there were only two hurricanes on record that have made landfall in Louisiana with pressure this low. Those were Katrina (2005, 920 mbar) and the Last Island hurricane (1856, 934 mbar). The National Hurricane Center records go back to 1851 (170 years).
The eye and the surrounding eyewall of Hurricane Ida are so big that a very large area of the Louisiana coast will be affected by destructive winds, life-threatening storm surge, and major flooding.
Tropical Storm Ida has quite rapidly intensified into a hurricane on Friday with top winds of 80 mph at the time it was crossing western Cuba and emerged into the Gulf of Mexico. Ida has then been strengthening and reached major hurricane strength on Saturday night with winds above 100 mph, exploding to a 150 mph monster on Saturday morning.
It is very likely to additionally strengthen into an extremely dangerous and borderline Category 5 hurricane prior to its landfall along the Louisiana coast. Possibly with the maximum sustained winds of around 155-160 mph before making landfall along the U.S. Gulf Coast tonight.
*** A Storm Surge Warning is in effect for East of Rockefeller Wildlife Refuge Louisiana to the Alabama/Florida border and from Vermilion Bay, Lake Borgne, Lake Pontchartrain, Lake Maurepas, and Mobile Bay. ***
*** A Hurricane Warning is in effect for Intracoastal City Louisiana to the Mouth of the Pearl River and for Lake Pontchartrain, Lake Maurepas, and Metropolitan New Orleans ***
Mandatory evacuations were underway across parts of the Gulf Coast on Saturday with residents urged to make final preparations ahead of the life-threatening impact by approaching monster Hurricane Ida.
So far, there were five named tropical cyclones that made landfall in the US this year, Ida will be the 6th and will also be the first hurricane landfall along the U.S. Mainland of the Atlantic Hurricane Season 2021. Ida is also the 9th system of the very active year.
Hurricane Ida is expected to make landfall on the exact date Hurricane Katrina devastated a large swath of the Gulf Coast exactly 16 years ago. And it could be of the same intensity, thanks to the abnormally hot waters of the Gulf of Mexico. This will be a life-altering storm for southern Louisiana.
According to New Orleans Mayor LaToya Cantrell, the authorities ordered a mandatory evacuation for a small area of the city outside the levee system. But although the fact how intense Ida has become today, LaToya said it isn't possible to do so for the entire city. There was no time to order this as it generally means all lanes of some highways have to be used for residents to leave the city.
During the Atlantic hurricane season last year, the state of Louisiana was impacted by several tropical storms and hurricanes. First with the Tropical Storm Cristobal, then a monster Category 4 Hurricane Laura. Followed by Category 2 Hurricane Delta and Category 3 Hurricane Zeta in the final weeks of the hurricane season 2020.
HURRICANE KATRINA LANDFALL ON AUGUST 29TH, 2005
A Major hurricane Ida is about to make landfall in Louisiana on Katrina's anniversary. Today is August 29th, so Ida will make landfall exactly 16 years after a devastating Hurricane Katrina hit. Katrina made landfall on August 29th, 2005. What a coincidence!
Hurricane Katrina was a huge Category 5 hurricane over the Gulf of Mexico, becoming a Category 3 storm at the time of landfall in Louisiana. Katrina caused more than 1,800 deaths and $125 billion in damage, particularly in the city of New Orleans and the surrounding areas of southern Louisiana. Hurricane Katrina was the costliest tropical cyclone on record, tied with Hurricane Harvey from 2017.
Hurricane Katrina's landfall was with 125 mph of sustained winds, causing catastrophic flooding covering 80 percent of New Orleans after the federal levees failed and the city was flooded.
BOILING HOT WATERS OF THE GULF OF MEXICO
The Atlantic Ocean water surface temperatures (SST) often push above 30 °C during the summer months, especially in some portions of the Caribbean and the Gulf of Mexico. The recent sea surface temperature anomaly analysis is showing that waters are anomalously warm, close to 4 °C above normal, 30-32 °C are observed in the Gulf. The warmest waters are especially across the northern portions of the Gulf of Mexico, right where hurricane Ida is traveling.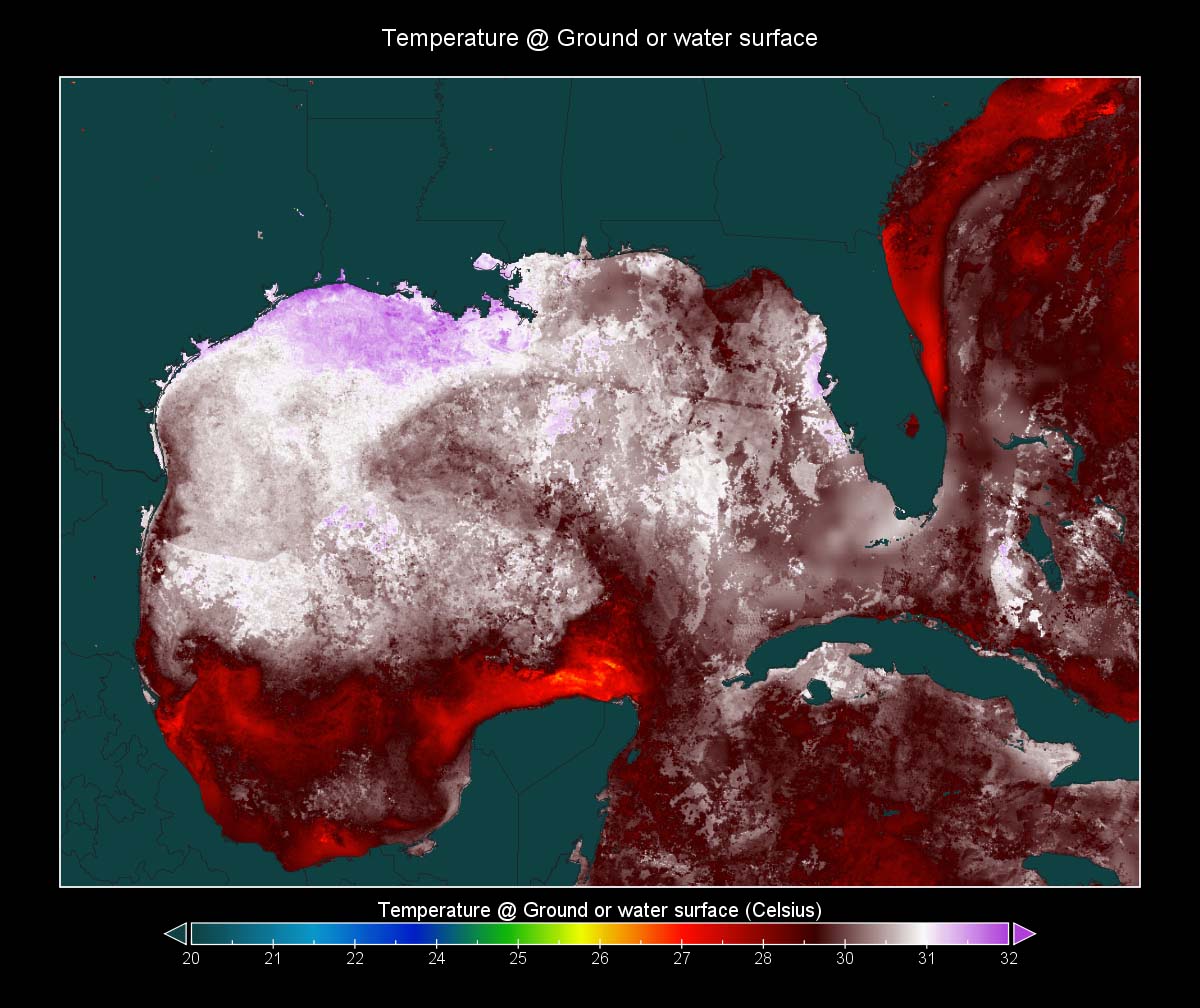 When water temperatures are this high, they usually lead to the explosive development of hurricanes. Actually, a combination of such warm oceanic waters is a quite typical occurrence during the peak of the Atlantic hurricane season every year. Extremely warm waters are an indicator that the upcoming tropical cyclones could explode in intensity as they move across this part of the tropical region.
Convective storms that are the main feeder of tropical systems/hurricanes are taking direct advantage of extremely warm sea waters as they fuel from these conditions and lead to their additional strengthening. Also, note that the SSTs are anomalously warm in the MDR region (Main Development Region). This is a part of the Atlantic where most of the tropical cyclone formations occur, extending between the Caribbean Sea and Africa.
The Atlantic Basin oceanic waters temperature anomalies remain strongly above normal across the whole tropical region and are also forecast to remain similar or even improve in the coming weeks as the peak of the season occurs.
HURRICANE IDA HAS EXPLODED INTO A MAJOR STRENGTH OVERNIGHT
The sea surface temperatures are extremely warm in the Gulf of Mexico, especially in its central and northern parts. Exactly where Ida is traveling towards the Gulf Coast. Allowing it to rapidly strengthening as water temperatures in the mid/upper 80s are in place. And the water is very warm also deeper in the Gulf, creating a perfect scenario to support the rapid intensification of the storm.
Infrared satellite imagery is revealing a large eye embedded in symmetric central dense overcast (COD). The upper-level outflow ventilation is perfectly established in all four quadrants, showing how intense Ida's power is. Hurricane Ida is a monster and a very large, dangerous hurricane with a potentially catastrophic impact for Louisiana tonight!
Here is the latest strong wording in the NOAA'+s NHC forecast discussion – Ida is a really violent monster!
The result has been rapid strengthening of at least 30 kt during the past 6 hours, along with a pressure drop of more than 15 mb during that same time, with a 6-mb decrease having occurred in the 1-hr period between about 0500-0600 UTC based on Air Force Reserve reconnaissance aircraft eye dropsonde data.
The aircraft also measured a maximum 700-mb flight-level wind speed of 133 kt in the northeastern quadrant, along with a peak SFMR surface wind speed of 116 kt. Furthermore, NWS Doppler radar velocity data from Slidell, Louisiana, has recently been measuring velocities of 120-130 kt between 25,000-30,000 ft, which is quite rare, and indicates that Ida is a vertically deep and intense hurricane.
Normally, a hurricane intensifies a lot when the oceanic conditions are so favorable, the central pressure drops significantly. Meaning that the hurricane becomes much more powerful. Having so warm, more shallow water depth close to the Gulf Coast, helps to explosive strengthening in the storm's final hours before reaching the land.
Note that this has happened with Hurricane Michael in 2018 before making landfall in the Florida Panhandle. Or Hurricane Laura last year, which has rapidly intensity in the final hours before it hit southwestern Louisiana as a Category 4.
The Ocean Heat Content (OHC) chart above is showing how extremely favorable are the oceanic conditions right along with the tracking where hurricane Ida. The OHC values around 100 are usually more than sufficient for explosive development, as we could see yesterday and this morning. These values are even exceeding 150 in some places, adding additional fuel for robust storms.
The Advanced Dvorak Technique (ADT) analysis estimated indicates that there are hurricane-force 64-knot winds spread across 60-70 miles radii around the large eye. The tropical storm winds of 50 knots are extending 80-105 miles around the center. And these winds continue to intensify while they are now already significantly increasing along the southern Louisiana coast.
As we can see from the right chart of the image above, the rate of intensification has become quite steep and steady since Friday and ramped up even more on Saturday and today. The Dvorak analysis is estimating the central pressure of 932 mbar central pressure and winds of 130 knots. This is the final T number of 6.6 raw. Hurricane Ida has rapidly intensified for 55 knots over the past 24 hours (Aug 28th, 12 UTC – Aug 29th, 12 UTC).
DESTRUCTIVE WINDS AND MAJOR RAINFALL WITH FLOODS EXPECTED
The potential impact of a now major hurricane Ida is increasing for a devastating impact by both violent winds and heavy rainfall. It is expected to be an extremely dangerous major hurricane when it reaches the coast of Louisiana tonight.
Destructive, hurricane-force winds are expected Sunday in portions of the Hurricane Warning area along the Louisiana coast, including metropolitan New Orleans. Potentially catastrophic wind damage is possible where the core of Ida moves onshore.
Where the center of hurricane Ida will come ashore, violent wind gusts of around 120-140 mph are possible, even higher in some places. Nevertheless, hurricane-force winds of 74 mph or greater are expected along much of the Louisiana coast and could also extend inland across northern Mississippi and southeastern Arkansas overnight. Normally, the greatest impacts occur around the eye, especially across its northeast and southeast quadrants.
Ida is expected to produce heavy rainfall Sunday and Monday across the central Gulf Coast from southeast Louisiana to coastal Mississippi. This will result in life-threatening flash and urban flooding and significant river flooding impacts. After the landfall of Ida tonight, then significant flooding impacts are likely across portions of the Lower Mississippi and Tennessee Valleys Monday and Tuesday.
Locally, up to near 25 inches (650 mm) will possibly accumulate over the next few days. Especially where the center of Ida will impact Louisiana's Gulf Coast. The attached chart above is hinting at the potential for extremely dangerous flooding threats as an abnormally high amount of rain is forecast.
LIFE THREATENING STORM SURGE FOR LOUISIANA COAST
There is a high danger of life-threatening storm surge inundation along the coasts of Louisiana and Mississippi within the Storm Surge Warning area through Monday morning. Extremely life-threatening inundation of 9 feet or greater above ground level is possible somewhere within the area from Morgan City, Louisiana, to the coast of Mississippi.
Water levels are likely to be overtopping of local levees outside of the Hurricane and Storm Damage Risk Reduction System, as local inundation values may be higher.
A combination of a life-threatening storm surge and the high tide will cause normally dry areas near the coast to be flooded by rising waters moving inland from the shoreline. The water level could reach up to 15 ft in the areas where the right side of Ida's eyewall will come ashore.
The potential heights above ground in the indicated areas are seen below, those would be the worst if the peak storm surge occurs at the time of high tide.
Storm surge up to 12-16 kt is eypected from Port Fourchon, LA to Mouth of the Mississippi River, 8-12 ft from Morgan City, LA to Port Fourchon, LA. Mouth of the Mississippi River to Bay St. Louis, MS including Lake Borgne should see storm surge of 8-12 ft, Burns Point, LA to Morgan City, LA up to 6-9 feet.
Bay St. Louis, MS to Ocean Springs, MS up to 6-9 ft, Lake Pontchartrain up to 5-8 ft. 4-7 ft storm surge is expected from Ocean Springs, MS to MS/AL border with 4-6 ft from Intracoastal City, LA to Burns Point, LA including Vermilion Bay and Lake Maurepas.
Pecan Island, LA to Intracoastal City, LA will experience storm surge of 2-4 ft, MS/AL border to AL/FL border including Mobile Bay up to 3-5 ft. Sabine Pass to Pecan Island, LA and from AL/FL border to Okaloosa/Walton County Line including Pensacola Bay up to 1-3 ft.
The deepest flooding water will occur along the immediate coast near and to the east of the hurricane Ida landfall location. There, the surge will be accompanied by large and destructive waves. The surge-related flooding depends on the relative timing of the surge and the tidal cycle and can vary greatly over short distances.
***The images used in this article were provided by NOAA, and Windy.