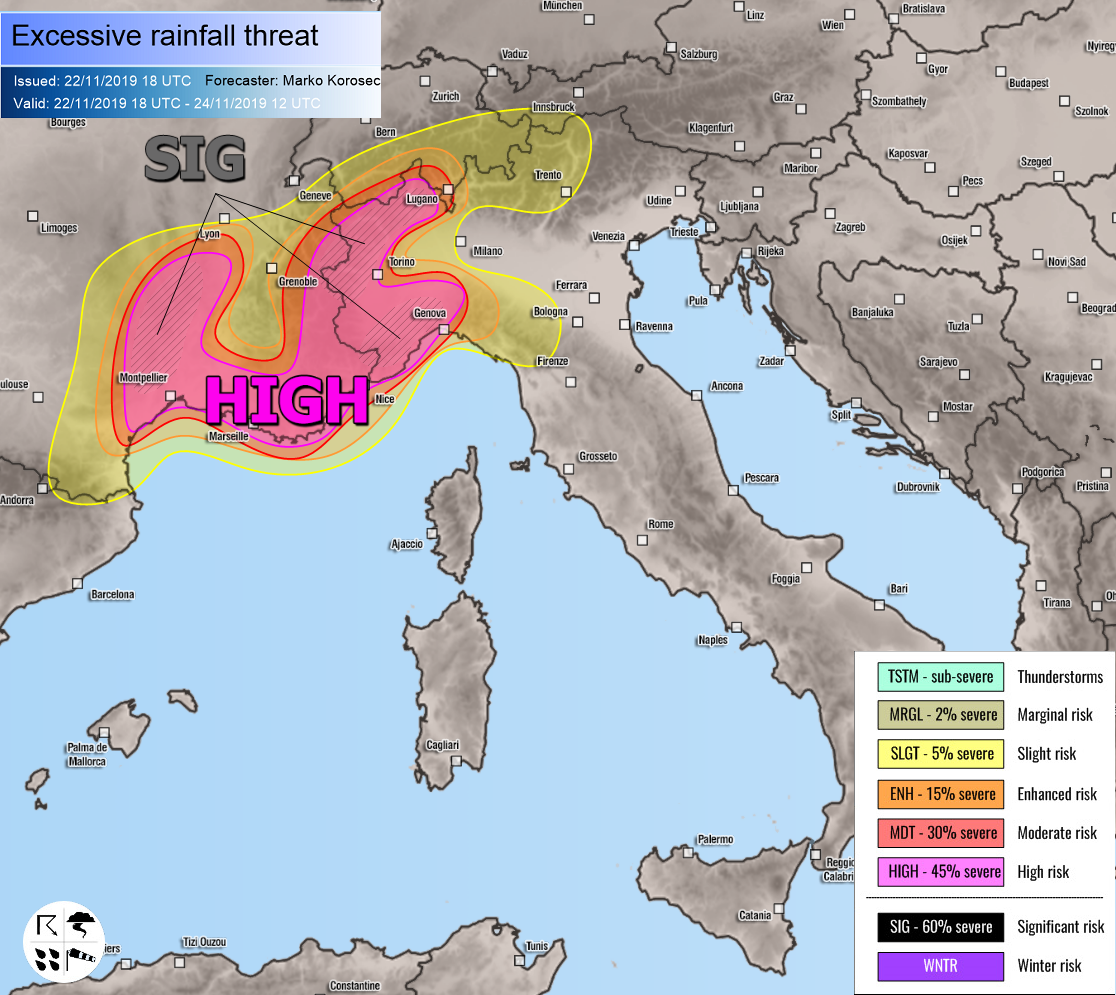 Explanations for abbreviations (TSTM, SLGT, ENH, etc.)
SYNOPSIS
The overall pattern across Europe reveals a very large upper trough / low with a broad surface low moving from the Bay of Biscay into France and the western Mediterranean, while a strong upper-level ridge persists across eastern Europe and western Russia. A powerful jet stream rounds the base of the trough, resulting in large scale ascent towards the western Alps with strong low-level moisture and warm airmass advection towards the SE France and NW Italy.
DISCUSSION
HIGH risk has been issued for SE France into NW Italy with threat for intense and excessive rainfall, locally resulting in 200-300 mm of rainfall with dangerous flash floods and landslide threat. Various models are in very good agreement developing an intense rainfall event, with strongly enhanced orographic rainfall across the higher terrain of SE France and the western Alps, including NW Italy and NW Apennines. A combination of convective storms closer to the Mediterranean sea and intense orographic rainfall persisting for more than a day, very high rainfall sums are expected.
Additionally, a SIG risk areas have been placed within the HIGH risk where the most extreme amounts of rainfall are expected. These areas (eastern Cevennes in SE France, northern Apennines-Liguria and NW Piemonte and Aosta regions in NW Italy) could receive even more than 400 mm of total rainfall within the next 36 hours. Such an amount will strongly enhance flooding threats and could develop landslides as well.
Please refer to the mesoscale discussion for further info:
An intense cyclone travels across the southern Bay of Biscay and brings a powerful windstorm along the northern Iberia through Friday and early Saturday, Nov 22-23rd
Also, a major snowfall event with more than 150 cm of fresh snow will occur over the higher mountains in the western Alps: