The unusual extreme warmth developing over Scandinavia we have discussed last days, has lead into record-breaking temperatures in some areas. The official report of 19.0 degrees Celsius in the town Sunndalsøra is the highest temperature ever measured in Norway and Scandinavia itself, in January or any winter month! The previous Norwegian record of 17.9 °C was measured in Tafjord in 1989.
Nå har det blitt hele 19,0 grader på Sunndalsøra 🌡️ Det er den høyeste temperaturen vi har målt i januar i Norge 👀 Når vi 20 grader i dag? #MøreogRomsdal

— Meteorologene (@Meteorologene) January 2, 2020
First, a new heat record was seen in the towns Åndalsnes in Møre og Romsdal with 18.6 °C this morning, Thursday, Jan 2nd. But then the town Sunndalsøra reported even higher temperatures and beat those records later in the morning. A full 19.0 degrees C was recorded!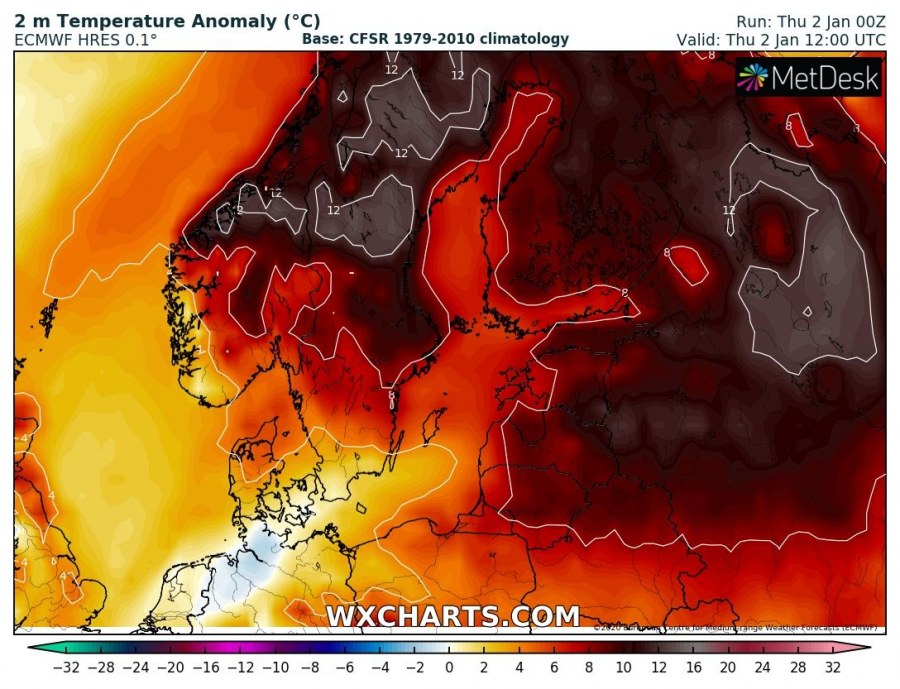 Due to warm westerly foehn winds, many locations reported very mild temperatures. In Trondheim, a new heat record of 10.2 °C was set at the measuring station at Voll. This is the highest temperature measured in January since the measuring station was established in 1923. The previous record was 10.1 °C from 31 January, 1950.
Some other extremely high values today:
+17.8 °C – Marstein
+17.7 °C – Tafjord
+15.5 °C – Rekdal
+15.4 °C – Kristiansund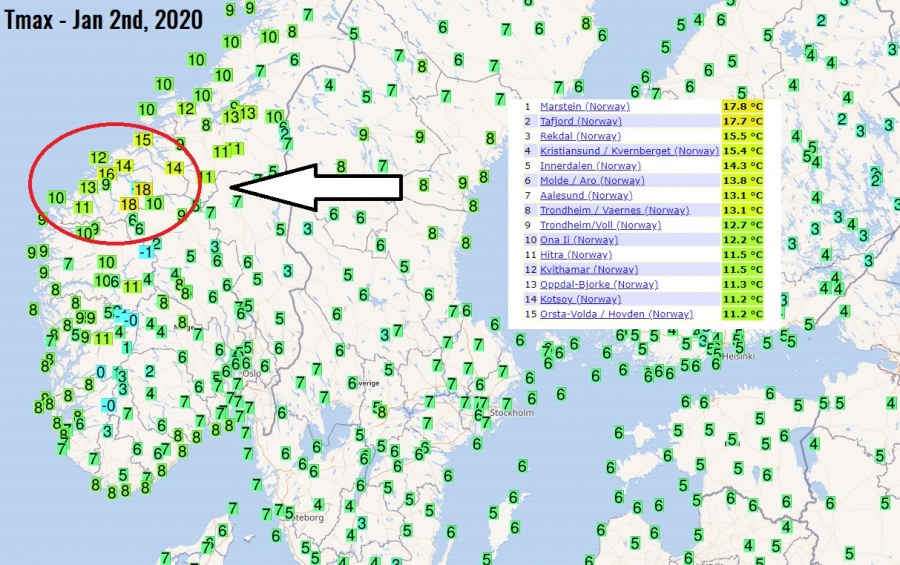 See also:
An intense extra-tropical cyclone moving across the North Atlantic – will push high waves towards Ireland tomorrow