Winter Season 2022/23 officially started on Wednesday, December 21st. But nature takes a warm path. At least the majority of Europe, while Scandinavia had some decent wintry days recently. This weekend, as we have the Christmas holidays, the weather pattern across Europe is forecast to ramp up the warmth. Temperatures will be well above average across a large part of the continent. Mid-term predictions do not favor significant changes to cold-season weather anytime soon, at least until January starts.
Besides the overseas news, we haven't seen much winter weather reporting lately. This month's general circulation across the Northern Hemisphere has introduced a sharp contrast between Asia and North America against Europe on the other side. A stronger-than-normal Polar Vortex above grazed its southern lobe into Siberia in early December, bringing temperatures below -60 °C in the infamous Oymjakon.
Soon after, the lobe moved towards North America and released a historic Arctic outbreak with major winter storm Elliot into Canada and the United States this weekend. Right in time when millions travel during holidays. But Europe has been trapped in the warmth.
After the cold start of meteorological winter across a large part of Europe earlier this month, the weather pattern flipped into warmer mode. North Atlantic has continuous activity, meaning more zonal, westerly flow is advecting warm air mass into the continent. The blocking High will strengthen this holiday Christmas weekend, spreading warmth across central Europe, the Balkan peninsula, and further east.
Temperatures are forecast to be well above average, with local peaks in the mid-10s to even near the 20s. This Friday, December 23rd, a record-shattering warmth was already observed in southern France. Peak afternoon hours have warmed to the low 20s.
EXTREME WARMTH OVER SOUTHERN FRANCE
With developing stable weather into Christmas weekend, warmth is gradually returning from south-southwest into the European continent. Both Spain and France experienced a historic warm day this Friday. Nearly 100 automatic weather stations in southern France recorded 20 °C or above.
9 weather stations are also above 23 °C, which is particularly impressive for the winter season. Something untypical for Christmas, we must say, despite the lack of cold weather in recent years. At least 21 monthly records have been shattered, including in cities Nimes, Argeliers, and a few others.
Eastern Spain was also very warm, even warmer than southern France. Weather stations Alcoy, Xativa, Velez Malaga, and Tarragona recorded more than 25.0 °C.
These regions reach these high temperatures because of the usual downslope foehn katabatic winds. They bring lower humidity as the air mass descends from the higher elevations, allowing air to warm significantly when it reaches valleys.
Southern France received winds from the Pyrenees, while eastern Spain got the winds from the eastern Sierra Nevada, bringing the air down to the Murcia and Valencia regions.
STRONG HIGH FORECAST TO DOMINATE EUROPE ACROSS CHRISTMAS HOLIDAYS AND BEYOND
This weekend, the general weather pattern over Europe and North Atlantic reveals two large-scale features. Deep troughs and surface cyclones sit over the Atlantic, while the strengthening upper blocking High dominates the European continent.
In between, a solid southwesterly jet stream is present.
The High matures by Christmas Day, centered over south-central Europe. It becomes particularly strong, trapping the air mass beneath and shutting down any potential for the frontal system to head into the continent until mid-next week.
As a result of solid blocking, temperatures will warm up significantly. Forecast to be more than 10 to nearly 15 degrees C warmer than average across central Europe. As we can see, only parts of western Europe will see around average to slightly below normal temperatures.
Overall, Europe is well above average for late December, although a date has just turned into the official winter season.
The chart below is the 14-day Metegoram for Munich, southern Germany. Located on the northern side of the Alps, beneath the core of the upcoming winter season's 'heatwave.' The long-term average temperature is around -2°C at 850 mbar level (approximately 1300m above sea level).
Christmas Day will bring around 10 °C at this level, meaning air mass will be around 12 degrees Celsius warmer than average for December.
With usually descending air mass within the strong dome of blocking High, these above-normal temperatures are also forecast to spread into the lowlands. As we see on the anomaly chart above, most south-central Europe gets 6-12 °C above average days.
VERY WARM AIR SPREADS ACROSS EUROPE STARTING THIS WEEKEND AND EXTENDS INTO THE FINAL DAYS OF 2023. WINTER SEASON PAUSED
After Christmas, the upper High will gradually expand and move east-northeast, with the surface high-pressure system dominating the Balkan peninsula and Southeast Europe. Stable and very warm weather also develops there. The reason for this shift is the deeper lows over the North Atlantic.
On Wednesday, a robust surface cyclone develops west of the UK and Ireland, releasing a significant windstorm with heavy rain and near hurricane-force winds into Scotland. Peak gusts are likely to reach well above 120 km/h.
To the east of it, a strong pressure gradient will develop, advecting more warmth into continental Europe and extending the warm wave towards the New Year 2023. This means nothing else than a continuation of the unusually warm weather for the winter season of 2022/23.
Through mid-week, most of continental Europe, except part of western and northern Europe, will be well-above average. With no signs of cooling down as the high-pressure system and blocking High aloft persist towards the next weekend.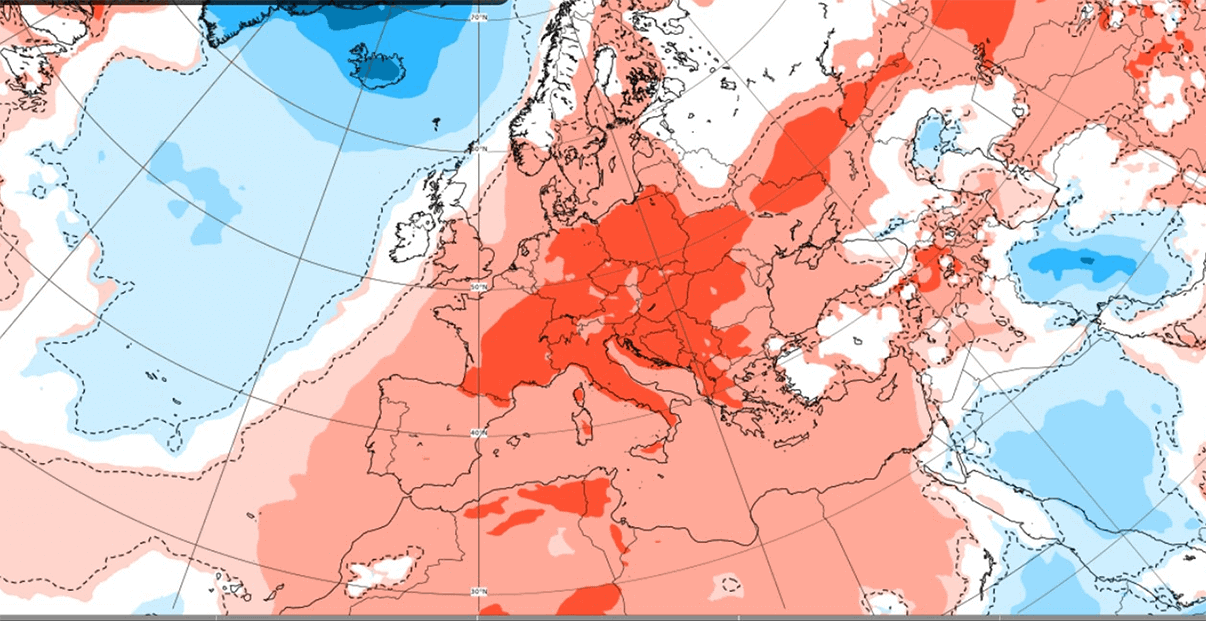 In general, as we see on the next chart, average daily temperatures in the lowlands will be 6-8 °C above average over the next 10 days. This is a very long warm period for the winter season.
Depending on the strength of the thermal inversion typically forming in lowlands during winter, daytime temperatures could warm up into the low to mid-10s nearly every day across many countries.
Warmth might extend into early January as the general circulation over this part of the northern hemisphere remains the same. Until the southern lobe of the Polar Vortex sitting over Canada doesn't move east enough, no significant perturbations of the Polar front are expected toward Europe.
A re-strengthening of the powerful upper high is likely to occur around the New Year. Thus extend the warmth well into early January 2023.
Both global models, GFS and ECMWF, agree that this scenario will unfold late next weekend.
LACK OF SNOW IS FORECAST, BUT LOT OF RAIN IN THE WEST
It is no surprise snowfall will be lacking both due to stable weather and much warmer weather than average across a large part of Europe. Most precipitation will be associated with the ongoing frontal systems and cyclones across western and northern Europe.
The highest amounts of rain are forecast across Scotland, Wales, and Ireland. Also, in northwestern Iberia. These areas typically receive the highest amounts of rain in patterns, as in Europe.
While still enough cold across northern Europe, it should primarily support snowfall across Scandinavia and the Baltic region. The strongest orographic effects of southwesterly solid flow will develop intense winter storms in southwestern Norway. More than a meter of fresh snow is likely there over the next 10 days.
Decent amounts of fresh snow are also forecast across the rest of Norway, northern Sweden, and Finland. Some snow across Baltic countries to Belarus and eastern Ukraine as well. Higher elevations of the Scottish Highlands should also receive some snow until early 2023.
****
Our team wishes you a Marry Christmas, Happy Holidays, and All the Best in 2023!
Windy, Pivotalweather, and Wxcharts provided images used in this article.