According to the recent weather forecast for Spain and Portugal, temperatures will widely push into the mid to upper 30s, possibly very close to +40 °C (104 °F) in southern Spain at the end of April. And around 35 °C in southern Portugal. The first intense heatwave of 2023 will challenge the all-time heat records for both countries.
For many European places, April has been more dynamic and cooler than March, but Spain has been something else, literally the opposite. So after a very warm March and April, most of the Iberian peninsula is also very dry.
With the driest March in twenty years, drought conditions are already strengthening, and wildfires have also been reported. Pretty early in spring, which may hint summer will be extreme.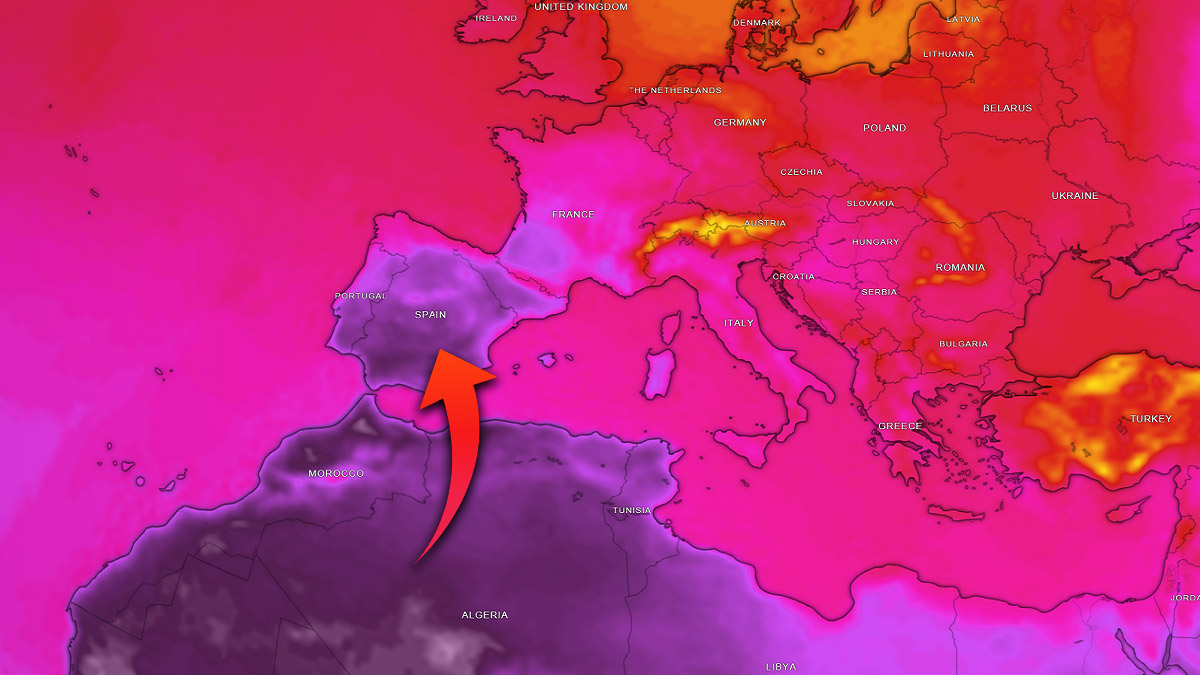 The weather pattern over the European continent has been changing recently, introducing a well-known event. The African plume is expected to push very high temperatures into southwestern Europe, with Portugal and Spain underneath its core.
In the satellite view from high above the Earth on Monday, we could see two large-scale features battling together, as noted in the image provided by Eumetsat below. Over the North Atlantic, there is a large cyclonic system, while to its east, there is a high-pressure system blocking High over North Africa.
In between both systems, southerly winds are advecting dry and warm air mass into Morocco and Algeria, gradually spreading into southwestern Europe. This will become even more established this week as the Atlantic Low and African High intensify. Thus, the African plume of very hot air mass will spread into Spain and Portugal in the final days of April 2023.
If the 40 °C mark is eventually reached this week, it would be for the first time this year.
HEAT IN SPAIN USUALLY PICKS UP IN MAY, GETS THE MOST EXTREME IN AUGUST
The upcoming heatwave shaping up on the weather charts is on the way to challenging the record heat that has even been recorded in southern Spain and Portugal in April.
The significant warmth and heat waves across the Iberian peninsula usually start appearing in May, strengthening into summer months from June to August.
As per history records, the all-time high temperature in Spain during April was +37.4 °C (or 99.3 °F) in Murcia in 2011, on April 9th. At the same time, the highest temperatures in the most extreme heat-prone areas in Spain are typically recorded during the peak summer month, July or August. During the extreme heatwave in 2021, the national heat record, +47.6 °C (117.7 °F), was recorded in La Rumbla (Cordoba) on August 14th.
The city of Seville, Spain, has the April highest temperature at +35.4 °C. It appears increasingly likely that all-time heat records for southern Spain will be smashed by a few degrees this week.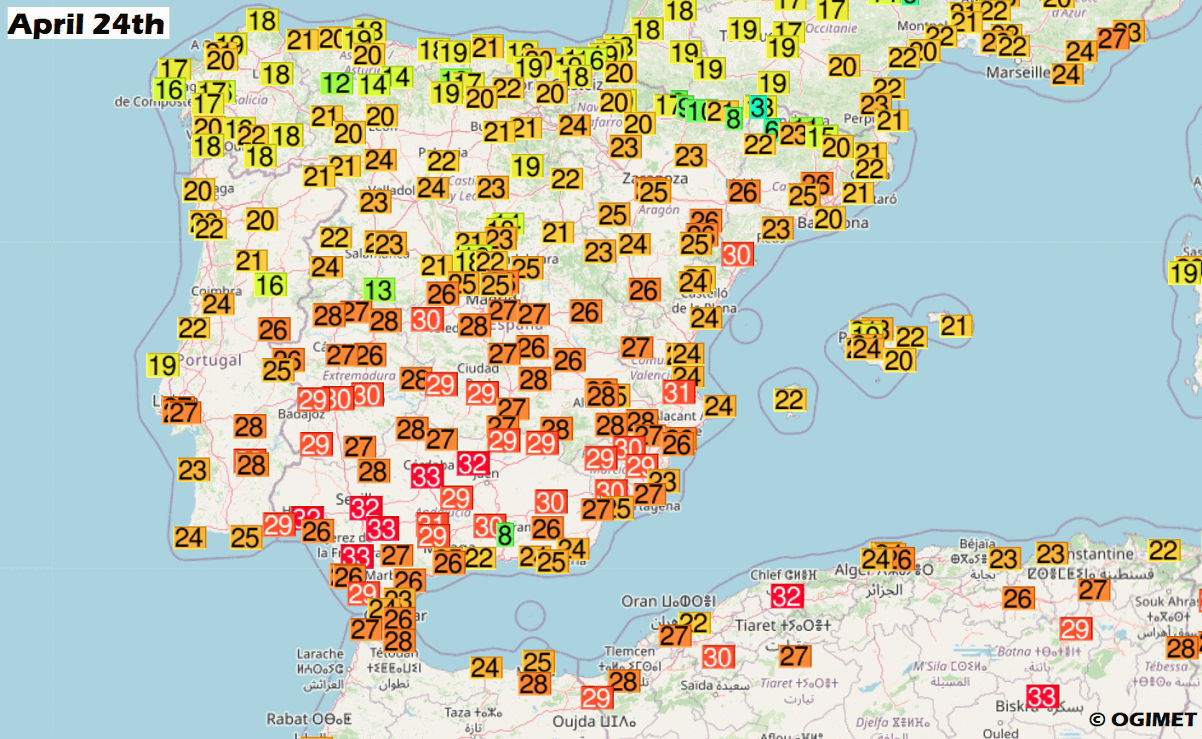 Early this week, the warmth from Morocco and Algeria deserts is already gradually spreading northward, as the weather pattern is strengthening the high-pressure system in the upper levels. On Monday, the highest temperatures in southern Spain were up to 33 °C, and 29 °C in southern Portugal.
These temperatures are already a few degrees above normal. And will gradually increase after Wednesday, with the heatwave forecast to peak on Friday.
Before we go into further details on how the final days of April 2023 end evolve, we will see what's inducing the dramatic increase in temperatures across the southwestern part of Europe and northwestern Africa. The most important reason behind the upcoming extreme warmth is a heat dome, releasing a warm plume towards the Iberian peninsula this week.
WHAT IS A HEAT DOME, AND HOW IT FORMS
We often use Heat Dome when discussing extreme heat waves in Europe or globally. This feature is one of the main reasons extremely intense heatwave events developed in Europe, the United States, Asia, and Australia.
With the historic events in recent years, a heat dome was the dominant large-scale feature in both continents of the Northern Hemisphere, Europe, and North America.
Below is an example of a historical European event for the New Year 2022.
When an upper-level ridge pattern, or short a blocking High, develops, it often forms a heat dome. The blocking weather pattern brings high, sometimes record-challenging temperatures for the region underneath. It actually does not matter in which season it develops. These domes can happen even during the winter and work both ways, leading to very cold or warm temperatures.
We use the heat dome term when an expanded area of high-pressure parks over a large portion of the continent. Normally, it stays there for several consecutive days or even weeks. These events are the most frequent and long-lasting during the summer or winter.
The general explanation is for us to imagine that the heat dome works like a pot lid. So, the large dome sits over the continent and traps a very warm air mass at all levels across a large area underneath. It is, however, better defined at the lowest elevations where we live.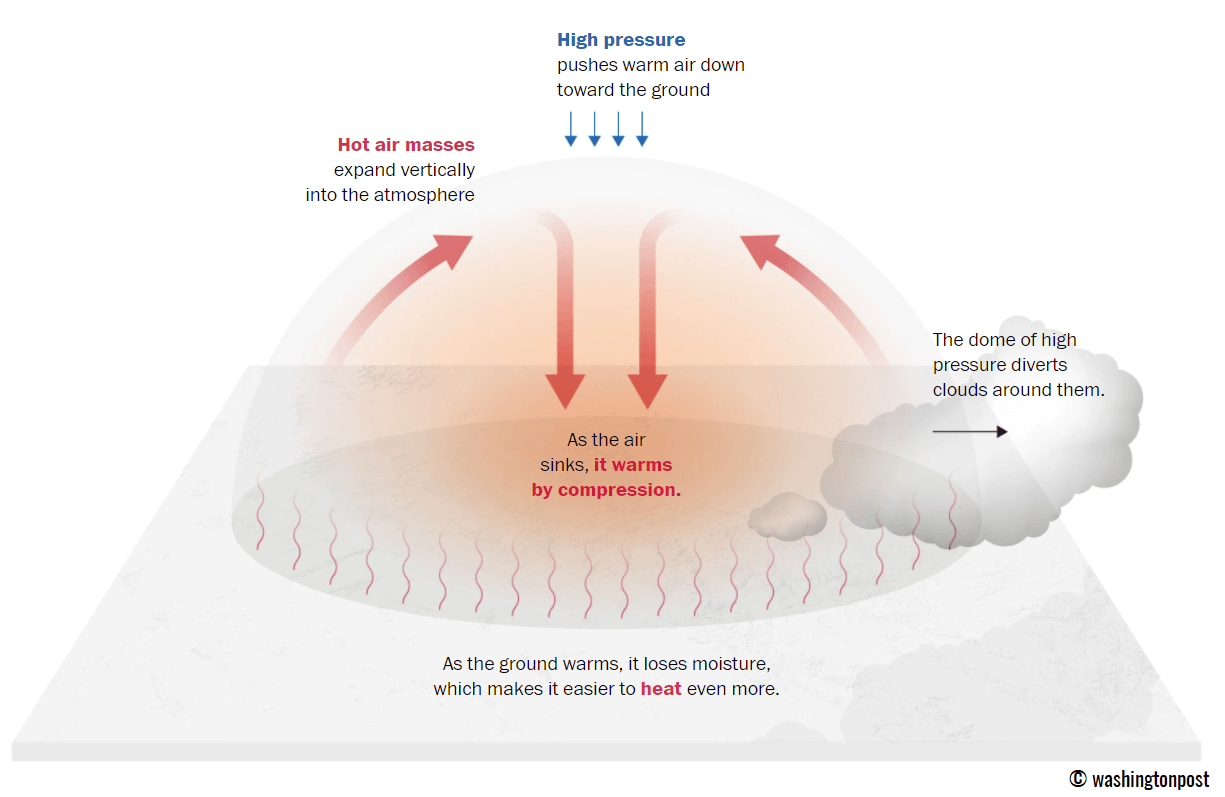 Heat dome is known to bring stable weather and often very dry air mass due to subsidence (descending air mass in its core) with low chances for precipitation, often not even clouds. Air parcels in the center of the heat dome are sinking toward Earth's surface.
A heat dome is often blamed for delivering significant heatwaves worldwide, leading to an enhanced wildfire threat. Especially during summer or even autumn/fall, the land is drier after months of extreme heat. The daily high and average temperatures under the dome are well above normal, sometimes challenging the existing daily or even historic station records.
The weather pattern we are discussing for the end of April this year is a typical blocking High weather pattern for northwestern Africa that extends its warm plume into southwestern Europe. It is forecast to be a part of the newly developed heat dome in Africa, gradually expanding north and hinting that we might face new temperature records in parts of Spain and Portugal late this week.
According to Spain's meteorological agency AEMET, the extremely high temperatures will combine with low humidity and south winds, enhancing the risk of wildfires.
STRONG BLOCKING HIGH DEVELOPS, HEATWAVE EXPANDS INTO SOUTHWESTERN EUROPE
The African Plume will, according to AEMET, be a quite progressive entry of a very warm and dry air mass of North Africa and lead to temperatures typically occurring in June or even July.
Currently, Europe is divided into two halves. There is a deep trough with a frontal system and cold blast over north-central parts, while a strengthening upper-level ridge occurs over southwestern Europe and northwestern Africa.
Warmth is spreading toward Iberia. At the same time, the cold further north will be gradually losing its steam through mid-week into the next weekend. As the 850 mbar (approximately 1200m above sea level) anomaly below indicates, the significantly anomalous temperatures will overspread Portugal, Spain, Morocco, and Algeria.
Southern Iberia and extreme northern Algeria, and Morocco will see more than 15 °C above normal at this level, which is particularly extreme, especially for late April. The chart is the forecast anomaly for Friday, April 28th.
Indeed with the powerful blocking High in place, these anomalous temperatures will translate toward the ground, leading to extreme heat for the spring months. The 2m temperature anomaly on Friday peak afternoon hours hints at more than 20 °C above normal temperatures for central, eastern, and southern Spain.
It will also be very warm in southern France, particularly hot in Morocco and Algeria.
The heatwave is not forecast to expand north, thanks to the progressive pattern still in place across the northern half of Europe.
EXTREME HEATWAVE TO PEAK ON FRIDAY, CHALLENGE ALL-TIME HEAT RECORDS FOR SPAIN AND PORTUGAL
In 2022, the heatwave with temperatures surpassing the 40 °C mark occurred almost a month later, at the end of May. And it was historically early date. And this week, we are potentially reaching similar values. This shows how extreme the first extreme heatwave of 2023 will be.
Looking over the Meteogram for Granada, southern Spain, this heatwave is forecast to be 12-15 °C warmer than the long-term normal for the region. Absolutely no precipitation chance also hints the air mass will be very dry.
Spain also had its 2nd warmest March on record and a very dry month. April will push the drought into a higher gear and add more to the average temperature. The global average surface temperature was also the second highest for March since records began in 1850. The climate is overheating.
A closer look into the Wednesday – Friday timeframe shows that Wednesday temperatures will already reach around 34 °C in southern Portugal and around 36 °C in southwestern Spain. On Thursday, likely 1-3 degrees higher temperatures will follow.
The highest temperatures are forecast in the Guadalquivir Valley in southern Spain's Andalusia region. There, the city of Seville is located, one of the cities that are located in valleys prone to extreme heat.
If the peak temperatures will be recorded on Thursday or Friday is still uncertain, but both days will surely bring extreme heat for the end of April.
According to the GFS model for Friday, the highest temperatures will again be in southern Spain. Seville will likely smash its historical record of 35.4 °C as all weather models hint at higher peaks from Wednesday through Friday.
The comparison with ARPEGE weather model chart is attached below. It hints the worst heat will be on Thursday and Friday. Peak temperatures could peak into the 37-39 °C range.
Note that upper 30s to around 40 °C are also expected for extreme northern Morocco and Algeria.
The close-up image below is for Thursday, April 27th. Southern Portugal with peak afternoon temperatures up to +37 °C, and Spain nearly 39 °C. This is particularly extreme and record-breaking for the regions affected if verified.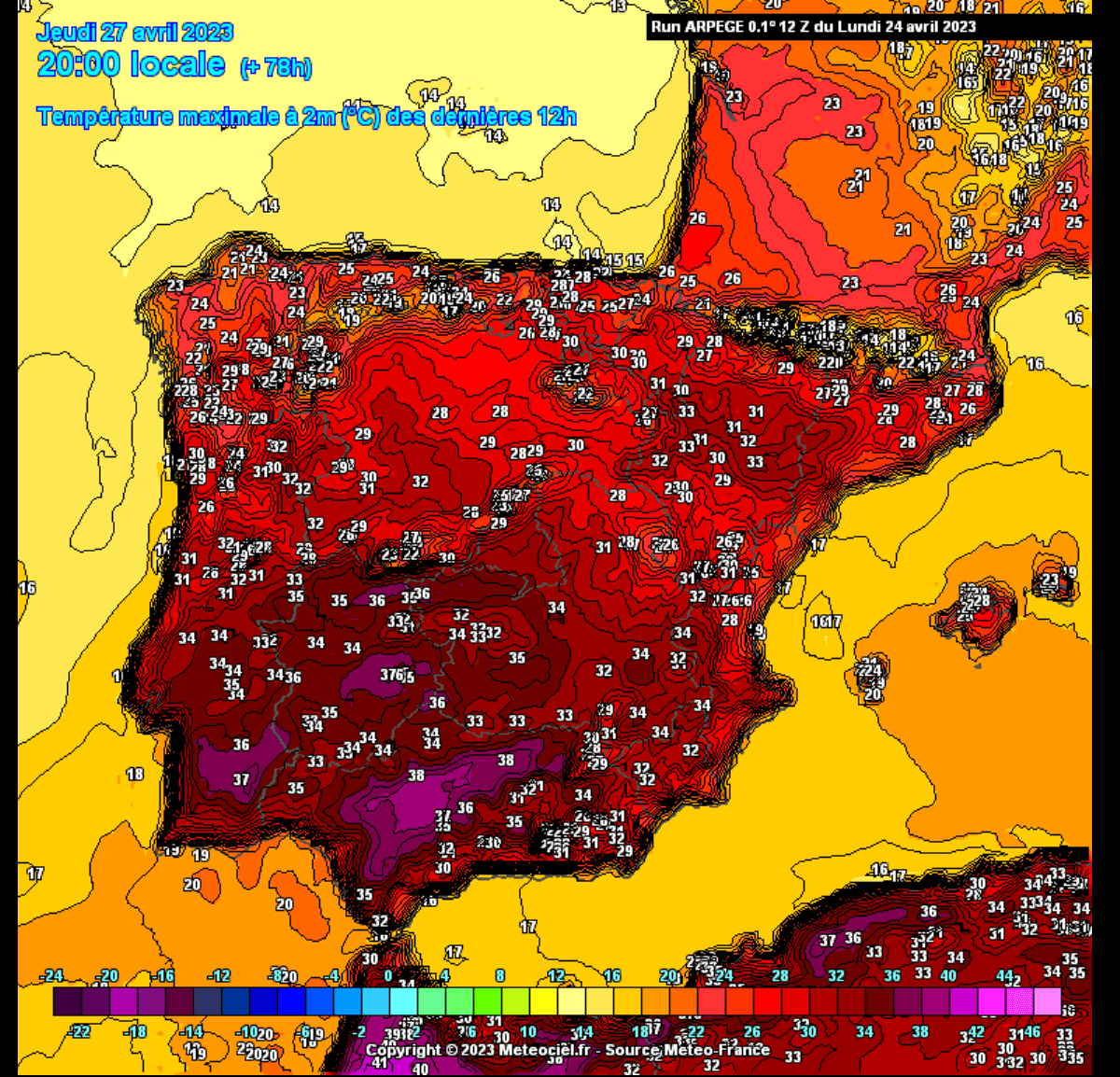 Heatwave is forecast to diminish over the weekend, and temperatures will fall by a few degrees. However, they will remain hot.
DROUGHT CONDITIONS ARE ALREADY WORSENING, LIKELY TO BECOME EXTREME DURING SUMMER 2023
As noted earlier, it hasn't been as dry in March for over 20 years. This results in extreme conditions, leading to growing concerns about how Spain's national water reserves will hold in the summer months. The ongoing drought conditions will strengthen this summer and become extreme.
This week, there will be absolutely no chance of rain for Portugal and most of Spain, except the extreme northern parts, as a dome of stable and dry weather will push all weather fronts around to Iberia's west and north.
Water reservoirs are currently at around 15% below average levels. This undoubtedly brings fears for potentially more wildfires with the summer months approaching.
Windy, Wetterzentrale, Pivotalweather, and Wxcharts provided images used in this article.