After a record heatwave across the Russian Arctic earlier this week, extreme heat has now developed across the Arabian peninsula, including Saudi Arabia, Oman, UAE, Kuwait, Iraq, and southern Iran. Temperatures are reaching almost 50 °C. It will gradually expand further east towards Pakistan and northwest India this week.
Just a few days after a remarkable heatwave spread across the Arctic region (Russia and part of Scandinavia), much more extreme heat has developed further south across the Caucasus, the Middle East, and the Arabian peninsula.
On May 20th, an unprecedented maximum temperature of 31.9 °C was reported from the station Naryan-Mar, Russia, situated north of the Arctic Circle at 67.6° North, 53° East. This was a remarkable new record, shattering its previous May record of 27.8 °C for more than 4 degrees Celsius.
And to give you an idea of how extreme this heatwave was, the all-time highest temperature in Naryan-Mar is 33.9 °C, set in July 1990.
Above: Arctic heatwave. Graphics by Scott Duncan
Just a few days earlier, on the 17th and 18th of May, Moscow has shattered its daily 120+ years old maximum temperature records. It hasn't been so hot as this week on this date in the entire history of weather observations in the city.
The peak temperature in Moscow was 30.6 °C on the 17th and 30.8 °C on the 18th of May. The all-time high for Moscow is 33.2 °C that was set on May 28th, 2007.
The focus on the extreme heat is now across the Middle East, the Caucasus, and the Arabian peninsula. Numerous weather stations have peaked just shy below the 50 °C marks, having 46-49 °C daily maximum temperatures over the last few days.
The record-breaking heatwave is expected to continue this week and also spread further east across southern Iran and towards Pakistan.
EXTREME HEATWAVE ACROSS THE MIDDLE EAST AND ARABIAN PENINSULA
Heatwave over the weekend has brought exceptionally high temperatures across the Arabian peninsula. Several weather stations reported 46 to more than 49 °C across the countries of Saudi Arabia, Iraq, Iran, Oman, UAE, and Kuwait.
Although these countries are well used to extremely high temperatures during summer, the current heatwave is a rare event for so early. Happening in late May, so before the official start of the meteorological summer (June 1st).
The city of Arafat in Saudi Arabia reported 46.8 °C on Friday, while Amarah, Iraq reported a maximum of 47.6 °C. Another weather station in Sur, Oman ended up at 46.9 °C.
Extremely hot weather was also reported from Iran and Kuwait. Jahra, Kuwait reported 47.5 °C while Omidieh and Abadan, Iran ended at 48.4 °C and 48.0 °C respectively.
Saturday was another extremely hot day. Numerous stations peaked between 47 and 49 °C across Iraq and parts of western Iran again. Also across Kuwait, while Oman pushed up to 47 °C.
On Sunday, 47.0 °C was recorded in Sudanthile in Qatar. This is an extremely high value for the month of May in the country, very close to the national May record set at Doha Airport in 1986 & 2014. Both of those months have reached the highest temperature of 47.7 °C.
There was also 49.1 °C in the city of Saih Al Salem, United Arab Emirates (UAE) after the highest temperature of 49.6 °C recorded in Swiehan, UAE a day before, on Saturday, May 22nd.
An exceptionally high peak daytime temperature of 48.6 °C was also recorded in Abu Al Abyad Island, UAE this weekend.
NEW ALL-TIME RECORDS SET FOR TURKEY, RUSSIA, GEORGIA, AND ARMENIA
Russia has broken its national heat record for the month of May on Saturday. The weather station in Khasavyurt, the republic of Dagestan, has peaked at 39.7 °C. This is the highest temperature ever recorded in spring in any place across Russia.
Above: Record-breaking heatwave for Russia. Graphics by Scott Duncan
The Caucasus was also not spared by this heatwave, with a record heat also in Georgia. The maximum of 36.6 °C was recorded in Ambrolauri, at 550 m above sea level, and an impressive 35.7 °C was also reported in Akhaltsikhe, at 1000 m above sea level.
This exceptionally hot weather also set a new monthly record of maximum temperature in Yerevan, the capital of Armenia located at 850 m above sea level this weekend. Reaching 36.1 °C and breaking its previous May record of 34.8 °C set just last year (on May 29th, 2020).
Record heat also in the southern parts of Turkey, with 40.4 °C recorded in Urfa. Breaking its previous record of 40.3 °C set on May 30th, 2019. On May 21st (Friday), the weather station Cizre reported 41.9 °C, Hasankeyf 41.8 °C and Viranşehir ve Silopi ended up at 41.7 °C
EXTREME HEATWAVE CONTINUES AND SPREADS TOWARDS IRAN AND PAKISTAN
This week, the extreme heat and 45 to nearly 48 °C will continue across some parts of the region, again with the most intense heat across the Arabian peninsula. Including Saudi Arabia, southern Iraq, Kuwait, UAE, and Oman.
Towards the middle of this week, the heatwave significantly strengthens also across southern Iran and across a large part of Pakistan. While temperatures are about to cool down to the upper 30s to low 40s across part of the Arabian peninsula, it will remain very hot across Saudi Arabia, UAE, and Oman on Wednesday.
Heat will worsen across southern Iran, Pakistan, and also far northwest India. Temperatures will likely climb into the 46 to 48 °C range in some areas.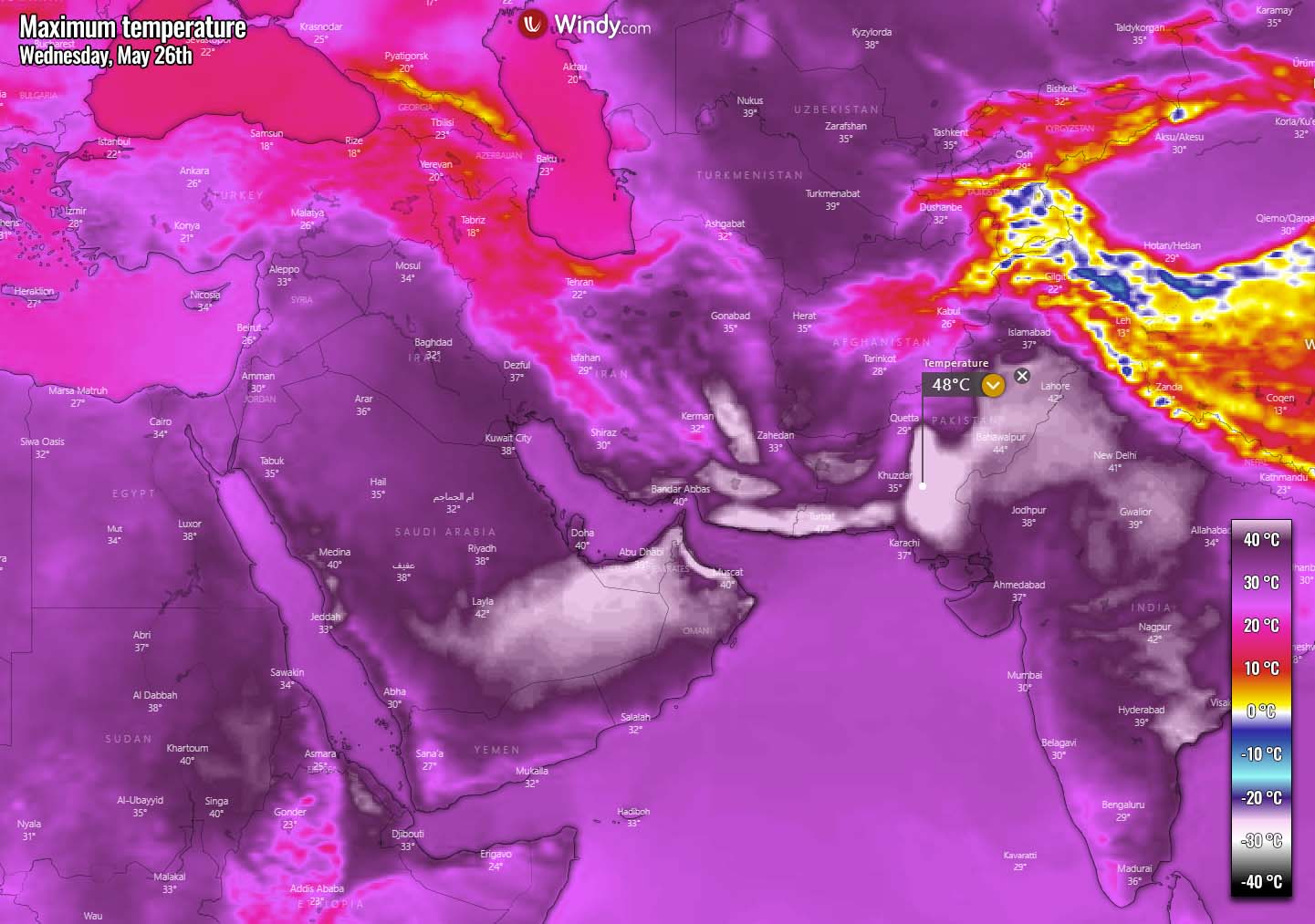 While the heatwave will get even stronger after Thursday across Pakistan and northwest India, reaching up to 48 °C again in these areas as well.
Areas further west across the Arabian peninsula will begin baking again towards the weekend, as temperatures should return the to upper 40s over the same areas that were already extremely hot in the recent days.
***The images used in this article were provided by Ogimet, and Windy.
See also:
End of February record-breaking late winter heatwave sets new all-time February records across China and South Korea