Have you been waiting for your car order delivery longer than planned? There is a reason for this global shortage of auto chips. Taiwan, one of the leading countries for semiconductor production, wasn't able to deliver them in time since 2020 global pandemic start. But now, as the typhoon season is escalating in the Western Pacific, things are getting worse. Just this weekend, a violent Super Typhoon Chanthu will strike parts of Taiwan with destructive winds and flooding, causing further issues with the automobile chips production and could potentially cause additional delivery delays for car makers around the world.
On Wednesday, a Category 5 typhoon Chanthu was grazing across the Philippines Sea, moving west-northwest towards the Philippines and Taiwan. Chanthu is the 2nd Super Typhoon of the Western Pacific season 2021. After a temporal weakening on Thursday, as the typhoon underwent an EyeWall Replacement Cycle (EWRC), Chanthu has exploded in its intensity this Friday and is back at a monster Category 5 strength with 180 mph winds.
Typhoon Chanthu is passing very close to the northeastern tip of Cagayan Valley, Luzon Island, northern Philippines. The most intense winds that are spread around the large eye, will miss the land, but the wind field has expanded a lot after the completed EWRC on Thursday, affecting parts of the region as well.
Once the system turns away from its impact on the Philippines, eyes will be focusing on its next target. Super Typhoon Chanthu is heading directly for the destructive and life-threatening landfall in eastern Taiwan on Sunday. And there is barely any chance left the typhoon weakens or changes its track, the strike will be head-on.
Destructive typhoon impacts in the country of Taiwan are often closely watched due to the country's importance in technology production and supplies for the global market. Especially within the automobile and computer industry, as one of the world's largest contact chipmakers is situated in Taiwan.
After so many troubles in the economic recovery from the COVID-19 pandemic, the auto sector has been hard hit by Taiwan's severe drought earlier this year and now also with dangerous typhoons. The shortage of semiconductor chips has hit hard many carmakers and buyers around the world, including big automobile companies like Volkswagen, Ford Motor Co, Subaru Corp, Toyota Motor Corp, and others, causing huge delivery delays.
Being impacted by a large, violent typhoon that can often be seen in the Western Pacific, is nothing new. But when things are coinciding with electronics production and worldwide supply, it is something we need to watch closely. There could be a significant delay in cars delivery in the coming weeks, depending on how Typhoon Chanthu impacts the factories across Taiwan.
TAIWAN – ONE OF THE MOST IMPORTANT GLOBAL SEMICONDUCTOR SUPPLIERS
Taiwan, a large country on the island in southeast Asia is known for its capacity to make leading-edge computer chips – semiconductors*. The largest foundry of these chips is the TSMC – Taiwan Semiconductor Manufacturing Co., producing them for such companies as Apple Inc., to be used in smartphones, artificial intelligence, and high-performance computing.
*Semiconductors – are materials that have a conductivity between conductors (generally metals) and nonconductors or insulators (such as most ceramics). These can be pure elements, e.g. silicon or germanium, or compounds like gallium arsenide or cadmium selenide. During a process called 'doping', small amounts of impurities are added into pure semiconductors causing large changes in the conductivity of the material.
Semiconductors are an important part of our everyday life, due to their role in the fabrication of electronic devices. Nowadays many of us cannot imagine life without electronic devices, you wouldn't be able to read this particular article either. Without semiconductors, there would be no TVs, no computers, no video games, or any other electronic devices.
The world's economy this year has found out how Taiwan actually plays a huge role as many buyers have noticed the delays in their car orders delivery. The auto industry has significantly suffered shortfalls in chips that are being used for everything in cars nowadays. All from the parking sensors to reducing emissions and other important electronic features.
And all those are coming out and are produced in Taiwan. The main global carmakers such as Volkswagen AG (Germany), Ford Motor Co. (United States), or Japan's Toyota Motor Corp. were forced to halt production and idle plants due to shortage of semiconductors supply from Taiwan, happening due to the Covid-19 pandemic last year and also extended into 2021.
Indeed Taiwan is not the only provider in the semiconductor business in the world, but it represents a very important player and is also a choke point in the global supply chain this year. Although other big countries with automakers are looking for solutions, it can't be done fast enough. And such events like drought issued in Taiwan last year and this spring, and now damaging tropical cyclones as Super Typhoon Chanthu is, are making things even worse.
These sudden supply chain disruptions are definitely not welcome at this time, as production is beyond its limits already to fulfill the worldwide needs. Even an effect on the financial market can happen, and indeed changes (rising) in the prices for electronic devices or cars.
SUPER TYPHOON CHANTHU IS AGAIN A MONSTER CATEGORY 5 STORM
After its explosive intensification to a Category 5 with peak winds of 160 mph on Wednesday, Super Typhoon Chanthu weakened a bit due to an EyeWall Replacement Cycle (EWRC) on Thursday. But soon after its completed EWRC, Chanthu has begun rapid intensification again and became even stronger than it was on Wednesday. When the inner eyewall collapses, it is gradually replaced by a larger outer eyewall.
The new, larger eye has taken its dominance, surrounded by a very powerful eyewall and a compact, symmetrical cloud density overcast (CDO) on Friday morning. This is quite a typical process during the lifetime of the most powerful tropical cyclones.
Super Typhoon Chanthu is now at almost the same strength as Surigae – the Earth's strongest storm of 2021 was in April. Chanthu is officially packing the maximum sustained winds of 145 knots (170 mph), although the Dvorak analysis is hinting the peak winds might be near 155 knots (180 mph) with around 908 mbar of the minimum central pressure.
Based on the consensus of multiple meteorological agencies, Dvorak's Final T-number estimates are ranging from T7.0 to T7.5. That is reflecting that Chanthu is an extremely intense tropical cyclone while passing near the northeastern tip of Luzon island, the Philippines on Friday.
Chanthu has hurricane-force winds spread only across a radius of 60-70 miles, while tropical-storm-force winds are reaching out to 105 miles around the center of the typhoon. The strongest winds are also affecting the extreme northeastern part of Luzon island, Philippines.
Notice how steep and rapid the intensification was this Friday back to a Category 5 strength.
The environmental conditions remain very favorable farther north between Luzon and Taiwan – the next target with potentially life-threatening landfall impact is expected on Sunday. The satellite imagery reveals a textbook presentation of perfectly developed radial upper-level outflow ventilation, while the system remains in low vertical wind shear and extremely very warm (near 30-31 °C) sea surface temperatures.
Following the completed EWRC, Super Typhoon Chanthu was poised for another explosive intensification on Friday. The animated enhanced infrared satellite imagery depicts a dense, compact system with a vertically stacked 15 nautical miles diameter eye.
A highly favorable environment toward Taiwan suggests that the landfall could be around 120 knots on Sunday, while the secondary peak tonight will be around 150-155 knots in the Luzon Strait.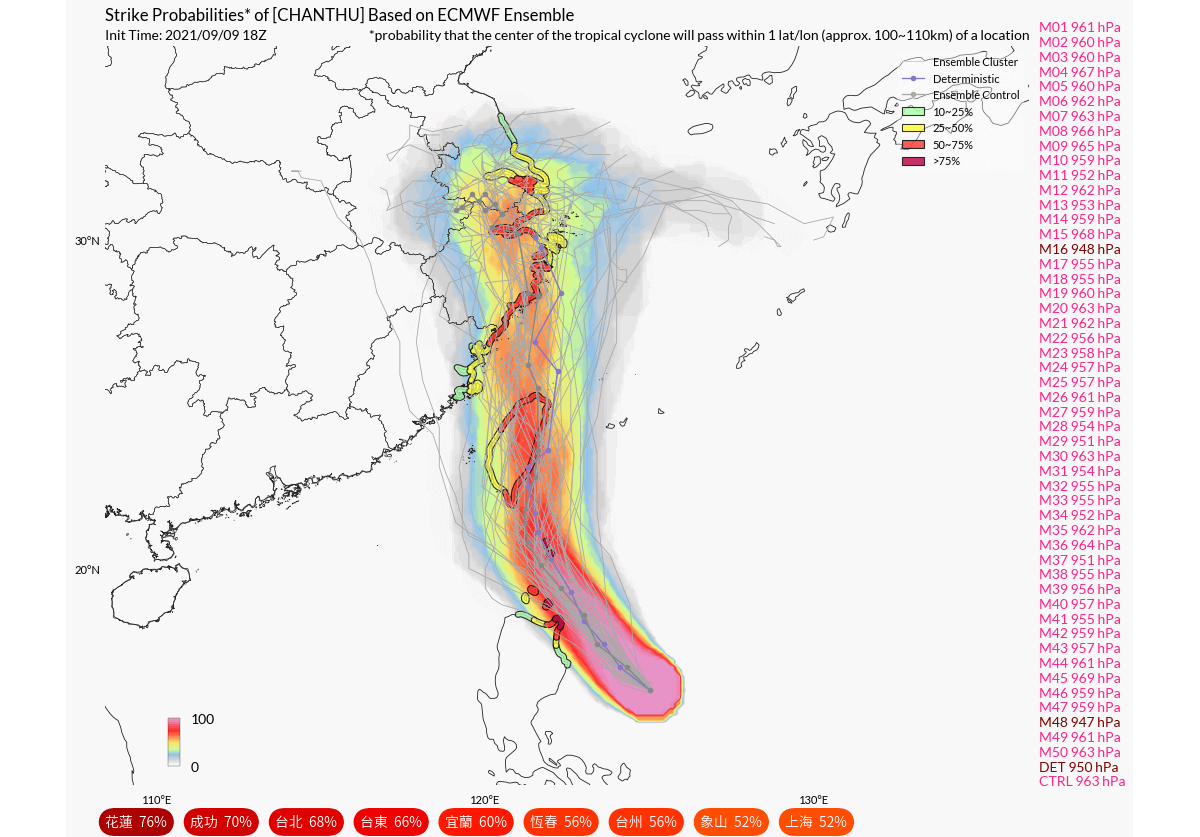 After the interaction with Taiwan's complex high mountainous terrain, typhoon Chanthu is forecast to weaken for a day or two but is likely to re-intensify rapidly again as it encounters the extremely warm East China Sea waters after Monday next week.
The general weather model consensus remains is a good agreement that Chanthu might again intensify into a powerful typhoon as it enters southwestern Japan and accelerates east-northeast next week before transforming into an extratropical storm further east.
If an intensification verifies near Japan next week, major rainfall threats could develop over the country, as well as dangerous winds near the core of the system. It depends on how intense typhoon Chanthu would re-develop after crossing the East China Sea. Conditions have to be closely monitored if they could threaten southwest and south Japan later next week.
EXTREMELY DANGEROUS LANDFALL IN TAIWAN EXPECTED ON SUNDAY
Super Typhoon Chanthu continues as a violent tropical system through Friday night while passing across the Luzon Strait and on its way towards Taiwan on Saturday. The wind gusts swath map below hints that Chanthu will maintain very powerful winds until it makes the landfall in eastern Taiwan on Sunday.
Wind gusts could be more than 220 km/h. Destructive winds, major and damaging storm surge is very likely along the eastern coasts on Sunday.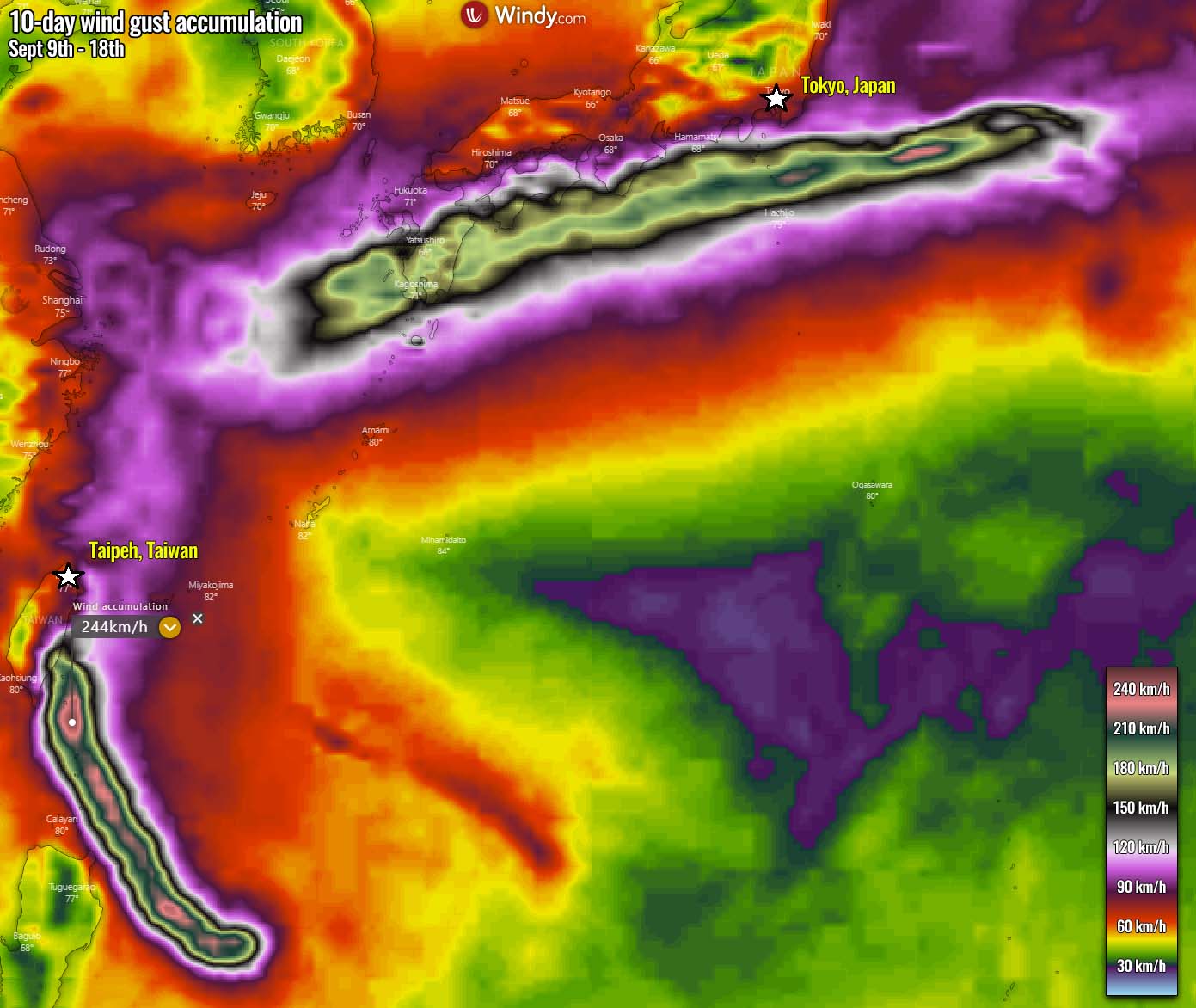 Also, a huge amount of rainfall is forecast as typhoon Chanthu nears and impacts Taiwan from late Saturday overnight to Sunday and until Monday morning. The attached weather model chart below reflects the rainfall totals over the next 10 days, showing a huge amount of rainfall (300-400 mm) is well possible along the typhoon's track and landfall in Taiwan.
These amounts are high enough to cause dangerous flash floods and mudslides.
Taiwan is used to see dangerous typhoon impacts but it is always unwelcomed for the country is an important global technology production and semiconductor supplier for the global market. Depending on the track of Chanthu after the landfall, the impact on the north-northwestern parts of the country where the majority of the factories are.
Global supplies from Taiwan's semiconductor factories are crucial especially for the automobile and computer industry, as the shortfalls in chips over the last year or so have been significant and worldwide.
***Images used in this article were provided by Windy.