+++ HIGH QUALITY WEATHER CALENDAR FOR YEAR 2021 +++
13-pages weather calendar
Severe Weather Europe 2021 Weather Calendar is here. For the third year in a row, Severe Weather Europe is featuring a selection of weather photographs.
Weather Calendar has 13 pages – a cover page plus 12 monthly pages. Each monthly page represents a full A3 size of a selected photograph.
Pages: 13 (cover + 12 monthly pages)
Size: A3 = 42 cm x 30 cm (16.5″ x 11.8″)
Weather calendar features some of the most spectacular and dangerous severe storms over Europe and around the world. Images represent various cloud and storm structure including supercell storms, tornadoes and lightning storms.
Twelve (12) Fine-Art weather photographs feature some of the best weather photographers in Europe!
Featured photographers: Albin Panisset, Marcella Giulia Pace, Maximilian Ziegler, Marco Piantanida, Maja Kraljik, Stavros Kesedakis, Boris Jordan, Danijel Palčić, Brad Hannon, Marko Korošec, Gregor Vojščak and Brice Volo.
Attached below is the cover image of the calendar. It features a thumbnail image of each monthly page.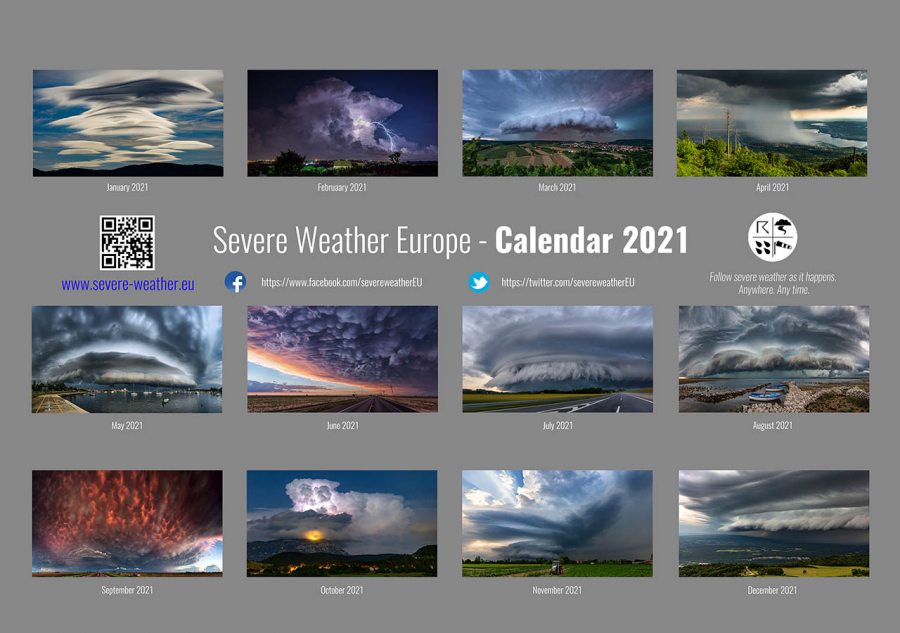 EUR 18,99
|
~ USD 22,49
~ GBP 17,49
|
~ AUD 30,99
SOLD OUT
Click on the images below to see the separate monthly pages details:
EUR 18,99
|
~ USD 22,49
~ GBP 17,49
|
~ AUD 30,99
SOLD OUT
Additional information
Calendars are fully in stock and all orders are being shipped within 5 working days after receiving your payment.
All prices for weather calendar 2021 are in European EUROs (EUR), US Dollars (USD), British Pounds (GBP), and Australian Dollars (AUD).
FREE DELIVERY WORLDWIDE! (Shipping & handling fee is already included in the price.)
If you have any questions about ordering, interested in a larger number of calendars, or have any other questions, please feel free to contact us via E-mail to:
[email protected]