Severe weather outlook – forecast across Europe. This is a special outlook regarding the potentially dangerous Medicane Ianos tracking across the Ionian Sea and Greece. This forecast features areas of organized severe weather with risk levels and severe weather threats.
SEVERE WEATHER OUTLOOK – MEDICANE IANOS

Valid: 17/09/2020 00 UTC – 19/09/2020 00 UTC
Issued by: Severe Weather Europe
Forecaster: Marko Korošec
SUMMARY

A Mediterranean tropical-like cyclone – Medicane Ianos has developed over the Ionian Sea and is moving towards western Greece. A severe impact is increasingly likely. Ianos will bring destructive winds, torrential rainfall, tornadoes, and flooding across parts of Greece.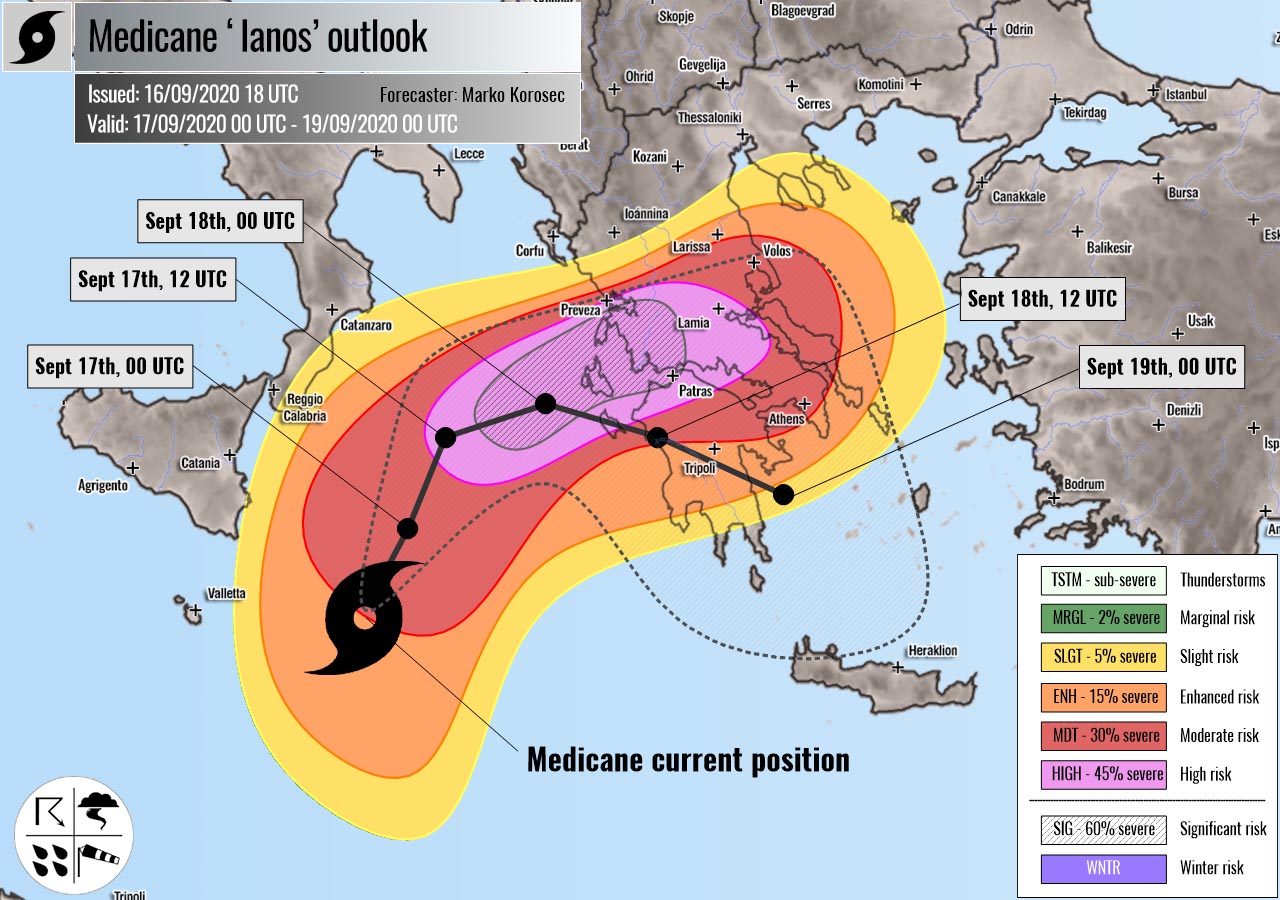 UPDATE: Mesoscale discussion
SYNOPTIC OVERVIEW

A large upper-level trough is dominating the European continent with one upper low over northwestern Russia and another low west of the Iberian peninsula.
Another upper low is moving across the southern Mediterranean and Greece towards the east. At the surface, a warm-core cyclone is deepening over the Ionian Sea and rapidly intensifies through Thursday. This tropical-like cyclone will move across western and southern Greece on Friday.
FORECAST DISCUSSION

HIGH risk has been issued for west-central Greece into the eastern part of the Ionian Sea with a threat for severe storms, capable of producing severe damaging winds, tornadoes, and torrential rainfall with flash floods.
The SIG and HIGH risk area highlight the highest and the most significant threat for potentially destructive flooding associated with the track of the Medicane Ianos.
In addition to the flooding threat, severe destructive hurricane-force winds will be associated along with the trailing cyclone's inner core storms. Weather models are hinting peak gusts could exceed 200 km/h in some places.
The wind/flooding threat is particularly extreme over the Ionian Islands (Lefkas, Kefalonia, and Zakynthos) where the center of the medicane is likely to track on Friday morning.
Maintaining intense convective storms and orographic rainfall could bring the total rainfall accumulation exceeding 300-500 mm in a 48 hour period. Potentially even higher locally as some high-resolution models e.g. ICON-EU are simulating.
The highest amounts of rainfall are expected across the Peloponnese, Attica, and partly also across central Greece from Thursday afternoon through Friday into Saturday.
Ianos is likely to track north-northeast on Thursday, turning sharp east on Thursday night, and head for the landfall in western Greece on Friday morning hours.
Then, models are quite uncertain how the intensity and track continues towards Friday. The majority of the models are, however, tracking the low towards south-southeast after landfall and gradually decaying.
There is also an enhanced potential for tornadoes (waterspouts) along the Peloponnese and the southeastern Ionian Sea where strongly enhanced shear and helicity overlap with the low-level instability.
Storm surge could also become an issue along the west-southwest Greece, to the immediate south of the medicane's track.
MDT/ENH/SLGT risks have been issued for areas surrounding the HIGH risk where the less robust threat is expected and it critically depends on the Medicane's center track.
The overall severe winds and flooding threat will be gradually spreading east on Thursday as medicane will be moving towards Greece while intensifying.
See the mesoscale discussion here: Medicane forms over the Ionian Sea and heads for a dangerous landfall in Greece.
The exact position of the center strongly depends on the convective activity and it may shift to the north or south of the most-likely track. Conditions are closely monitored and an outlook update might be needed on Thursday afternoon.
*******
Medicanes are Tropical-like cyclones in the Mediterranean and they are sometimes also called Mediterranean cyclones or Mediterranean hurricanes. These are cyclones with subtropical and tropical characteristics, that form in the Mediterranean region.
Medicanes can produce damaging severe winds and torrential/excessive rainfall with flash floods. Similar to tropical cyclones, medicanes are warm core systems, they often closely resemble tropical cyclones in satellite images.
Well-developed medicanes have tropical characteristics, with clear circular eyes, surrounded by an eyewall and (axisymmetric) cloud pattern.
*******
Follow & report severe weather events on our Facebook page:
*******************
Understanding Severe Weather Outlook
Severe Weather Outlook features areas of organized severe weather with risk levels and severe weather threats. Risk levels are divided into seven categories:
TSTM – Thunderstorms
MRGL – Marginal risk
SLGT – Slight risk
ENH – Enhanced risk
MDT – Moderate risk
HIGH – High risk
SIG – Significant risk
WNTR – Winter risk
Risk categories stand for the coverage and intensity of organized severe weather. Those could include supercells, squall lines, mesoscale convective systems, wind storms, flooding, snowstorms, or ice storms.
Severe weather threats include:
large hail (of at least 2 cm in diameter)
Tornadoes (including waterspouts)
Wind gusts (convective or non-convective) above 25 m/s (or above 90 km/h)
Torrential convective precipitation / Flash floods
Excessive rainfall (100 mm within 12 hours) / snowfall (50 cm within 12 hours)
Extremely severe weather threats include:
Large hail (of at least 5 cm in diameter)
Tornadoes of F2 intensity or stronger
Wind gusts (convective or non-convective) above 33 m/s (or above 119 km/h) or 12 Bft
Torrential convective precipitation / Flash floods
Excessive rainfall (150 mm within 12 hours or above ) / snowfall (above 100 cm within 24 hours)
Categories in the forecast represent the chance of severe weather occurring within a 40 km radius from a location. The used level is based on the conversion table of probabilistic risk into the outlook categories. A threat level is upgraded into a higher category if probabilities meet the threshold criteria for the specific threat (e.g. tornado, wind, hail, or rainfall threat).
Each individual threat area includes a detailed forecast map and discussion on the potential of severe weather threats.
Read more: Explanations for abbreviations (TSTM, SLGT, ENH, etc.)