Severe Weather Outlooks FAQ
SYNOPSIS
A large trough / upper low persists over the south-central Europe, while upper ridge remains over the north, east and southeast Europe.
DISCUSSION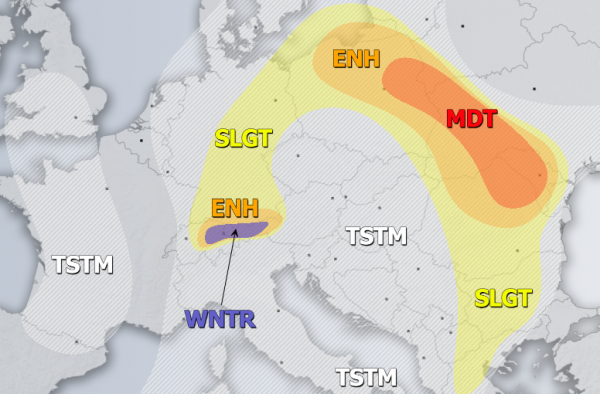 MDT / ENH risks have been issued for NE Romania, N Moldova, W Ukraine into NE Poland with threat for severe storms, capable of producing torrential / excessive rainfall, large hail and severe winds. Widespread convective activity is expected within the strongly unstable but weakly sheared environment. Slow moving storms should strongly enhance flash floods threat.
ENH risk has been issued for NE Switzerland, W Austria and S Germany with threat for excessive rainfall with enhanced flooding threat. 100-150 mm of accumulated rainfall in locally possible due to persisting N flow combined with convective precipitation.
SLGT risk has been issued for surrounding areas of MDT / ENH risks across parts of central and eastern Europe and E/S Balkan peninsula where isolated severe storms are possible, capable of producing marginal hail, severe winds and torrential rainfall.
WNTR risk has been issued for higher elevations of N Alps with threat for excessive snowfall, locally resulting in 75-100 cm of fresh snow.
TSTM risk areas have been placed where convective storms are likely to occur but should remain sub-severe.