Warm sea surface temperatures are usually the main source / fuel for the storm systems which could potentially bring excessive rainfall events, intense cyclones or even medicanes. As of late November 2019, the temperature of the Mediterranean sea is divided into two halves. The western parts is quite cold while the eastern parts are much warmer than normal for this time. This raises the potential for more intense storm systems formation if / when troughs move over the region, resulting in higher rainfall amounts and indeed stronger storms.
Let us take a look over the Nov 20th analysis, developed by our team. The Adriatic Sea, Ionian Sea, Aegean Sea and the eastern Mediterranean are very warm, with 2 to more than 3 °C warmer sea surface temperatures than normal. Precisely, an impressive anomaly of more than 3 degrees Celsius is spread around Greece, Aegean sea and WSW Turkey. To the west, negative anomalies are present around the Iberian peninsula, Sicily and N Tunisia / Algeria / Morocco coasts. Indeed, these anomalies have resulted from the persisting deep troughs and cyclone in the past weeks, also with colder airmass and windy / rainy weather experienced. More stable weather was ongoing over ESE parts of Europe, therefore less mixing and cyclones occurred over the eastern Mediterranean. The first graph represents the actual temperature of the sea while the second graph represents the temperature anomaly.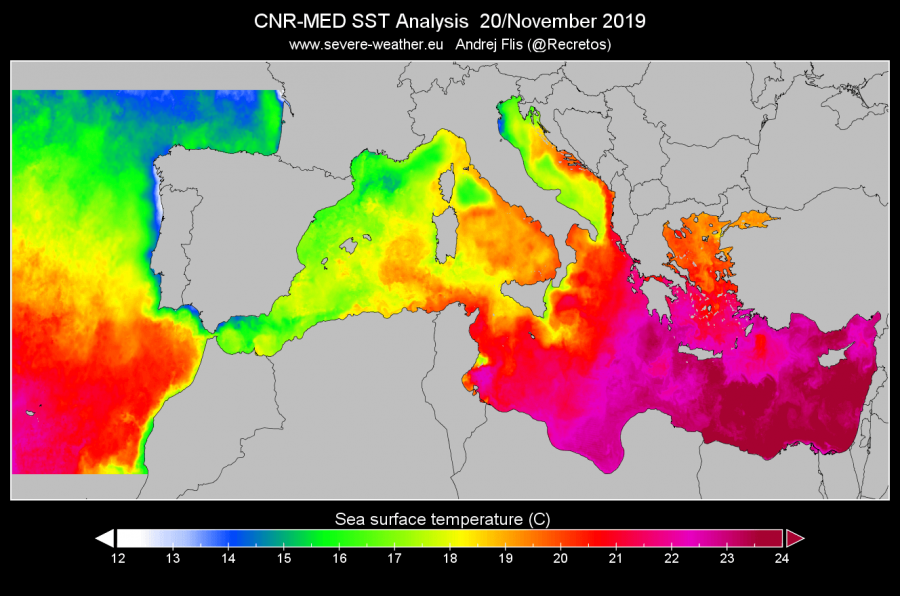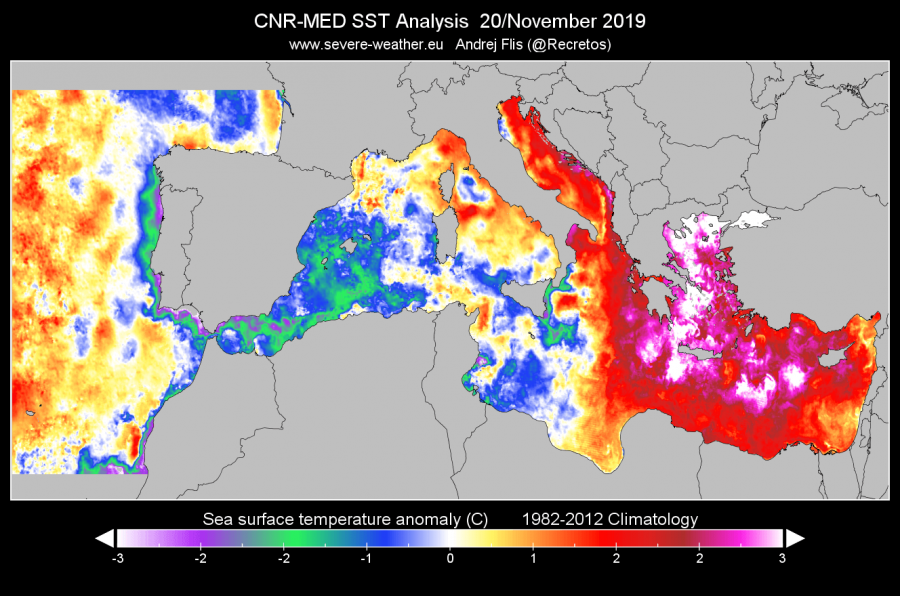 Sea surface temperature and anomaly. Graphics: Andrej Flis / Severe Weather Europe
Attached below are also the gif animations of the sea surface temperature and its anomalies since the end of October. Notice how it's been still above normal across the whole Mediterranean in early November, but cooled significantly since then across the western parts. But remain very warm across the eastern parts of the Mediterranean as mentioned before, related to the more stable and warm pattern there.
Sea surface temperature and anomaly animations. Graphics: Andrej Flis / Severe Weather Europe
Very warm eastern Mediterranean suggests the potential for extreme weather events in the coming weeks is there, depending indeed how the overall patterns will evolve and push troughs and frontal systems into SE Europe and E Mediterranean. Sometimes, warm SSTs are also favorable for a development of warm-core systems / medicanes, which often form between October and January. The potential is definitely there for such events through early/mid-winter. We are analyzing the pattern and will keep you up to date with their evolution!
Interested in our calendar? We are proud to present and promote the best weather photographers in Europe – see details: