An extremely dangerous and life-threatening tornado outbreak is now unfolding across the Dixie Alley region, including Mississippi, Alabama, and surrounding areas. A rare, Particularly Dangerous Situation (PDS) Tornado Watch has been issued as significant, long-track tornadoes are expected Wednesday evening through tonight.
A rare Particularly Dangerous Situation (PDS) tornado watch has been issued for Mississippi and Alabama, with more than 3 million people under the highest risk effect in this area PDS Tornado Watch, valid until 7:00 PM this evening. The PDS Tornado Watch includes the cities of Jackson, MS, Tuscaloosa, AL, and Birmingham, AL.
The severe weather and tornado outbreak will put 22 states under the gun with more than 100 million Americans at risk this evening and tonight.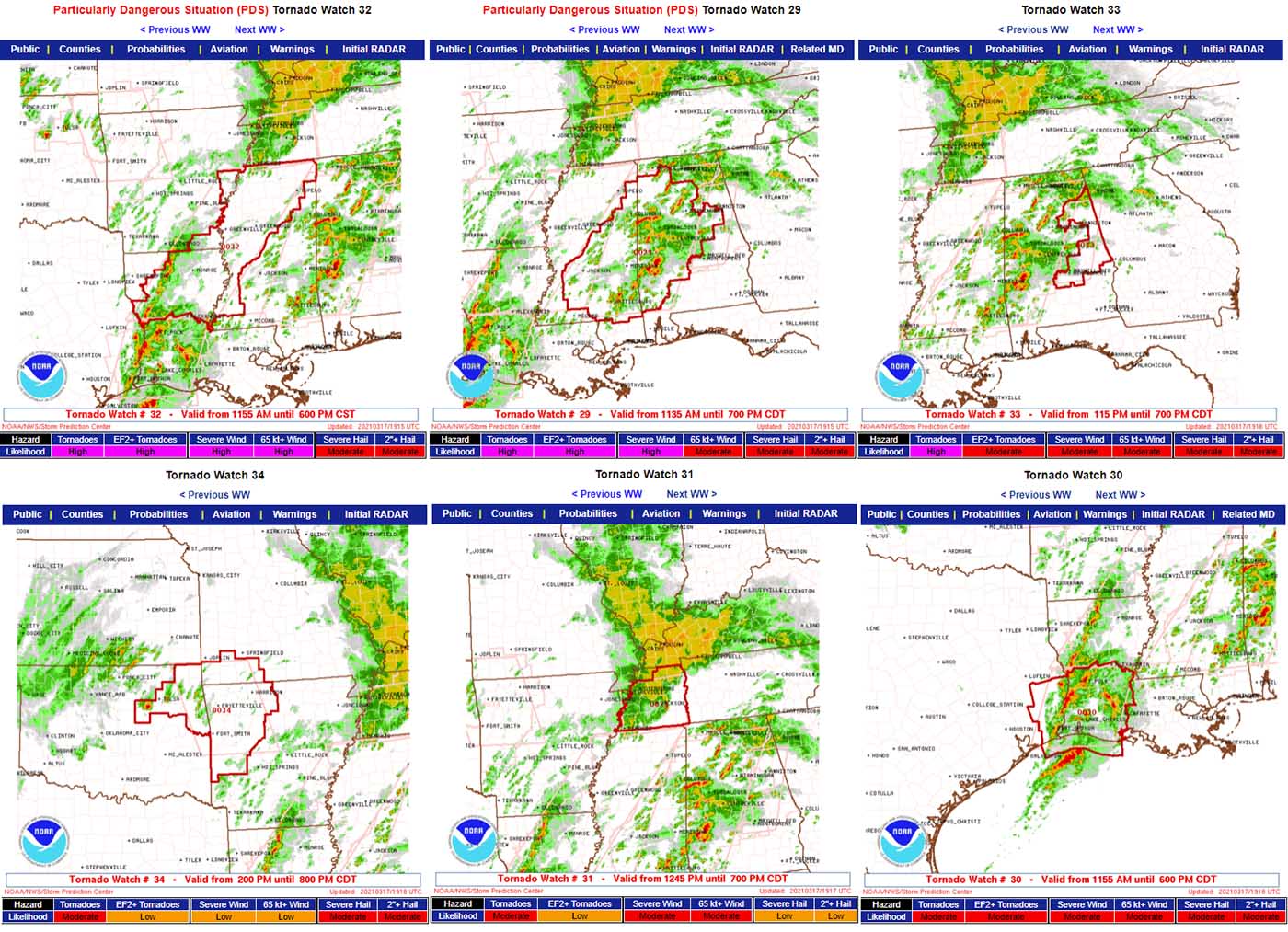 Particularly Dangerous Situation (PDS Watch) indicates the potential for multiple strong, long-track tornadoes. It is used when conditions are coming together that long-lived, significant tornadoes are likely to occur. PDS watched cover only 3 percent (%) of all tornado watches that are normally issued over the year.
Follow the updates and developing threats and stay weather aware following the Weather Offices: NWS Jackson (MS), NWS Birmingham (AL), NWS Mobile (FL), and NWS Huntsville (AL) for the latest warning information throughout the day and tonight.
Conditions are now rapidly worsening as a deep, upper-level low is emerging across the Mississippi Valley, spreading a robust (squall) line of severe storms. Ahead of the squall, isolated to discrete tornadic supercells are forming and are expected to increase in number and coverage tonight.
***A significant tornado outbreak is expected with numerous strong and a few long-track, and potentially violent tornadoes. The initial round is expected to begin across eastern Mississippi and Alabama Wednesday afternoon with an additional swath of new storms to develop from southeast Arkansas to Louisiana this afternoon and spread east across Mississippi and Alabama this evening into tonight.***
The Dixie Alley region has been upgraded into a *HIGH* risk with 45% hatched today, as the environmental conditions are becoming volatile and rapid development of dangerous weather is underway. Severe storms, including intense supercells with significant, long-lived/long-track tornadoes are expected late Wednesday afternoon through evening and continue tonight across Mississippi and Alabama.
HIGH risk means that the expected weather conditions have high confidence in a volatile setup of severe weather, meaning that severe weather or a tornado outbreak is likely to occur. Such risk is issued when a tornado outbreak with numerous intense and long-tracked tornadoes or a long-lived derecho-producing thunderstorm complex is expected to produce hurricane-force wind gusts and widespread wind damage.
The highest possible risk issued by the Storm Prediction Center (SPC) is the HIGH risk, a Level 5 risk level. And these are rarely issued as they mean extremely dangerous and deadly weather conditions are possible. On average, only two to three days each year have a HIGH risk issued
This is the first HIGH risk issued during the month of March since 2012. While the last day when a HIGH risk forecast was issued by the SPC was on May 20th, 2019, across the southern Plains.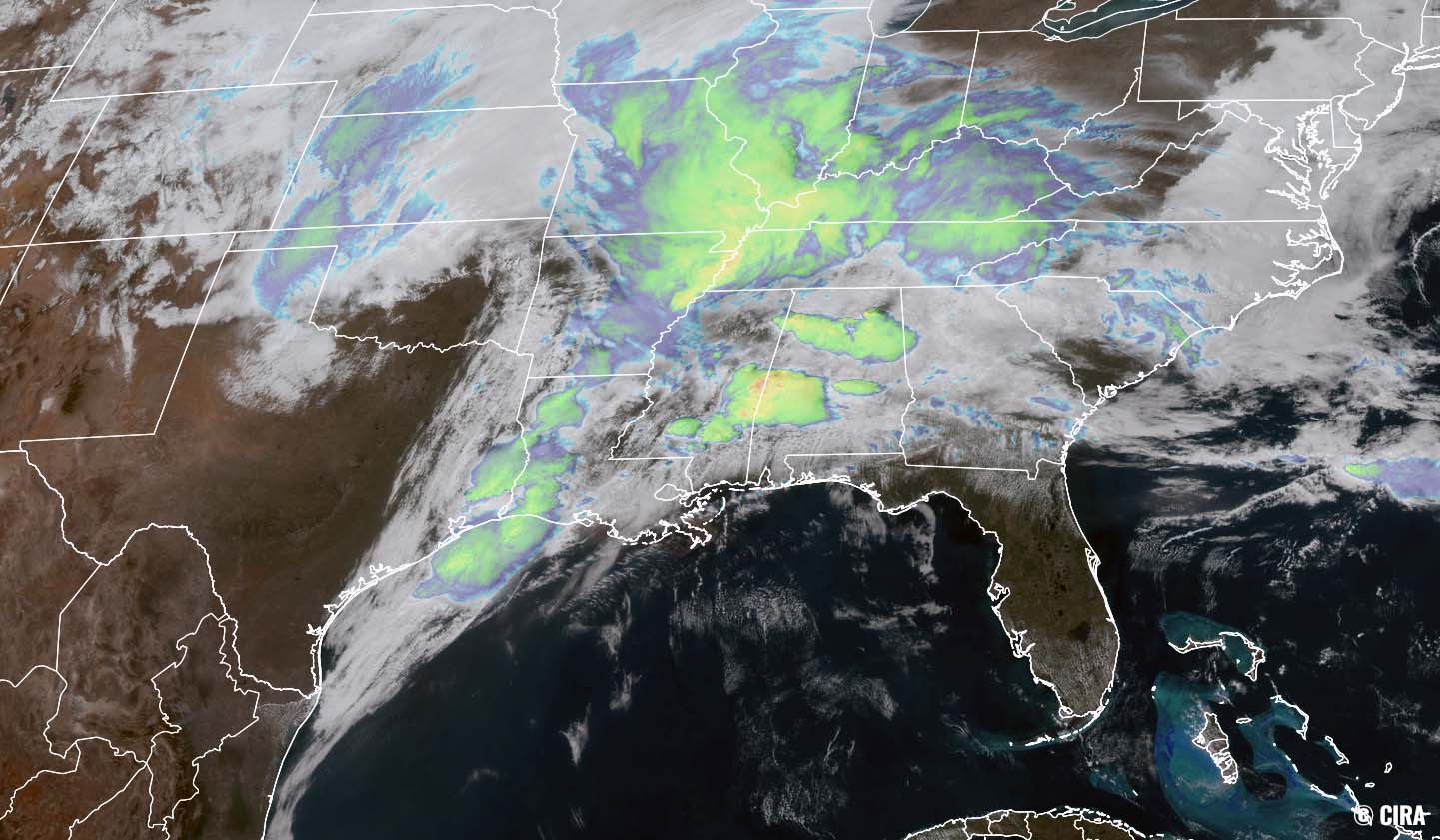 TORNADO OUTBREAK WILL PEAK THROUGH THE EVENING AND WEDNESDAY NIGHT
Based on the latest model guidance, a very dangerous and life-threatening weather situation is now unfolding across a large region of the South this Wednesday through Thursday morning. A Tornado Outbreak could produce numerous destructive tornadoes as a sharp frontal system rips into the Dixie Alley with Mississippi and Alabama being in the worst part of the storm.
The potent upper wave has gained strength while traveling across the southern Plains further east towards the Mississippi Valley Wednesday morning with its deep core tapping into the very warm/moist Gulf of Mexico air mass across the Deep South. Explosive severe storms will lead to widespread severe weather and a tornado outbreak through tonight.
A very strong jet stream aloft is associated with the deep upper-core moving east, coupled with strongly unstable air mass beneath. Powerful upper-level winds are rounding the core of the upper low, providing a very favorable source of a lifting mechanism for storms to keep going and expand in coverage this evening.
Very high wind speeds within the jet stream of nearly 100 knots aloft have pushed the wind shear very high, creating a robust, volatile environment conducive for tornadic supercell storms. Storms will increase in coverage and intensity Wednesday evening into the night as an impressive low-level flow develops, veering and increasing to around 50 knots after sunset.
This will provide very strong shear favorable for dangerous tornadic supercells. The tornado threat will be maximized across Arkansas and northern Louisiana during the afternoon hours, and then increased significantly eastward across Mississippi into Alabama tonight.
Additionally, here is the latest SPC forecast discussion with details on the developing dangerous threats:
The ongoing convection is within an arc with a pre-frontal squall from far east Texas to northeast Arkansas and then in a more west/east-orientation from northeast Arkansas to the Alabama/Tennessee border area. The northern activity will tend to reinforce the surface warm front approaching the Tennessee border with Mississippi/Alabama this afternoon.
The southwest band will likely persist east and should break up into a broken band of supercells at some point this afternoon as low-level shear further strengthens across the Arkansas-Louisiana-Mississippi region. Farther east, warm-advection showers in southeast Mississippi to west-central Alabama will likely deepen by early afternoon into a separate swath of several discrete supercells in an environment of strengthening low to deep-layer shear.
Between these two areas, the destabilizing warm sector with warming boundary-layer temperatures and mid-60s to low 70s dewpoints will support an expansive plume of 1500-2500 J/kg MLCAPE. By late afternoon and into early tonight, a low-level jet segment will strengthen to at least 50-60 kt across Mississippi/Alabama as the midlevel trough approaches from the west, contributing to very strong low-level shear (0-1 km SRH in excess of 300 m2/s2).
Buoyancy will be slow to decrease after sunset and with eastward extent based on the prevalence of rather rich boundary-layer dew points, Very favorable wind profiles (with 700-mbar winds reaching 70-80 kt) will maintain the threat for long-track, intense tornadoes with both warm-sector supercells, as well as supercells within the broken band near and ahead of the surface wind shift progressing east across Mississippi by early tonight.
The strong tornado and significant damaging wind threat while becoming more spatially confined with time, will likely persist across parts of Alabama overnight and should spread into western Georgia before 12Z Friday.
Please follow your local National Weather Office for the latest updates and warning details once storms develop.
SEE ALSO:
The initial discussion: Dangerous tornado outbreak now increasingly likely across Dixie Alley this Wednesday – Mississippi, and Alabama in the highest threat for violent tornadoes