A historic heat dome was established over Europe through mid-August, dominating most of the continent. It led to numerous nighttime and daytime records for late August during a long-lasting heatwave. This weekend, the weather pattern is flipping, with multi-day severe weather outbreaks, a potential new major flooding threat for the Alpine region, and a refreshment after Monday.
With the blocking pattern gradually vanishing by this weekend, weather models hint there could be more flooding trouble brewing in the coming days. A major heat dome and its heatwave have significantly warmed up the Mediterranean Sea, fueling the frontal system forecast to cross central Europe and the northern Mediterranean on Monday.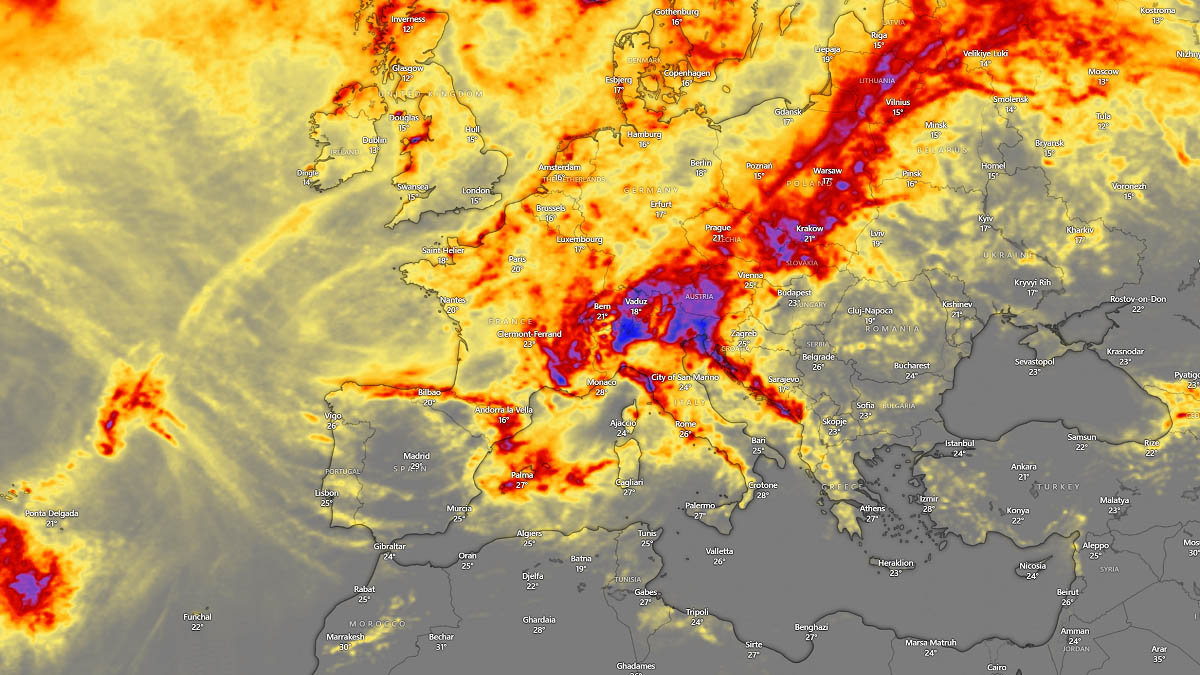 Severe thunderstorms have already hit northeast Spain and central Europe areas on Friday. Very large hail up to 9 cm in diameter was reported from Graz, Austria.
Widespread storms also re-developed on Saturday, especially in northeast Spain, northwestern Italy, southern Germany, and the Chech Republic. Multiple events of severe winds, large to giant hail, and flash floods have been reported.
More severe weather is forecast to follow on Sunday and Monday.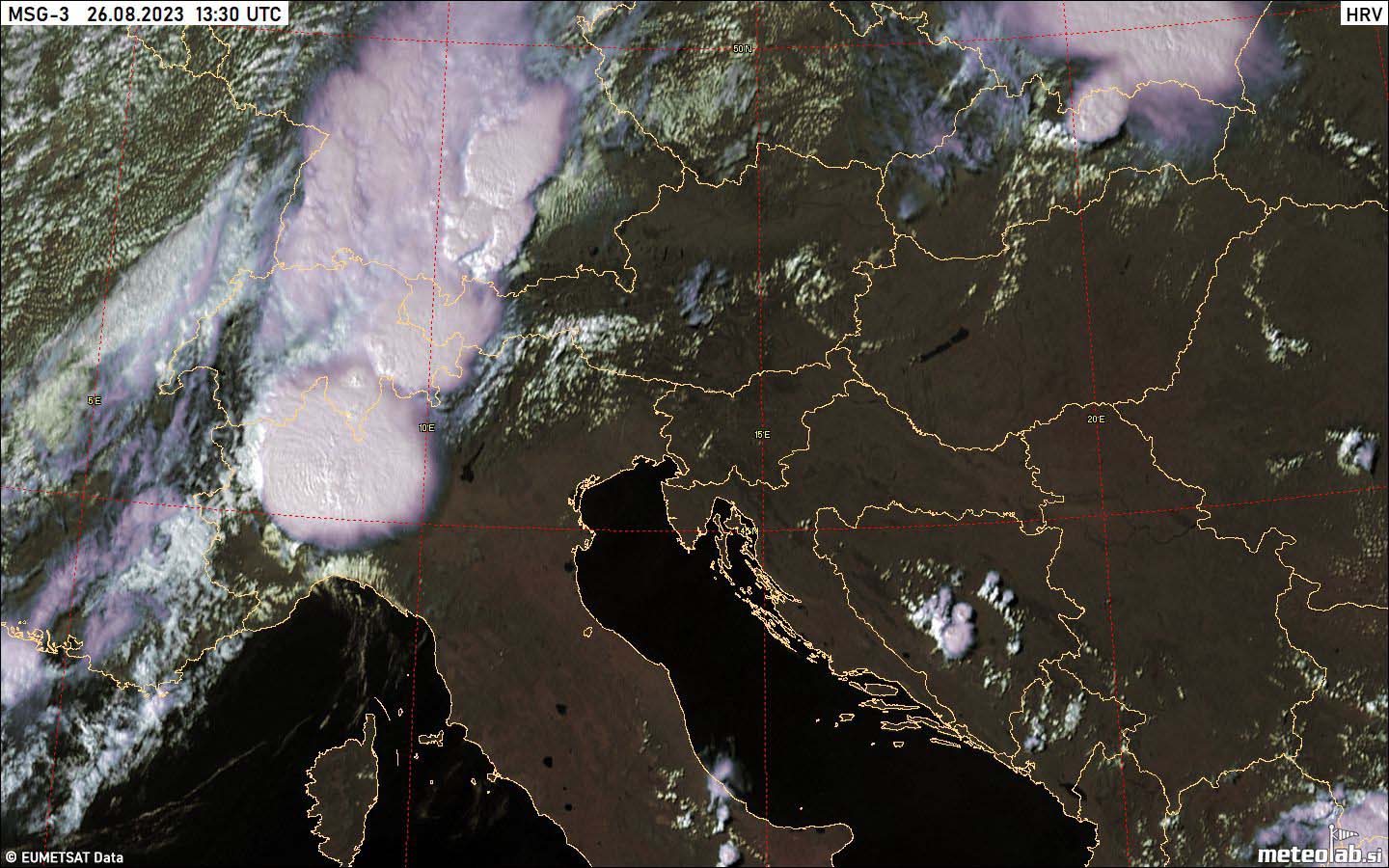 Strongly to extremely unstable air mass combined with enhanced wind shear suggests that conditions exist for supercells with large to giant hail, tornadoes, and severe winds. Due to the unusually warm Mediterranean weather so late in the summer, the main concern is the flooding potential.
Flash floods from North Italy, Austria, and Slovenia could occur over the areas badly hit earlier this month.
HEATWAVE BROUGHT NUMEROUS NEW TEMPERATURE RECORDS, AND WILDFIRES IN GREECE HAVE EXPANDED
The heatwave peaked this week from a powerful heat dome covering most of Europe for almost two weeks. Several countries have reported nighttime and daytime new August records; even all-time records have been shattered.
On August 23rd, France had the hottest August day on record. The town of Siran in southern France has reported its maximum daytime temperature of +44.4 °C, the highest ever recorded in August. Low 40s were observed in southern France for a few days, up to nearly +45 °C in parts of Spain and Portugal this week. Climatebook provides the image.
A day after, on the 24th, Switzerland cities set new all-time heights, e.g., +38.5 °C in Nyon, +38.2 °C in Payerne, and +33.5 °C in Disentis.
Geneva broke its highest August record, it was +39.3 °C on the 24th. Monthly highs have also been smashed in Friburg (+36.5 °C), Chateux Oex (+33.8 °C), La Brevine (+32.8 °C), and many others.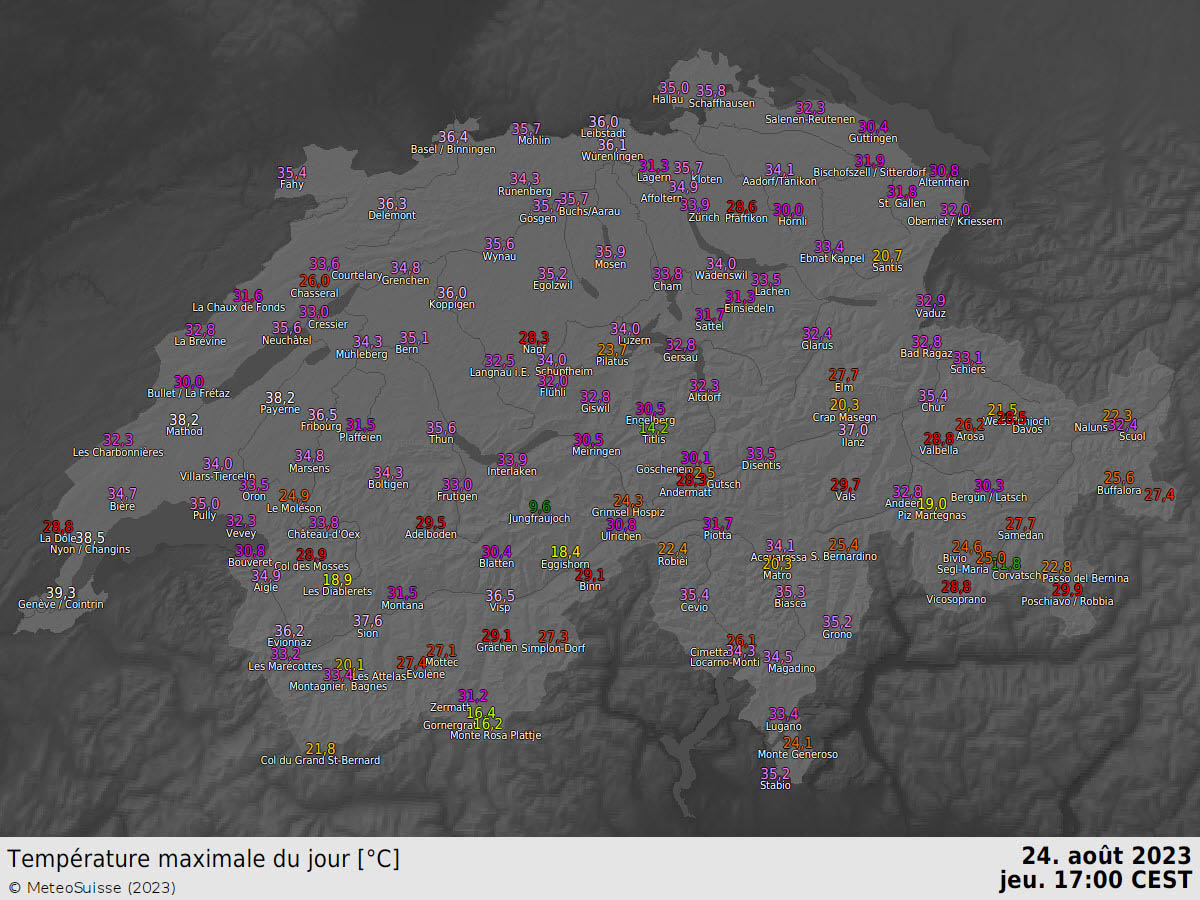 Milan, Italy, broke its historic record of daily average temperature. The new mark is set at 33.0 °C, recorded on Aug 23rd. The previous record was set on August 11th, 2003, with a daily average temperature of +32.8 °C.
Several cities in Italy and Spain have also pushed maximum temperatures into the low 40s °C this week. It's pretty unusual for so late in the summer.
The long-lasting heatwave across southern Europe and the Balkans has ignited more widespread wildfires in Greece. They have spread across the largest areas in recent decades. Resulting in significant property damage and also multiple fatalities.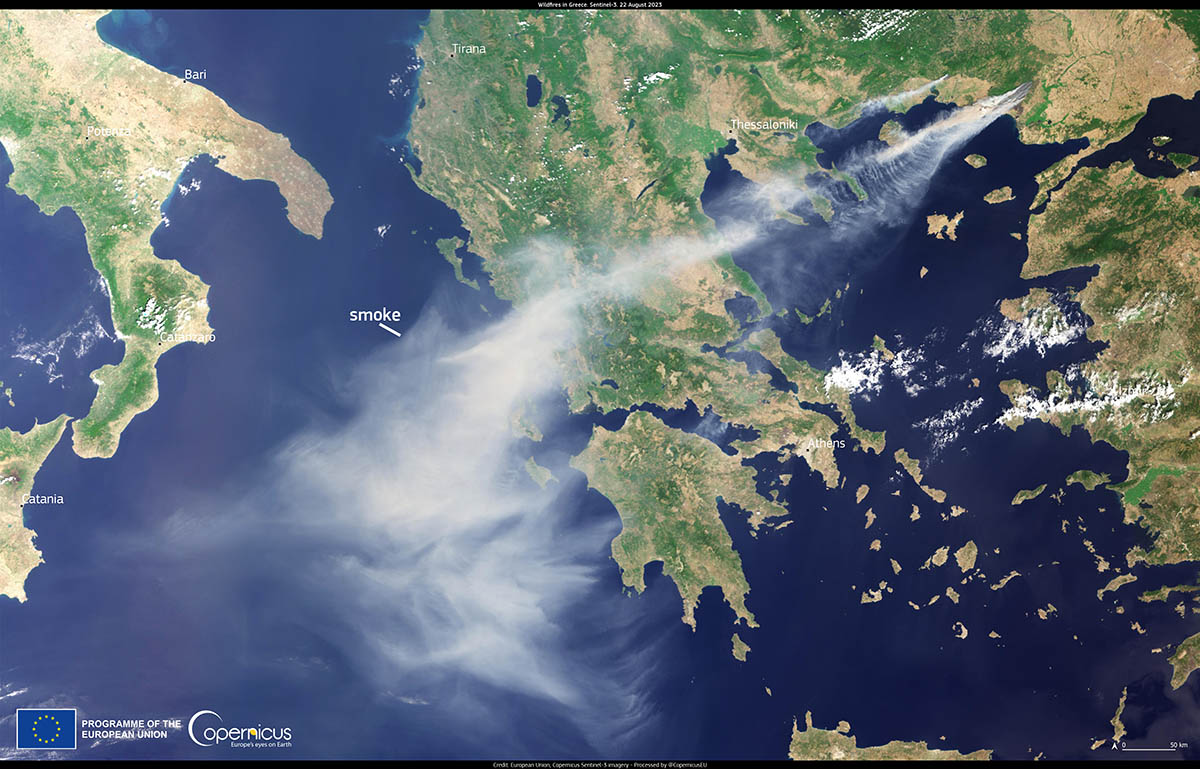 Copernicus's satellite image above indicates a smoke cloud from one of the large wildfires on August 22nd.
WEATHER PATTERN FLIPS FROM HEAT DOME TO A DEEP, PROGRESSIVE TROUGH
The general weather pattern through mid-August was stable, with an extensive heat dome over Europe. On Friday this week, a gradual change has begun with a deepening trough over western Europe. This will be the dominant feature forecast to last into the final days of August.
While a gradual collapse of the heat dome over western and central Europe is seen, it persists over the Balkan peninsula for a few more days. The trough will deepen further over central Europe, resulting in more severe weather, including flooding. And a refreshment in its wake after Monday.
The scorching heatwave will remain across the southern Mediterranean and the Balkans, including Greece and Eastern Europe. In contrast, below-normal temperatures will spread across western and southwestern Europe in the wake of the trough.
In between, winds increase with a strong jet stream, leading to a high potential for severe thunderstorms. Air mass is strongly unstable after a long period of extreme heat and marine heatwave over the Mediterranean.
In recent weeks, the seas have warmed significantly, back to 26-29 °C in many areas. This is helping to produce very high humidity and dewpoints—the main fuel source for thunderstorms.
Severe weather events associated with thunderstorms bring large hail, damaging winds, and flash floods. They result from a volatile and sheared environment when combined with high humidity.
So, one of the main ingredients needed for severe weather development is the available moisture (dewpoint) in the atmosphere. Warm air parcels can hold much more water than cooler ones. Thus, the convectively available potential energy (CAPE) increases with higher temperatures.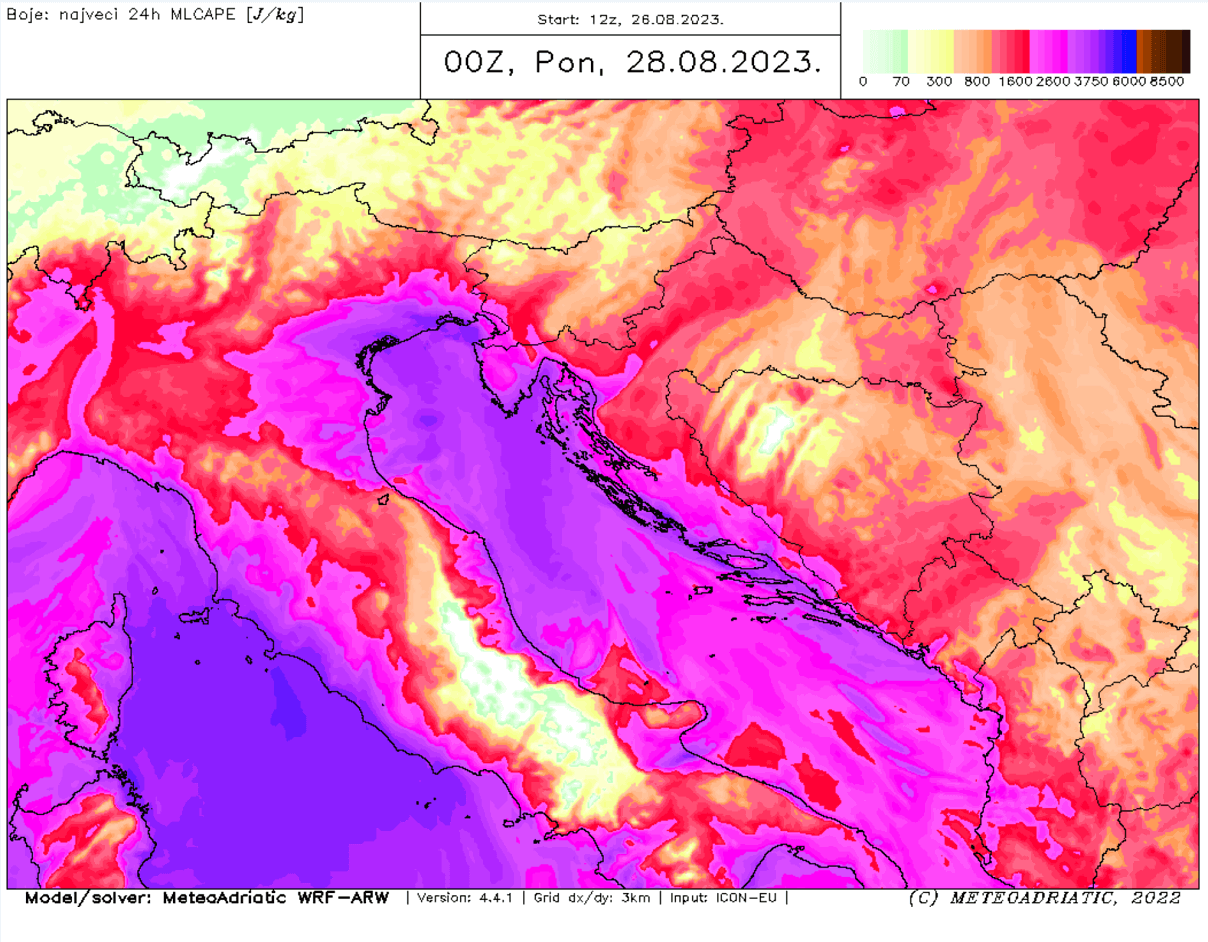 In short, The higher the dewpoint temperature, the higher the atmospheric instability. But at the same time, high dewpoints throughout the atmosphere also mean torrential rainfall and flash floods are more likely to develop.
With the rapid increase in air mass humidity this week due to the extremely anomalous Mediterranean Sea temperature (graphics above), most regions have very high dewpoints again. These conditions are forecast to persist into the final week of August.
SEVERE WEATHER DEVELOPMENT OVER EUROPE ON SUNDAY AND MONDAY, AUGUST 27 AND 28
The upper wave/low and frontal system will deepen on Sunday and Monday while progressing into central Europe and the northern Mediterranean. With upper-level winds significantly increased, rounding the base of the low.
The wind shear (changing and increasing winds with height) will be enhanced across the Mediterranean, Alpine region, and northern Balkans. Due to the different orientation of the wind jet maximum in this pattern, more unidirectional shear will follow after Sunday into Monday. Therefore, there is a higher potential for training storms, leading to locally higher rainfall sums.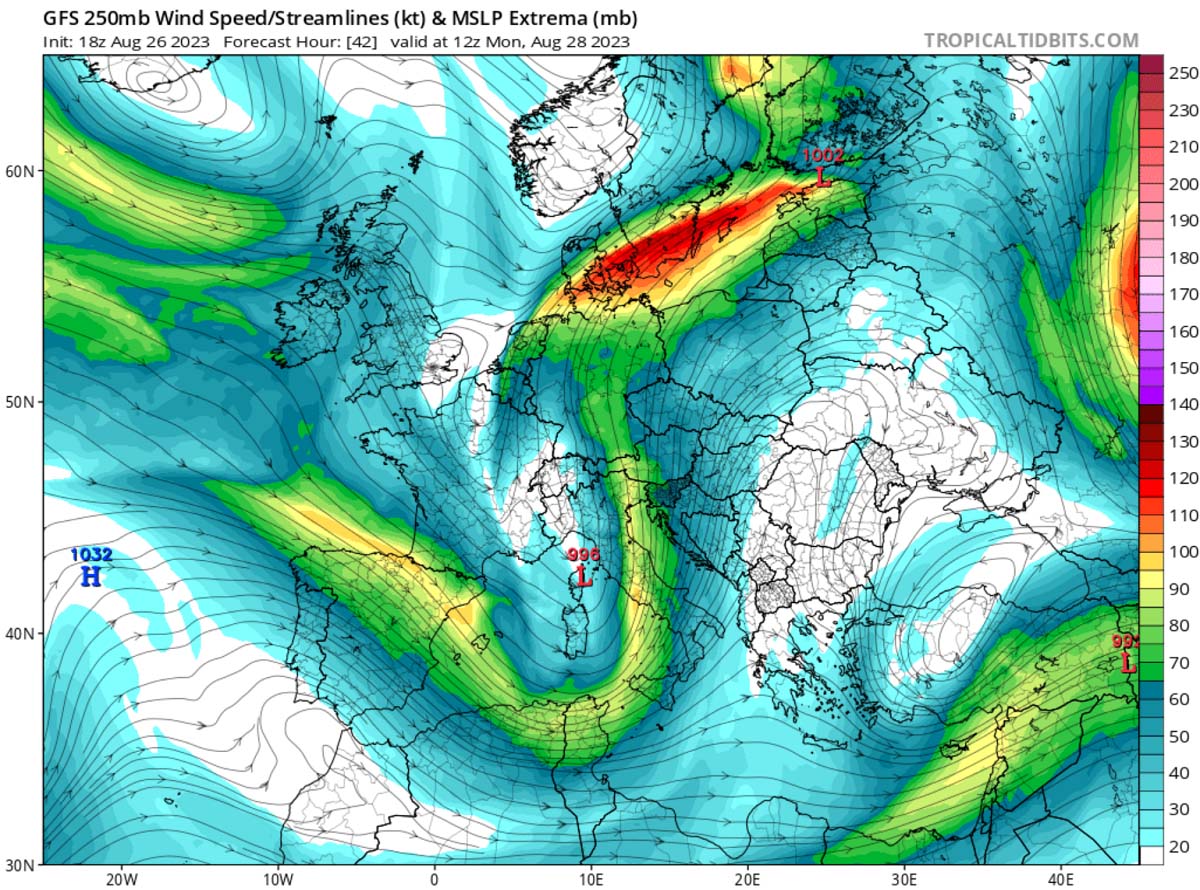 So, a robust environment will continue under the jet stream, particularly across northern Italy and the Alps, including Austria and Slovenia, on Sunday and Monday.
High humidity and dewpoint temperatures will result in high instability with the help of Liguria Bay and the Adriatic Sea sea temperatures. Therefore, significant severe weather will develop along the moving main frontal boundary.
Starting Sunday midday, widespread severe thunderstorms will rapidly develop across the western Mediterranean as a frontal system ejects from the Iberia and France into boiling hot Mediterranean seas. Flash floods will be possible in Balearic islands.
Activity will then spread across the western Alps and northwest Italy in the afternoon, continuing east towards the Adriatic Sea, southern Austria, and Slovenia into Monday night and later during the day.
Supercell thunderstorms with large hail, severe winds, and excessive rainfall are expected.
With very high CAPE numbers again, the rainfall will be torrential and lead to flash floods as high-resolution models are peaking the instability from 2500 to 3000 J/kg. This shows how moist the air mass will be in the lowest levels again.
HIGH RISK FOR FLASH FLOODS FOR NORTHERN APENNINES AND SOUTHERN ALPINE FLANK
Areas to the north of the Ligurian and Adriatic seas will be under the highest threat for extreme amounts of rainfall due to a combination of training thunderstorms and orographic/frontal precipitation with advecting air mass from the warm seas into higher mountainous terrain.
Attached above is the total 72-hour rainfall forecast from Sunday through Wednesday for central Europe, the Alpine region, and the northern Mediterranean. 300-400 mm of rain in this 3-day period is likely in some areas, especially in the Ticino Valley.
Other areas are forecast to receive 50-100 mm; locally, close to 200 mm will again be possible. Below is another high-resolution map provided by MeteoAdriatic. A similar simulation that 300-400 mm is possible in some areas.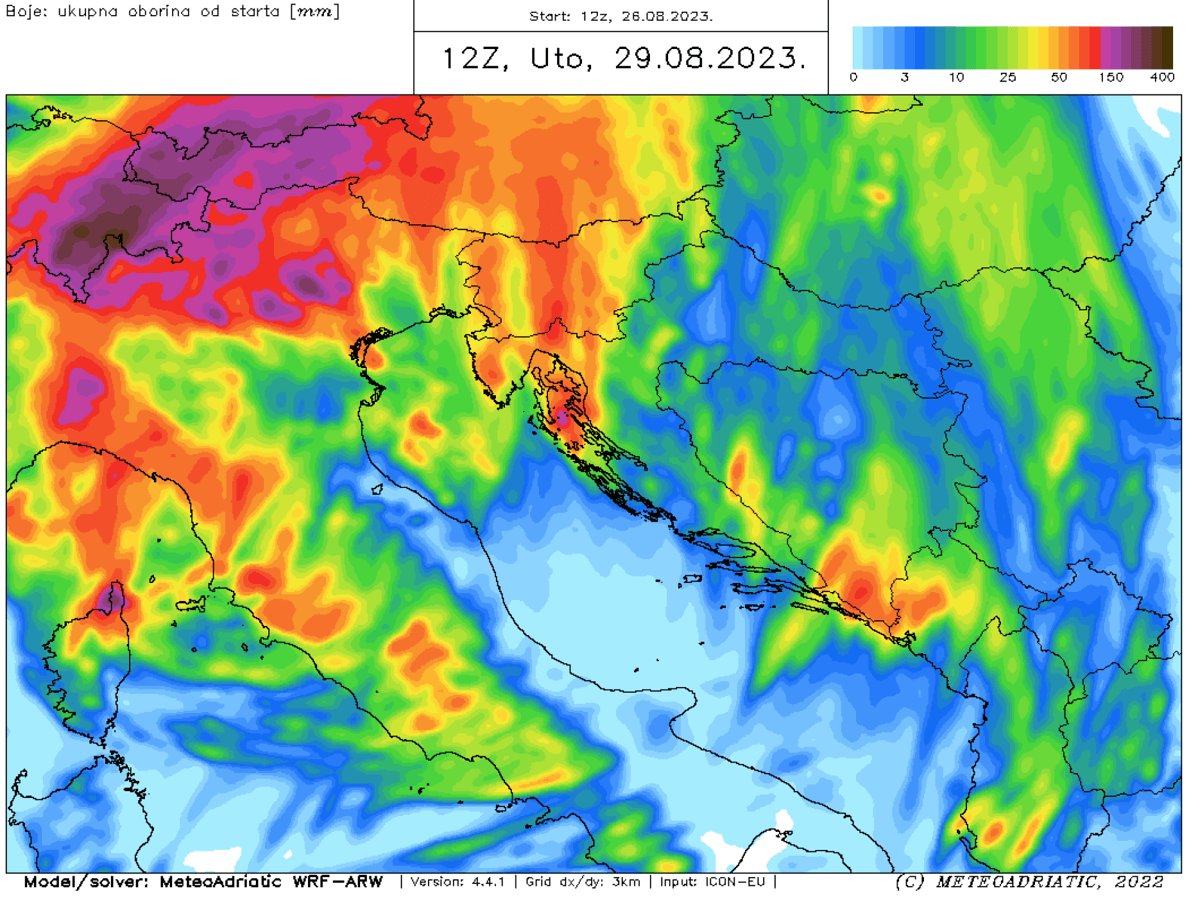 A swath of multiple storms and convective systems will lead to intense downpours with flash flood threat in the complex terrain of the Alps.
Here is another 48-hour rainfall sum from the WRF-ARW model (source: modellzentrale).
Eastern Switzerland, western Austria, and parts of northern Italy could see more than 300 mm of total rainfall within a 2-day period (Sunday and Monday only). This will probably lead to significant flash floods, and very high rainfall sums are likely in a short period of time from Sunday afternoon into Monday morning.
Note: Areas severely hit with significant flooding in early August could be hit again.
!! Stay alert for potentially dangerous weather conditions on Sunday and Monday !!
Windy, Pivotalweather, and Meteoadriatic provided images used in this article.
See also: