The last two weeks have presented an outstanding weather pattern across central Europe. Numerous severe weather outbreaks with tornadoes, giant hail, flash floods, and destructive winds brought havoc across the Alpine region, North Italy, Slovenia, Croatia, and central Balkans. More significant weather, including very large hail, is forecast from Monday through Wednesday as another powerful and deep frontal wave grazes into overheated land.
With the current pattern gradually vanishing this weekend, weather models already hint at another frontal system emerging into central Europe on Monday. A rapid warming up is underway behind the recent system, thanks to the still sweltering southern Mediterranean region where extensive heat dome aloft persists. Hot temperatures are advecting back north.
From Monday through Wednesday, central Europe with the Alpine region, Italy, northern and central Balkan peninsula are forecast to experience a multi-day severe weather outbreak. Thanks to potent upper-level winds, rounding the upper wave.
Volatile air mass and strong wind shear will lead to significant weather events. Severe thunderstorms are expected, including supercells with very large to giant hail, tornadoes, flash floods, and destructive winds.
A week ago, we published a mid-term outlook for the strongest heatwave hitting southern Europe this summer season. The scorching heat forecast verified as more than +45 °C was recorded in Spain and Italy, as seen from Scott Duncan's analysis below.
The heatwave gradually vanished by midweek, followed by a multi-day severe weather outbreak across the Alpine region, extending into Italy and the Balkan peninsula countries. Intense, long-lived supercells, large storm clusters, and bow echoes led to extensive hail and wind damage.
The lightning tracks chart below indicates an example of storm clusters' tracks. Those usually travel long distances of even more than 500 km when perfect wind shear conditions are present, as this week.
On Friday, July 21st, a multi-vortex tornado was also reported on the eastern skirts of Milan, NW Italy.
Additionally, extensive hurricane-force winds damage was reported from northern Italy and Slovenia, and tens of thousands of trees have been uprooted by derecho associated with the larger storm clusters. Intense downpours led to flash floods.
Numerous reports of large hail, locally even giant hail of more than 12 cm in diameter, have been reported from Italy, Slovenia, Croatia, and Bosnia. Damage is substantial.
There was also an unofficial report of around 15 cm (5.5+ inches) large hailstones (left image above) near Treviso, NE Italy. Further investigation is still underway as this hailstone could challenge the European record of 15.6 cm in Romania (26th of May, 2016).
*****
Severe weather events like large hail, damaging winds, and flash floods result from a volatile and sheared environment.
And one of the main ingredients needed for severe weather development is the available moisture (dewpoint) in the atmosphere. Warm air parcels can hold much more water than cooler ones. Thus, the convectively available potential energy (CAPE) increases with higher temperatures.
In short, The higher the dewpoint temperature, the higher the atmospheric instability.
This month's humid air mass (and summer) is due to the extremely anomalous Mediterranean Sea temperature (graphics above). Most regions have water temperatures from 27 °C to around 30 °C in some parts, leading to very high dewpoints. The anomaly chart above hints 4-6 °C above normal water temperatures are recently observed – a record-breaking Mediterranean Sea.
Our partner Climatebook provided the above image.
These conditions are forecast to persist into the upcoming weeks. Therefore, the new frontal systems will take advantage of these high dewpoints. They lead to very unstable air mass and extreme instability (CAPE).
Let's see how the new potent upper wave and frontal system will develop this week.
PROGRESSIVE WEATHER PATTERN WITH DEEP UPPER WAVE MOVING ACROSS CENTRAL EUROPE
The general weather pattern for the final week of July is becoming more progressive over Europe. With a gradual collapse of the heat dome in the south, a large and deep North Atlantic upper-level trough emerges over the continent.
While the scorching heatwave will remain across the far south of the Mediterranean and the Balkans, the potent upper wave will graze into the dome from the north. It leads to an intense jet stream between both features.
The wave will be quite unusual for the mid-summer month, with a deep core over Western Europe. Therefore, bringing cold maritime air mass to this part of Europe.
A rather rapid temperature increase is forecast for Sunday and Monday ahead of the approaching through. Although this heatwave will be of a short breath, temperatures will push back into the mid to upper 30s across northern Italy and the Balkans.
The 850 mbar temperature anomaly hints at how anomalous temperatures will again be for the central Mediterranean region and the Balkan peninsula. This occurs because of the intensifying southwesterly jet stream aloft.
SCORCHING HEAT TO CONTINUE OVER ITALY AND THE BALKANS
According to the chart above, mid-level temperatures will be around 10-12 °C above normal again, with forecast daytime temperatures remaining in the extreme values.
Attached is the forecast peak temperature for the central Mediterranean and southeast Europe on Monday and Tuesday.
So, both days will bring extremely high temperatures for southern Italy and the southern Balkans. Serbia, Albania, North Macedonia, Romania, Bulgaria, and Greece are forecast to remain in daily maximum temperatures from 40 to 46 °C.
Wildfire threats in Greece and other parts of the southern Balkans will increase due to the stronger winds arriving with the new large frontal system farther north.
SEVERE WEATHER DEVELOPMENT OVER EUROPE ON MONDAY, JULY 24TH
The upper wave and frontal system emerge into central Europe late Sunday night into Monday, with upper-level winds significantly increasing with the pressure tightening against the blocking High with a heat dome over southern Europe.
Thus, the wind shear (changing and increasing winds with height) will also strengthen. High humidity and dewpoint temperatures will create high instability with the help of Liguria Bay and the Adriatic Sea sea temperatures.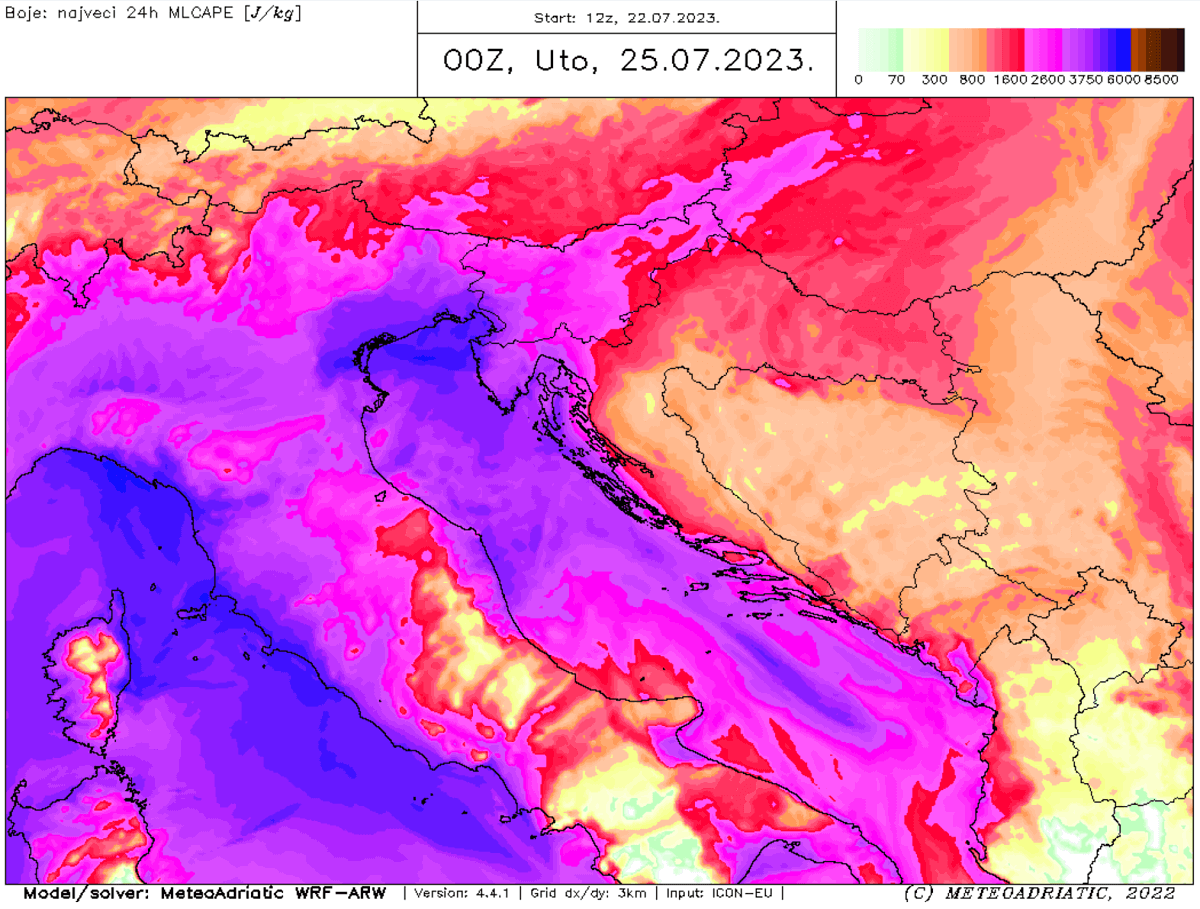 The CAPE numbers are shooting up into extreme values, locally surpassing 4000-5000 J/kg per high-resolution WRF weather model. This show how moist the air mass will be in the lowest levels.
The rectangular yellow area was placed where the highest potential and best overlap of severe weather conditions will exist on Monday.
A volatile environment is forecast to occur under the jet stream, particularly from southeast France, southern Germany, the Alpine region, and North Italy.
* A high risk for a major severe weather outbreak will likely develop over these areas as the near-perfect overlap of extreme shear and instability occurs. Long-lived supercell storms with giant hail, destructive winds, and tornadoes will be possible. *
SEVERE WEATHER DEVELOPMENT OVER EUROPE ON TUESDAY, JULY 25TH
The frontal system will move east on Tuesday, leading to additional severe weather and another outbreak of intense thunderstorms. The jet stream with extreme wind shear will be dragged towards east-southeast, with its left-exit region over the north-central Balkans.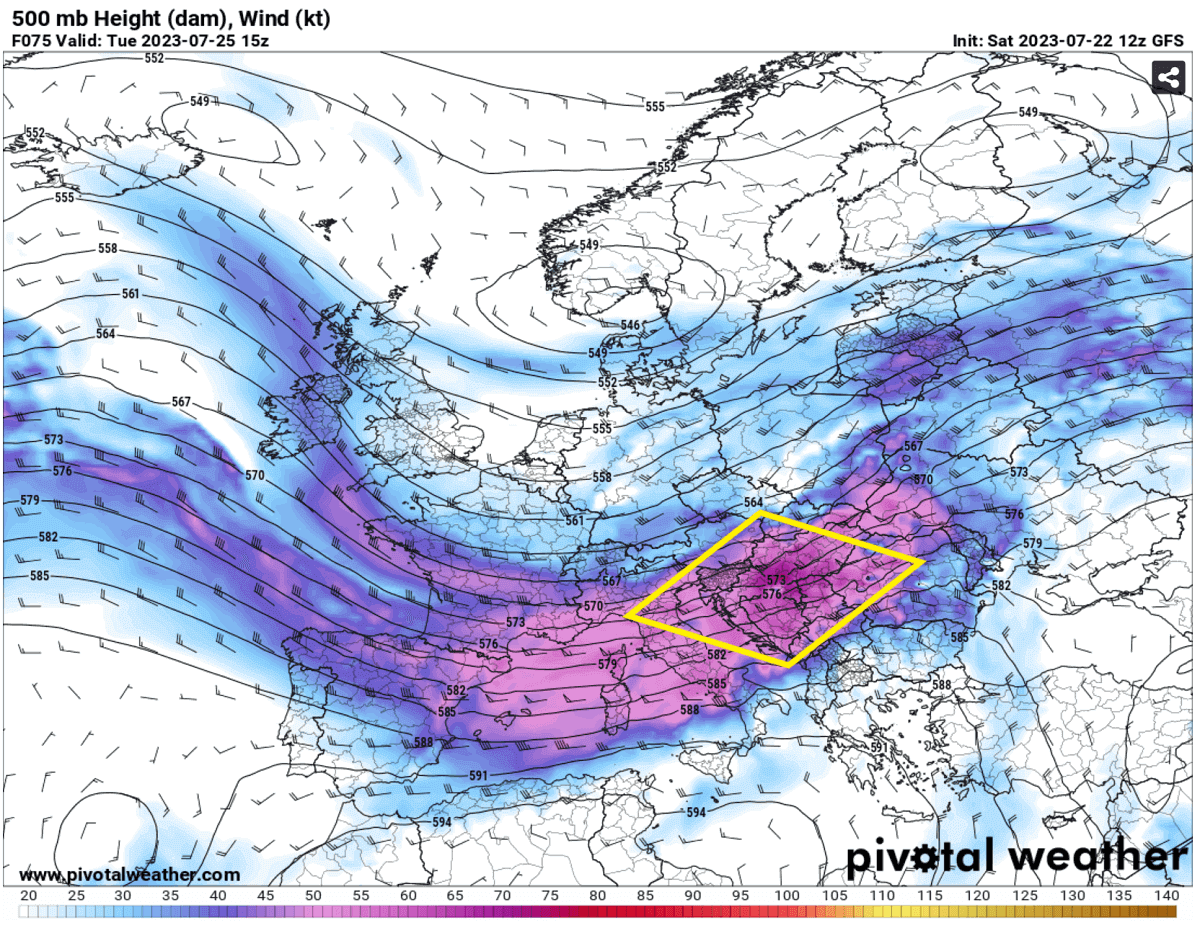 The left-exit region of the jet stream is where the upper-level divergence is present. This means that a strong upward motion of air parcels is occurring underneath. Thus, supportive of the rapid development of severe thunderstorms.
With the extreme values of wind shear (60-80 knots), very high to extreme instability (3000 to 5000 J/kg of MLCAPE), and storm-relative helicity – this is the recipe for a severe weather outbreak to occur. The rectangular area marked in yellow is again placed where the highest potential and best overlap of severe weather conditions will exist on Tuesday.
The forecast-sounding diagram above shows an example of these textbook conditions over the northern Mediterranean. The wind change with high is almost ideal, with a clearly curved hodograph on the right. Violent rotating storms develop with these conditions.
So, similar to Monday's evolution, long-lived supercell storms with giant hail, destructive winds, and tornadoes will be possible across the Balkan peninsula and along the eastern Adriatic Sea region.
* Areas along the Adriatic coast must be closely monitored, where numerous are on vacation and camping. Extremely severe winds could cause injuries and extensive tree damage in the parks. Similar as we have seen last week. *
Attached above is the total rainfall forecast from Monday through Wednesday for the Alpine region and the northern Mediterranean. A swath of multiple storms and convective systems will lead to more intense downpours with flash floods, especially in the complex terrain of the Alps.
Furthermore, the frontal system will continue east on Wednesday, most likely to deliver additional severe thunderstorms further south and east across the Balkan peninsula and Eastern Europe: especially Serbia, Romania, Ukraine, and Moldova.
!!! Stay alert for potentially dangerous weather conditions on Monday and Tuesday !!!
Windy, Pivotalweather, and Meteoadriatic provided images used in this article.
See also:
A historic long-lived supercell storm with giant 14 cm hailstones tracks for more than 1200 km across five European countries leaves severe wind and hail damage along its path