The first month of the meteorological spring is forecast to end with well above-normal temperatures across a large part of Europe. Thanks to a strong plume of very warm air mass advection spring temperatures under the strengthening blocking ridge across the continent this week. But it appears likely that another quite strong cold blast spreads far south through early April.
Actually, it has been quite cool weather across a large part of the European continent this month. With blocking patterns over the North Atlantic, it was resulting in cold plumes from the north into the central and eastern parts of Europe, including the Balkans and the Black Sea region. Many places have had quite a lot of snow since mid-March.
Now, as the first month of the meteorological spring is coming to an end, the weather is forecast to become much warmer. A massive plume of warm weather is spreading under the strengthening upper-level ridge, and it will be resulting in much above-normal temperatures for many. Especially across western and central Europe, also across parts of Scandinavia.
Below is the video animation of the 2 m temperature (ICON-EU) model across Europe through the remainder of March into the early days of April. Very warm air mass spread as far north and UK and southern Scandinavia, but it cools down quite significantly towards the weekend.
However, peak afternoon temperatures will push above 20 °C in England and above +25 °C across parts of western and central Europe until Wednesday. Temperatures are forecast to be much colder as the second spring month arrives late this week.
STRONG BLOCKING RIDGE DEVELOPS OVER EUROPE
As mentioned earlier, the driving factor for a massive plume of warm spring weather forecast this week is the quite fast developing and strengthening upper-level ridge – an Omega blocking pattern – over the western and central parts of Europe through early days this week.
A very strong upper High develops and blocks any potential frontal system formations over the continent. Except for the northern parts.
Through mid this week, the upper ridge will be centered over central and weather Europe, resulting in quite strong warm advection beneath. This will support additional stable weather and warm spring weather is forecast to develop across a large part of the continent. As we can see from the chart above, the upper-level ridge will be quite strong, centered over northern Germany on Tuesday through Wednesday.
WARM SPRING WEATHER FORECAST UNTIL THURSDAY
The strengthening of the upper ridge has already resulted in a very warm day across a large part of France and northern Spain this Monday, with temperatures exceeding 25 °C in some areas.
With the progress of the warm plume further north tonight through mid this week, very warm weather is expected on Tuesday. Attached is the 850 mbar (approx. 1500 m ASL) anomaly over the European continent. Nearly 15 °C warmer air mass will develop from northern Germany to Denmark into southern Scandinavia on Tuesday.
It will remain colder than normal over southeast parts of Europe, with cool weather over southern Balkans, the Black Sea region, and Turkey.
Surface temperatures will likely reach very high values over southwestern France, even into the upper 20s is locally possible due to southerly dry Foehn winds from the higher terrain of Pyrenees. Spring weather day with 22-26 °C peak temperatures is forecast across most of France and Spain.
It will be in the low to mid-20s across northern Italy, low 20s across Germany and Benelux, close to 20s over England.
Although the upper High will peak on late Tuesday into early Wednesday, the warm plume beneath the ridge will continue until Thursday. Wednesday will see 8-12 °C warmer than normal temperatures in the lowest parts of the atmosphere from southwestern Europe across western, central into northeastern Europe as well.
It will also be a bit warmer than a day before over southeast parts of Europe, but very cold across the eastern Mediterranean as the upper low peaks on Wednesday.
Again, as on Tuesday, a very warm day is expected across northern Spain into western and southwestern France, mid to upper 20s spring weather temperatures are forecast again. Low to mid-20s are also likely across northern Italy, western Germany, and Benelux.
The warm plume peaks on Wednesday across England, Benelux, and Denmark expecting warm spring days in these parts of Europe. Locally low 20s are forecast.
The first day of April, Thursday, will result in additional weakening of the upper High over Europe. While over the North Atlantic, a new ridge will begin strengthening, hinting that a weather change into a colder period could soon be triggered. However, the warmth in the lowest parts of the atmosphere will remain over central, western, and southwestern Europe.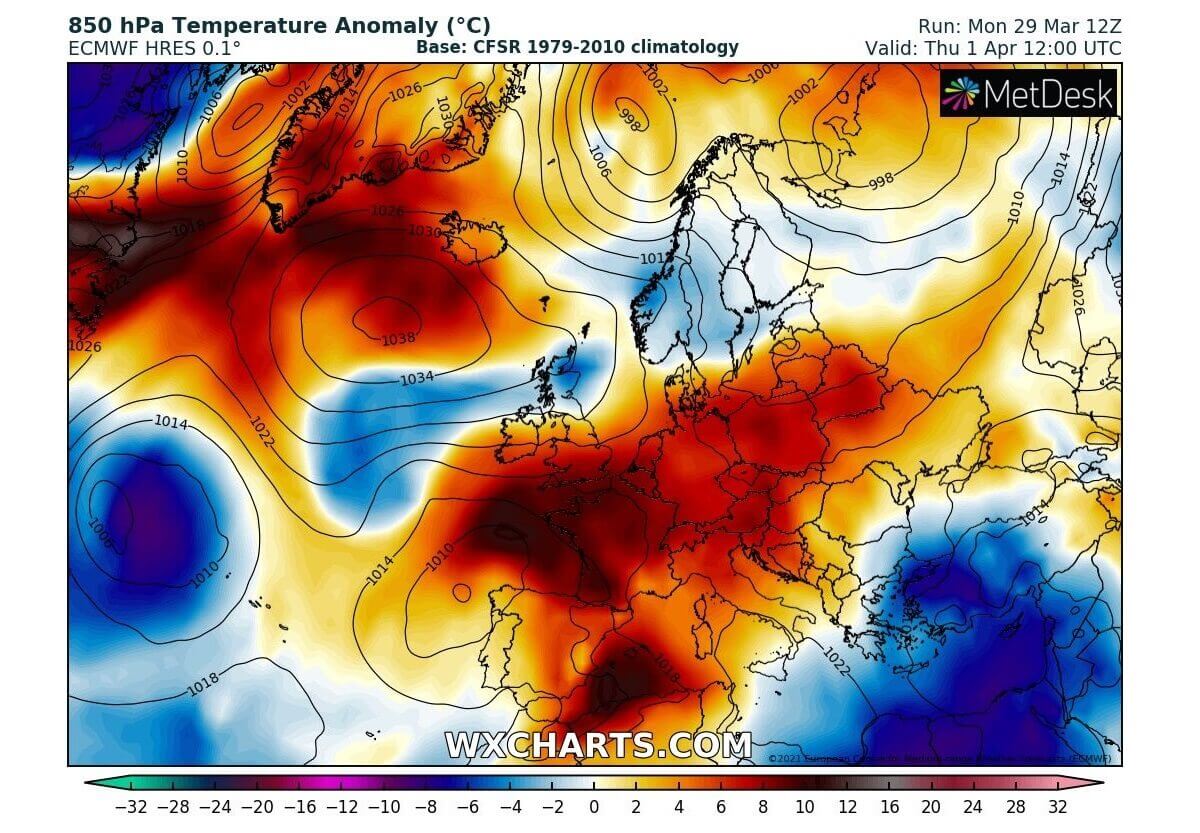 While the eastern Mediterranean, Turkey, and the Middle East will remain influenced by a cold upper core with near 6-10 °C below-normal weather.
If we again take a look over the 2 m chart for temperatures for Thursday, another and final day of warm spring weather is forecast over France, Benelux, Germany, and Italy.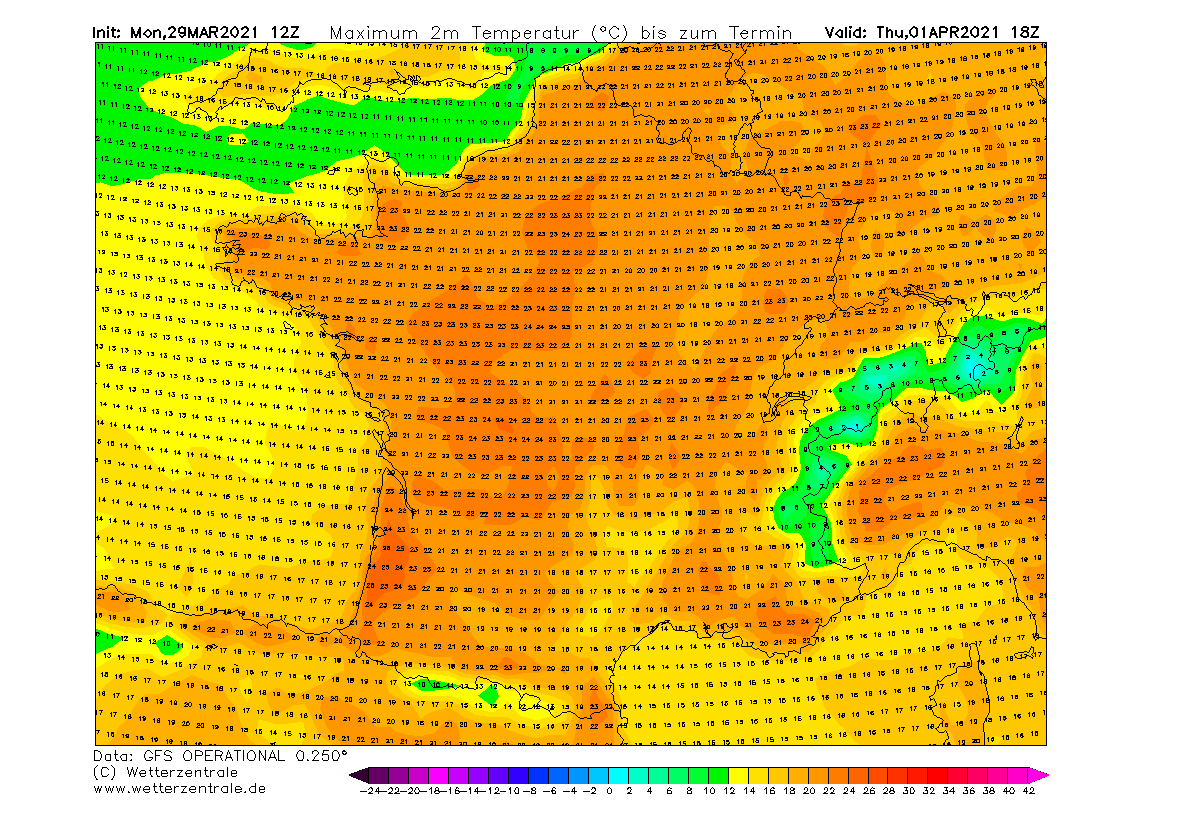 Close to mid-20s will likely develop again in many areas.
SPRING WEATHER REPLACED BY COLD THROUGH EARLY APRIL
It appears likely that the spring weather temperatures will be impressive, but of a rather short breathe this week. What the weather models are hinting, a pattern flips back to colder weather is now increasingly likely late this week. So through the early days of April.
An upper-level ridge over the North Atlantic will strengthen and push further north towards Greenland, a typical pattern to support a cold plume on its eastern side into continental Europe. Ensemble model charts (attached above is the GEFS model for Monday next week, Apr 5th) hints at a quite deep cold-core developing over northern Europe, gradually moving south.
A classic temperature evolution results in between the strengthening North Atlantic ridge and the deep core over Scandinavia. A strong, near-ideal cold advection with the meridional northerly flow, spreading towards western Europe.
Although it might be still almost a week ahead, the general pattern trends suggest that warm spring weather this week is forecast to change into a colder period once again, first especially for the western half of Europe. But could also spread towards central and southwestern Europe through mid-next week.
Here is an ensemble GFS forecast Meteogram for Paris, France over the next 14 days. The strong warm plume bringing warm spring weather is forecast to persist up to around April 1st. Then, it seems that a much cooler air mass will arrive with the upper-level pattern flip.
While temperatures will be near 10 °C above normal over the next few days, temperatures will push below normal over the weekend and continue next week. The potential is increasing that cooler period will persist through the first 7-10 days of April.
Such cold blasts in early April are often very concerning as they usually arrive after an already established period of warm spring weather, and frosty mornings are typically forecast on those cold days. As vegetation and blossoming trees appear, damaging frosts could occur.
We will have more updates on the potential strong cold period late this week – stay tuned.
***Graphics by Wetterzentrale, Wxcharts, and Pivotalweather.