The April Fool's Day 2021 is not a joke this time, it will bring a massive cold outbreak towards the East Coast. Nearly 30-50 degrees F temperature change will bring unseasonably low temperatures with locally a record-breaking cold blast smashing numerous temperature records from New York to Atlanta and northern Florida through early April. Damaging frosts to vulnerable vegetation is expected.
It's been quite a warm week with spring temperatures across much of the United States but now a weather pattern change is forecast to bring a dramatic drop in temperatures on April Fool's Day and extend towards the Easter weekend. The cold outbreak will be very strong and expected to bring unseasonably cold temperatures with record lows possibly smashing 100-years old records in some areas across the East Coast and the Southeast US.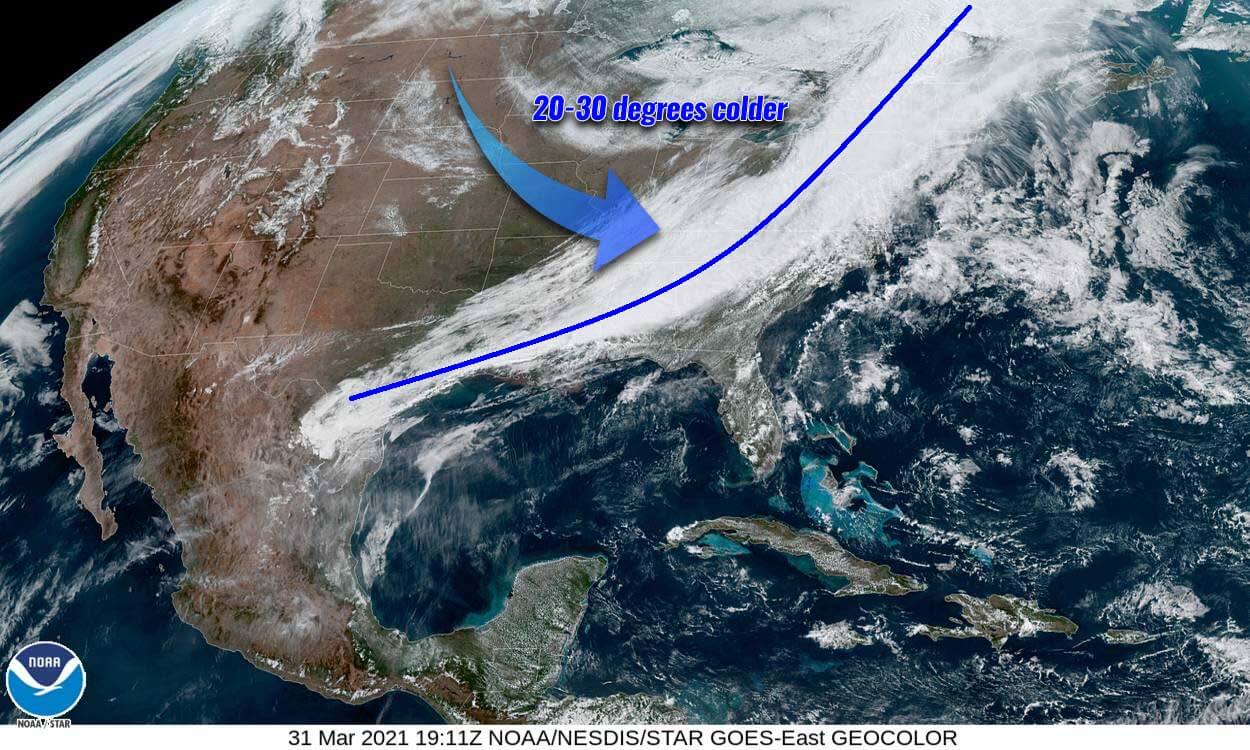 The latest model guidance hints at a quite extreme temperature drop on April 1st, with 30-50 degrees Fahrenheit lower temperatures expected to arrive after very warm Tuesday and Wednesday. Highs will be about 25-30 degrees Fahrenheit lower, with Thursday night/Friday morning lows even more than 30 degrees low than these days. Temperatures during the daytime will feel like we're back to mid-February.
Attached below is the temperature animation from Wednesday Night Through Friday evening period, with a 1-hour timeframe. The large pool of cold blast is very well seen, gradually spreading across the eastern half of the US, reaching Southeast and Florida as well.
April Fool's Day 2021 is surely not a joke this year, as after such a warm period and also record-setting Highs lately, these powerful spring cold outbreaks are a very high concern for damaging morning frost. Especially as vegetation is very sensitive in its early growing stages, also as trees are already blossoming in many areas.
Pushing temperatures below freezing could cause significant damage to flowering fruit trees and other vegetation which becomes very sensitive with temperatures just a few degrees below freezing, especially in their early growing stages currently.
Thankfully corn and soybean fields are not in danger this time, as planting season starts through early/mid-April.
APRIL FOOL'S DAY COLD BLAST BRINGS A DRAMATIC TEMPERATURE CHANGE
The pattern evolving over the United States and Canada this week is characterized by an upper core low, which was formed over the North Pacific and crossed the northern Rockies a few days ago. Bombogenesis surface cyclone developed over Montana and Saskatchewan with a pressure drop of nearly 30 mbar and violent winds with snow squalls on Sunday.
Once it continued east, its main effect was a development of a large cold pool which has triggered a cold blast of wintery air mass towards the northern and central parts of the United States. Freezing cold developed across the North on Tuesday. It has continued this Wednesday and is now spreading into the Great Lakes tonight.
Still, very warm weather is experienced along the Atlantic Coast, Southeast US, and also quite hot over Florida. So the upcoming weather change will come with a significant cold blast over the next 24-48 hours.
The ongoing much colder air mass spreading across the North and the Great Lakes now will continue quite rapidly move east-southeast through tomorrow, the April Fool's Day. Unseasonably cold temperatures will spread across the eastern half of the country, reaching the Atlantic Coast and Southeast as well. Also Florida.
The cold pool will be quite large and deep. Over the lowest parts of the atmosphere, temperatures will be 12 to more than 16 °C lower than normal for early April. That is actually 30 to nearly 50 degrees Fahrenheit lower than it is experiencing these days.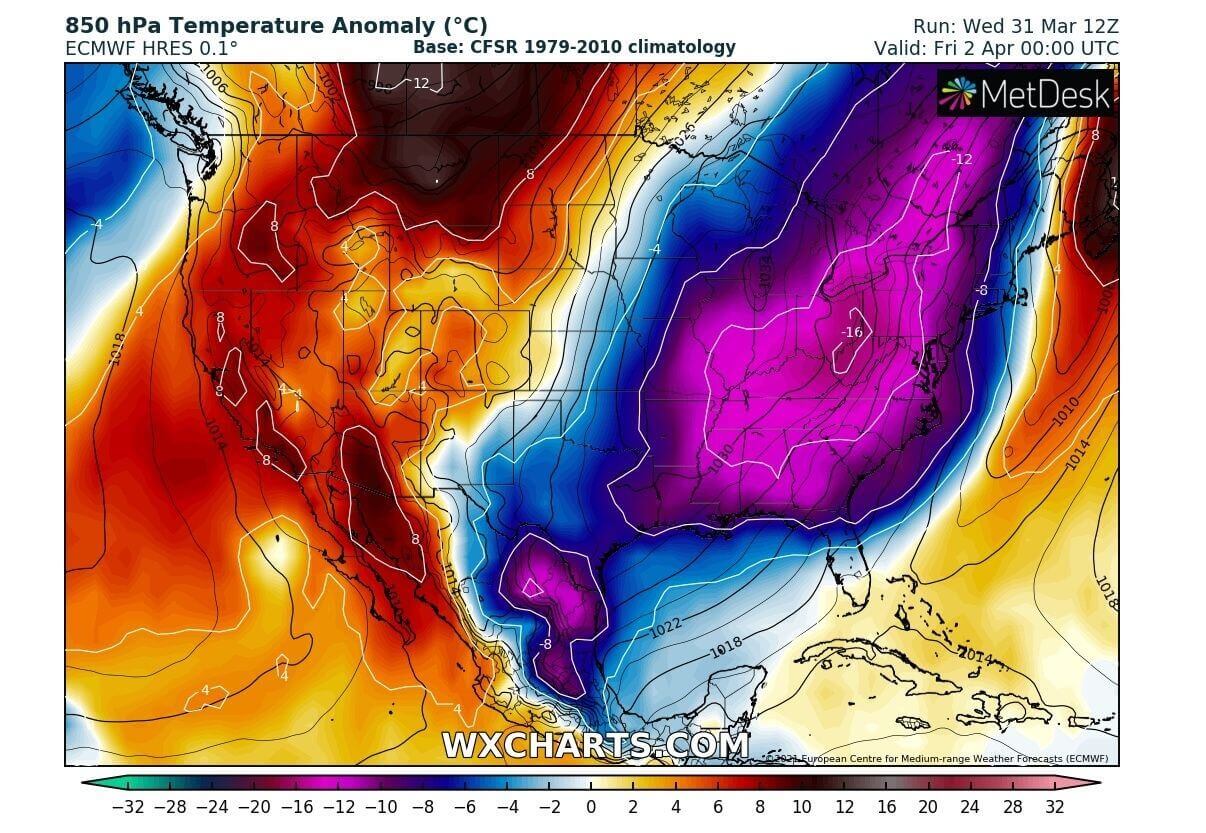 Thursday will be very cold for the Northeast US, with also some fresh snow likely to accumulate. And thanks to a massive cold blast with chilly northerly winds behind the surface front, the weather will sharply flip from spring back to winter mode.
The dry air mass behind the front, clear skies, and calm (no wind) conditions from Thursday night into Friday morning will be a near-ideal recipe to push temperatures very low. As we can see from the chart below, 2 m temperatures will be around 25 °F lower than normal on Friday morning.
Certainly, a very significant cold is expected and could result in serious damage to the vulnerable vegetation and blossoming trees.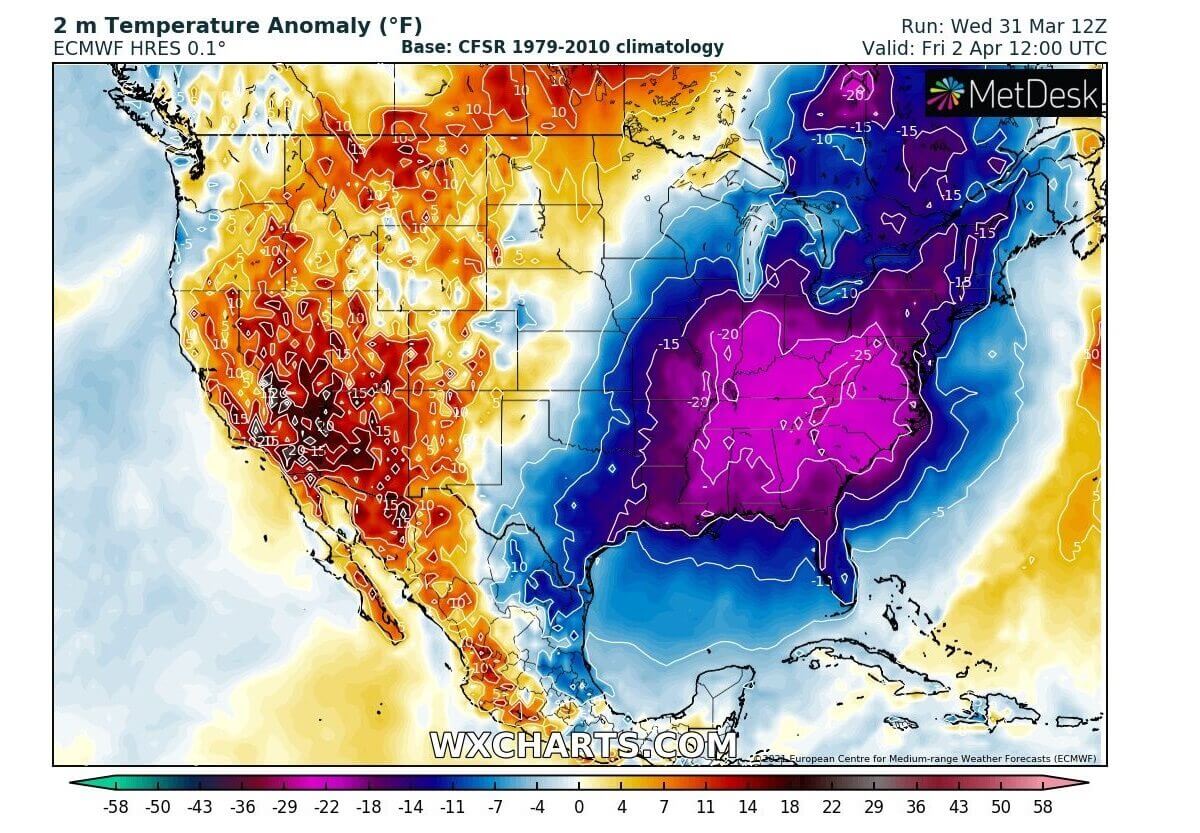 Much below normal temperatures are spread across the East Coast, Southeast US, including the Gulf Coast and Florida. As well as Mississippi Valley and farther north across the Great Lakes.
By Saturday morning, the large cold pool will main across the eastern half of the country and only minor changes in the temperatures are seen. Therefore we can expect the temperature to plummet to near or even below freezing again.
Although still slightly improved (warmer), those will again be around 20 °F below normal for early April. Especially across the Southeast US.
Nevertheless, these temperatures will be quite rare to be experienced across the Southeast US and northern Florida so late in the season, with night/morning lows into the low 30s or even upper 20s. With high potential for damaging frost and many consecutive hours of freezing across the areas from Carolinas to Alabama, Georgia, and northern Florida.
Keep in mind that the Southeast US region has daily record lows in the upper 20s through the early days of April, and those were recorded more than 100 years ago. So this could well be challenging these records in some areas or be very near those values.
SEVERE WEATHER THREAT FOR SOUTHEAST TONIGHT, SNOW FOR NORTHEAST ON THURSDAY
Along with the moving sharp cold front, tonight into the April Fool's Day across the Southeast US, some unstable air mass and high moisture could bring additional rain and lead to some more flooding in places. It's been a lot of severe weather, tornadoes, and huge amounts of rain over the past 7-10 days.
Scattered storms ongoing across the Southeast states will locally bring 3-5 inches of rain tonight, then the front ejects to the Atlantic by April Fool's Day morning.
While the front will bring some severe storms to the south, much cooler temperatures are spreading farther north. This will change rain to snow across the Northeast and a few inches of snow will accumulate from the southern Great Lakes to Maine by Friday.
Following the weather change with the sharp cold front, Thursday will bring much colder temperatures with chilly northerly winds. Pushing the real feel of temperature very low, so you might want to bring your warm clothes and coats back tomorrow. April Fool's Day simply doesn't fool around, does it?
WEATHER IMPROVES FOR EASTER SUNDAY
The general weather pattern will be slowly getting warmer from west to east over the weekend and the colder than normal temperatures will remain only along the Atlantic Coast and across the Southeast to Florida and the Gulf. It will be much warmer Easter Sunday across the West and Central United States, also across the North.
Temperatures will be returning into warm spring weather across the Northern and Central Plains, also over the High Plains. With weather models hinting at 12 to more than 15 °C warmer temperatures likely, so this will push daily Highs into the low 70s again.
The warm wave coming up from the west will be very strong and likely to continue into the next week, with at least a few days of the relatively stable pattern. This also means that the warmth and especially higher moisture will gradually return into the Great Plains.
As we have discussed some time ago, the ongoing La Nina global pattern is forecast to continue throughout this spring. Which will likely lead to a more dangerous tornado season this year, as higher potential is in place for above-normal tornado events and possibly also more tornado outbreaks.
Especially across the Southeast US which is typically in the highest threat when cooler tropical Pacific waters lead the patterns across the North American continent.
Read more about the general trends below:
Tornado season 2021 is here: above-average activity likely this spring
***Graphics by Wetterzentrale, Wxcharts, and NOAA.