A severe weather outbreak hit parts of central Europe this Thursday, June 24th, 2021. With a deadly tornado across the Breclav and Hodonin districts, Czech Republic, leaving destruction, fatalities, and numerous injured along its path. Villages Lužice, Hodonin, and Hrusky were hit the worst. Hodonin tornado is the strongest tornado that hit the Czech Republic in modern history.
It has been a very active period of severe weather across parts of central and western Europe this week, with several consecutive days of severe weather outbreaks from France to Benelux, Germany, Poland, Austria, and now also the Czech Republic.
It looks like this Thursday, June 24th, was the final day of this active period. Sadly, it ended up with a destructive and deadly tornado that struck the Breclav and Hodonin districts, Czech Republic.
This tornado is the first that hit the Czech Republic since 2018 and is also the strongest and the deadliest severe weather event in Europe so far this year. Hodonin tornado is the deadliest tornado in Europe since June 11th, 2001 (Brusilov, Ukraine).
A violent tornado has swept through several villages in the southeastern Czech Republic, causing major damage. At least 4 fatalities have also been reported so far, including more than 200 injured.
Hodonin hospital had accepted several dozens of injured residents following the tornado. It has been also reported that a tornado toppled a bus. Local authorities are afraid that more people could be still buried under debris or trapped in flooded homes.
Above: Tornado destruction in Hodonin. Credits: Jaroslav Malý and Martin Majžíšková
Half of the village Hrusky has been reported being leveled to the ground, while significant structural damage has been reported across Lužice village as well, with some parts of the village totally destroyed. Severe tornado damage was also reported in Moravská Nová Ves, Mikulčice, and several other locations along the tornado path.
Video footage of the local residents reveals a very powerful force of this tornado, leaving severe destruction along its path. The storm has also left more than 120.000 without power.
The Czech Minister of Interior Jan Hamacek tweeted that all available rescue units are in action or moving to the Hodonin region, where several municipalities have been hit by a tornado. Hamacek also said that he expects "a loss of lives" from this natural disaster. The local rescue teams are also getting help from neighboring Austria and Slovakia.
Hodonin is a town in the South Moravian Region, located in the southeast parts of the Czech Republic. It has about 24.000 inhabitants. Hodonin lies along the Austrian border and is about 270 km (165 miles) southeast of the Chech Republic's capital Prague.
DEADLY AND DESTRUCTIVE TORNADO HITS HODONIN
A long-tracked supercell storm destroyed numerous roofs from several hundred buildings between the Breclav and Hodonin districts, as well as uprooting trees and overturning cars. The worst-hit areas along the tornado path were reported looking like a war zone.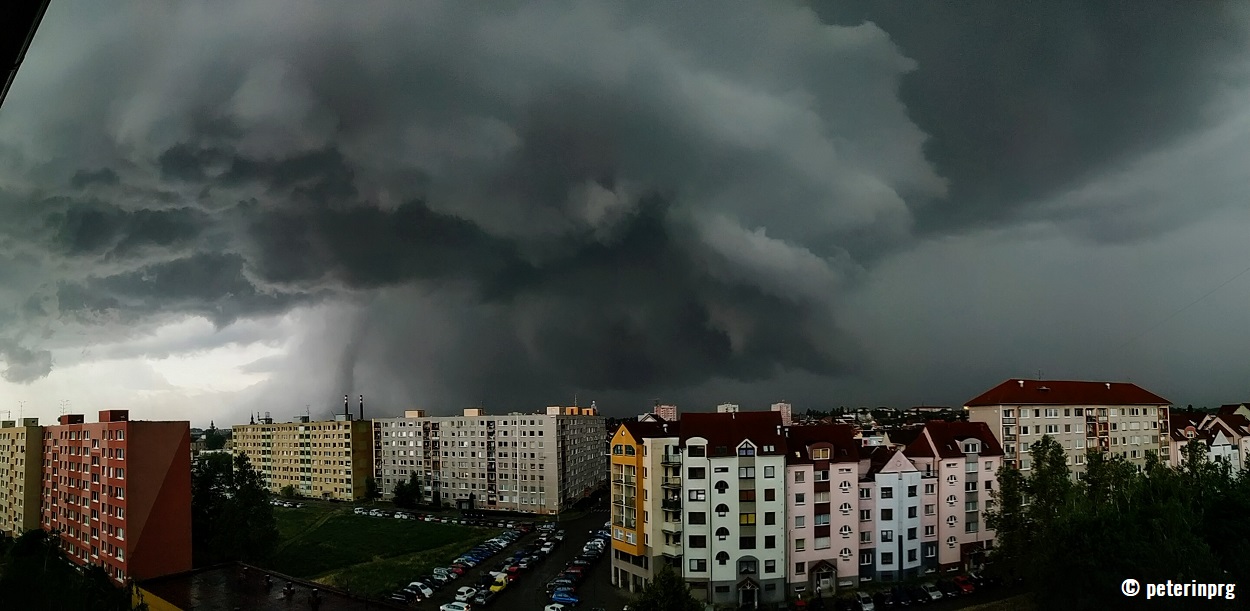 Above: A view of the supercell with tornado rolling into Hodonin town.
See some of the damaged video footage below:
The tornado made more than 25 kilometers (15 miles) long path starting around the village Hrusky, grazing across the next village Moravska Nova Ves further north, then crossed Mikulčice and Lužice, ending over Hodonin. The damage width extends between 100 and 700 meters in some parts along the track.
Tornado hit the town of Hodonin at about 1740 UTC (7.40 p.m. local time). The exact track length and duration of the tornado is yet to be defined by the country's Czech Hydrometeorological Institute and the ESSL experts in the coming days.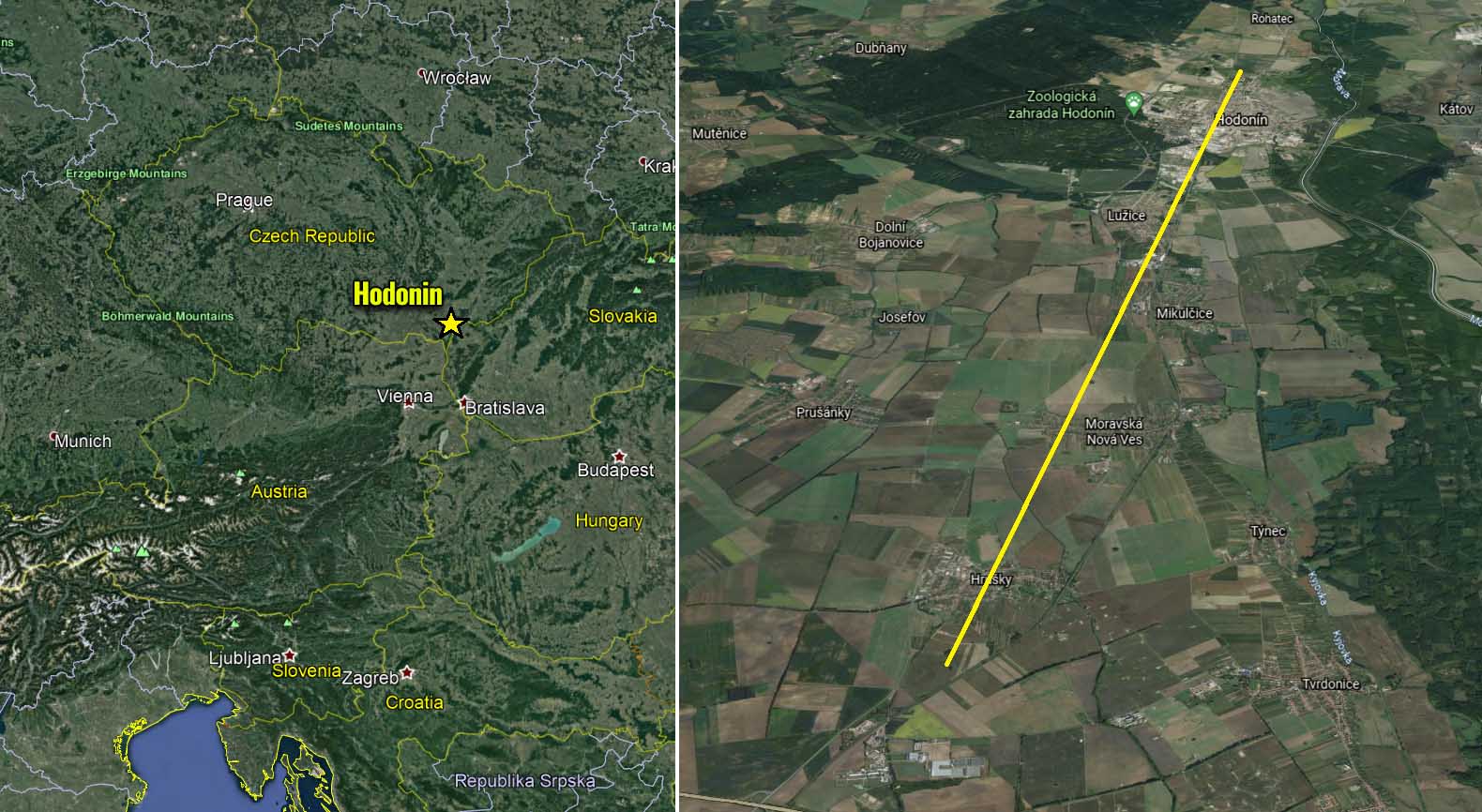 The convective environment was very conducive for the development of intense severe storms, as both very high instability and deep-layer shear overlapped together to the immediate north of the Alpine rim. Numerous supercells were ongoing since mid-afternoon, gain intensity and grow upscale towards the evening hours.
According to the meteorologist speaking on Czech TV, this tornado is the strongest in the Czech Republic's history. The estimated intensity has likely reached the F3-F4 scale. That means that winds could have reached up to 267-322 km/h (165-200 mph).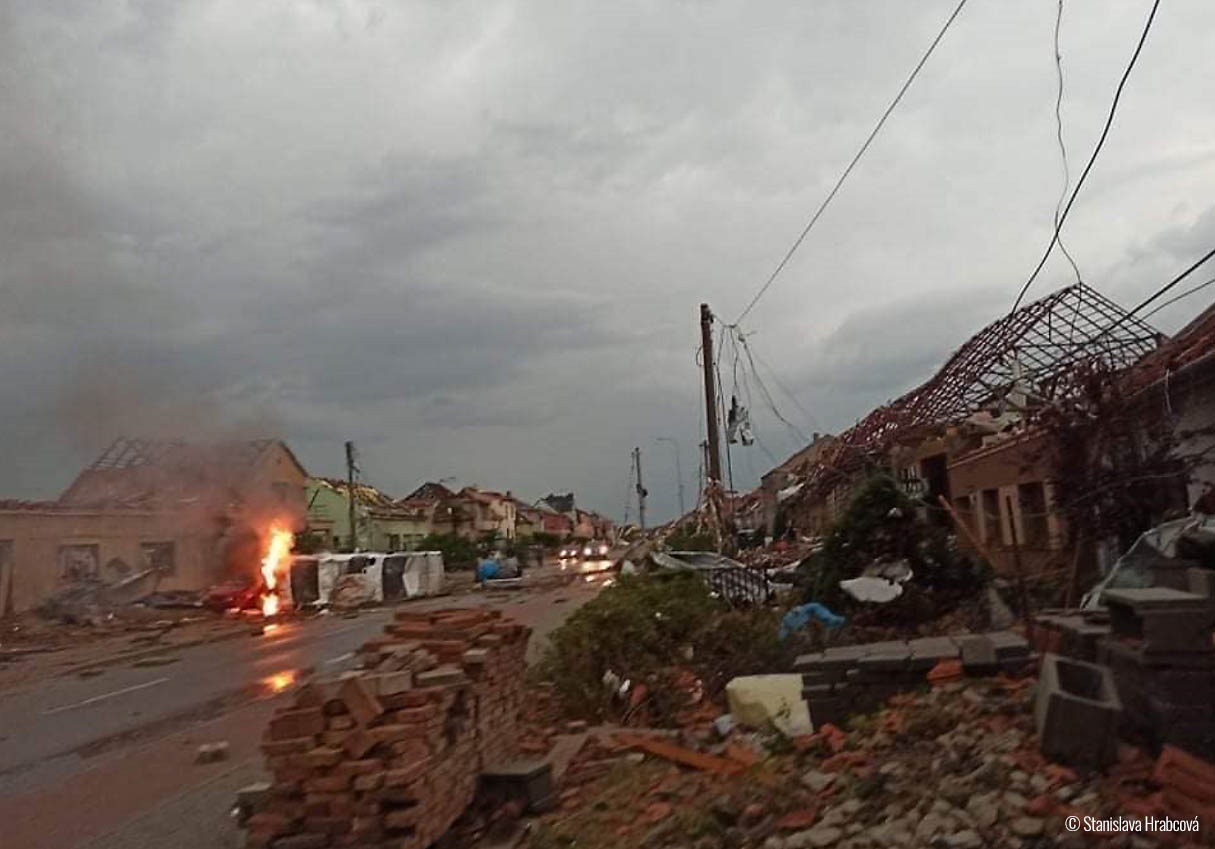 Above: Structural damage in village Moravská Nová Ves. Credits: Stanislava Hrabcová
Besides the tornado, very large hail up to the size of tennis balls struck several towns and villages including Hodonin. Severe damage was also reported to the retirement home and the local zoo in Hodonin.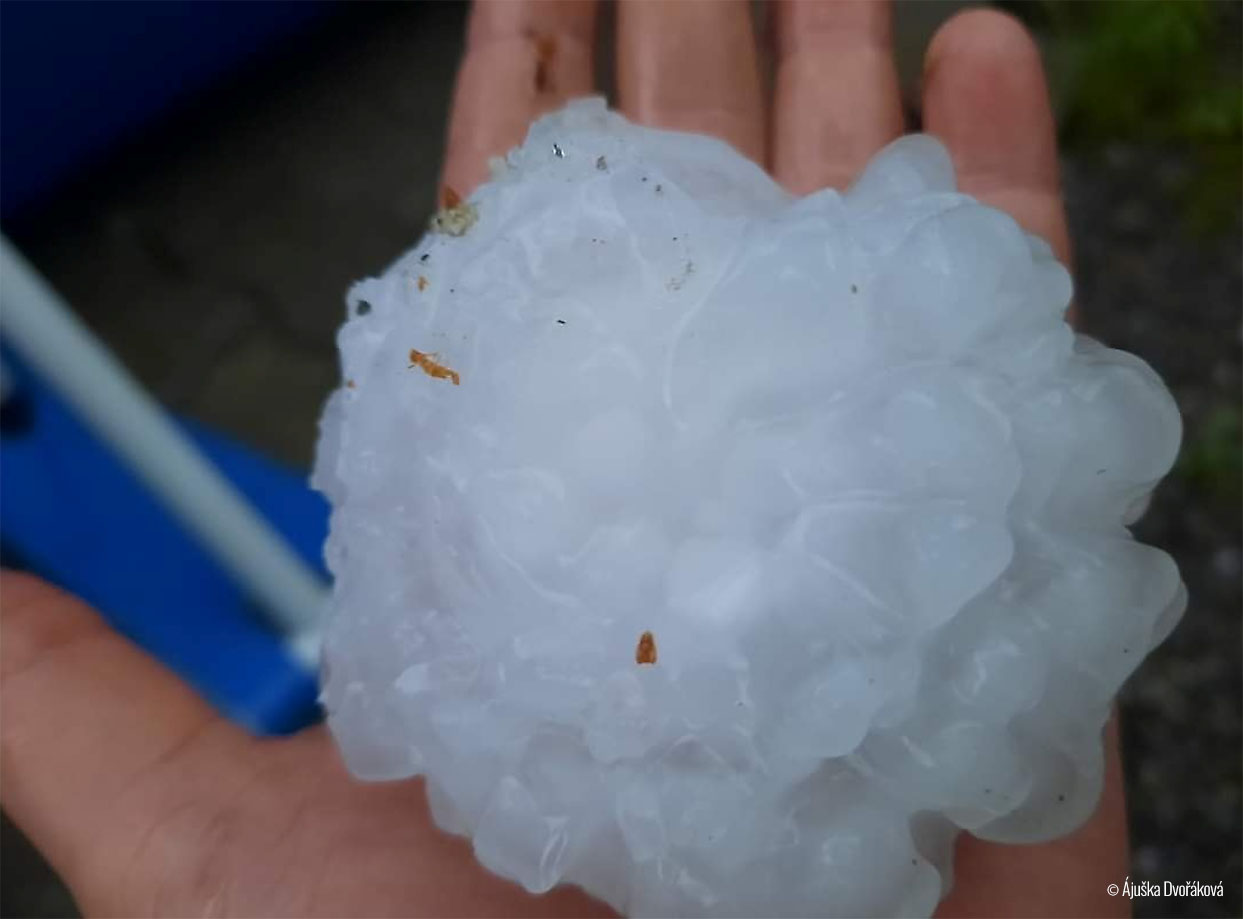 Above: Giant hail in Hodonin. Credits: Ajuška Dvorakova
The tornado has also caused extensive power outages and traffic disruptions due to numerous and widespread fallen trees and power lines along the major motorway connecting Prague with the Slovakian capital Bratislava. The motorway has been closed with numerous vehicles trapped inside the damaged path for several hours.
Some video footage from the Hodonin region shared on the social networks showed numerous destroyed buildings and overturned cars, snapped tree stumps including several fires with thick black smoke.
Here are some image and video material of the Hodonin tornado by local residents:
Earlier on Thursday, a severe thunderstorm outbreak was also producing severe weather, with very large hail and even a tornado in Poland. See below: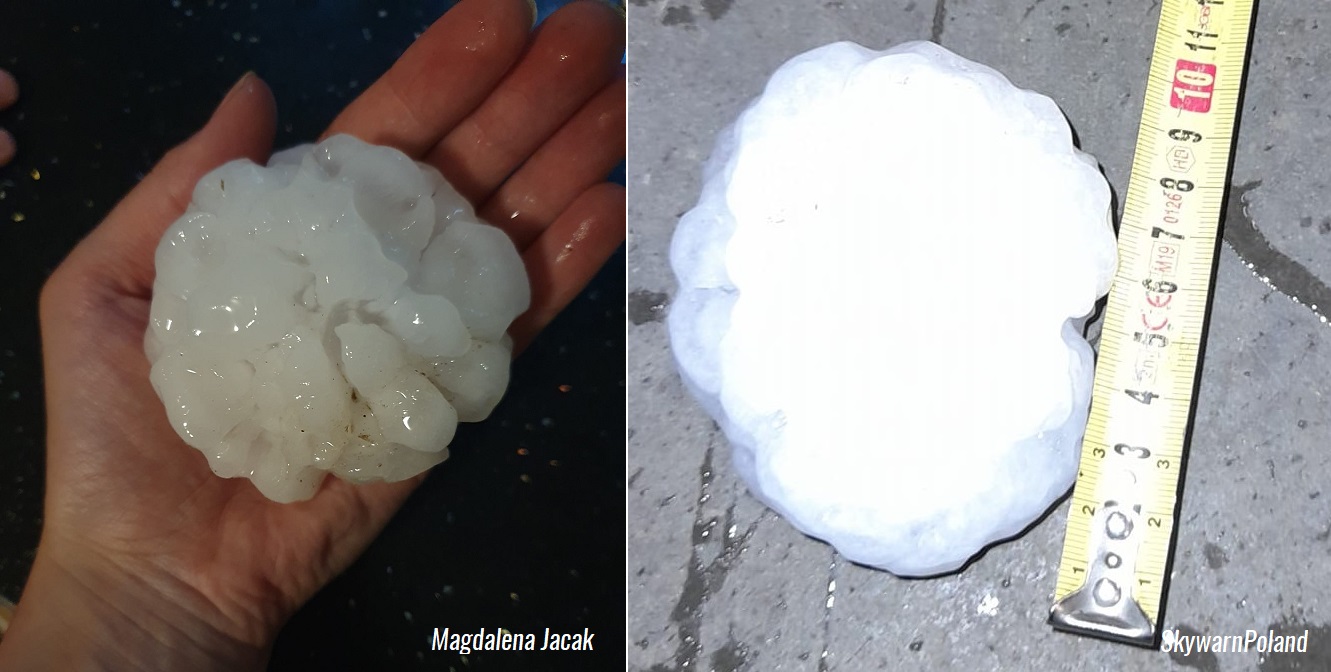 Report of a tornado and giant hail in Poland by Mateusz Taszarek.
How rare are tornadoes in Europe?
On average, about 300 and 500 tornado reports are collected into the European Severe Weather Database – ESWD – every year. Those also include waterspouts that are being reported most often across the Mediterranean Sea, as well as North and Baltic Seas, and the Black Sea.
While there is quite a good track of tornado reports in the last decade, many tornadoes still get unreported as they hit sparsely populated rural areas.
The Mediterranean region has the annual maximum in autumn and winter month, while most of continental Europe sees the maximum of tornado reports in the summer months. Italy and Greece see the highest tornado activity, thanks to the warm Mediterranean Sea.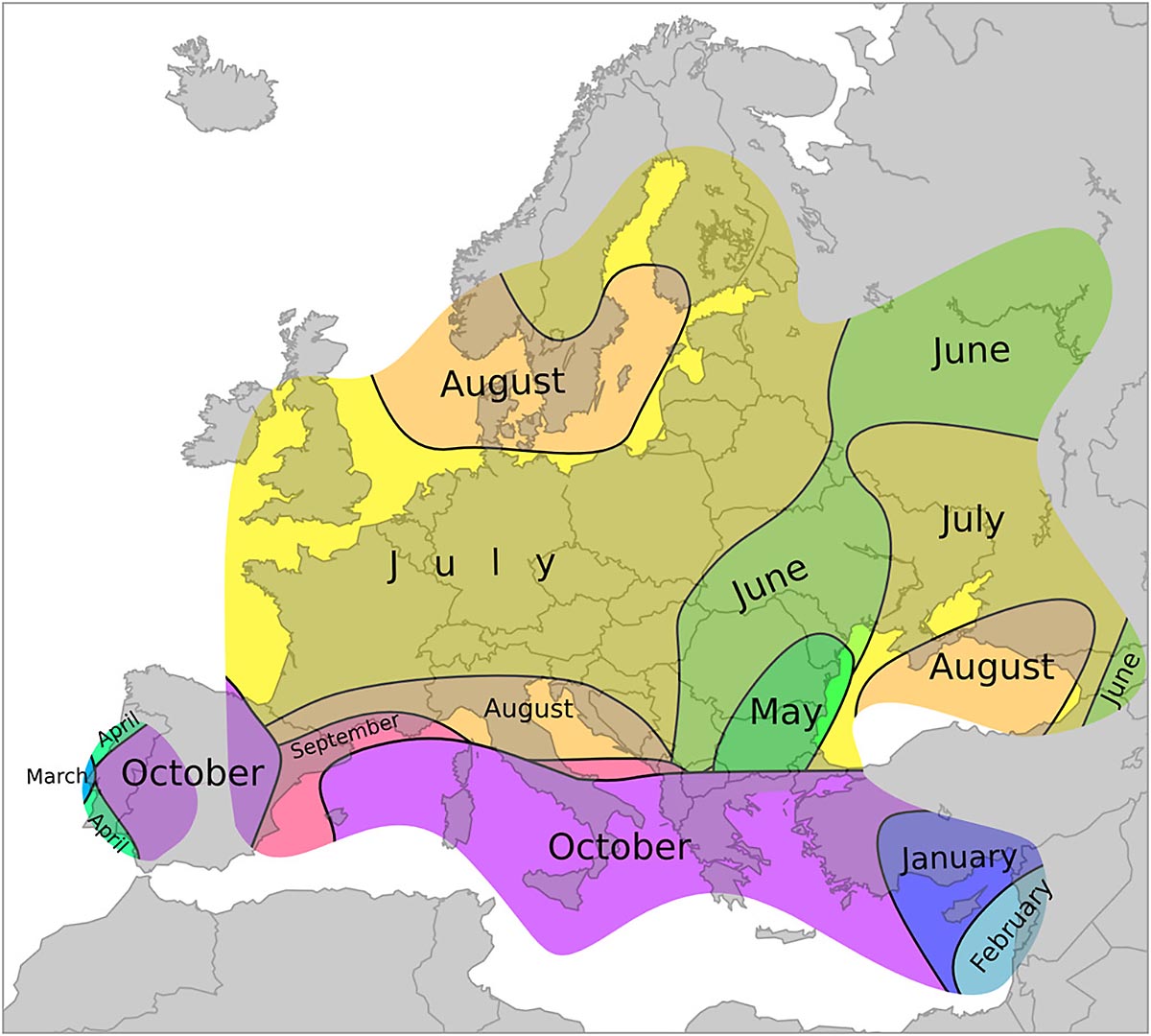 There are also quite a high number of fatalities caused by tornadoes in Europe, estimated to be between 10 and 15 on average each year. Most fatalities come from the F2/F3 or stronger tornadoes.
The European Severe Storms Laboratory has tweeted on Thursday: From 2010 until 2020, 3827 tornadoes have occurred over land in and around Europe. 329 of them were strong (F2 or higher), 28 intense (F3 or higher), and 2 violent (F4 or F5). The deadliest tornado since 1950 occurred in Ivanovo, Russia (9 June 1984) with 69 fatalities.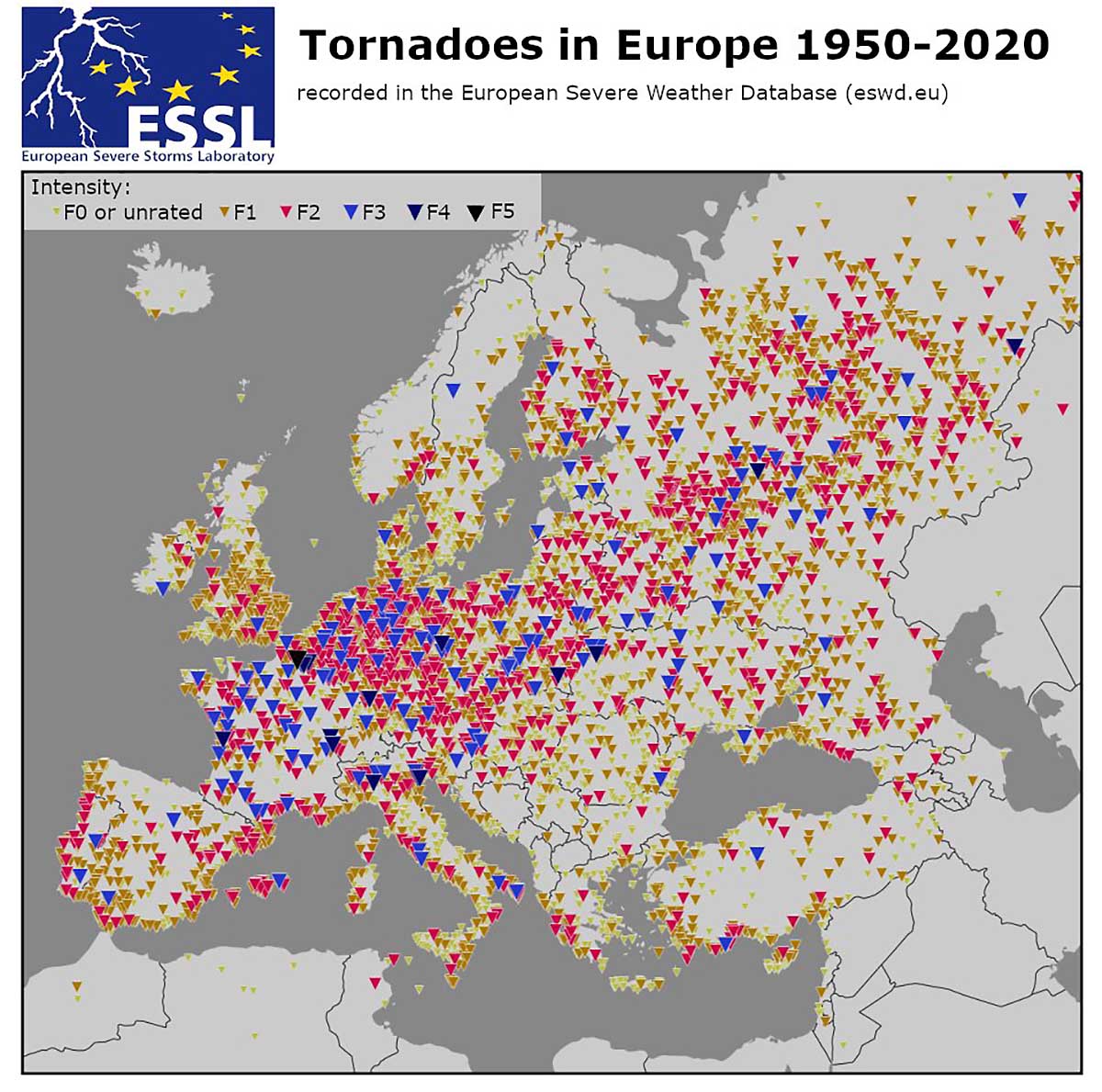 Above: Tornadoes in Europe between 1950 and 2020. Credits: ESSL
Read more about tornado climatology in Europe: A Climatology of Tornadoes in Europe: Results from the European Severe Weather Database
IMPORTANT: This is a breaking news report, so more details will be added as they appear in the coming hours.
See also:
Intense winter supercell over the North Adriatic Sea with a rare, historic tornado heading into Trieste, Italy, Dec 7th, 2020