Super Typhoon Mangkhut has remained a powerful Category 5 system throughout the day today. It lost a slight bit of power in the first half of the day, as it went through an eyewall replacement cycle, but is now gaining strength again. Even as it weakened slightly, it never went below CAT5 strength. Mangkhut is on track to produce absolute devastation as it makes landfall on Luzon on Saturday!
The Super Typhoon went through an eyewall replacement cycle, with the inner eye collapsing and being replaced by a stable, larger-diameter outer eye. As this happened the typhoon weakened, with peak winds decreasing from 180 mph (290 km/h) late on September 12 to 165 mph (265 km/h) by mid-day on September 13. It is now intensifying again, as the eyewall replacement cycle is complete, pushing to 175 mph (282 km/h) peak sustained winds by late on September 13.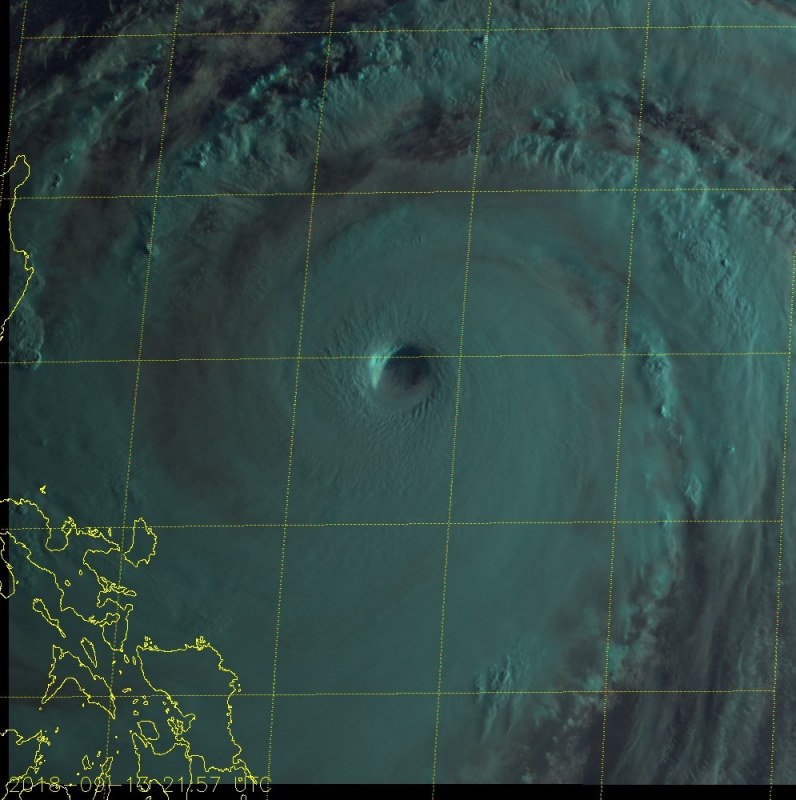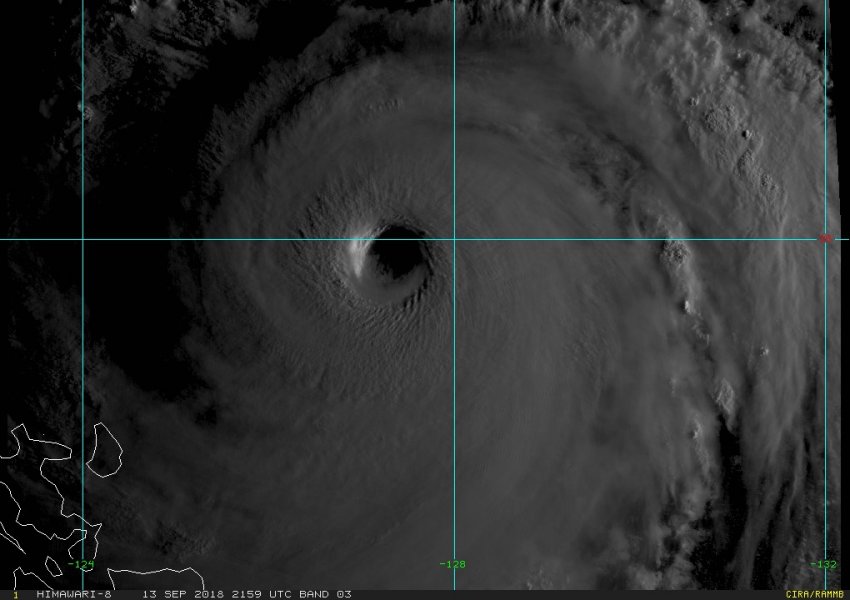 Himawari-8 morning imagery of the CAT5 Super Typhoon Mangkhut late on Sept 13 UTC. Images: Himawari-8 / NOAA RAMMB CIRA.
Latest satellite imagery reveals a powerful system, gaining symmetry in the past few hours. Also note the initial wobble in the eye at the beginning of the sequence, but stabilizing into a symmetric, round shape by the end.
Super Typhoon Mangkhut will track ENE over the next 36 hours, towards landfall over northern Luzon island, Philippines on Saturday. The system will move over very warm waters and is expected to remain at Category 5 strength – in fact, it will likely further strengthen, with peak winds potentially approaching 200 mph (320 km/h)! An extremely powerful Super Typhoon indeed! It appears very likely that Mangkhut will cause widespread devastation as it makes landfall over northern Luzon.
We will be providing a further update on this system in the morning.