A potentially life-threatening flooding impact is likely in China after Sunday this weekend, including the city of Shanghai. About 500 to nearly 800 mm of rain is forecast while Typhoon In-Fa tracks across the Zhejiang province, East China. Extreme rainfall will persist for days and such an amount of rain will be catastrophic for the region. China's authorities are already shutting down the operation in Shanghai and Ningbo ports. Farther east, a new Tropical storm Nepartak will impact Tokyo Olympics early next week.
After passing over Miyako and Ishigaki Islands as a Category 1 storm on Friday, Typhoon In-fa has grown pretty large this Saturday. Its peak strength of a Category 3 was on Thursday, but the system remains big, with the widespread impact of heavy rains and severe winds. It is now on its way towards East China landfall on Sunday.
Typhoon In-Fa is the 7th tropical cyclone of the 2021 Pacific typhoon season and also the 3rd typhoon, coming after Category 5 Surigae (mid-April) and Category 1 typhoon Champi (late June). The system has formed within pretty favorable weather conditions, thanks to the extremely warm seas over the Western Pacific Basin this summer.
The Zhejiang province is rushing with preparations ahead of a potentially life-threatening impact by In-Fa on Sunday, where an increasing potential of catastrophic floods is likely, including the major port city of Shanghai, China. Storm surge is of major concern for the northern coast of Zhejiang province, as severe winds coming up with Typhoon In-Fa will push water from the East China Sea inland.
Weather models are pointing at some beyond exceptional rainfall amounts along In-Fa's track from Sunday through Tuesday. There is a very high potential that 500 to 800 mm of rain could accumulate over the next few days. This could bring mudslides and extreme flooding with life-threatening impacts across the large areas along the coast.
The large cities Hangzhou, Shanghai, and Wenzhou, Zhejiang province will be in direct impact by these extreme rains. While the Typhoon In-Fa will, besides the massive amount of rain, also bring high storm surge and severe damaging winds. Resulting in significant coastal flooding, including the harbors. Shanghai port is likely to experience significant damage as well.
The annual precipitation in Shanghai is 1200 mm (about 47 inches) with the rainiest months being from June through September. The forecast amount of rain with Typhoon In-fa in these days could therefore be 30-50% of an annual rainfall for the city.
After the landfall, the typhoon will slow down and develop a concerning scenario with persistent rainfall for several days as its progress towards interior China will be very slow. This will result in huge rainfall amounts and floods in many areas.
Farther east of Typhoon In-Fa, another dangerous Tropical Storm Nepartak is expected to form this weekend. Its track will bring it close to the ongoing Tokyo Olympics 2021. While it center might miss it, widespread rains could bring flooding over Japan's main island Honshu. It may even become a typhoon.
DEADLY FLOODS HIT ZHENGHOU EARLIER THIS WEEK
China is literally under the gun of extreme weather lately. Earlier this week, destructive floods hit interior parts of the country.
The sea surface waters of the western Pacific Ocean are extremely warm, with a large part of the Philippine Sea and the South China Sea having water temperatures of 30 to nearly 32 °C (86-88 °F). There warm waters were supportive of very moist fuel for the deep convective storms that lead to the rapid strengthening of typhoon In-Fa earlier this week.
And also helped to bring a lot of moisture into the interior of China.
The sea surface waters of the East China Sea are 2-4 °C above normal, while the highest sea surface temperature anomalies are spread around Japan and across the Northwest Pacific. The Sea of Japan is experiencing an abnormal sea temperature anomaly, with nearly 6 °C warmer than normal waters. Patches of such warm sea waters are also to the east of Japan's main island Honshu.
Note that with the oceanic conditions this warm, sea waters become strongly supportive of an explosive intensification for tropical cyclones and often support high moisture advection further inland when the general flow is favorable, e.g. China this week.
According to China's meteorological authority, the central region has experienced a rare and severe rainfall for several days, leading to destructive floods.
The city of Zhengzhou (population of 12 million) had an exceptional amount of rain with 624 mm of rainfall on Tuesday, in just 24 hours period. With a third of that amount falling in just one hour in the afternoon, between 16 and 17 local times alone. Setting an unprecedented rainfall historical record and producing deadly floods.
Above: Aftermath of destructive floods in Zhengzhou, Henan province. Credits: ShanghaiEye
At least 25 people lost their lives after record-breaking rainfall flooded underground railway tunnels in the city of Zhengzhou and its surroundings, Henan province. People were trapped in rising waters, dozens of cars were floating down the roads with raging rivers.
To give you an idea how extreme these events are – this amount of rainfall in Zhengzhou that was accumulated over a period of 3-4 days is about the yearly rainfall the city normally experiences.
The Henan province has several major river systems which are prone to heavy rainfall and flooding. But not of such huge proportions. These river systems are flowing towards the Yellow River basin in China. The city of Zhengzhou is located on the banks of the Yellow River.
TYPHOON IN-FA COULD BRING CATASTROPHIC FLOODS TO EAST CHINA, INCLUDING SHANGHAI
It hasn't been more than three days after deadly floods in Henan province, parts of China are already battling severe rainfall and floods from In-Fa. Ahead of an approaching large typhoon, heavy rains are already spreading into eastern China. But the worst is yet to come. Typhoon In-Fa is very large, located in the East China Sea this Saturday.
We can see its large size as its cloud patterns are extending from eastern China to southwestern Japan and from South Korea to northern Taiwan in the south. Vigorous convective storms are already battering eastern China's province Zhejiang. Cirrus cloud pattern also shows impressive outflow ventilation remains.
According to the recent model weather predictions, an exceptional amount of rainfall is likely to impact the East China coast. About 600-800 mm of rain could accumulate within the wide swath of typhoon tracks in the coming days. The major city of Shanghai (the population of 26 million) is also in the path where up to 500 mm of rain could be possible.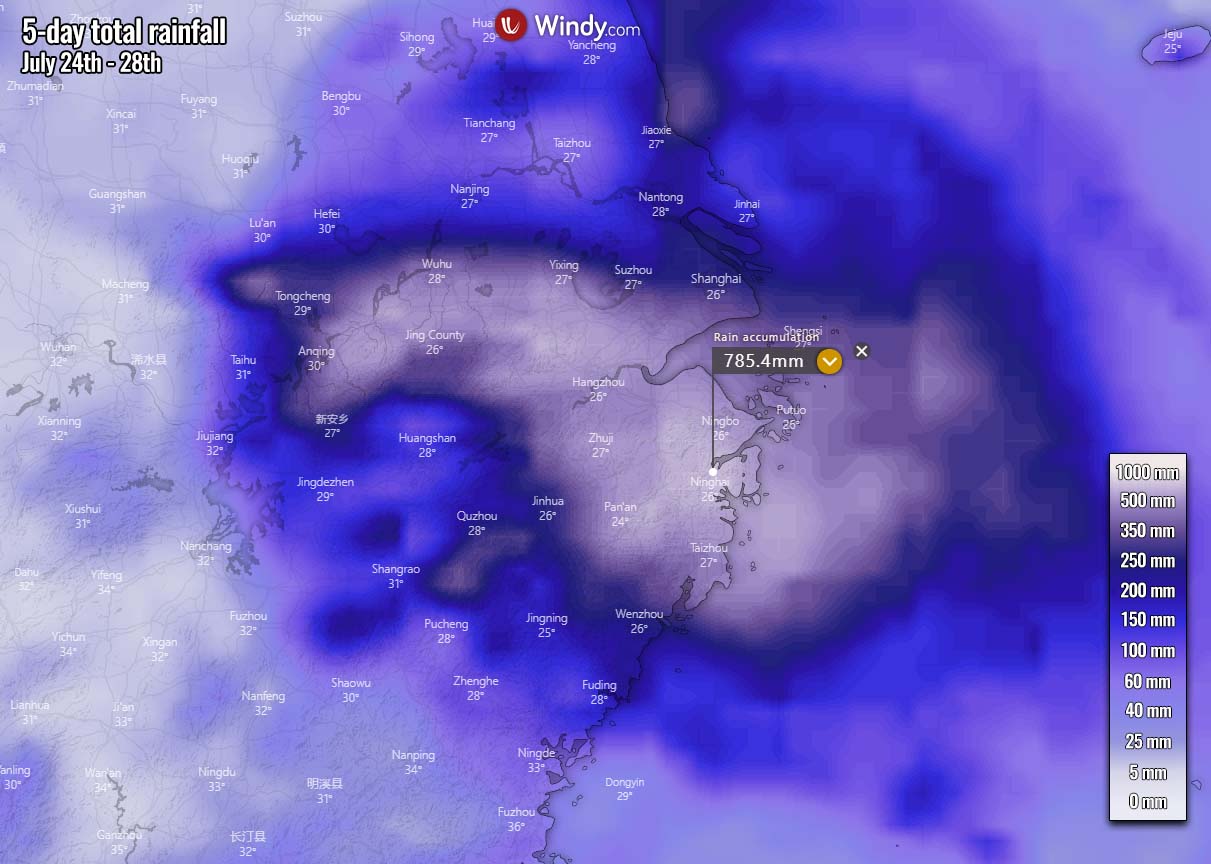 The incoming large typhoon In-Fa is forecast to hit eastern Zhejiang province on Sunday. China authorities have already shut down railways and ports in the region, with cargo ships ordered out of the sea and flights canceled. Typhoon In-Fa will make landfall south of Shanghai on Sunday.
While the waters of the East China Sea are very warm, the wind shear is also gradually increasing to the north of the system's current position, so any significant strengthening is unlikely. But typhoon In-Fa will remain a very powerful storm, with *huge* rainfall impact as it nears the landfall on Sunday.
Flooding will be just one of the threats with In-Fa on Sunday. The attached weather model chart below hints at a widespread and significant wind intensity along the track of Typhoon In-Fa over the next three days. Nearly 160-200 km/h are likely coming as close as the East China coast, with the landfall expected to the south of Shanghai city.
A combination of severe, and potentially also destructive winds, extreme rainfall, and major storm surge could be catastrophic for the coastal areas where landfall will occur. Life-threatening and deadly flooding in densely populated areas is increasingly likely to develop.
TROPICAL STORM NEPARTAK COULD IMPACT TOKYO OLYMPICS EARLY NEXT WEEK
The global coronavirus pandemic hasn't done enough damage to our lives, it also impacts this year's Tokyo Olympics. The sports activities are sadly done without public attendance in 2021. And now, parts of Japan could be under the gun with a new tropical storm Nepartak, as its formation is already underway to the south of Japan this weekend.
The general ensemble model forecast for Nepartak is showing its center could be traveling north-northwest to the east of Japan's Honshu, but chances that it turns closer to the main island remain. Nevertheless, the rainfall threat will develop after Monday.
On Friday, a large area of tropical activity was visible on the satellite imagery, organizing into a depression to the south of Japan. Weather model guidance has a good agreement that the activity could even strengthen to a typhoon, moving north towards Japan's main island.
As Tropical Storm Nepartak nears Japan on Monday, a significant rainfall threat could develop across Honshu, including the city Tokyo. The ongoing Olympics 2021 might be under the guy with heavy rain and winds.
The general model consensus is now hinting that Nepartak's main swath of rain will thankfully miss Japan, remaining to the east of the country. However, still about 70-150 mm of rain could be possible around the area of the Olympics, with periods of rain extending until the end of July.
Attached below is the map of the Peak wind gusts on Monday, with the accumulated swath of wind gusts over the next five days (through Wednesday). Tropical Storm Nepartak will be first going north of the Mariana Islands, then curving northwest and west towards Japan. Depending on the storm activity and intensity of the storm, wind potential will increase towards the Honshu island.
It is much to be defined regarding the winds, as Nepartak might have a boost in intensity on Sunday night through Monday when traveling over significantly warmer sea waters beneath as we discussed earlier. If Nepartak gets upgraded significantly, those winds could be severe and would expose the east coast of Honshu to high storm surge and damaging winds as well.
If Nepartak gets an upgrade, it would be the 4th typhoon of the Western Pacific season 2021.
***The images used in this article were provided by Tropical Tidbits, WeatherNerds, and Windy.