As expected, hurricane Willa has begin weakening overnight due to an eyewall replacement cycle and the effect of shear into the SW quadrant of the storm. Willa is now still a strong Category 4 hurricane, packing winds of 130 mph, central pressure around 942 mbar. It is expected to pass over the Islas Marias archipelago of four islands in the next 12 hours as a major Category 4 hurricane, while landfall is expected SE of Mazatlan city, SW Mexico tonight. Willa will then rapidly weaken into a post-tropical storm over the complex terrain of Mexico, but major flooding threat will remain.
Both IR and WV satellite images indicate a still very intense hurricane with very cold cloud tops around the eye, while front NE quadrant storms are already battering Islas Marias archipelago. One can also see the effect of shear into the SW quadrant of the storm as disturbed upper level outflow is noticed – this will increase through the day and enhance the weakening stage prior to landfall.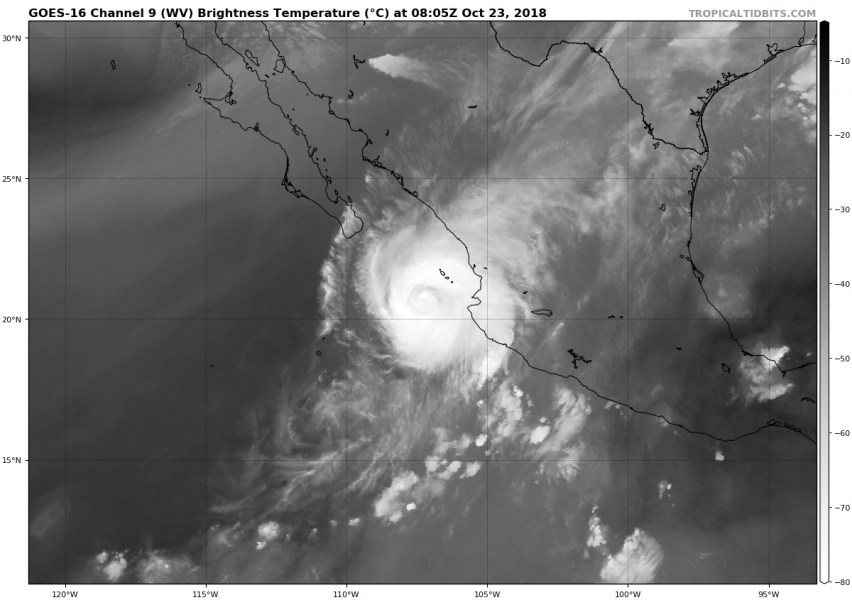 #HurricaneWilla is nearing the Pacific coast of Mexico as a Cat. 4 storm, after weakening from Cat. 5 Monday afternoon, bringing the potential for life-threatening storm surge, wind and torrents of rain.
Here it is as seen yesterday at 17:00 UTC (12:00 local) by #Sentinel3 🇪🇺🛰 pic.twitter.com/hgvqeZdtTC

— Copernicus EU (@CopernicusEU) October 23, 2018
Orkaan Willa nadert Mexico. De berichtgeving is te volgen op: https://t.co/XCoT5s6K7o#Willa #hurricane #HurricaneWilla #Mexico
Afbeelding: NWSSpokane pic.twitter.com/Pytf1yq0KK

— OnweerOnline.nl (@onweeronline) October 23, 2018
1:15 AM CDT Update on #HurricaneWilla: Late tonight, #Willa continues to maintain a "ragged" appearance. However, you can see how there is increased convection still trying to become reinvigorated in and around the center of this storm. #Mexico (Imagery credit: @TropicalTidbits) pic.twitter.com/Q70k4UkWIC

— GlobalWeatherClimate (@gwccwx) October 23, 2018
Here is the latest forecast discussion by NHC (National Hurricane Center):
Willa's overall satellite presentation has continued to slowly degrade since the previous advisory, with the exception of a few brief attempts at redevelopment of an inner-core ring of deep convection. However, dry intrusions from the moat region between the larger outer eyewall and the smaller inner core have thus far prevented the reformation of an inner eyewall. Satellite intensity estimates have been steadily decreasing, and the advisory intensity is set at 115 kt, based on a average of the subjective T- and CI-numbers from TAFB and a UW-CIMSS ADT objective estimate of T6.0/115 kt. An Air Force Reserve Unit reconnaissance aircraft is scheduled to reconnoiter Hurricane Willa later this morning, providing more detailed intensity information.
Will is expected to remain a Category 4 hurricane while moving across Islas Marias and heads towards landfall SE of Mazatlan, Mexico tonight. Major storm surge, destructive winds and extreme life-threatening flash floods are expected over the islands and near the landfall – likely to be a Category 3 strength.
Some key messages regarding Willa's potential threat:
1. A life-threatening storm surge is expected today along the coasts of the Isla Marias, and along the coast of southern Sinaloa and Nayarit states in west-central and southwestern Mexico near the path of Willa. Residents should rush preparations to completion to protect life and property and follow any advice given by local officials.
2. Everyone in the Isla Marias, and within the hurricane warning area along the coast of west-central Mexico should prepare for life-threatening major hurricane winds associated with the core of Willa. Hurricane force winds will also extend inland across the mountainous areas of west-central Mexico as Willa moves inland.
3. Heavy rainfall from Willa is likely to produce life-threatening flash flooding and landslides over much of southwestern and west-central Mexico.
We will have another update on Willa once the daytime arrives – stay tuned!