Lorenzo has grown into a beastly hurricane, producing sustained winds up to 240 km/h, which equals the high end of the category 4 on the hurricane power scale (1-5). It the strongest hurricane this far out east, in all the known records. It is projected to shift north-northeast, moving directly over the Azores on Wednesday.
Lorenzo is now a high end category 4 hurricane (perhaps even a 5), and is currently still in favorable environment, with low wind shear and warm 26-28 °C SST's. Both combined, will keep Lorenzo at high power for the next 3-4 days. There is an aircraft planned to fly into hurricane Lorenzo tonight, to verify its strength, since satellite analysis suggests higher power than what the current official numbers are. In the known records, only seven stronger (category 2+) hurricanes have come within 370 kilometers of the Azores.
IR satellite imagery of hurricane Lorenzo. Image by Tropical Tidbits.
Official outlook from the National Hurricane Center, has Lorenzo slowly starting to turn north and then northeast, aligning its path onto the Azores, still as a tropical hurricane. That is inline with the latest ensemble model guidance.
Track outlook for Lorenzo. Image by NHC.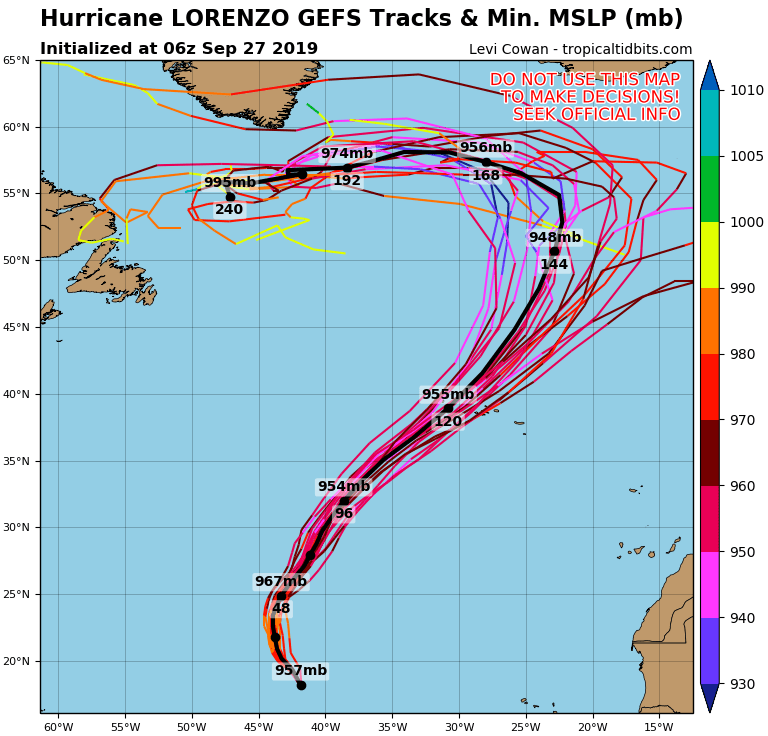 Track forecast for Lorenzo, from GEFS model. Image by Tropical Tidbits.
It is now higher confidence that hurricane Lorenzo will turn more towards northeast rather than north, which makes this a dangerous situation, as it is heading directly towards the Azores, likely impacting the islands as a strong category 2 storm. The exact strength at landfall is to be determined early next week, but current projections show wind gusts over 180 km/h, and ocean waves 14 meters and higher! Below are two model forecasts at landfall, from global GFS and high resolution HWRF models, where the HWRF shows a stronger storm. Usually, the higher resolution models show a more realistic wind strength forecast, since they calculate the whole system in much higher detail and resolution.
Graphics by Tropical Tidbits.
Stay tuned as we closely monitor the development of this potentially dangerous event!