We can expect the 2020 Atlantic hurricane season to be more active than usual. Possibly similar to 2010, 2011, and 2017 seasons. High Atlantic Ocean sea-surface temperatures (SSTs), a developing La Nina and correlation with similar atmospheric past conditions suggest it will be an active year!
Hurricane season 2020 forecast
According to the NCSU (North Carolina State University), the season will likely see an above-average number of tropical systems in the Atlantic Basin. Potentially 18-22 named storms and 8-11 hurricanes. 3-5 of them could become major hurricanes (e.g. Category 5 hurricane Dorian).
Hurricane Dorian. Graphics: Tropical Tidbits
The Gulf of Mexico, in particular, could see a much more active hurricane season, with nearly 50% of all the season's expected named storms forming in the Gulf. In addition, two hurricanes and possibly one or even two reaching major strength.
Note: the Atlantic basin covers the area which includes the entire Atlantic Ocean, the Gulf of Mexico, and the Caribbean Sea. The long-term average (taken over the last 70 years – between 1951 and 2019) of named storms is 11. The short-term average (taken over the last 15 years – between 1995 and 2019) is 14 named storms.
Atlantic hurricane climatology. Graphics: Wikipedia
The long-term average for the Gulf of Mexico is three named storms and one hurricane every hurricane season. The Atlantic hurricane season runs from June 1st through November 30th.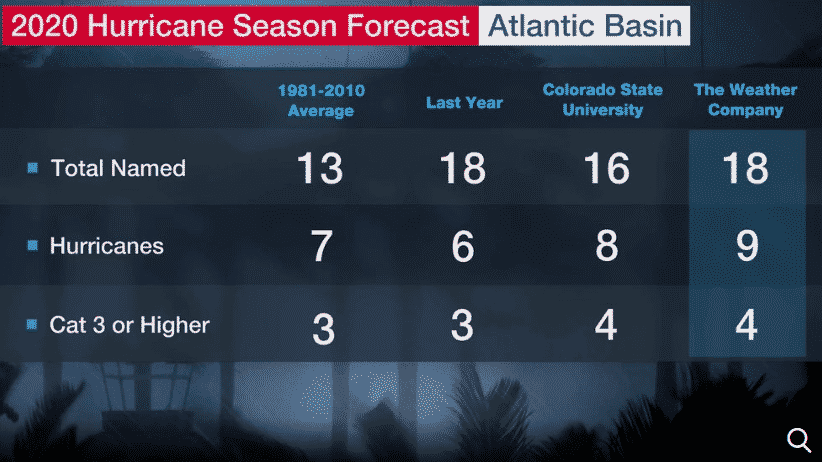 2020 hurricane season forecast. Graphics: TWC
Atlantic Basin tropical system names

These are the names that will be used for tropical systems in the Atlantic Basin during the 2020 hurricane season. If hurricanes develop historic levels, its name is retired. Retired names, if any, will be announced by the World Meteorological Organization in the spring of 2021.
Tropical cyclones names of 2020. Graphics: TWC
ENSO correlation
Usually, El Nino or La Nina have an effect on the weather patterns over a few months period. In the early spring this year, a weak El Nino was in place, but central Pacific ocean water has continued cooling in March slowly cooled, becoming neutral lately. It appears likely the cooling trend will continue this spring, so ENSO could have a gradual transition into La Nina conditions during the second half of the season.
Typical El Nino influence. Graphics: Wikipedia
La Nina develops in 2020
La Nina conditions generally result in a more active hurricane season. The cooler waters of the Eastern Pacific Ocean end up causing less wind shear and weaker low-level winds in the Caribbean Sea. Less wind shear favors tropical systems development. El Nino conditions, for example, create stronger upper-level winds/shear that can hamper storm development.
Typical La Nina influence. Graphics: Wikipedia
La Nina can also enhance rising motion over the Atlantic Basin, making better conditions for tropical systems develop. The typical La Nina years were 2010, 2011, 2016, and 2017. We can all remember the major hurricanes like Matthew, Harvey, Irma, and Maria in those seasons.
Attached is IRI (International Research Institute for Climate and Society) forecast simulation for ENSO conditions through the year 2020.
ENSO forecast for 2020. Graphics: IRI
Atlantic ocean sea surface temperature
Another factor we usually take into account is the current sea-surface temperatures across the Atlantic Ocean. Much of the Atlantic waters are warmer than average this early spring. And particularly the Gulf of Mexico is very warm – several degrees above average.
Actually, the Atlantic Basin sea-surface temperatures are currently at near or at record values. This is calling for a very active and dangerous season. Long-range climate models suggest that most of the Atlantic Basin will remain much warmer than average. Precisely during the peak of the hurricane season this fall.
Western Atlantic SST anomaly. Graphics: Tropical Tidbits
So if Atlantic Basin remains so warm and La Nina conditions develop, there could be less wind shear and more favorable conditions for much higher hurricane activity during the second part of the 2020 season.
Conclusion

There is no obvious correlation between the number of tropical systems/hurricanes with the landfall of them in the United States. However, residents of the coastal areas should always be hurricane aware, no matter the forecast. Remember, the forecasts are for development and not the landfall of the systems.
Hurricane Preparedness. Graphics: FEMA
Our team will be actively following the tropical region activity worldwide, including Atlantic Basin systems. So stay tuned for further follow-up posts, forecast discussions, and nowcasting.