Outlook DAY 1 (valid: 25/03/2019)
VALID FOR 25-03-2019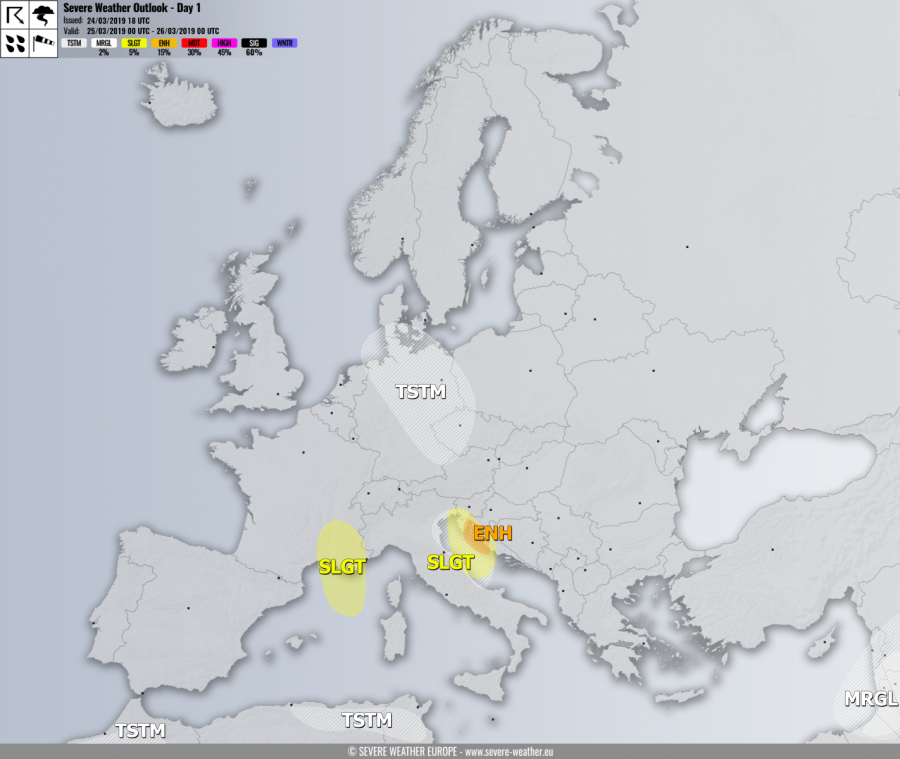 Severe Weather Outlooks FAQ
SYNOPSIS
A powerful upper ridge is placed across the N Atlantic while a deep trough with strong surface cold front pushes across central Europe towards the Balkan peninsula. Two upper lows are located further south, one over Morocco and another one over the Middle East.
DISCUSSION
ENH and SLGT risks have been issued for SW Slovenia, N Adriatic and NW Croatia (Kvarner region) with threat for severe to extremely severe downslope Bora winds, locally in excess of 110-130 km/h. In the evening hours, rain will likely turn into snow across elevated terrain of SW Slovenia and NW Croatia where blizzard conditions are likely to develop as well.
SLGT risk has been issued for SE France into NW Mediterranean with threat for severe winds, locally in excess of 100 km/h.
MRGL risk has been issued for parts of the Middle East where isolated severe storms are possible, capable of producing severe winds and torrential rainfall.
TSTM risk areas have been placed where convective storms are possible.