*Pattern shift* Weather pattern shift underway, will bring cold air to USA and Europe next week! Snow cover across hemisphere expands rapidly!
October is slowly coming to an end, which means that the global circulation is going through some specific changes as we slowly move into the colder season for the Northern Hemisphere. We are witnessing an onset of a pattern change, which will enable the transport of colder air from the polar regions down into the mid-latitudes!
Currently we have a slightly negative NAO index, with ridging over NE Canada and mid North Atlantic. On both sides of the ridge we have a trough/low, that draws down cold air down from the north on its west side. All of these pressure anomalies will play an important role in the pattern progression. We can see central and eastern Europe under unseasonably warm air.
ECMWF Analysis on 22.October 00z. Image credit: TropicalTidbits
The deep low over continental USA will move east, drawing large amounts of warm air from the south on its eastern side up towards north/northeast, amplifying the development of a strong ridge/anticyclone in the North Atlantic and over Greenland. We can also see a strong ridge rising up towards Alaska. This is also a very important factor, as we will see further below.
ECMWF Ensemble forecast for on 27.October 00z. Image credit: TropicalTidbits
The developing ridge/anticyclone quickly becomes a blocking high as it interacts with the systems surrounding it, amplifying it and firming it in its place. The blocking high will interact with one main core of the tropospheric polar vortex, over Siberia, and will starts to draw cold air from the north down over Scandinavia and UK into eastern and central Europe. On the other side of the Atlantic, we have an exact same situation, with the strong low over North America drawing cold air down from Canada into continental USA, aided by the strong ridge over Alaska, that we mentioned before. The deep low over Canada is the second main core of the tropospheric polar vortex. We end up with a classical "Rossby wave train", where we have pressure systems nicely aligned from west to east, "high-low-high-low-high", starting all the way back in the North Pacific, across North America into Atlantic and going on into Europe and Siberia. This pattern is partially self-sustainable, as the systems interact and can amplify the "chain" for a certain period of time. Such a pattern, as we see below on the maps, is what snow-lovers in USA and Europe hope to see in mid-winter when air is cold enough allow extensive snowfall.
ECMWF Ensemble forecast for 01.November 00z. Image credit: TropicalTidbits
Speaking of snow, such pattern changes are good for fast snow cover expansion across North America and Eurasia. The GEFS snow depth change forecast, shows the 16 day change in snow depth across the Northern Hemisphere, where we see rapid snow cover expansion, and hints at possible snow cover in higher parts of central and east/southeast Europe. Note the reduction in snow depth over Greenland, as the expanding blocking high brings higher temperatures.
GEFS forecast for 03.November 12z. Image credit: TropicalTidbits
Higher pressure over the North Atlantic and Alaska, will cause the NAO index to stay negative and PNA positive, respectfully.
Teleconnection indices forecast from GEFS R2. Image credit: NOAA/PSD
Temperature forecasts for Europe and NE USA from GEFS model show the coming pattern change. We see a substantial temperature drop in east Europe, for example, and also a temperature drop in NE USA for example. This is a typical example of the negative NAO/positive PNA combination, where both sides of the Atlantic get colder visits from the north.
East Europe GEFS 850mb temperature ensemble forecast. Image credit: Meteociel
NE USA GEFS 850mb temperature ensemble forecast. Image credit: Meteociel
On both sides of the hemisphere, we will see establishment of the two main cores of the tropospheric polar vortex, each one having a colder influence on its sub-region, North America and Europe. Overall we can see the shape of the tropospheric polar vortex (green-blue color) being quite non-symmetrical, and almost broken on the edges, as it is being influenced by the strong Rossby wave-train.
ECMWF forecast for 01.November 12z. Image credit: TropicalTidbits
Weather is always changing, but this time we are able to witness larger scale shifts in the weather patterns. The main results currently seem to be colder air in Europe and North America, which would for sure also bring decent snowfall to lowlands if such a pattern shift would appear in late December or January.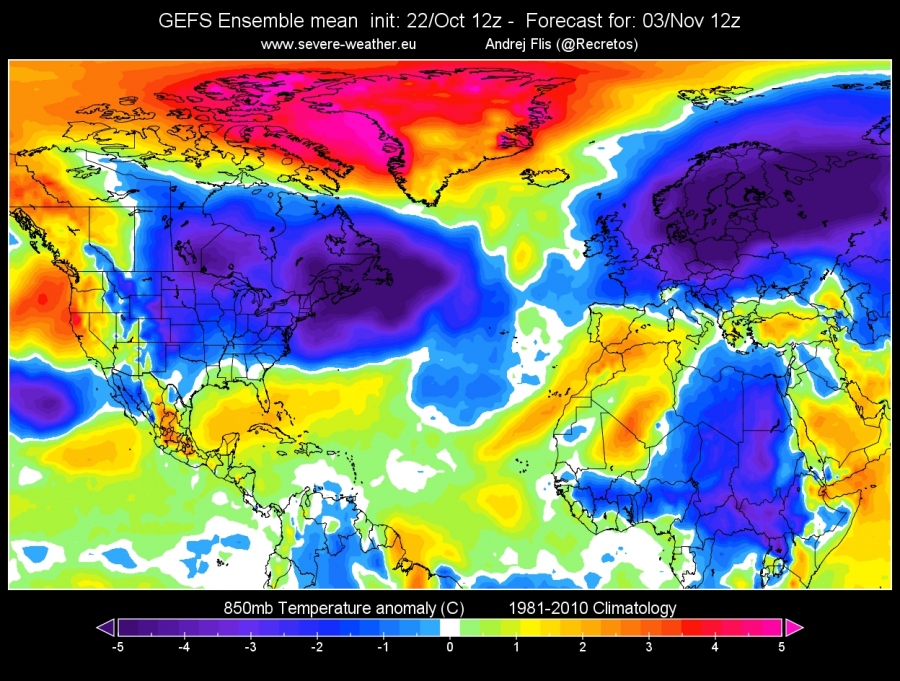 GEFS 850mb temperature anomaly forecast for 03.November 12z. Image credit: SWE
Stay tuned for regular updates in the coming days, as these large scale events unfold, and we will be able to tell with better accuracy who will actually get snow, and who will need sunglasses. ;)