A very significant setup is shaping up over the central Mediterranean and the Balkans for excessive snowfall and severe Bora winds.
The strengthening rex block over Europe (low in Mediterranean while the rest of Europe is under high pressure), a significant pattern for excessive snowfall is developing across parts of the Balkan peninsula (NW Croatia, W Bosnia, W FYROM, N Greece, E Albania, Bulgaria) and central Italy (eastern Apennines) over the next 3-4 days. The setup will locally produce snowfalls of over 1 m and Bora winds gusting at 140-170 km/h.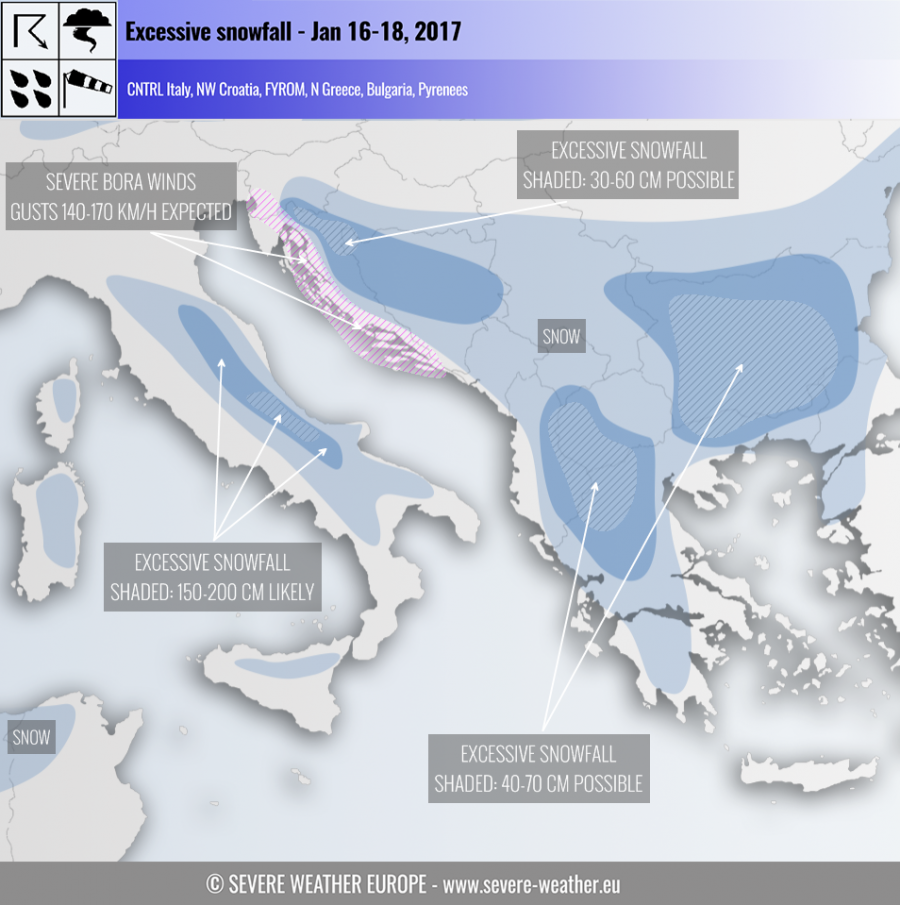 STRONG WINDS OVER CENTRAL MEDITERRANEAN

Click on the map for animation.
The cutoff low will produce very strong winds over parts of the Mediterranean. First the southern coast of France and parts of the Mediterranean seas between Corsica and Sardina and the Balearic Islands will experience strong northerlies on Sunday, reaching sustained speeds of up to 60-70 km/h, increasing to 80-100 km/h over the northern Mediterranean and Ligurian seas by Tuesday. Parts of the western Mediterranean, including the coast of Algeria will get waves up to 5-6 m high on Sunday, increasing to locally 8-10 m on Tuesday.
The eastern coast of the Adriatic sea, particularly the Croatian coast in Kvarner will get strong Bora winds, reaching at least 100 km/h sustained speed by Tuesday, likely gusting at 140-170 km/h or more. Strong Bora is also expeced over SW Slovenia and extreme E Italy (Gulf of Trieste), at 80 km/h sustained and gusting at over 120 km/h. The Bora winds are expected to weaken by January 19.
ADRIATIC SEA-EFFECT SNOW IN ITALY, MORE SNOW OVER THE BALKANS, CORSICA AND NORTH ALGERIA

Click on the map for animation.
The system is also expected to produce very significant snowfall in parts of the Mediterranean and SE Europe:
Parts of Italy: the strong Bora winds will produce strong sea-effect and stau-effect snowfall over parts of Italy. Particularly strong snowfall is again expected in Abruzzo, where accumulations of 100-150+ cm by Tuesday morning are possible. Significant snowfall with accumulations between 10 and 50 cm is expected along the Apennines further north (up to Emilia Romagna) and south (Calabria). Both Sicily and Sardinia will also receive snowfall, up to approximately 50 cm locally.
Western Balkans: are also in for another round of snowfall. It begins early on Monday in NW Greece and spreads northwards across the W Balkans all the way to Croatia and into S Slovenia. The strongest snowfall is expected in NW Greece, with up to 100 cm and locally more snow by Thursday morning. Also significant accumulations, locally 50-100 cm, are expected in parts of Lika and Gorski kotar (W Croatia), W Bosnia and Herzegovina and parts of N Albania and NW FYROM. Strongest snowfall expected on Tuesday.
Corsica: locally up to 50-60 cm snow by Thursday morning in the mountains in the central part of the island.
Bulgaria: locally up to 40-70 cm of snow by Thursday.
North Algeria: parts of N-NE Algeria are already experiencing snowfall at higher elevations and will continue to do so. Expect locally up to 50-70 cm of snow, although most locations will receive significantly less. Some snowfall is expected also at higher elevations in extreme NW Tunisia.
We will be providing regular updates as the setup develops, both here, Facebook and Twitter.
Follow snowfall in this region with radar: