A damaging earthquake hit the Croatian capital Zagreb this morning, March 22nd at 05:24 UTC (6:24 local time). Its magnitude was 5.3 by the EMS-98 scale, several aftershocks were followed later. Earthquake did a significant damage across the city of Zagreb, with severly damaged cars and houses. Several people were injured, at least one critical. Fires were also reported.
The epicenter was 8 km northeast of Zagreb, at depth of 10 km. There were additional aftershocks soon after, the strongest of 5.0M soon after 7am local time. Parts of the city were left without power and water supply. Zagreb's iconic cathedral was also damaged, as the top of one of its two spires has collapsed. The earthquake was felt across the whole northern Balkan peninsula (Croatia, Slovenia, N Bosnia, S Austria, W Hungary). No damage was reported from the closest nuclear power plant in Krško, Slovenia!
Graphics: EMSC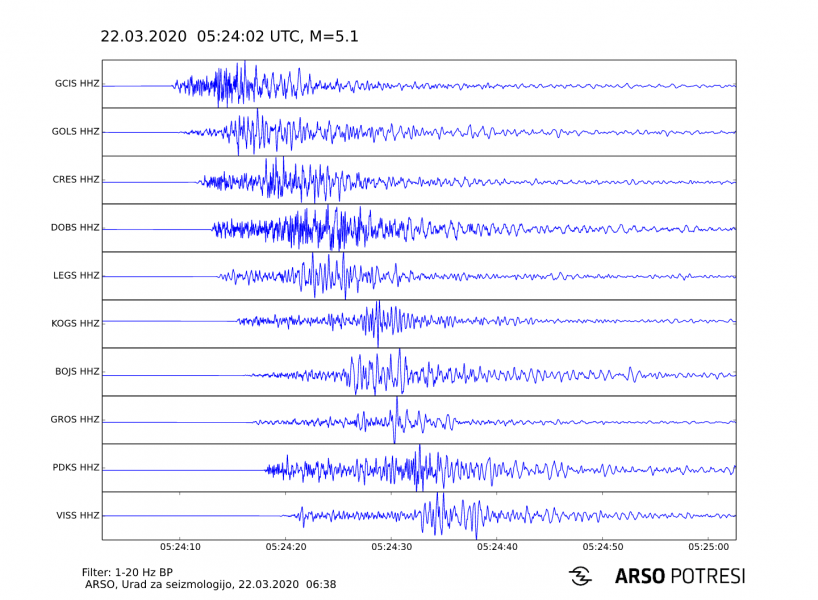 Graphics: ARSO
https://twitter.com/ASBreakingNews/status/1241611728045199360
Numerous reports of significant damage across the capital Zagreb:
Posljedice potresa u Zagrebu pic.twitter.com/G5RFWmvTlM

— Media Servis (@mediaservishr) March 22, 2020
A powerful #earthquake has struck north of Croatia's capital, #Zagreb, damaging buildings, burying vehicles in rubble and causing several fires – Reported Aljazeera pic.twitter.com/WXpsGxBgUw

— Jeyaram Anojan (@AnojanJeyaram) March 22, 2020
https://twitter.com/iDikic2/status/1241673179795513344
If you think #coronavirus itself is bad, try mixing it with 5,3 #earthquake 😢Zagreb, Croatia this morning. pic.twitter.com/dc7CcmpQoU

— Ida Pandur ⋈ (@idapandur) March 22, 2020
https://twitter.com/bencicAnamarija/status/1241620917819752448
https://twitter.com/IvanaIvandaa/status/1241623598814633985
Here are first video reports:
To all my friends in #Zagreb please take care.
5.3 #earthquake this morning & this just sent to me!
Let me know your safe if you can
Sending love. pic.twitter.com/H3A1FRxhrY

— Anthony Posa (@AntsPosa) March 22, 2020
I can't attribute this sorry! #Zagreb #earthquake pic.twitter.com/ixgyOit8Xn

— John Richards (@GoodnightWalter) March 22, 2020
https://www.facebook.com/antikvarijat.zlatarevozlato/videos/636167570283754/
Further reports will follow later – stay tuned!