VALID FOR 31-08-2014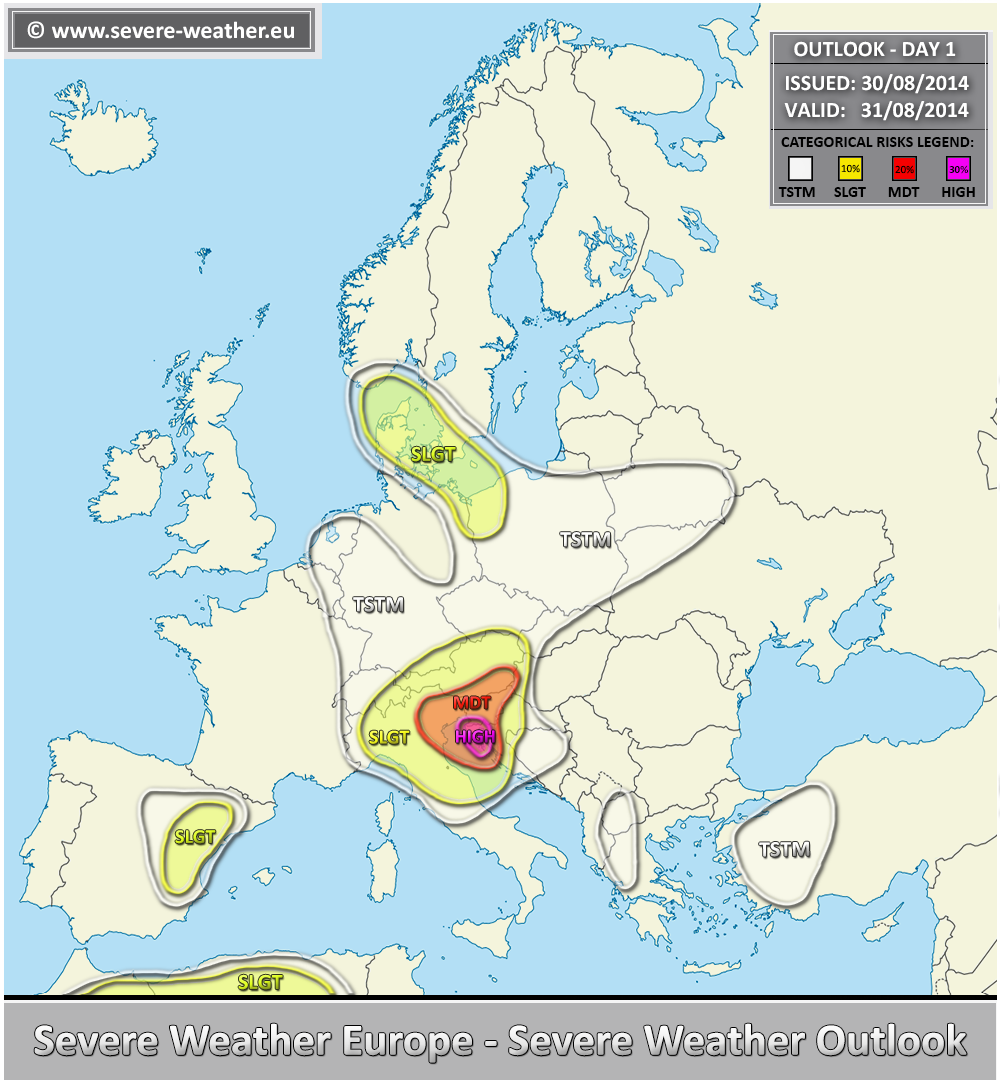 *** An outbreak of severe storms is expected starting by late Sunday along the southern Alpine flank and continuing towards the central Adriatic sea and N-CNTRL Balkans towards Monday. Locally, very heavy rainfall and high amounts of rain are expected as well as very severe winds and possibly a tornado or two. ***
A complex weather scenario is unfolding on Sunday. An upper low moves from North Sea across Germany towards the northern Mediterranean where lee cyclogenesis takes place across N Italy. An upper ridge gradually intensifies over WSW Europe as well as over northern Europe. A strong surface cold front is pushed across Germany towards the Adriatic sea.
A HIGH risk has been issued for parts of northern Mediterranean into SW Slovenia and NW Croatia with threat for excessive torrential rainfall, severe winds and lesser extent for tornadoes and large hail. Very strong instability placed across the N-CNTRL Mediterranean will provide an unstable environment while moderate shear will overspread the region. A sharp cold front with strong QG forcing will lead into rapid destabilization across the MDT/HIGH risk areas and rapidly spread SE-wards into Balkans and the Adriatic sea. Expect widespread convective activity with local flash floods and severe wind damage. Despite the general lack of stronger LL winds, tornadoes or mesocyclonic waterspouts are likely too.
A MDT risk has been issued for surrounding areas of HIGH risk including NE Italy, whole N Adriatic, much of Slovenia and S Austria with threat for excessive rainfall and severe winds.
A SLGT risk has been issued for NW Poland across Denmark and extreme SW Sweden for excessive rainfall and waterspouts.
A SLGT risk has been issued for parts of NE Spain, NE Morocco and N Algeria with threat for some isolated severe storms with large hail and severe winds threat.