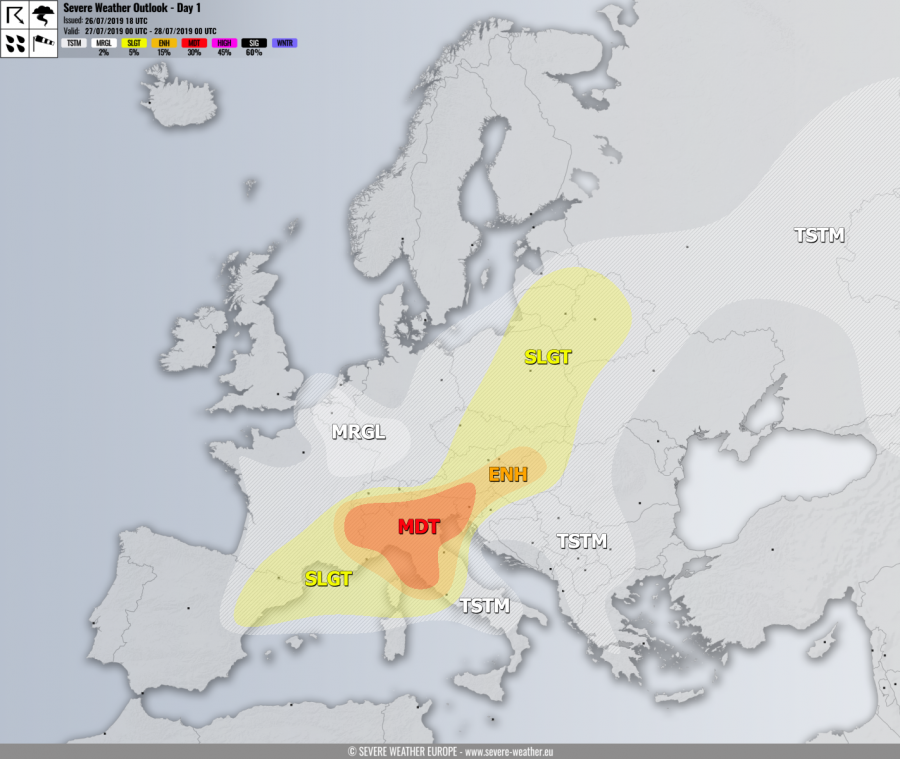 Severe Weather Outlooks FAQ
SYONPSIS
A deep trough / large upper low pushes from west towards central Europe and N Mediterranean with an intense cold-core across S France towards N Italy. An associated cold front moves through the N Mediterranean. Upper ridge persists across N and E Europe.
DISCUSSION
MDT risk has been issued for N Italy into N Adriatic and W Slovenia with threat for severe storms, capable of producing severe winds, torrential / excessive rainfall, large to very large hail and tornadoes. Widespread convective activity is expected as short-wave / deep cold-core pushes across the N Mediterranean, fueled by strong to locally extreme instability with MLCAPE in excess of 2500-3000 J/kg, overlapped with moderate shear. An enhanced helicity is also expected by strengthening SE-erly winds across the Ligurian and Adriatic sea. Conditions will be favorable for supercells storms with very large hail and damaging winds, locally flash floods are expected. Tornadoes are also possible along the Ligurian and N Adriatic coast due to enhanced LL shear / helicity. Storms will likely cluster into one of two MCS towards the evening hours.
ENH / SLGT risks have been issued for areas surrounding the MDT risk across N Mediterranean into ENE Europe and across S France into NE Spain with more isolated threat for severe storms, capable of producing severe winds, large hail and torrential rainfall.
MRGL risk has been issued for Benelux, NE France and W Germany with isolated threat for severe storms, capable of producing torrential rainfall and marginal hail. Numerous slow-moving storms are expected under low shear but moderately high instability.
TSTM risk areas have been placed where convective storms are likely to occur but should remain sub-severe.