The large cutoff low over the western Mediterranean is pushing large amounts of Saharan dust into Europe. First reports from various parts of Europe are coming in.
Satellite images show thick bands of Saharan dust being pushed from Algeria, Tunisia and Libya into the Mediterranean. The main dust load today was over the central and western Mediterranean into southern France, parts of Italy and northeastern Spain. Reports indicate strong dry and wet deposition of the dust. See images below.
NASA Aqua satellite made this image of the broad cutoff low pushing Saharan dust across the Mediterranean into Europe today, April 22, 2019 around local noon. Note the thick band of dust pushing across the southern Mediterranean between Tunisia, Malta and Sicily, across the Tyrrhenian sea, Sardinia and Corsica into the northwestern Mediterranean, northeastern Spain and southern France. Dust also present in the skies over France and into the UK, as well as across the Apennine peninsula (note the orange-brownish tinge to high clouds) and as far east as Crete. The black zone at the bottom of the image is the gap between two image strips taken on successive satellite passes. Image: NASA WorldView.
Dusty skies on Monday morning (April 22) in Le Grau-du-Roi, south France, southeast of Montpellier.
Saharan dust in the Pyrenees today, April 22. Report: @Meteo_Pyrenees TW.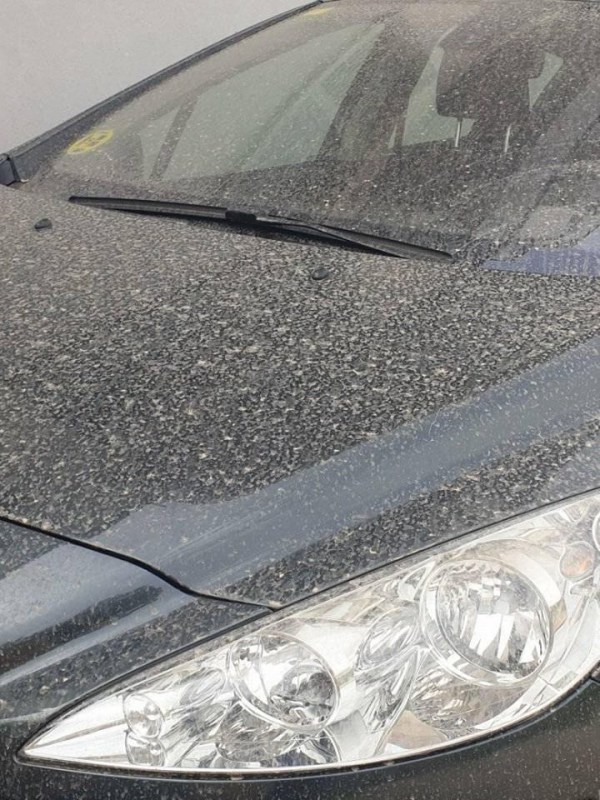 Saharan dust cover in Catalonia, northeastern Spain on Monday morning. Report: Jacqueline Borrell.
Saharan dust cover in Sant Carles de la Rapita, Catalonia, northeastern Spain on Sunday. Report: Mandie Hamlin.
Saharan dust cover in L'Argentina, Menorca, Balearic Islands, Spain today, April 22. Report: Meteo Menorca @Meteo_Menorca TW.
Saharan dust turned the sky over Marseille, south France brownish this afternoon, April 22. Report: Viewsurf.com via La Chaîne Météo @lachainemeteo TW.
Saharan dust deposited on a car in Nimes, southern France yesterday afternoon, April 21. Photo: Dorian Dziadula.
UPDATE [Monday] on the ongoing big Saharan dust event in the Mediterranean and large parts of Europe