The Atlantic Hurricane Season 2022 is winding down into its final month of the official active period. This week, two hurricanes, Lisa and Martin, were ongoing simultaneously which has been the first time since 1932 in November. Martin has transformed into a powerful extratropical storm and is now heading towards Europe. Ireland and UK are forecast to experience a windstorm and major waves this weekend.
Unusually warm weather across Europe through October has temporarily ended, but the new warm wave is expected to follow as ex-Martin moves into west-northwest portions of the continent this weekend into early next week. While the system delivers severe winds and waves for western Europe, again, a significant warmth will spread ahead of it into most of Europe. Temperatures will be well above average for days.
Ex-Martin, the 7th hurricane of the Atlantic season 2022, was a Category 1 storm at its peak intensity south of Newfoundland, Canada on the 1st of November. It then continued moving further east across the North Atlantic, becoming an intense extratropical storm. It is moving towards western Europe, south of Greenland and Iceland. The storm will remain very deep and intense, pushing severe winds and major winds into western Europe. Unsettled weather conditions are expected from late Saturday into Monday next week.
The extratropical storm is very large and it is still expanding in size, and so is its wind field. Posing a risk for strong gale winds for the western coast of Ireland, Scotland, Wales, and southwest England on Sunday into Monday as the storm nears. Major waves near 8-12 meters could develop along the western coasts.
Below is a satellite animation overview of the approaching deep Atlantic storm, gradually spreading across the Atlantic toward western Europe. While showery weather remains around the center of the low, a rather strong windstorm has developed around it.
Let us take a look into some more details on the developing weather over the next few days as both satellite and surface observations with forecast models suggest a potentially damaging windstorm and major waves are likely over the next 48 hours.
Following the storm's impact on western Europe, much warmer weather will advect into most of continental Europe next week.
7th HURRICANE OF THE ATLANTIC SEASON BECOMES AN INTENSE EXTRATROPICAL STORM
The recent water vapor satellite imagery across the North Atlantic indicated how large the size of the extratropical storm has become. Dominating a large portion of the region and still expanding. While the Azores farther south are under a high-pressure system and stable weather, conditions to the north are pretty dynamic.
Ex-Martin has undergone a classic transition from a hurricane into an extratropical low, with a frontal fracture and a large warm sector ahead. In the wake, the intrusion of drier air follows behind the cold front.
The satellite presentation with the textbook surface low and cyclonic cloud bands is quite spectacular.
As of Friday, Nov 4th, 18 UTC surface analysis, we can see the Atlantic storm was just south of the southern tip of Greenland. With the impressive 939 mbar central pressure.
The tight pressure gradient is judged from the isobars, meaning winds are powerful and generate significant waves. While the low is near its peak, its deep pressure and large size will spread the winds and waves toward western Europe in the coming days.
We can see hurricane-force winds blasting along southern Greenland, and around the center of the storm. As it moves farther east on Saturday, winds will spread closer to Ireland and Scotland by Saturday night into Sunday.
RAPIDLY DEVELOPING NORTH ATLANTIC STORM
On late Friday, Nov 4th, the general pattern across the western half of Europe revealed a strong Azores high-pressure system, extending into the western and southwestern parts of the European continent. The aforementioned powerful North Atlantic storm can be spotted to the northwest of western Europe.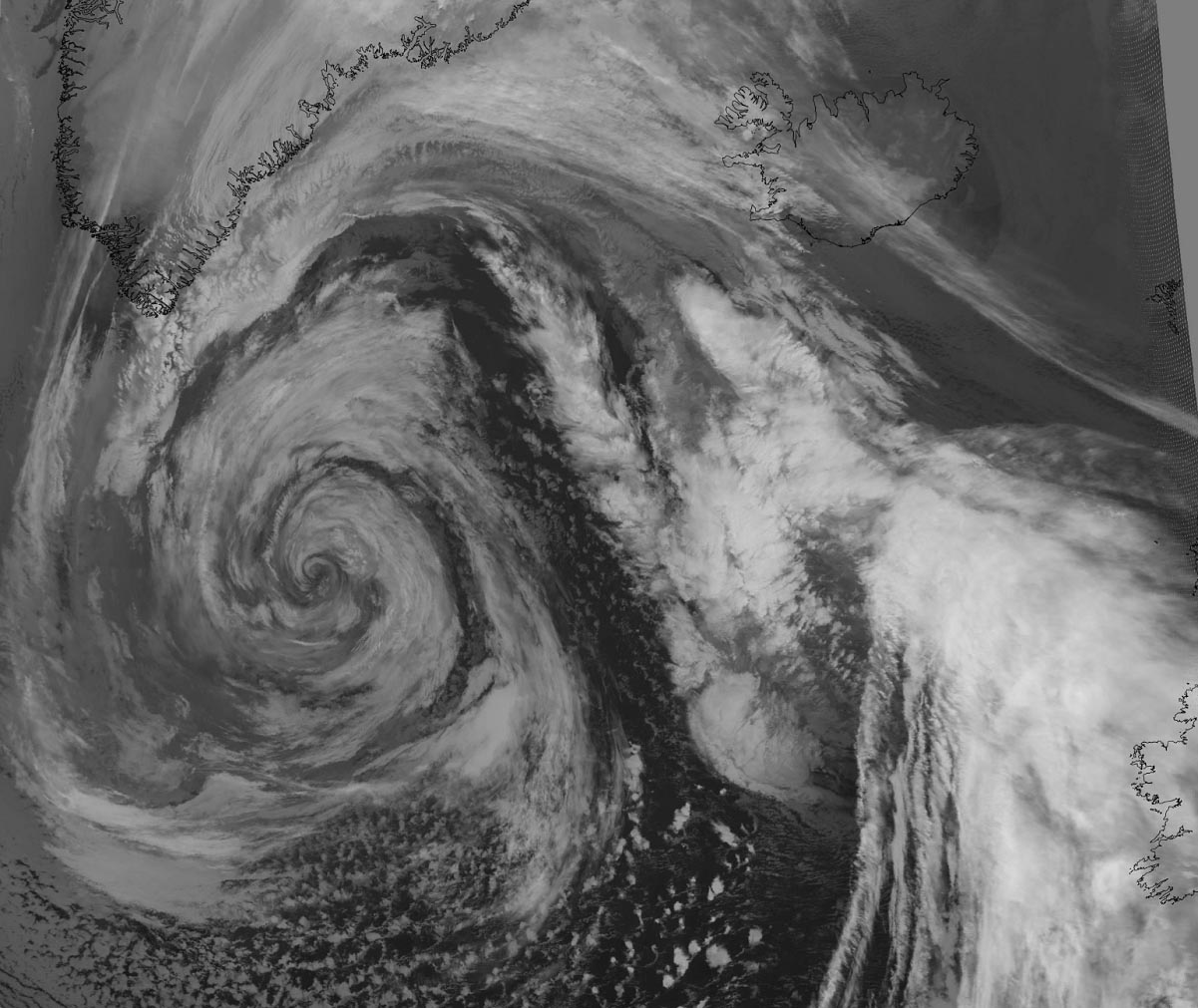 The extratropical storm will be maintaining its strength and remain very deep through the weekend. It has become very large with a central pressure below 950 mbar, accompanied by intense hurricane-force winds. Generating significant wave heights over the open waters of the North Atlantic. Gradually spreading towards Ireland and the UK.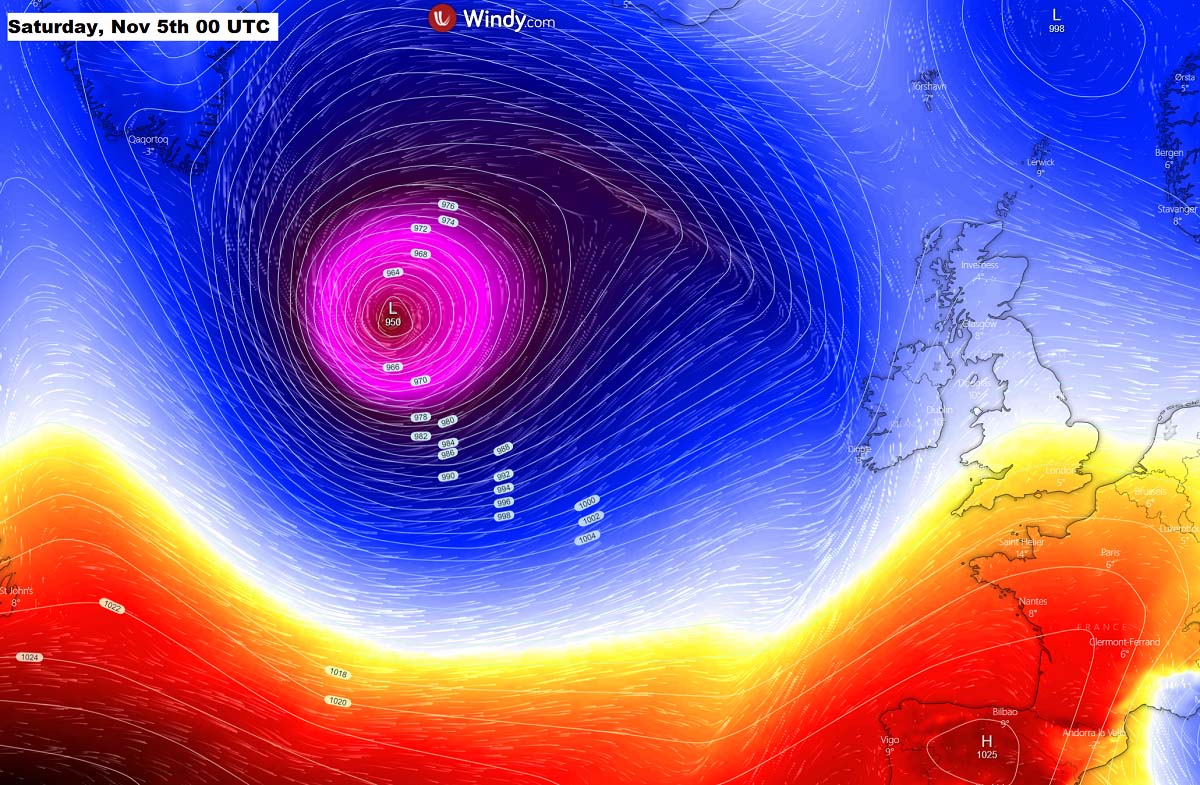 At the same time, the general weather pattern is forecast to change, with the strong upper-level ridge and surface High across southwestern Europe to move east into the Mediterranean and central Europe. Allowing the intense Atlantic storm to continue straight toward western Europe.
STRONG WINDSTORM AND MAJOR WAVES FOR IRELAND AND THE UK
When a very deep and large Atlantic storm comes closer to western Europe, it normally brings very strong to severe winds and major waves. While the coming storm has its central pressure gradually rising over the weekend, its size of it will maintain its strength nearly until its main impact into western Europe on Sunday into Monday.
As we can see from the chart below, the low will dominate most of the North Atlantic as well as western Europe on Sunday evening. With the central pressure around 965-970 mbar. The isobars (lines connecting the same surface pressure) are still pretty tight throughout Sunday and also into early Monday, gearing the storm's wind intensity and severe winds.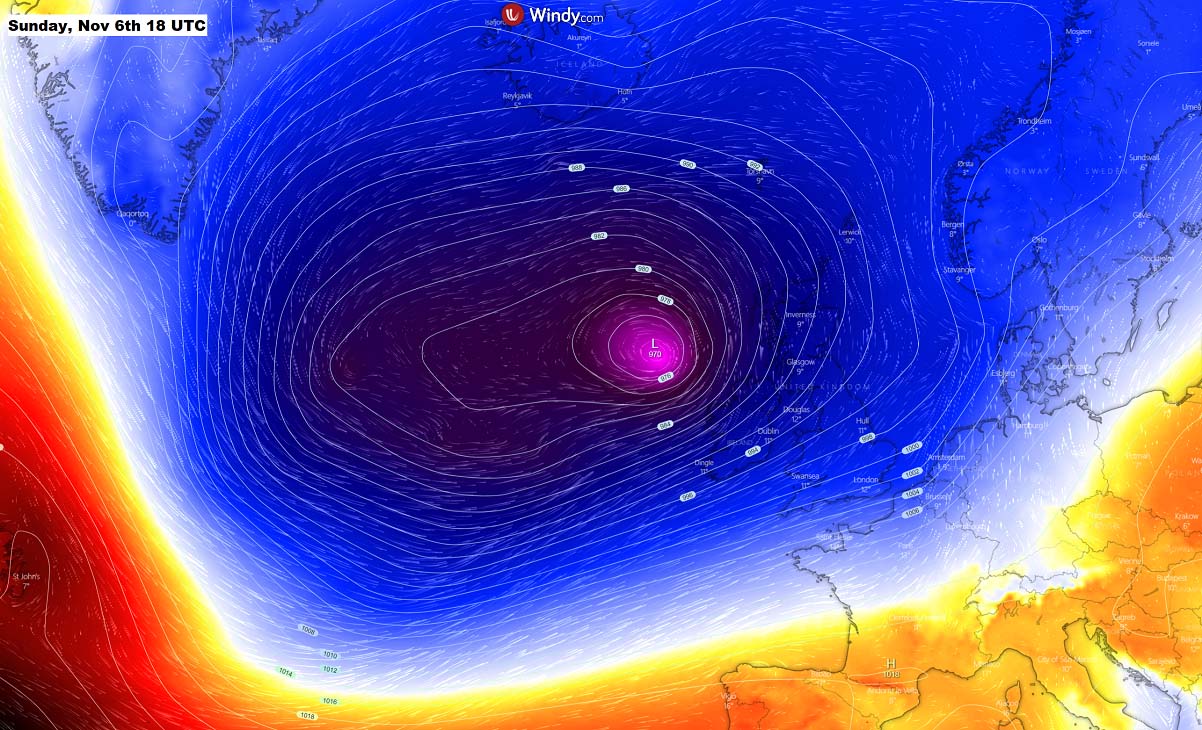 The wind swath of this North Atlantic storm will introduce a windstorm, spreading across Ireland, Scotland, Wales, and southwestern England from late Saturday into Monday. Peak gusts should reach up to 130 km/h (75 mph) and could be damaging in some areas.
The strongest and most intense wind gusts will, however, remain to the south-southwest of the traveling low, over the Atlantic waters. Peak wind gusts could there reach up to 150 km/h (90+ mph).
Such a large Atlantic storm and an associated windstorm also lead to significant waves with major wave heights. Those could be close to 8-12 meters until they reach the western coast of Ireland, and southwest England on late Sunday into Monday. They will be coming from the west-southwest direction.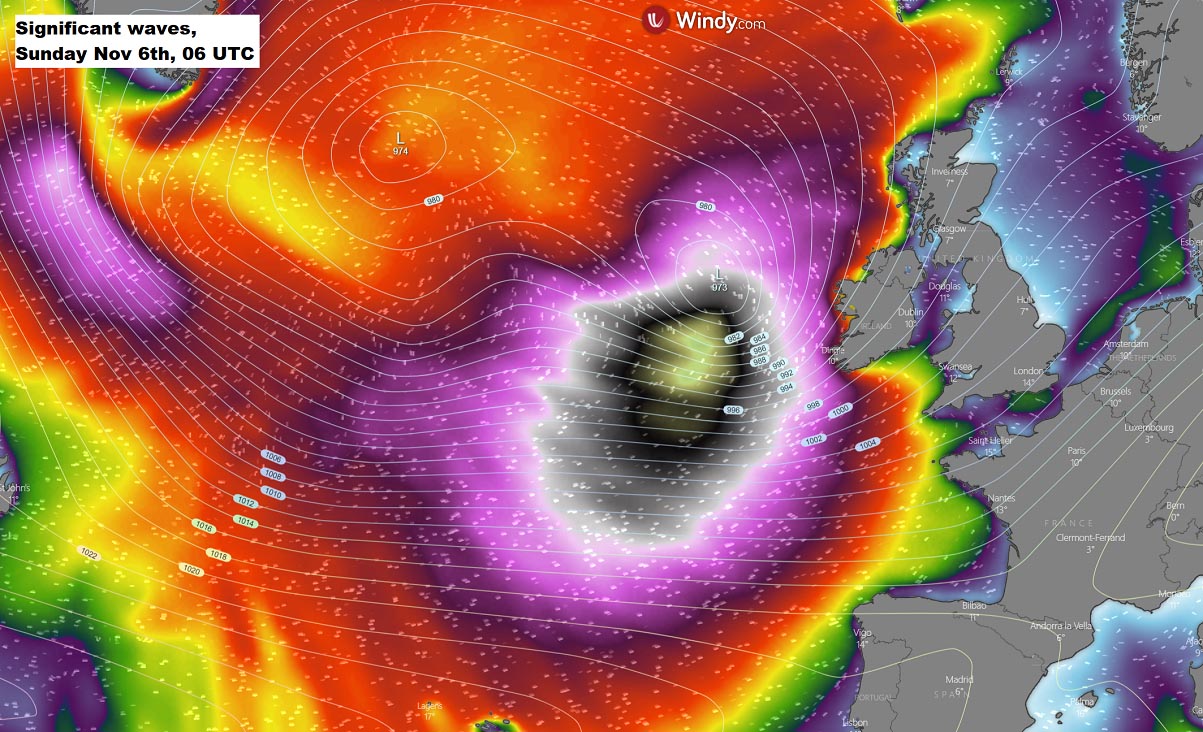 The highest waves are forecast along the southwestern coast of Ireland, in the immediate wake of the low when it moves further east towards Scotland on Sunday night.
ANOTHER WARM WAVE IS FORECAST ACROSS EUROPE NEXT WEEK
Once the powerful and large North Atlantic storm fully matures over western Europe on Sunday, it also changes the weather pattern. Leading to the displacement of the Azores high further east, developing a corridor of the strong southwesterly jet stream in between.
A strong cyclonic circulation brings a lot of warm air mass across continental Europe, gradually spreading across most of Europe in the early to mid-next week. Temperatures will again be well-above average, potentially even more than 10 °C warmer than normal in some regions.
This is, for November, pretty warm and could lead to some significantly warm days, especially in the lowlands and mid-altitudes. As both very warm air and southwesterly winds will combine.
So as we can see, the ongoing weather unusually warm weather pattern over Europe this autumn season does not look to end up anytime soon. While we are approaching winter months, the weather is definitely expressing quite different impressions.
To conclude, the major re-positioning of the general upper-level pattern across Europe should develop a more stable across most of continental Europe next week. A deep Atlantic depression persists, while high-pressure and blocking high develop and strengthen over central Europe.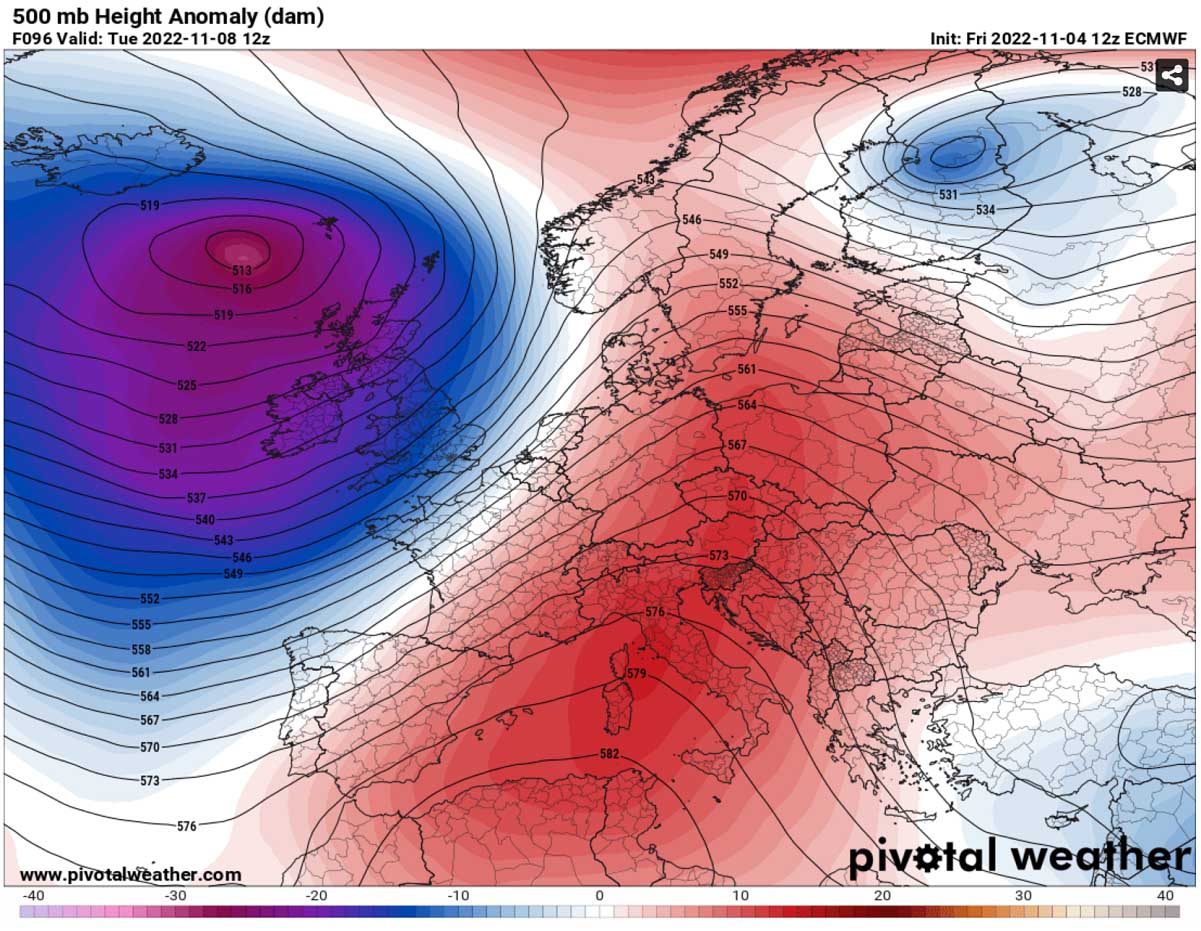 There is no significant cold air intrusion foreseen in the mid-term period. It is more likely that very warm weather will extend into mid-November. Possibly even a week further before any changes or weather pattern flips develop.
*** Wxcharts, Pivotal Weather, and Windy provided the images used in this article.
SEE ALSO:
Winter 2022/2023 Snowfall Predictions: More Snow is now Forecast in the Latest model data, increasing the potential for a better Winter season