VALID FOR 23-09-2018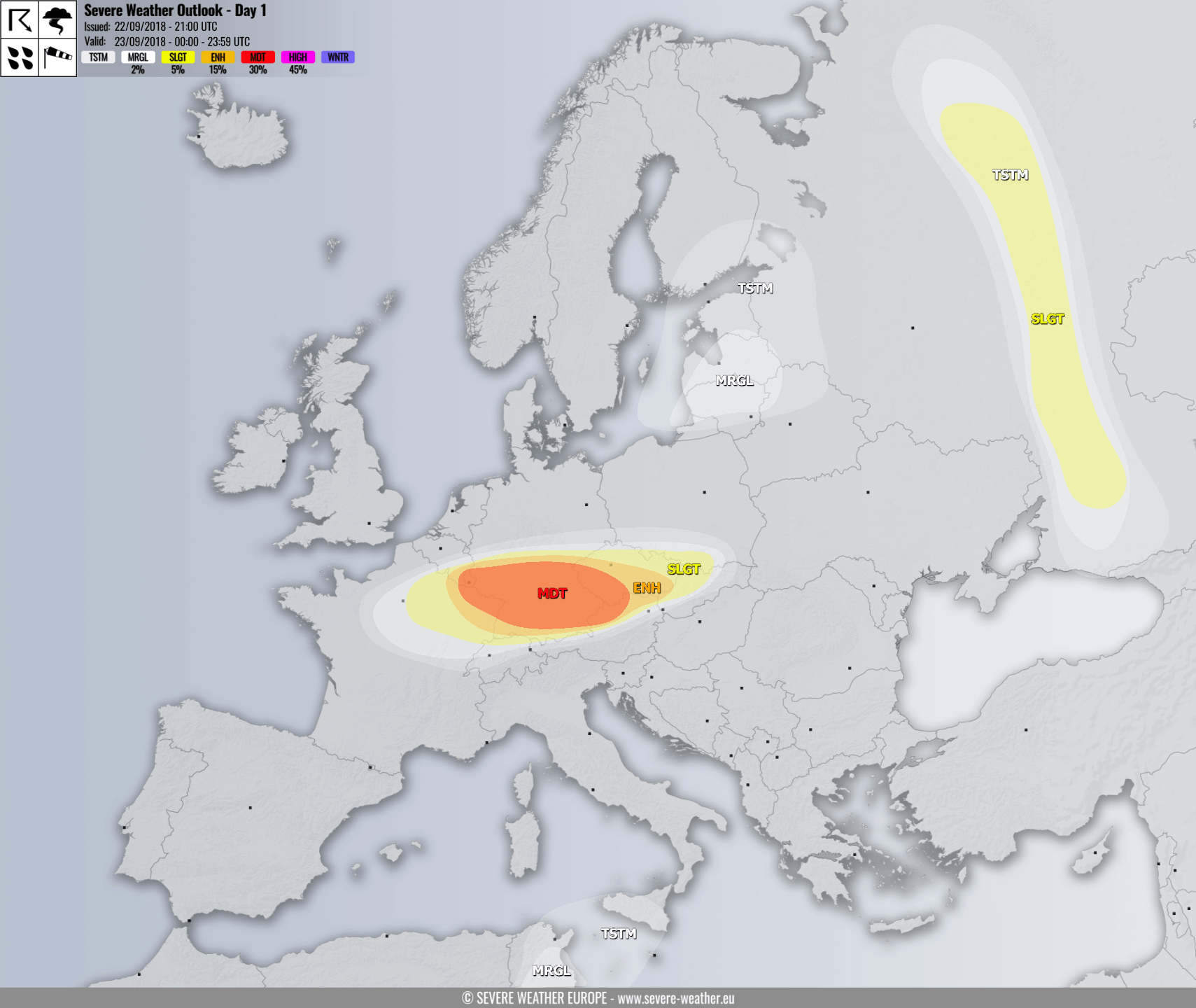 SYNOPSIS
The pattern evolving across Europe tomorrow is characterized by a strong ridge over eastern Atlantic and SW Europe, while a deep trough is being pushed from north towards the east-central Europe. An associated cold front will rapidly push towards the Alps and N Balkan peninsula during the late afternoon and evening hours.
DISCUSSION
MDT/ENH risk have been issued for SE Belgium, ENE France, south-central Germany, N Austria and SSW Czech Republic with threat for severe storms capable of producing severe to extremely severe winds, tornadoes, marginal hail and torrential rainfall. A rather widespread threat for damaging winds is expected. A surface cold front will be rapidly pushed across the risk area and will be characterized with an intense squall line within a weakly unstable but strongly forced and sheared environment. Some marginal instability will build up along and just ahead of the cold front, as very cold mid levels will overspread the front together with marginal dewpoints in the boundary layer. Various models are suggesting 500-800 J/kg of MLCAPE will be possible. An intense jet streak will be associated with this deep Arctic trough and therefore a very strong wind shear along the cold front, probably in 70-100 knots range! The mid/upper level forcing will be particularly strong and result in a rapidly moving frontal boundary towards SE, so a robust environment will be in place. Given the such strong shear, including in the lowest levels, and high storm-relative helicity available, environment will be conductive for organized rotating storms, including supercells with mainly severe to extremely severe wind gusts as well as intense rainfall threats locally. A few short-lived tornadoes are not ruled out either, especially near the center low where helicity will be maximized.
SLGT/MRGL risk have been issued for areas surrounding the MDT/ENH risk across ENE France, SE Belgium, south-central Germany, Czech Republic, N Austria, N Switzerland, WNW Slovakia and extreme S Poland with more isolated threat for severe storms with severe winds threat.
A SLGT risk has been issued for parts of western Russia with threat for isolated severe storms, capable of producing marginal hail, strong to severe winds and torrential rainfall.
A MRGL risk has been issued for parts of N Algeria with isolated threat for strong to severe storms capable of producing flash floods. Storms will be associated with the remnants of the central Mediterranean medicane.
A MRGL risk has been issued for the Baltic countries with isolated threat for strong to severe winds, waterspouts and torrential rainfall.