Hurricane Dorian has undergone some weakening in the past 6-12 hours, from a CAT5 to a high-end CAT4 system. It still packs intense winds, with maximum sustained speed of 150 mph as of 18 UTC, while central pressure has risen to 938 mbar. Importantly, its area of tropical storm force winds has significantly increased. The effect is likely from an ongoing eyewall replacement cycle and some surface water cooling due to upwelling.
The destructive eyewall of #HurricaneDorian continues to lash #GrandBahamaIsland as the now Cat. 4 storm inches slowly toward the west-northwest near 1 mph. Find the latest updates on #Dorian at https://t.co/ScLdyBac9D. More: https://t.co/BCKaEWkGgg pic.twitter.com/Q4heq00Ohc

— NOAA Satellites (@NOAASatellites) September 2, 2019
Dorian has undergone some significant weakening from yesterday's peak strength. A CAT5 with 185 mph (298 km/h) sustained winds yesterday (Sept 1), it has weakened to a high-end CAT4 with 150 mph (241 km/h) sustained winds by evening UTC today (Sept 2).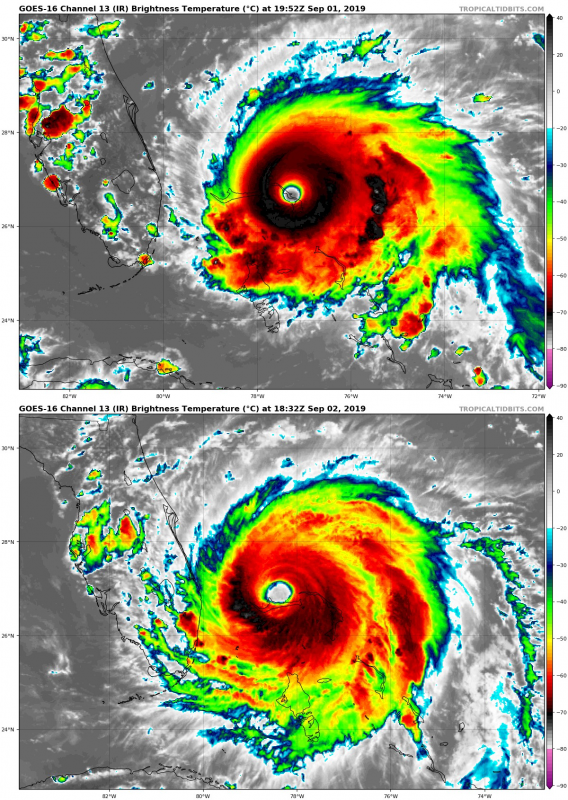 Comparison of IR imagery of Hurricane Dorian at peak strength late on September 1st (CAT5, 185 mph sustained winds) and late on September 2 (CAT4, 150 mph sustained winds). Note the change in the eye: round, small eye at peak strength, significantly larger and asymmetric one day later. The central dense overcast (CDO) was round, symmetric with cloud top temperature approaching -80 °C, indicating powerful convection on September 1, asymmetric and with mostly higher temperatures between -60 and -70 °C on September 2. Imagery: GOES-16 / Tropical Tidbits.
Latest satellite and radar imagery indicate the Eyewall Replacement Cycle (ERC) is not yet completed, as the eye / eyewall are wobbling a few miles around its virtual center. This is likely a result of the ERC and collapsing the inner eyewall and boosting new deep convection from the outer eyewall. Dorian should continue moving north for the next 12 hours once the ERC is completed in likely the next 2-3 hours. The future degree of strengthening / weakening depends on the Ocean Heat Content (OHC) as several °C of sea surface temperature drop has been observed in the wake of Dorian. Upwelling of cooler waters was caused by the very slow motion of the hurricane in the past 24 hours. However, Dorian should maintain at least strong CAT3 to low CAT4 strength for another day or two as it moves NNW just east of Florida.
Here is the 24h HWRF forecast for #Dorian parent domain just looking at the SST field underneath. You can follow the cold wake of the storm track, but notice the <26C SSTs under Dorian.

This would likely induce continued weakening until Dorian moves away from its own cold wake. pic.twitter.com/7oTeM73AXI

— Philippe Papin (@pppapin) September 2, 2019
We are closely monitoring Dorian's evolution and will keep you updated as soon as new Hurricane Hunters data becomes available in the coming hours – stay tuned!
Featured photo: Hurricane Dorian on September 2nd, photographed by astronaut Christina H. Koch on board the International Space Station.