Hurricane Dorian has further weakened to a Category 3 system by early this morning (UTC), packing sustained winds of 125 mph (201 km/h). It remains stationary, centered just north of the central part of the Great Bahama island. Catastrophic storm surge reported.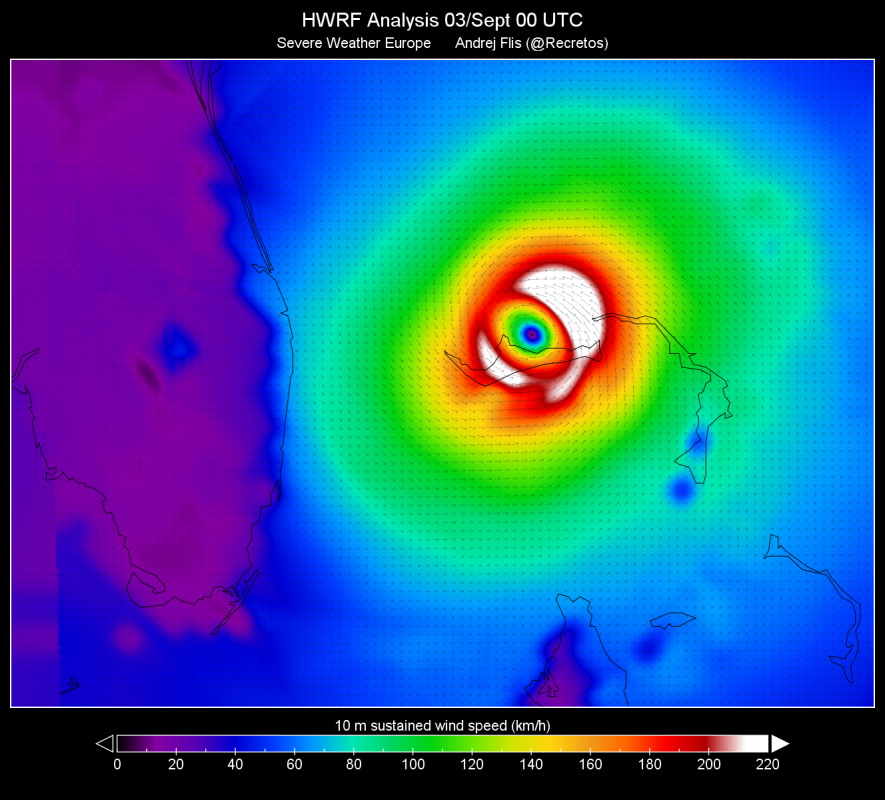 Peak sustained winds by Hurricane Dorian at 00Z, September 3. HWRF analysis.
Some parts of the Great Bahama, particularly the central part have spent well over 12 hours inside maximum winds of hurricane Dorian.
*Tropical* Hurricane Dorian – the hurricane that just would not move. It is still in the same place as 12-15 hours ago! Still weakening, now CAT3. GOES-16 IR imagery. Source: @tropicaltidbits pic.twitter.com/xNjY0CMtPs

— severe-weather.EU (@severeweatherEU) September 3, 2019
As of 4 am UTC on September 3rd, hurricane Dorian is a Category 3 system with peak winds of 125 mph (201 km/h) and a central pressure of 950 mbar. The weakening is likely the effect of multiple mechanisms. The ERC (Eyewall Replacement Cycle) has certainly produced a significant drop.
Cooling ocean beneath the hurricane due to upwelling is also causing some weakening.
Sea surface temperature (SST) analysis for September 3, 00 UTC indicating a cool patch of water centered on Grand Bahama / Hurricane Dorian, resulting from upwelling (and mixing with precipitation and evaporation). This drop in SST is in part responsible for Dorian's recent weakening.
As of 5:30 UTC Hurricane Dorian is still stationary, centered just north of the central part of the Grand Bahama. It has been stationary for at least 12-15 hours, and generally over the Grand Bahama island for over 24 hours. Whatever respite the gradual weakening may have brought to the island was offset by the extended exposure to violent winds and major storm surge, locally reaching 6-7 m.
Here is the total duration any given location has spent inside the radius of maximum wind, so far.

Portions of Grand Bahama are around 10 to 15 hours. Approaching 20 hours just offshore. And #Dorian continues to sit stationary.

(h/t @burgwx for suggesting this viz) pic.twitter.com/lNs87cTauy

— Sam Lillo (@splillo) September 3, 2019
Spaceborne SAR imagery shows the enormous extent of flooding / storm surge, with over half of area around Freeport, Grand Bahama under water.
#HurricaneDorian has affected Bahamas heavily on Monday, with vast areas hit with #flooding, including the Grand Bahama International Airport, Freeport. ICEYE #SAR satellite image from 11:44AM local time. Please, stay safe! (Y: coastline. W: roads. Source: OpenStreetMap.) pic.twitter.com/ruXau8QhKn

— ICEYE (@iceyefi) September 2, 2019
Indeed, catastrophic conditions are being reported from the island – see videos at the end of this article.
Dorian is expected to soon begin tracking NNW-wards, parallel to the coast of Florida. Landfall in Florida is currently not indicated by any model guidance and is unlikely. Dorian may well stop weakening as it completes the ERC and begins moving over undisturbed, warmer water to the north, likely remaining a Category 3 system, possibly even strengthening back to Category 4.
Hurricane Dorian track guidance for the next several days (positions marked in hours since 00U, Sept 3). Map: Tropicaltidbits.
A NHC-issued hurricane warning is in effect for much of the Bahamas and central and northern parts of the eastern coast of Florida. A hurricane watch is in effect for the coast of Georgia and much of the coast of South Carolina.
FREEPORT| Live scenes from residents located Over-the-Bridge in Pine Bay Freeport community on Grand Bahama Island as Hurricane Dorian moves inland as a Cat 4 Hurricane. pic.twitter.com/uUJBqXCA4p

— Bahamas Press (@Bahamaspress) September 2, 2019
Find further reports and videos on the link below:
From the grinder: Grand Bahama devastated by Hurricane Dorian