A 7.8. magnitude earthquake struck just off the coast of Alaska (Aleutian Islands) early Wednesday morning. Its epicenter was around 105 km (= 65 miles) south-southeast of the town Perryville, Alaska (or 850 km / 530 miles from Anchorage, Alaska). The earthquake was a very shallow one, at the depth of 10 km (= 6 miles) only. The earthquake occurred at 11:12 pm PST (06:12 UTC).
Location of the earthquake in Alaska. Graphics: USGS
The depth of the earthquakes is very important. Shallow ones could cause a lot of damage to the surface. And also release tsunamis. As normally, earthquakes are more likely to develop into tsunamis if the magnitude is high and they occur at a shallow depth. The quakes with magnitudes above 7.6 have the potential to produce destructive tsunamis.
#tsunami #Kodiak up the mountain to the high-school. Tsunami didn't hit yet. But might get worst not sure. Been out here a couple hours. pic.twitter.com/qRAb3arGO6

— Khoner McMagomedov (@Pride909) July 22, 2020
After an Aleutian earthquake prompted a tsunami warning Tuesday night, residents across coastal Alaska, from Homer to Unalaska, woke to the sounds of sirens and phone warnings. Many of them soon left home, moving to higher ground, away from the lower coast.
https://twitter.com/BRNewsFlash/status/1285840821045153792
MORE: sirens go off in #Alaska to warn the residents of a possible incoming #tsunami pic.twitter.com/9YjneOBF4E

— News flash (@BRNewsFlash) July 22, 2020
TSUNAMI WARNING
A tsunami warning was soon issued by the National Oceanic and Atmospheric Administration (NOAA). But has already been canceled less than two hours after the earthquake.
Tsunami warnings. Graphics: NOAA
A tsunami warning was in effect 75 miles south of Chignik, Alaska, according to the National Tsunami Warning Center (NTWC). A tsunami warning is also in effect for the Aleutian Islands from Unimak Pass to Samalga Pass.
Homer is clearing the Spit, the rest of the lower ground in the area should be moving to high ground as well pic.twitter.com/rpOMcJDSVJ

— BadBob (@TheBadBob) July 22, 2020
NOAA advised people to stay away from the water including beaches, harbors, and inlets. And follow guidance from local officials and wait until emergency officials say it is safe to return to the coast.
SEISMIC WAVES REGISTERED IN EUROPE
The seismic waves were also registered in Europe! Attached are the waves produced by the earthquake this morning in Alaska, registered in two high schools in Barcelona, Spain after traveling more than 9000 km around the globe!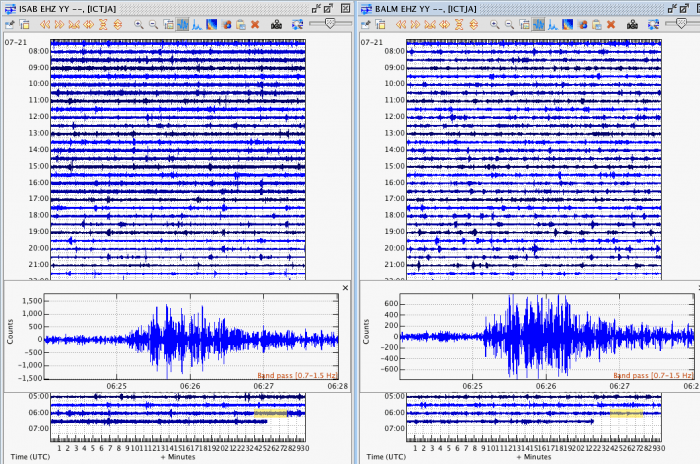 Seismic waves in Barcelona. Graphics: ICTJA
See the previous significant earthquakes around the world: