Almost 40 percent of the crops across the state of Iowa have been severely hit by a violent, hurricane-force derecho on Monday, Aug 10th. About 2 million customers were without power. The path of derecho across the Midwest was nearly 770 miles (1200 km) long and lasted around 14 hours across several states. Several fatalities were also reported by falling trees.
Hurricane-force winds
Derecho started in southeast South Dakota and lasted until Ohio on Monday, Aug 10th. It traveled approximately 770 miles (1240 km) in 14 hours and produced widespread destructive winds. The peak gusts were reported from Iowa – 112 mph (= 180 km/h) in Midway, 106 mph (= 170 km/h) in Le Grand, and 100 mph (= 161 km/h) in Hiawatha.
An intense derecho moved from far southeast South Dakota into Ohio yesterday (8/10/20). This derecho traveled approximately 770 miles in 14 hours and produced widespread damaging wind gusts, including numerous wind gusts over 74 mph (65 kt) & several over 90 mph in central Iowa. pic.twitter.com/a8jJdEB59h

— NWS Storm Prediction Center (@NWSSPC) August 11, 2020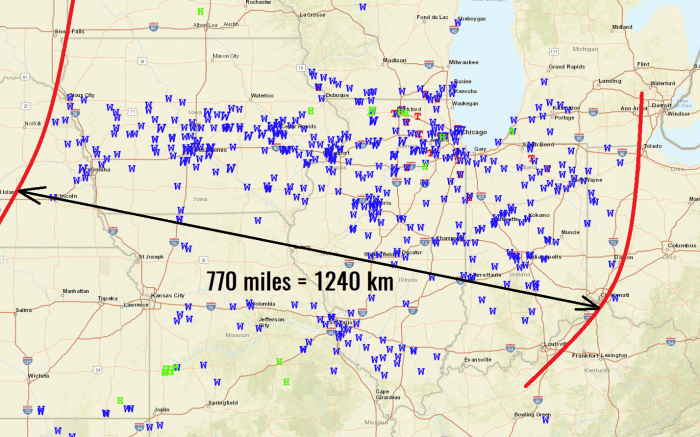 NOAA SPC wind reports. Graphics: NOAA
Derecho brought powerful winds also into Chicago, 73 mph (= 117 km/h) gusts were reported at the airport. And 92 mph (= 150 km/h) in Dixon, Illinois. 100 mph (= 160 km/h) winds were also reported in Marshall County, Indiana.
Here is a satellite animation with lightning activity along with the moving bow echo, moving from Iowa across Illinois into Indiana on Monday.
Derecho insanity today in the Midwest. My goodness. pic.twitter.com/XGGubYYMf2

— Dakota Smith (@weatherdak) August 10, 2020
What is derecho
In order that an arching line of storms (bow echo) is classified as a derecho, it must include wind gusts of at least 58 mph (= 50 knots / 93 km/h) with several well-separated 75 mph or greater gusts. Its wind damage swath must extend for more than 250 miles (400 km).
A derecho produces a swath of particularly damaging thunderstorm winds.
The winds are primarily classified as straight-line winds rather than tornadic. Tornadoes can also be embedded within derechos and produce concentrated areas of even more intense damage.
Radar composite of derecho across the Midwest. Graphics: NWS Chicago
Derechos normally develop in an environment with very warm and moist air at the surface, colder air aloft, and moderate to strong winds at upper levels of the atmosphere.
Historically, northern Illinois and northern Indiana have been known as a corridor of enhanced derecho activity.
What causes the main core for destructive winds, is the warm, sinking air on the backside of the band of storms. The descending air dries up and helps to bring the strong jet stream momentum down to the surface. This is called a 'rear inflow jet'. It pushes the center of the squall-line forward and develops an arching bow of storms – in other words, a bow echo.
Derecho like windstorms are also possible across Europe, here is an example of windstorm across central Europe back in July 2017.
Significant damage to property and crops
As stated by Iowa's Agriculture Secretary Mr. Mike Naig, about 14 million acres (= 22.000 sq miles / 56.500 sq kilometers) of crops were affected. About 3.6 million acres (14.500 km2) of corn and 2.5 million acres (10.000 km2) of soybean fields in 36 counties across Iowa have been demolished.
This is a devastating blow to the agricultural community that still is recovering from the pandemic, Haig said.
To get a better perspective on how extensive derecho damage this was, let's take a look over the sizes of some European countries. The size of Ireland is 84.400 km2 (= 21 million acres), England 130.400 km2, Belgium is 30.500 km2, Slovenia is 20.300 km2, Croatia is 56.600 km2, etc.
This means the actual damage size was truly remarkable! Derecho in Iowa resulted in crop damage across the area as large as two thirds (2/3) of the size of Ireland! Or almost half of England, nearly two times larger than Belgium or almost three times larger than Slovenia. And about the same size as the whole of Croatia!
Almost 2 million customers across Midwest were affected by the derecho along its path, more than 750.000 in Illinois and almost 600.000 across the state of Iowa.
#Drecho Storm Summary.
Max customers out at one time: 1.4 million
Total customers Affected: Over 1.9 Million
759k in #Illinois
585k in #Iowa
283k in #Indiana
345k in other states
Source: https://t.co/8cAFt3zGJe pic.twitter.com/KUv6ZaZ7TD

— PowerOutage.us (@PowerOutage_us) August 13, 2020
Rough power of derecho & damage
See some video examples of the violent rough power of derecho winds in from Iowa. The event certainly feels like a powerful hurricane. Such winds would fit into a strong Category 1 hurricane strength.

117+ MPH Winds – Great community outreach and support across Eastern Iowa this week. Many unanswered questions yet on the fate of this crop, but the best of luck to all Impacted. #derecho pic.twitter.com/Os6089RZ7E

— Chad Vest (@chad_vest) August 15, 2020
https://twitter.com/chasingpossible/status/1294542923460206593
The Derecho here on Mon was described as a 40 mile wide tornado. worst weather-related destruction on record for Iowa. State of emergency has been declared. ntl guard is coming in.stateworking on gathering damage assessments 2expedite a request 4 a Pres. Disaster Declaration pic.twitter.com/DCJyd39a8l

— miss millie guns (@MissMillieGuns) August 14, 2020
Significant damage has also been reported from numerous towns along derecho's path. Violent hurricane-force winds overturned trucks, flattened corn an soybean crops, and knocked down hundreds of trees. Many homes, structures, and vehicles were damaged by trees across Iowa and northern Illinois.
What a drive down a Cedar Rapids road looks like 5 days after the derecho. Stay for the roadblock at the end: pic.twitter.com/blbRUw2xtt

— Iowa Starting Line (@IAStartingLine) August 15, 2020
The conditions at the apartment complex at Westdale & 22nd & Wiley Blvd in Cedar Rapids #iowa are just horrific.

Seeing the damage this week from the #derecho, it absolutely is comparable to the aftermath of a hurricane.

These were hurricane force winds, w virtually no notice. pic.twitter.com/sPzo22g1ur

— Kate Payne (@hellokatepayne) August 13, 2020
This is from around in Greene County, Iowa just NW of Perry

Jim Smith the corn was suffering from the drought. Then we got a little rain last week. And now this. All eight of my corn fields look this flat and quite a bit of it snapped not just leaning. 1/2 pic.twitter.com/hFOTn1AZ7a

— Jim Smith, Ph.D. (@JimSmith87) August 11, 2020
#IowaStorms #derecho2020 #lutherIowa Co-op has been leveled. #derecho #iowa #iowaweather pic.twitter.com/mvtS2SyHr1

— Makala BrinkleySeitz (@mak4cy) August 11, 2020
See official reports by NWS offices: