Very heavy rain across parts of western Europe since Tuesday has resulted in destructive and unfortunately also deadly flooding. Raging floodwaters brought havoc to Belgium, Germany, northeast France, Luxembourg, and the Netherlands with the worst areas hit in western Germany and eastern Belgium.
Authorities in western Germany and Belgium have reported more than 143 fatalities after destructive flooding followed the three-day heavy rainfall event. Many buildings collapsed and left tens of people missing. At least 27 people have lost their lives in Belgium.
The real extent of the damage across the most affected region remains unclear at the moment as many villages were still cut off by floodwaters and landslides causing roads impassable and rescue teams have reached them by helicopters.
The dramatic video of photos shared on social media showing cars floating down streets, as well as collapsed houses and flooded up to their roofs.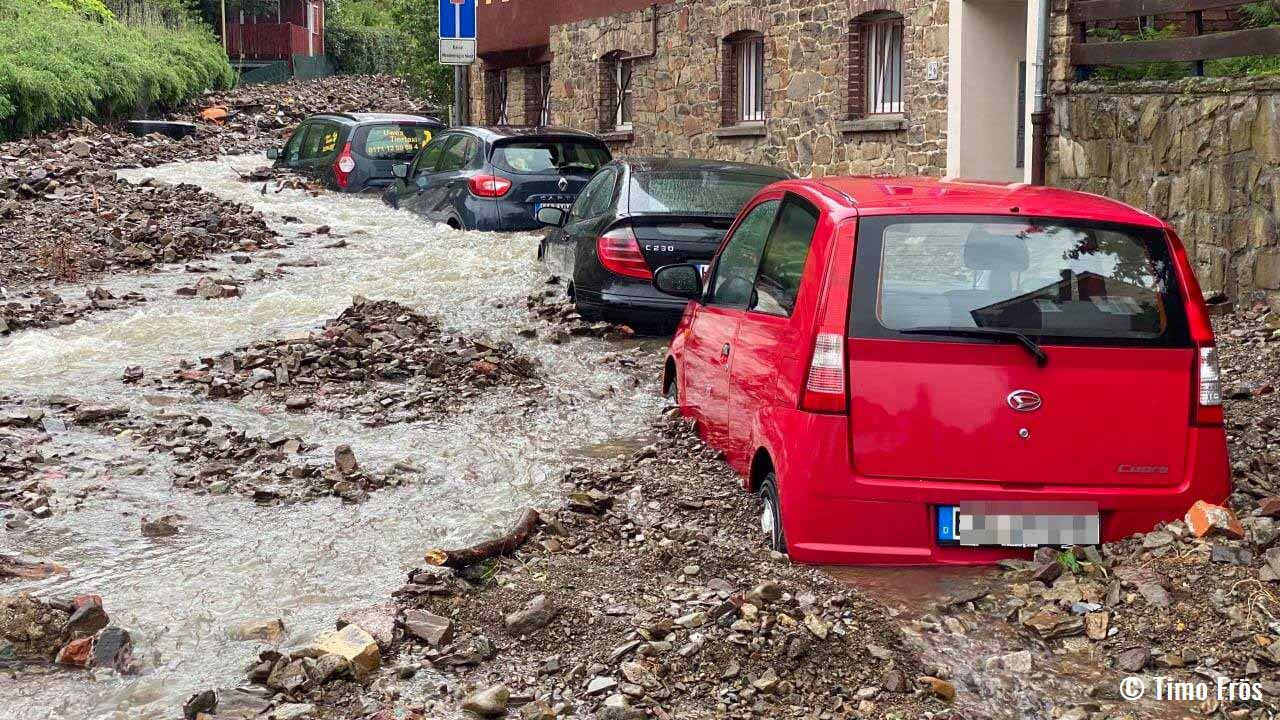 Above: Flood disaster in Rhineland-Palatinate, Germany. Credits: Timo Frös via SWE FB Report group
The upper low, responsible for this deadly event, is now gradually losing its strength on Thursday and will finally decay on Friday. The attached animation below is showing how the low is basically dominating the whole central parts of the European continent.
The amount of rainfall in the most affected areas has been of a range of several hundred mm, the equivalent of around two months of normal rain. According to the local weather services and model data verification, most of the rain has fallen in just about 48 hours.
Through Thursday, locally an additional up to 90 mm of rain could fall in the most affected areas through tonight, then heavy rains will gradually vanish on Friday.
LARGE UPPER LOW TO BLAME FOR EXCESSIVE RAINFALL AND FLOODING
The general weather pattern over Europe this week is being characterized by a so-called Rex blocking pattern. This is the pattern where an upper-level low is trapped inside the blocking Highs around. These days, the large upper-level ridge is placed over northern and eastern Europe, as well as over the Atlantic.
While to their south, deep upper low has been slowly drifting across southern France into the Alpine region to Germany. On Tuesday, our team has warned about the potential development of very dangerous weather situations with enhanced flooding potential over the Benelux region through today.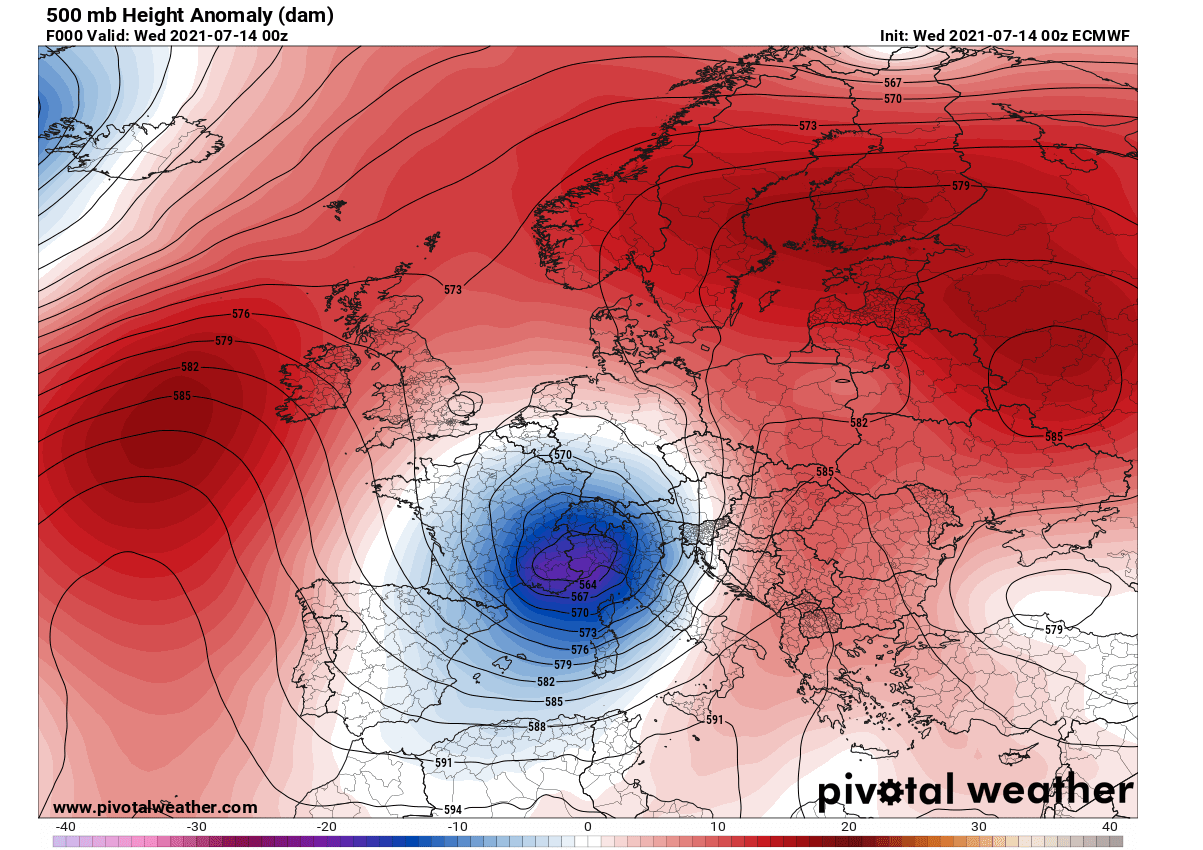 Such a weather pattern is typically responsible for severe weather on its front end. Widespread severe thunderstorms hit Italy, the southern Alps, the northern Balkans, and eastern Germany on Tuesday, followed by a severe weather outbreak over Poland on Wednesday.
On its rear side of the large low, a high amount of moisture often brings a period of excessive rainfall. The background reason that led to the destructive flooding Germany and Belgium are facing today.
Attached below is the visible satellite image over Europe this Thursday, revealing an impressive large upper-level low dominating the weather over the continent. The low is centered over southern Germany, with an obvious cyclonic rotation visible.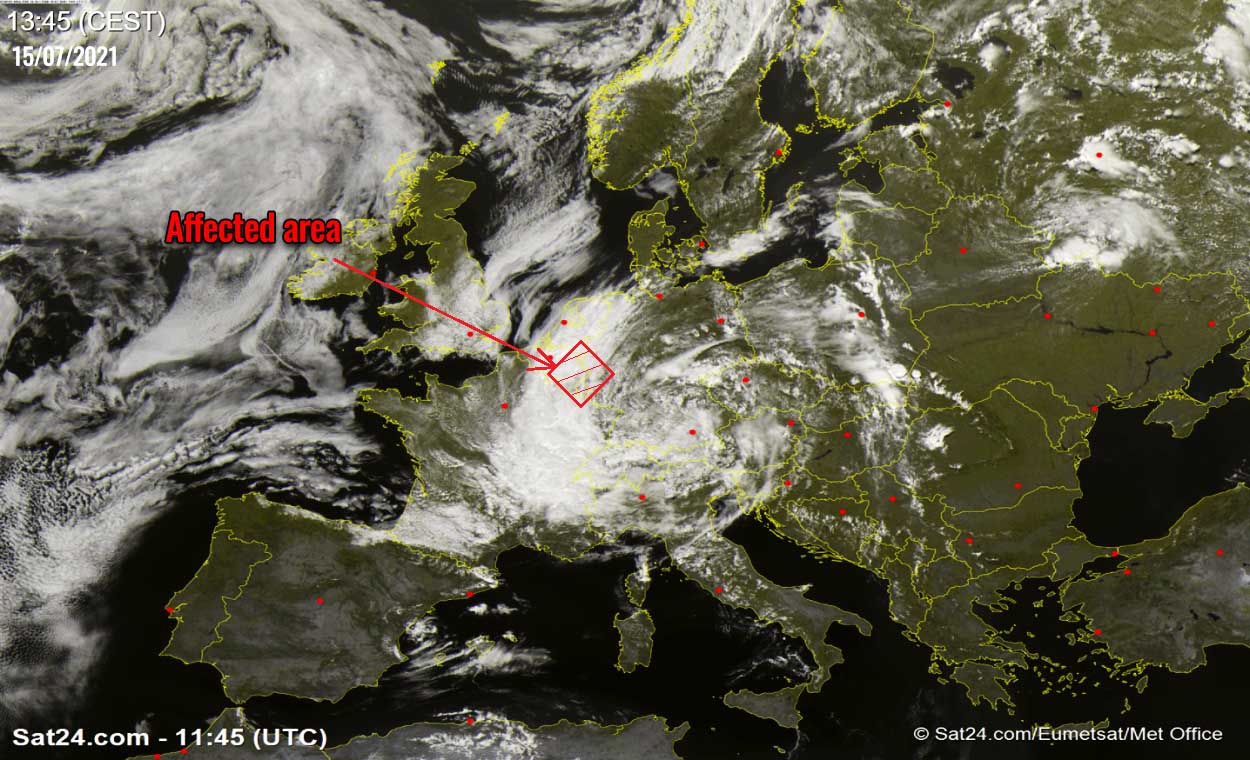 This upper low was rotating over this part of Europe for nearly three days, resulting in very heavy precipitation. Both the stratiform and convective rainfall brought a tremendous amount of rain across western Germany and eastern Belgium. Locally more than 250 mm of rain is resulting in destructive and deadly flooding.
Partly convective clouds are spreading the high moisture and precipitation from northeast (the north Sea and Denmark) towards southwest into Benelux, western Germany, and east-northeast France. Thankfully, the upper low is losing its strength today and is expected to gradually weaken further and heavy precipitation will diminish.
Persistent very heavy rainfall has lasted for more than 48 hours in places, so the rain accumulation has been going up pretty fast and soil was soon completely soaked with rivers overflow. Destructive and deadly flooding has hit parts of Belgium, northeast France, and western Germany.
Below is the WRF model verification of the total rainfall accumulation over central and western Europe on Wednesday. The large size of the upper low is clearly visible, with its center over Germany. The highest amount of rainfall has accumulated over western Germany, southeast parts of the Netherlands, eastern Belgium, Luxembourg, and northeast France.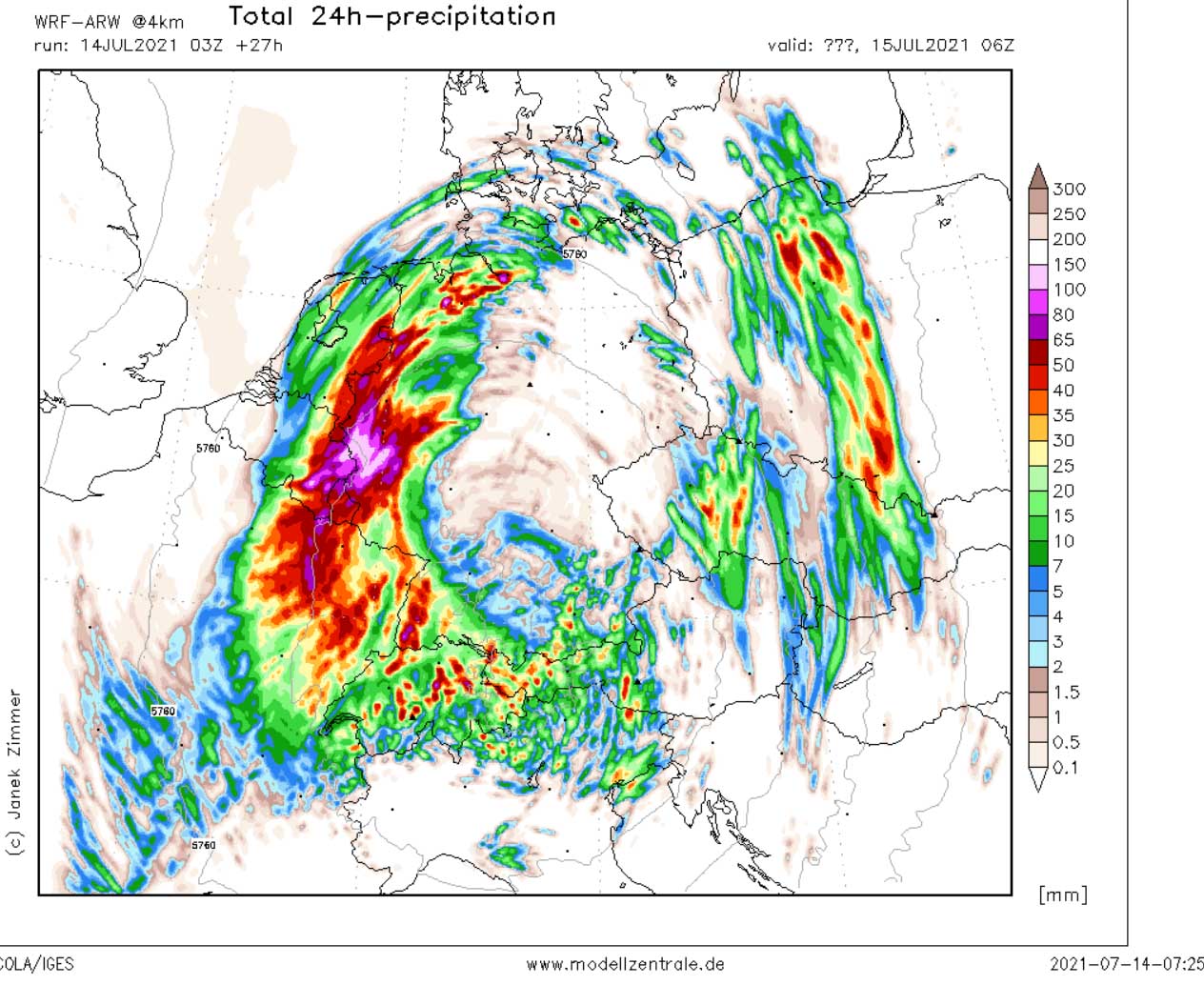 Above: 24-hour rainfall accumulation by the Germany WRF-ARW model. Credits: Modellzentrale
Part of western Germany and eastern Germany has received nearly 150 mm of rain in just 24 hours, making it a total of 200 to more than 250 mm locally since Tuesday. Rainfall sums are locally near or even above 300 mm, which is nearly 3 months of total rainfall for the region.
"NATURAL DISASTER" FOR WESTERN GERMANY AS DESTUCTIVE FLOODING LEAVES PEOPLE DEAD
Situation over Germany
As of this Thursday morning, at least 20 people have found dead and dozens of people were still missing in western Germany and eastern Belgium after torrential and excessive rain turned streams and streets into raging torrents. Cars were swept
while high water levels are causing buildings to collapse.
Thanks to the persistent convective storms and very heavy rainfall since Tuesday over this part of western Europe, rivers, and reservoirs have risen significantly and burst their banks. Significant flash floods worsened overnight to Thursday as completely rain-soaked soil couldn't withstand any more water.
Above: Flooding in Eifel, western Germany on Thursday morning. Credits: Unwetter-Freaks
At least 8 deaths were reported from the western German region Euskirchen, according to the authorities. All victims have been related to raging waters and destructive floods. Also, at least 5 people have died in Ahrweiler county, with more than 70 people still missing after several houses collapsed overnight. The situation is especially disastrous in the village of Schuld in the Eifel, western Germany.
Numerous people were trapped on the roofs of their houses, waiting for rescue teams while escaping the rapidly rising waters in the towns. Inflatable boats and helicopters are being used to rescue many, with help of the German army to assist in the rescue operations.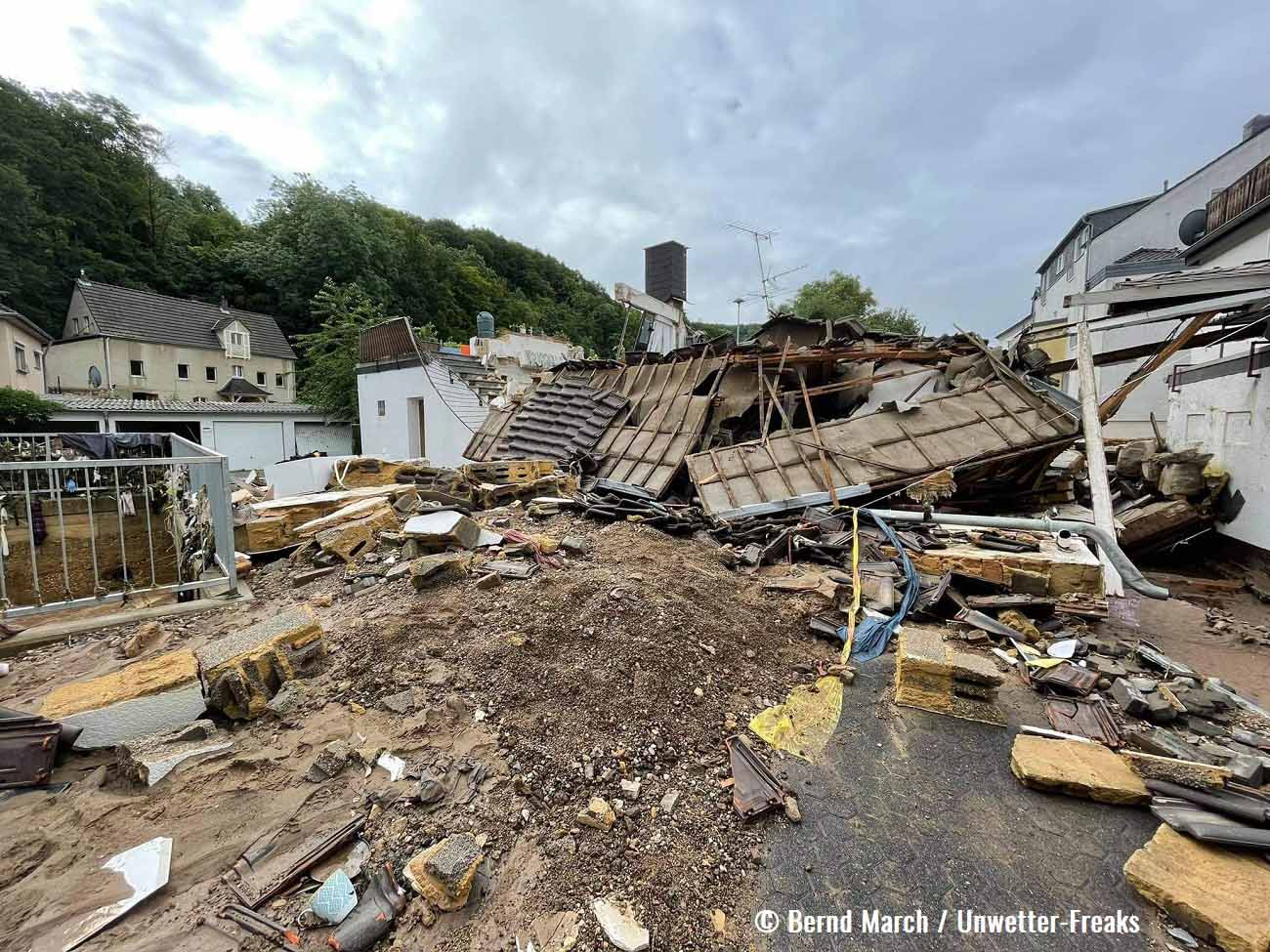 Above: Flooding disaster in Bad Münstereifel, Germany. Credits: Unwetter-Freaks
Authorities in the Rhine-Sieg county south of Cologne ordered the evacuation of several villages below the Steinbachtal reservoir amid fears the dam there could also break.
Many people were discovered dead after floodwaters finally began to recede in some areas. German Police reported that four people died in separate incidents and were found in their flooded basements in Cologne, Kamen, and Wuppertal.
Sadly, also two firefighters have lost their lives during rescue operations in North-Rhine Westphalia, Germany.
Situation over Belgium
Across the border in Belgium, the Vesdre river broke its banks and resulted in massive flooding water through the streets in the town of Pepinster, close to Liege. The destructive force of raging water brought down some buildings, leaving people vulnerable in the streets, many are still missing.
The town of Eupen near the German border has reported at least one fatality after a man was swept away by a raging river torrent. Few other people were reported missing in eastern Belgium, where some towns saw water levels rising to unprecedented levels in their history.
Also, the major highways were inundated by high water levels across the south and east parts of Belgium, including a stopped railway service and traffic.
Situation in other neighbour countries
A part of the busiest highways in the Netherlands were closed due to rising floodwaters threatening to inundate the road.
11 departments in northeast France were still under amber warning due to the risk of additional flooding this Thursday morning.
In Switzerland, heavy rains caused landslides and mudslides due to completely saturated soil. The Lake Geneva water level is also becoming a concern to the authorities. There is a high risk of flooding on the shores of Lake Zurich and the Limmat River as well.
Lake Lucerne, in central Switzerland, is also resulting in a very high risk of flooding, according to the Swiss national weather service – MeteoSchweiz. The lakes of Thun, Biel, the Upper Rhine, and the Reuss River are at high risk as well.
higher in the mountains, several mountain passes and tunnels have been closed, with the rail traffic disrupted in some parts of the country, according to the Swiss Federal Railways (SBB).
VIDEO FOOTAGE REPORTED TO OUR SOCIAL MEDIA ACCOUNTS
See dramatic videos of the flooding from various areas:
Feel free to join our Report and Discuss Facebook group to see additional reports. You are also welcome to post your photo or video reports:
SWE Report and Discuss Facebook Group
IMPORTANT: This is a breaking news report, some details will be adjusted or follow as they appear in the coming hours.